Note: Supplemental materials are not guaranteed with Rental or Used book purchases.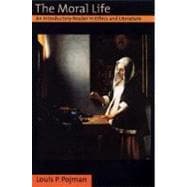 The Moral Life An Introductory Reader in Ethics and Literature
ISBN13:
9780195128444
by
Pojman, Louis P.
Related Products
Summary
The Moral Life brings together an extensive and varied collection ofclassical and contemporary readings on ethical theory and practice. Usingliterary works (33 in all) as touchstones, Pojman enlivens and makes concretethe ethical theory or applied issue being addressed in each chapter. Works byHugo, Melvill, Tolstoy, Camus, LeGuin, and Styron among others, lead studentsinto philosophical concepts and issues such as relativism, utilitarianism,virtue ethics, the meaning of life, freedom, sex, love and marriage, andenvironmental ethics. Once introduced, these ideas and issues are developedfurther through readings by philosophers such as Aristotle, Kant, Sartre,Bernard Williams, and Mary Anne Warren. Pojman has also balanced his selectionof readings so that more weight is given to personal ethics (which is oftenignored or minimized in the study of ethics) that to the more social dimensionof ethics.Pojman's insightful editing provides for a smooth flow of ideas between theliterary and philosophical works. His part and chapter introductions clearly tietogether the wide variety of philosophical and literary selections. In addition,he provides thoughtful study questions at the end of each reading selection.Ideal for introduction to ethics courses, The Moral Life sets before thestudent an engaging entry into personal and social ethics. The literary worksprovide powerful particularities that serve both as reinforcers andcounter-examples to the ethical discussions by the philosophers. Here literatureprovides a complement to, but not a substitute for, philosophicalanalysis.
Table of Contents
The Nature of Moality: Good and Evil
Introduction
What is the Purpose of Morality
The Lord of the Flies: A Moral Allegory
On The Nature and Purpose of Morality: Reflections on William
Golding''s The Lord of the Flies
On the State of Nature
Further Readings
Good and Evil
Introduction
Billy Budd
Why Is There Evil?
Sophie''s Choice
From Cruelty to Goodness
Wickedness
Beyond Good and Evil
On the Origin of Good and Evil
Further Readings
Is Everything Relative?
Introduction
Custom is King
The Case for Moral Relativism
The Case Against Moral Ralativism
Judge Not?
The Enemy of the People
Further Readings
Moral Theories and Moral Character
Introduction
Utilitarianism
Introduction
Seaman Holmes and the Longboat of William Brown
Classical Utilitarianism
A Defense of Utilitarianism
Against Utilitarianism
The Ones Who Walk Away from Omelas
Utilitarian Social Engineer and the Savage (from Brave New World)
Further Readings
Deontological Ethics
Introduction
On Duty
The Moral Law
Intuitionism
The Golden Rule
A Critique of the Golden Rule
A Horseman in the Sky
The Evil of Lying
Moral Luck
Further Readings
Virtue Ethics
Introduction
The Bishop and the Candlesticks
Virtue Ethics
Virtue and the Moral Life
The Great Stone Face
A Critique of Virtue-Based Ethical Systems
The Conscience of Huckelberry Finn
Further Readings
Virtues and Vices
Introduction
Sermon on the Mount and the Good Samaritan
How Much Land Does a Man Need? The Vice of Greed
Jealously, Malice and Ingratitude
Moral Cowardice
Three Days to See: Gratitude
Courage and Endurance
The Story of David and Bathseba: Lust
Where Love is, There is God
Reflectings on Suffering
The Volunteer at Auschwitz: Altruism
Further Readings
Moral Issues
Introduction
Ethics and Egoism: Why Should I Be Moral?
Introduction
The Ring of Gyges
In Defense of Ethical Egoism
Egoism, Self-Interest and Altruism
Further Readings
Does Life Have Meaning?
Introduction
Epicurus: Hedonism
Epictetus and Others: The Stoic Catechism: Moral Duty Alone Gives Life Meaning
Life is Absurd
Religion Gives Meaning to Life
Reflections on Auschwitz: The Human Search for Meaning
Siddhartha Guatama, the Buddha: The Four Noble Truths
The Experience Machine
Further Readings
Freedom, Autonomy, and Self-Respect
Introduction
I Have a Dream
An Experiment in Autonomy
Existentialism is a Humanism
Servility and Self-Respect
Further Readings
Applied Ethics
Introduction
Sex, Love and Marriage
Introduction
Pansexuality
On Sexuality
The Vatican Declaration on Sexual Ethics
Sexual Intercourse Between Consenting Adults Is Always
Permissible
Sexual Intercourse Should Be Confined to Marriage
Is Homosexuality Unnatural?
Monogamy: A Critique
Marriage, Love and Procreation: A Critique of McMurty
What''s Wrong With Adultery?Hugh La Follette: Licensing Parents
Further Readings
Is Abortion Really Permissible?
Introduction
Abortion Is Not Morally Permissible
Abortion Is Morally Permissible
The Moderate Position: Beyond the Personhood Argument
Further Readings
Substance Abuse: Drugs and Alcohol
Introduction
On Liberty
Drugs Should Be Legalized
William Be
Table of Contents provided by Publisher. All Rights Reserved.