Note: Supplemental materials are not guaranteed with Rental or Used book purchases.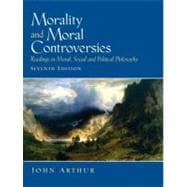 Morality and Moral Controversies : Readings in Moral, Social and Political Philosophy
by
Arthur, John
Questions About This Book?
What version or edition is this?
This is the 7th edition with a publication date of 1/1/2005.
What is included with this book?
The Used copy of this book is not guaranteed to include any supplemental materials. Typically, only the book itself is included.
Summary
For courses in Ethics, Applied Ethics, Social and Political Ethics, and Ethics and Moral Issues. This comprehensive anthology includes classic and contemporary readings in moral theory a wide array of essays that address today's most philosophically interesting and controversial ethical and political issues. Includes an ethical theory overview; shows relevance of traditional and contemporary writers.
Table of Contents
Preface to the Seventh Edition
xii
PART I MORAL THEORY

| | |
| --- | --- |
| | 1 Self-Interest, Religion, and Conscience |

1
(30)

| | |
| --- | --- |
| | Leviathan: Morality As Rational Advantage |

1
(7)

| | |
| --- | --- |
| | Morality and Rational Self-interest |

8
(7)

| | |
| --- | --- |
| | Morality, Religion, and Conscience |

15
(8)

| | |
| --- | --- |
| | The Conscience of Huckleberry Finn |

23
(8)

| | |
| --- | --- |
| | 2 The Sources and Grounds of Morality |

31
(19)

| | |
| --- | --- |
| | The Sources of Moral Ideas: Society, Custom, and Sympathy |

31
(2)

| | |
| --- | --- |
| | Trying Out One's New Sword |

33
27
(13)

| | |
| --- | --- |
| | Morality is Based on Sentiment |

40
(6)
46
(4)

| | |
| --- | --- |
| | 3 Classical Theories of Morality |

50
(24)
50
(6)

| | |
| --- | --- |
| | The Fundamental Principles of the Metaphysic of Morals |

56
(9)
65
(9)

| | |
| --- | --- |
| | 4 Contemporary Perspectives |

74
(21)
74
(4)

| | |
| --- | --- |
| | Kant and Utilitarianism Contrasted |

78
(5)

| | |
| --- | --- |
| | The Real and Alleged Problems of Utilitarianism |

83
(6)

| | |
| --- | --- |
| | Feminist Transformations of Moral Theory |

89
(6)
PART II ISSUES OF LIFE AND DEATH
95
(22)
95
(1)

| | |
| --- | --- |
| | R.G. Frey and Christopher W. Morris |

95
(5)
100
(11)

| | |
| --- | --- |
| | Civil Liberties in the Time of War |

111
(6)

| | |
| --- | --- |
| | Korematsu v. United States |

117
(29)
117
(7)

| | |
| --- | --- |
| | Desert and Capital Punishment |

124
(7)
131
(5)

| | |
| --- | --- |
| | Justice, Civilization, and the Death Penalty |

136
(6)
142
(4)

| | |
| --- | --- |
| | 7 Animals and the Natural Environment |

146
(33)
146
(9)

| | |
| --- | --- |
| | Speciesism and the Idea of Equality |

155
(6)
161
(5)

| | |
| --- | --- |
| | The Land Ethic: Animal Liberation and Environmentalism |

166
(13)

| | |
| --- | --- |
| | 8 Human Reproduction: Abortion and Genetic Engineering |

179
(58)

| | |
| --- | --- |
| | The Constitutional Right to Abortion |

179
(5)
184
(7)

| | |
| --- | --- |
| | On the Moral and Legal Status of Abortion |

191
(7)

| | |
| --- | --- |
| | Abortion and the Concept of a Person |

198
(6)

| | |
| --- | --- |
| | An Argument That Abortion is Wrong |

204
(9)
213
(6)
219
(11)

| | |
| --- | --- |
| | Playing God: Genes, Clones, and Luck |

230
(7)

| | |
| --- | --- |
| | 9 Deciding Who Should Live |

237

| | |
| --- | --- |
| | Requiring Medical Treatment |

237
(3)

| | |
| --- | --- |
| | JFK Memorial Hospital v. Heston |

| | |
| --- | --- |
| | Comparing Human Lives: The Archbishop and the Chambermaid |

240
(1)

| | |
| --- | --- |
| | An Alternative to the Ethic of Euthanasia |

241
(4)

| | |
| --- | --- |
| | Active and Passive Euthanasia |

245
(4)

| | |
| --- | --- |
| | Defective Newborns and the Morality of Termination |

249
(7)

| | |
| --- | --- |
| | Aging and the Ends of Medicine |

256
(6)
262
(7)
PART III PERSONAL RELATIONSHIPS

| | |
| --- | --- |
| | 10 Love, Sex, and Friendship |

269
(35)

| | |
| --- | --- |
| | Duties toward the Body in Respect to Sexual Impulse |

269
(4)

| | |
| --- | --- |
| | What's Wrong with Homosexuality? |

273
(2)
275
(8)

| | |
| --- | --- |
| | Gay Basics: Some Questions, Facts, and Values |

283
(9)

| | |
| --- | --- |
| | Date Rape: A Feminist Analysis |

292
(8)

| | |
| --- | --- |
| | An Interview About Date Rape |

300
(4)

| | |
| --- | --- |
| | 11 Marriage and the Family |

304
(37)
304
(7)

| | |
| --- | --- |
| | Polygamy Is Good Feminism |

311
(1)

| | |
| --- | --- |
| | Same-Sex Marriage: A Debate |

312
(3)

| | |
| --- | --- |
| | William Bennett and Andrew Sullivan |

| | |
| --- | --- |
| | Surrogate Motherhood as Prenatal Adoption |

315
(8)
323
(5)
328
(8)

| | |
| --- | --- |
| | What Do Grown Children Owe Their Parents? |

336
(5)
PART IV POLITICAL AND SOCIAL RELATIONSHIPS
341
(67)

| | |
| --- | --- |
| | The Second Treatise of Government |

342
(6)
348
(10)
358
(8)

| | |
| --- | --- |
| | On Representative Government |

366
(5)
371
(15)
386
(10)

| | |
| --- | --- |
| | The Arc of the Moral Universe |

396
(12)

| | |
| --- | --- |
| | 13 Patriotism, Civil Disobedience, and the Rule of Law |

408
(41)

| | |
| --- | --- |
| | Flag Burning as Constitutionally Protected |

408
(3)
411
(8)
419
(4)
423
(6)

| | |
| --- | --- |
| | Civil Disobedience and the Social Contract |

429
(9)

| | |
| --- | --- |
| | On Not Prosecuting Civil Disobedience |

438
(6)

| | |
| --- | --- |
| | The Problem of the Grudge Informer |

444
(5)
449
(50)
449
(2)
451
(8)

| | |
| --- | --- |
| | Karl Marx and Friedrich Engels |

| | |
| --- | --- |
| | The Spirit of Democratic Capitalism |

459
(10)
469
(8)
477
(6)
483
(6)
489
(10)
499
(49)

| | |
| --- | --- |
| | The Ethics of Addition: An Argument in Favor of Letting Americans Take Any Drug They Want |

499
(7)
506
(9)

| | |
| --- | --- |
| | Addiction and Drug Policy |

515
(6)

| | |
| --- | --- |
| | On the Liberty of Thought and Discussion |

521
(3)
524
(3)

| | |
| --- | --- |
| | Village of Skokie v. National Socialist Party |

| | |
| --- | --- |
| | Prohibiting Racist Speech on Campus: A Debate |

527
(6)

| | |
| --- | --- |
| | Charles Lawrence and Gerald Gunther |

| | |
| --- | --- |
| | Political Correctness, Speech Codes, and Diversity |

533
(1)

| | |
| --- | --- |
| | Pornography, Oppression, and Freedom: A Closer Look |

534
(6)

| | |
| --- | --- |
| | Feminism, Pornography, and Censorship |

540
(5)
545
(3)

| | |
| --- | --- |
| | American Booksellers v. Hudnut |

| | |
| --- | --- |
| | 16 Racial and Sexual Equality |

548
(38)
548
(7)

| | |
| --- | --- |
| | John Stuart Mill and Harriet Taylor |

| | |
| --- | --- |
| | Sex Equality and Discrimination: Difference vs. Dominance |

555
(4)

| | |
| --- | --- |
| | On Racism and Sexism: Realities and Ideals |

559
(10)

| | |
| --- | --- |
| | Social Movements and the Politics of Difference |

569
(6)

| | |
| --- | --- |
| | Freedom, Conditioning, and the Real Woman |

575
(11)

| | |
| --- | --- |
| | 17 The Multicultural Society |

586
(29)

| | |
| --- | --- |
| | Morality and the Liberal Ideal |

586
(4)

| | |
| --- | --- |
| | Multiculturalism: A Liberal Perspective |

590
(12)
602
(8)

| | |
| --- | --- |
| | Assimilation and Cultural Identity |

610
(5)

| | |
| --- | --- |
| | 18 Reparations and Affirmative Action |

615

| | |
| --- | --- |
| | Reparations and "The Debt" |

615
(11)

| | |
| --- | --- |
| | Affirmative Action in Universities |

626
(4)

| | |
| --- | --- |
| | Regents of the University of California v. Bakke |

| | |
| --- | --- |
| | The Rights of Allan Bakke |

630
(7)
637
(7)
644
Excerpts
I continue to be pleased at the remarkable success of this book. It is being used not only in courses in ethics but also, increasingly, in ones focusing on social and political issues. My objectives in this new edition are the same as past ones: to make the book challenging and at the same time accessible to a wide range of students at many different types of universities; to avoid slanting the book in any specific philosophical or political direction; to provide lively, thought-provoking, and diverse reading on topics that students and teachers enjoy studying; and to include articles that respond to each other by either criticizing what has gone before or by developing on previous themes. I have also maintained the book's flexibility, so that each section stands on its own. This leaves instructors free to pick and choose among the topics and to organize their course in many different ways. The book continues to be used in courses in social and political philosophy as well as ethics and moral philosophy, reflecting perhaps the fact that there is no sharp boundary between the moral and the political. There is therefore more material here than can be used in a normal semester's course, giving instructors the option of varying the content of their courses to suit their own and their students' interests. I have kept all of the readings in this slightly expanded edition that reviewers and friends who have used the book thought important while adding new essays and, in some cases, altogether new topics. In Part I, on moral theory, there are new articles on self-interest and morality, rule-utilitarianism, and the conflict between duty and sentiment. I have added new readings in sections on life and death, including articles on terrorism, internment in time of war, distribution of scarce medical resources, and the survival lottery. The section on social and political relationships includes new essays on democracy, capitalism and its ethos, multiculturalism, identity, and reparations. Among the authors now represented are Amartya Sen, Joseph Raz, John Harris, and Michael Novak. I have continued with the practice of providing a brief introduction to each of the readings along with a set of questions at the end of each essay directing students to the core issues. I again included comparative (and often critical) questions at the end of each of the sections. There is now a second edition ofStudying Philosophythat can be used in conjunction with this book and that Prentice Hall has promised will be available at a sharply reduced price when packaged with this text. It is much expanded and includes advice on studying philosophy, taking exams, writing papers, and managing time. It also gives students the basics of grammar and punctuation along with an expanded discussion of how to improve their writing. Special thanks to reviewers and friends who have provided valuable suggestions and criticisms of this and earlier editions: Jim Abbott, Chesire Calhoun, Irwin Goldstein, Donald C. Hubin, Hugh LaFollette, Sarah Leffler, Elliot Leffler, Paul Menzel, Martin Perlmutter, Bill Shaw, Barbara Spencer, Amy Shapiro, Deni Elliott, David Haslett, Joseph Kupfer, Max Pensky, Joseph J. Tarala, Richard L. Wilson, Larry D. McCargar, Elizabeth Oljar, Nancy A. Stanlick, Richard Volkman, and Harry van der Linden. The reviewers for this edition were David E. W Fenner, University of North Florida and David Drebushenko, University of Southern Indiana. John Arthur Binghamton University