Note: Supplemental materials are not guaranteed with Rental or Used book purchases.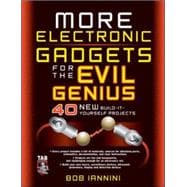 MORE Electronic Gadgets for the Evil Genius 40 NEW Build-it-Yourself Projects
ISBN13:
9780071459051
by
Iannini, Robert
McGraw-Hill Education TAB
Questions About This Book?
What version or edition is this?
This is the 1st edition with a publication date of 1/10/2006.
What is included with this book?
The New copy of this book will include any supplemental materials advertised. Please check the title of the book to determine if it should include any CDs, lab manuals, study guides, etc.
The eBook copy of this book is not guaranteed to include any supplemental materials. Typically only the book itself is included.
Summary
Now mad scientists everywhere can provoke even more mayhem and have even more slightly wicked fun! In these pages, electronics author Bob lannini provides fully detailed and diagrammed plans for 40 excitingly evil new projects. Seriously impressive, these projects can be made at home, at very low cost compared to their entertainment value and other benefits. Many can be made for less than $100.
Author Biography
Bob Iannini (Amherst, NH) is with Information Unlimited, a firm that is dedicated to the experimenter and technology enthusiast. Formed in 1974, the company holds many patents ranging from weapons development to children's toys. Iannini is the author of the runaway success, Electronic Gadgets for the Evil Genius,(2004) as well as Build Your Own Laser, Phaser, Ion Ray Gun, and Other Working Space-Age Projects, McGraw-Hill, 11/83.
Table of Contents
| | |
| --- | --- |
| | Battery-Powered Infrared Pulsed Laser |

1
(10)
2
(1)

| | |
| --- | --- |
| | Circuit Theory of Operation |

2
(3)
5
(1)
5
(1)
5
(2)
7
(1)
8
(1)
8
(3)

| | |
| --- | --- |
| | High-Speed Laser Pulse Detector |

11
(8)
12
(1)
13
(2)
15
(1)
16
(1)
17
(1)

| | |
| --- | --- |
| | Special Note on Photo Detectors |

17
(2)

| | |
| --- | --- |
| | Ultra-Bright Green Laser Project |

19
(6)
20
(5)

| | |
| --- | --- |
| | 115 VAC, 5- to 50- Watt Pulsed Infrared Laser |

25
(12)
25
(1)

| | |
| --- | --- |
| | Circuit Theory of Operation |

26
(2)
28
(1)

| | |
| --- | --- |
| | Notes on the Storage Capacitor |

28
(1)
28
(2)

| | |
| --- | --- |
| | Notes on Circuit Monitoring |

30
(1)
30
(3)
33
(2)
35
(2)
37
(6)

| | |
| --- | --- |
| | System Installation Suggestions |

39
(4)

| | |
| --- | --- |
| | 30-Milliwatt, 980-Nanometer Infrared Laser |

43
(8)
44
(3)

| | |
| --- | --- |
| | Collimator and Final Assembly |

47
(4)

| | |
| --- | --- |
| | High-Voltage, High-Frequency Driver Module |

51
(8)

| | |
| --- | --- |
| | Electrical and Mechanical Specifications |

51
(1)
52
(1)
52
(1)
52
(4)
56
(3)

| | |
| --- | --- |
| | Negative Ion Machine with Reaction-Emitting Rotor |

59
(6)

| | |
| --- | --- |
| | Benefits of Negative Ions |

59
(1)
60
(1)
61
(1)
62
(3)
65
(4)
66
(1)

| | |
| --- | --- |
| | Testing Steps for the Circuit |

66
(1)
67
(2)

| | |
| --- | --- |
| | Plasma Etching and Burning Pen |

69
(6)

| | |
| --- | --- |
| | Driver Circuit Description |

69
(1)
70
(1)
71
(1)
72
(1)
72
(3)

| | |
| --- | --- |
| | How to Electrify Objects and Vehicles |

75
(12)

| | |
| --- | --- |
| | Supplementary Electrification Data and Information |

76
(5)

| | |
| --- | --- |
| | Assembly of Suggested Power Sources |

81
(1)

| | |
| --- | --- |
| | Circuit Description of Pulsed Shocker |

81
(1)

| | |
| --- | --- |
| | Construction Steps for Pulsed Shocker |

81
(4)
85
(1)

| | |
| --- | --- |
| | Construction of Continuous Shocker |

85
(2)

| | |
| --- | --- |
| | Electromagnetic Pulse (EMP) Gun |

87
(6)
87
(2)
89
(1)
89
(1)
89
(4)
93
(10)
103
(10)
103
(1)
104
(4)
108
(1)
108
(5)

| | |
| --- | --- |
| | 50-Kilovolt Laboratory DC Supply |

113
(20)
113
(1)
114
(1)

| | |
| --- | --- |
| | Assembly of the Driver Section |

114
(2)

| | |
| --- | --- |
| | Pretesting the Driver Section |

116
(5)

| | |
| --- | --- |
| | Assembly of the Multiplier Section |

121
(4)
125
(4)
129
(4)

| | |
| --- | --- |
| | Magnetic High-Impact Cannon |

133
(18)
133
(1)
134
(2)
136
(1)
136
(1)

| | |
| --- | --- |
| | Assembly of the Completed System |

137
(6)

| | |
| --- | --- |
| | Testing and Operation of the Cannon |

143
(8)

| | |
| --- | --- |
| | Vacuum Tube Tesla Coil Project |

151
(18)
153
(1)
154
(13)
167
(1)
167
(2)

| | |
| --- | --- |
| | Universal Capacitance Discharge Ignition (CDI) Driver |

169
(8)
169
(1)
170
(5)
175
(1)
175
(2)

| | |
| --- | --- |
| | Long-range Telephone Conversation Transmitter |

177
(6)
177
(2)

| | |
| --- | --- |
| | Assembly of the Circuit Board |

179
(1)
180
(3)

| | |
| --- | --- |
| | Line-Powered Telephone Conversation Transmitter |

183
(4)
183
(2)

| | |
| --- | --- |
| | Assembly of the Circuit Board |

185
(1)
186
(1)

| | |
| --- | --- |
| | Remote Wireless FM Repeater |

187
(4)
187
(1)
188
(1)
189
(2)

| | |
| --- | --- |
| | Tracking and Homing Transmitter |

191
(4)
191
(1)

| | |
| --- | --- |
| | Assembly of the Circuit Board |

192
(2)
194
(1)

| | |
| --- | --- |
| | Snooper Phone Room-Listening Device |

195
(6)
195
(1)
196
(1)
197
(1)
198
(1)
199
(2)

| | |
| --- | --- |
| | Long-Range FM Voice Transmitter |

201
(4)
201
(1)
202
(2)
204
(1)

| | |
| --- | --- |
| | FM Pocket Radio and TV Disrupter |

205
(4)
206
(1)
206
(3)

| | |
| --- | --- |
| | Ozone Generator for Water Treatment |

209
(4)

| | |
| --- | --- |
| | Introduction to the Benefits of Ozone |

209
(1)

| | |
| --- | --- |
| | Ozone for Water Applications |

210
(1)
210
(3)

| | |
| --- | --- |
| | Therapeutic Magnetic Pulser |

213
(6)
214
(1)
215
(4)
219
(4)
220
(1)
220
(1)
221
(2)

| | |
| --- | --- |
| | Mind-Synchronizing Generator |

223
(8)

| | |
| --- | --- |
| | Information on Mind Control |

223
(2)
225
(1)
226
(1)
227
(4)

| | |
| --- | --- |
| | Alternative Health Multiwave Machine |

231
(6)
231
(2)

| | |
| --- | --- |
| | Construction of the Multiwave Coil and Antenna |

233
(1)
234
(3)
237
(4)
237
(1)
238
(1)
239
(2)

| | |
| --- | --- |
| | 500-Milligram Ozone Air Purification System |

241
(8)
241
(1)
242
(1)
242
(2)
244
(5)

| | |
| --- | --- |
| | Invisible Pain-field Generator |

249
(8)
250
(1)
251
(6)
257
(8)
257
(1)
258
(2)
260
(3)
263
(2)

| | |
| --- | --- |
| | Ultrasonic Phaser Pain-Field Generator |

265
(10)
265
(1)
266
(1)
267
(1)
268
(1)

| | |
| --- | --- |
| | Basic Operating Instructions |

269
(3)

| | |
| --- | --- |
| | Information on the System |

272
(1)
272
(1)

| | |
| --- | --- |
| | General Information on Ultrasonics |

272
(1)
272
(3)

| | |
| --- | --- |
| | Magnetic Distortion Detector |

275
(10)
276
(1)
277
(1)

| | |
| --- | --- |
| | Pretesting the Sense Head |

278
(1)

| | |
| --- | --- |
| | Construction of the Control Box |

279
(1)
279
(2)
281
(2)

| | |
| --- | --- |
| | Optional Ultra-Sensitive Vibration and Tremor Detector |

283
(2)
285
(8)
285
(1)
286
(1)
286
(2)
288
(2)
290
(1)
291
(2)
293
(8)
293
(1)
294
(4)
298
(3)

| | |
| --- | --- |
| | Light Saber Recycling Stand |

301
(8)
301
(1)
302
(1)
302
(1)
303
(6)
309
(8)
309
(1)
310
(7)
Index
317