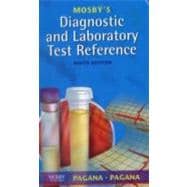 Summary
"With up-to-date, clinically relevant information, this book is a user-friendly guide to everything you need to know for a thorough understanding of laboratory and diagnostic tests. This accurate and comprehensive handbook is organized alphabetically and includes page references to link related tests and studies, making it perfect for quick reference."--BOOK JACKET.
Table of Contents
List of figures
User's guide to test preparation and procedures
Diagnostic and laboratory tests
p. 1
List of tests by body system
p. 1010
List of tests by type
p. 1021
Disease and organ panels
p. 1031
Symbols and units of measurement
p. 1035
Bibliography
p. 1037
Index
p. 1039
Table of Contents provided by Blackwell. All Rights Reserved.