Note: Supplemental materials are not guaranteed with Rental or Used book purchases.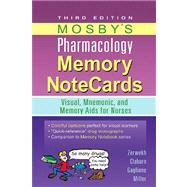 Mosby's Pharmacology Memory NoteCards : Visual, Mnemonic, and Memory Aids for Nurses
ISBN13:
9780323078009
by
Zerwekh, JoAnn, R. N.
;
Claborn, Jo Carol
;
Gaglione, Tom
;
Garneau, Ashley Zerwekh, R. N. (CON)
;
Souter, Sharon, R.N., Ph.D. (CON)
Elsevier Science Health Science div
Questions About This Book?
What version or edition is this?
This is the 3rd edition with a publication date of 6/29/2011.
What is included with this book?
The eBook copy of this book is not guaranteed to include any supplemental materials. Typically only the book itself is included.
Summary
Mosby's Pharmacology Memory NoteCards: Visual, Mnemonic, and Memory Aids for Nurses, 3rd Edition is a colorfully illustrated collection of spiral-bound cards that brings together the difficult drugs and topics related to pharmacology into one portable volume. Using a wide variety of learning aids, humor, illustrations, and mnemonics, this valuable tool helps you master pharmacology in class, in clinicals, and in preparation for the NCLEX#xAE; examination. Specific topics include: administration, antibiotics/antivirals, anticoagulants, cardiac drugs, CNS drugs, diuretics, endocrine drugs, GI drugs, musculoskeletal drugs, pain drugs, psychiatric drugs, pulmonary drugs, and reproductive/OB drugs. For practicing nurses, these cards provide an always-useful refresher on pharmacology. Over 90 cartoons offer humorous and memorable presentations of key drugs. Full-color cartoons and color-highlighted monographs provide a visually engaging way to learn. Mnemonics and other time-tested memory aids help you grasp and remember even the most difficult concepts. Thick pages and spiral-bound format create the perfect portable tool that is durable enough for the clinical environment. Colored thumb tabs at the bottom of the page allow you to quickly reference material. What You Need to Know sections on the back of each image give you more information about each illustrated topic in a quick and easy-to-review format. Colored highlights in the What You Need to Know sections draw your attention to key information: Serious/Life-Threatening Implications are highlighted in pink Most Frequent Side Effects are blue Important Nursing Implications are yellow Patient Teaching information is green NEW coverage throughout highlights contemporary and timely topics on pharmacology all in one clinical tool. 8 brand new cards focus on administration by inhalation, lovenox, fentanyl, and more. New mobile device version enables you to study on the go.
Table of Contents
Administration
Medication Administration
Medication Calculation
Ear Drop Administration
Peak and Trough
Guide to Drug Overdose
Administration of Medications by Inhalation
Transdermal Administration of Medication
Antibiotics/Antivirals
Cephalosporins
Tetracyclines
Metronidazole (Flagyl)
Isoniazide (INH)
Aminoglycosides
Antiretrovirals
Drug Impact on Pregnancies
Ciprofloxacin (Cipro)
Penicillin
Azithromycin (Zithromax)
Aminoglycoside Toxicity
Anticoagulants/Hematinics
Heparin
Lovenox (Enoxaprin)
Warfarin Sodium (Coumadin)
Epoetin Alfa (Procrit)
Iron Supplements
Thrombolytics
Clopidogrel (Plavix)
Argatroban
Cardiac
Antihypertensives
Hypertension ABC
Beta Blockers
Angiotensin Coverting Enzyme (ACE) Inhibitors
Calcium Channel Blockers
Nitroglycerin
Antidysrhythmics
Digitalis
Lidocaine Toxicity
Drugs for Bradycardia and Hypotension
Alpha-Adrenergic Antagonist (Alpha-Blockers)
Beta-Blocker Actions (Beta-Adrenergic Antagonists)
Beta-Adrenergic Antagonist (Beta-Blockers)
HMG-CoA Reductase Inhibitors (Statins) (Beta-Adrenergic)
CNS
Antiepileptic Drugs
Hydroxyzine (Vistaril) and Lorazepam (Ativan)
Promethazine (Phenergan)
Midazolam (Versed)
Diuretics
Diuretics
Spironolactone (Aldactone)
Endocrine
Types of Insulin
Sulfonylureas
Corticosteroids
Levothyroxine Sodium (Synthroid)
Metformin (Glucophage)
Gastrointestinal
H2-Blockers
Psyllium (Metamucil)
Metoclopramide Hydrohloride (Reglan)
Proton Pump Inhibitors
Magnesium Hydroxide (Milk of Magnesia)
Aluminum Hydroxide (Amphojel)
Antidiarrheals (Loperamide [Imodium] and Diphenoxylate Hydrochloride [Lomotil])
Lactulose
Sodium Polystyrene Sulfonate (Kayexalate)
Miscellaneous
Atropine Overdose
Potassium Chloride (Intravenous and Orally)
Salicylate Poisoning
Toxic Levels of Lithium, Digoxin, and Theophylline
Drug Interactions and Grapefruit
Emergency Drugs
Cancer Chemotherapy: Adverse Reactions/Precautions
Oral Calcium Supplements
Beta-Blocking Drugs for Glaucoma: Betaxolol (Betoptic), Timolol (Timoptic), Carteolol (Ocupress)
Pyridoxine (Vitamin B6): Isoniazid (INH) and Levodopa
Musculoskeletal
Etodolac (Lodine)
Antigout Agents: Febuxostat (Uloric), Allopruninol (Zyloprim), Probenecid (Benemid)
Bisphosphonate Therapy: Alendronate (Fosamax), Risedronate (Actonel), Ibandronate (Boniva)
Pain
Morphine Sulfate
Moderate-to-Strong Opioid Analgesics
Narcotic Antagonists: Naloxone (Narcan)
Nonsteroidal Antiinflammatory Drugs (NSAIDs, Nonapirin)
Acetylsalicylic Acid (Aspirin, ASA)
Fentanyl
Psychiatric
Selective Serotonin Reuptake Inhibitors (SSRIs)
Monoamine Oxidase Inhibitors (MAOIs)
Tricyclic Antidepressants
Haloperidol (Haldol)
Donepezil (Aricept, Aricept ODT)
Pulmonary
Antihistamines
Bronchodilators
Advair and Spiriva
Antitussives, Expectorants, and Mucolytics
Reproductive/OB
Oxytocin (Pitocin)
Rho(D) Immune Globulin (RhIG) (RhoGAM)
Uterine Relaxants (Tocolytics)
Anticholinergic Drugs for Overactive Bladder
Oral Contraceptives (Combination)
Erectile Dysfunction
Table of Contents provided by Publisher. All Rights Reserved.