Note: Supplemental materials are not guaranteed with Rental or Used book purchases.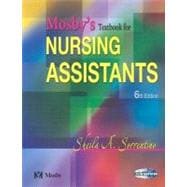 Mosby's Textbook for Nursing Assistants - Soft Cover Version
ISBN13:
9780323025805
by
Sorrentino
Summary
This textbook is known for its comprehensive coverage, readability, and visual presentation. This revision builds on these strengths, adding new content and features to better address learning needs and practice realities. Increased emphasis on delegation and safety help prepare students to function most effectively in today's practice settings. Comprehensive coverage of nursing assistant responsibilities in all settings Nearly 1,000 full-color photos and drawings provide clear, visual explanation of concepts and actions Learning Objectives for each chapter help students focus on information presented Key Terms with definitions help students understand chapter content Step-by-step procedures detail skills and are divided into pre-, procedure, and post-procedure sections for easier learning Icons in section headings alert student to associated procedure Focus On... boxes address the special needs of children, elders, long-term care residents, and home care patients Caring about Culture boxes provide information to help students learn about the practices of other cultures Chapter Review Questions help students evaluate learning Quality of Life sections in the procedures remind students to show respect for the person by performing simple courtesies such as knocking before entering the room, calling the person by name, and more UNIQUE! Mosby's Nursing Assistant CD-ROM, bound in the text, includes 25 procedures with corresponding video clips & exercises, an audio glossary, and Body Spectrum - an electronic anatomy coloring book. Delegation Guidelines detail the nurse assistant's responsibilities when accepting specific delegated tasks Safety Alerts provide cautions and proper techniques for protecting both staff and patients Appendix provides basic Spanish health care terminology to help students communicate effectively Incorporates the new 2002 CDC Hand Hygiene Guidelines so students learn when and how to use both traditional handwashing techniques and the new alcohol-based cleaning agents New chapter on Residents in Assisted Living Settings prepares students to practice in this growing care setting Separate chapter on Assisting with the Nursing Process helps students understand how their role fits in to the nursing team New procedures include Chair or Wheelchair to Bed Transfer, Transferring a Person to and from a Toilet, and Preparing the Person for Meals New chapter on Restraint Alternatives and Safe Restraint Use focuses on the proper techniques for applying restraints as well as strategies to protect patient safety without the use of restraints NNAAP highlighted skills alert students to skills that are part of the National Nurse Aide Assessment Program (NNAAPT) exam New content on meeting standards for licensure, certification, and accreditation alerts students to information they must know to practice Safety chapter has been updated and expanded to include content on bed rail entrapment, crib safety for children, household poisons, wheelchair and stretcher safety, and bomb threats.
Table of Contents
1 Introduction to Health Care Agencies,
1
(12)

| | |
| --- | --- |
| | Agency Purposes and Types, |

3
(3)
6
(2)
8
(2)
10
(1)
10
(1)
11
(2)
2 The Nursing Assistant,
13
(20)

| | |
| --- | --- |
| | History and Current Trends, |

15
(1)
15
(2)

| | |
| --- | --- |
| | Roles and Responsibilities, |

17
(6)
23
(2)
25
(1)
26
(2)
28
(5)
3 Work Ethics,
33
(19)

| | |
| --- | --- |
| | Personal Health, Hygiene, and Appearance, |

34
(2)
36
(8)
44
(1)
45
(3)
48
(1)
48
(1)
49
(1)
49
(3)
4 Communicating With the Health Team,
52
(20)
54
(1)
54
(5)
59
(1)
59
(3)

| | |
| --- | --- |
| | Medical Terminology and Abbreviations, |

62
(3)
65
(1)
66
(2)
68
(1)

| | |
| --- | --- |
| | Cross-Training Opportunities, |

68
(4)
5 Assisting With the Nursing Process,
72
(10)
74
(2)
76
(2)
78
(1)
78
(1)
79
(1)
79
(3)
6 Understanding the Person,
82
(16)
83
(1)
84
(1)
85
(1)
86
(1)

| | |
| --- | --- |
| | Persons You Will Care for, |

86
(3)
89
(1)

| | |
| --- | --- |
| | Communicating With the Person, |

89
(5)
94
(1)
95
(3)
7 Body Structure and Function,
98
(22)

| | |
| --- | --- |
| | Cells, Tissues, and Organs, |

99
(2)

| | |
| --- | --- |
| | The Integumentary System, |

101
(1)

| | |
| --- | --- |
| | The Musculoskeletal System, |

102
(2)
104
(3)
107
(2)
109
(1)
110
(2)
112
(1)
113
(3)
116
(1)
117
(3)
8 Growth and Development,
120
(13)
121
(1)

| | |
| --- | --- |
| | Infancy (Birth to 1 Year), |

122
(2)

| | |
| --- | --- |
| | Toddlerhood (1 to 3 Years), |

124
(1)

| | |
| --- | --- |
| | Preschool (3 to 6 Years), |

125
(1)

| | |
| --- | --- |
| | School Age (6 to 9 or 10 Years), |

126
(1)

| | |
| --- | --- |
| | Late Childhood (9 or 10 to 12 Years), |

127
(1)

| | |
| --- | --- |
| | Adolescence (12 to 18 Years), |

128
(1)

| | |
| --- | --- |
| | Young Adulthood (18 to 40 Years), |

129
(1)

| | |
| --- | --- |
| | Middle Adulthood (40 to 65 Years), |

130
(1)

| | |
| --- | --- |
| | Late Adulthood (65 Years and Older), |

130
(3)
9 Care of the Older Person,
133
(17)

| | |
| --- | --- |
| | Psychological and Social Changes, |

134
(2)
136
(4)
140
(4)
144
(3)
147
(3)
10 Safety,
150
(31)
151
(1)
152
(3)
155
(1)
156
(5)
161
(1)
161
(2)
163
(1)

| | |
| --- | --- |
| | Preventing Equipment Accidents, |

164
(2)

| | |
| --- | --- |
| | Wheelchair and Stretcher Safety, |

166
(2)

| | |
| --- | --- |
| | Handling Hazardous Substances, |

168
(2)
170
(4)

| | |
| --- | --- |
| | PROCEDURE: USING A FIRE EXTINGUISHER, |

171
(3)
174
(1)
174
(3)
177
(4)
11 Restraint Alternatives and Safe Restraint Use,
181
(18)

| | |
| --- | --- |
| | History of Restraint Use, |

182
(1)
182
(3)
185
(14)

| | |
| --- | --- |
| | PROCEDURE: APPLYING RESTRAINTS, |

195
(4)
12 Preventing Infection,
199
(34)
201
(1)
201
(2)
203
(4)
207
(3)
210
(13)

| | |
| --- | --- |
| | PROCEDURE: REMOVING GLOVES, |

215
(1)

| | |
| --- | --- |
| | PROCEDURE: WEARING A MASK, |

216
(2)

| | |
| --- | --- |
| | PROCEDURE: DONNING AND REMOVING A GOWN, |

218
(3)

| | |
| --- | --- |
| | PROCEDURE: DOUBLE BAGGING, |

221
(2)

| | |
| --- | --- |
| | Bloodborne Pathogen Standard, |

223
(3)
226
(4)

| | |
| --- | --- |
| | PROCEDURE: STERILE GLOVING, |

228
(2)

| | |
| --- | --- |
| | Cross-Training Opportunities, |

230
(3)
13 Body Mechanics,
233
(46)
234
(5)
239
(1)

| | |
| --- | --- |
| | Lifting and Moving Persons in Bed, |

240
(10)

| | |
| --- | --- |
| | PROCEDURE: RAISING THE PERSONS HEAD AND SHOULDERS, |

241
(3)

| | |
| --- | --- |
| | PROCEDURE: MOVING THE PERSON UP IN BED, |

244
(2)

| | |
| --- | --- |
| | PROCEDURE: MOVING THE PERSON UP IN BED WITH A LIFT SHEET, |

246
(3)

| | |
| --- | --- |
| | PROCEDURE: MOVING THE PERSON TO THE SIDE OF THE BED, |

249
(1)
250
(4)

| | |
| --- | --- |
| | PROCEDURE: TURNING AND POSITIONING THE PERSON, |

251
(2)

| | |
| --- | --- |
| | PROCEDURE: LOGROLLING THE PERSON, |

253
(1)

| | |
| --- | --- |
| | Sitting on the Side of the Bed (Dangling), |

254
(2)

| | |
| --- | --- |
| | PROCEDURE: HELPING THE PERSON SIT ON THE SIDE OF THE BED (DANGLE), |

255
(1)
256
(16)

| | |
| --- | --- |
| | PROCEDURE: APPLYING A TRANSFER BELT, |

257
(2)

| | |
| --- | --- |
| | PROCEDURE: TRANSFERRING THE PERSON TO A CHAIR OR WHEELCHAIR, |

259
(4)

| | |
| --- | --- |
| | PROCEDURE: TRANSFERRING THE PERSON FROM THE CHAIR OR WHEELCHAIR TO BED, |

263
(2)

| | |
| --- | --- |
| | PROCEDURE: TRANSFERRING THE PERSON TO A WHEELCHAIR WITH ASSISTANCE, |

265
(2)

| | |
| --- | --- |
| | PROCEDURE: TRANSFERRING THE PERSON USING A MECHANICAL LIFT, |

267
(2)

| | |
| --- | --- |
| | PROCEDURE: TRANSFERRING THE PERSON TO AND FROM THE TOILET, |

269
(2)

| | |
| --- | --- |
| | PROCEDURE: TRANSFERRING THE PERSON TO A STRETCHER, |

271
(1)
272
(7)
14 The Person's Unit,
279
(12)
280
(2)

| | |
| --- | --- |
| | Room Furniture and Equipment, |

282
(9)
15 Bedmaking,
291
(20)
292
(2)
294
(2)
296
(8)

| | |
| --- | --- |
| | PROCEDURE: MAKING A CLOSED BED, |

298
(6)
304
(1)

| | |
| --- | --- |
| | PROCEDURE: MAKING AN OPEN BED, |

304
(1)
305
(4)

| | |
| --- | --- |
| | PROCEDURE: MAKING AN OCCUPIED BED, |

305
(4)
309
(2)

| | |
| --- | --- |
| | PROCEDURE: MAKING A SURGICAL BED, |

309
(2)
16 Personal Hygiene,
311
(37)
314
(1)
315
(10)

| | |
| --- | --- |
| | PROCEDURE: ASSISTING THE PERSON TO BRUSH THE TEETH, |

316
(1)

| | |
| --- | --- |
| | PROCEDURE: BRUSHING THE PERSONS TEETH, |

317
(2)

| | |
| --- | --- |
| | PROCEDURE: FLOSSING THE PERSONS TEETH, |

319
(2)

| | |
| --- | --- |
| | PROCEDURE: PROVIDING MOUTH CARE FOR AN UNCONSCIOUS PERSON, |

321
(1)

| | |
| --- | --- |
| | PROCEDURE: PROVIDING DENTURE CARE, |

322
(3)
325
(14)

| | |
| --- | --- |
| | PROCEDURE: GIVING A COMPLETE BED BATH, |

327
(6)

| | |
| --- | --- |
| | PROCEDURE: GNING A PARTIAL BATH, |

333
(4)

| | |
| --- | --- |
| | PROCEDURE: ASSISTING WITH A TUB BATH OR SHOWER, |

337
(2)
339
(3)

| | |
| --- | --- |
| | PROCEDURE: GIVING A BACK MASSAGE, |

340
(2)
342
(4)

| | |
| --- | --- |
| | PROCEDURE: GIVING FEMALE PERINEAL CARE, |

342
(3)

| | |
| --- | --- |
| | PROCEDURE: GIVING MALE PERINEAL CARE, |

345
(1)
346
(2)
17 Grooming,
348
(23)
349
(7)

| | |
| --- | --- |
| | PROCEDURE: BRUSHING AND COMBING THE PERSONS HAIR, |

351
(4)

| | |
| --- | --- |
| | PROCEDURE: SHAMPOOING THE PERSONS HAIR, |

355
(1)
356
(2)

| | |
| --- | --- |
| | PROCEDURE: SHAVING THE PERSON, |

357
(1)
358
(3)

| | |
| --- | --- |
| | PROCEDURE: GIVING NAIL AND FOOT CARE, |

359
(2)

| | |
| --- | --- |
| | Changing Gowns and Clothing, |

361
(10)

| | |
| --- | --- |
| | PROCEDURE: CHANGING THE GOWN OF THE PERSON WITH AN IV, |

362
(2)

| | |
| --- | --- |
| | PROCEDURE: UNDRESSING THE PERSON, |

364
(4)

| | |
| --- | --- |
| | PROCEDURE: DRESSING THE PERSON, |

368
(3)
18 Urinary Elimination,
371
(25)
372
(12)

| | |
| --- | --- |
| | PROCEDURE: GIVING THE BEDPAN, |

376
(3)

| | |
| --- | --- |
| | PROCEDURE: GIVING THE URINAL, |

379
(2)

| | |
| --- | --- |
| | PROCEDURE: HELPING THE PERSON TO THE COMMODE, |

381
(3)

| | |
| --- | --- |
| | Urinary Incontinence, 382 |

384
(10)

| | |
| --- | --- |
| | PROCEDURE: GIVING CATHETER CARE, |

386
(3)

| | |
| --- | --- |
| | PROCEDURE: CHANGING A LEG BAG TO A DRAINAGE BAG, |

389
(2)

| | |
| --- | --- |
| | PROCEDURE: EMPTYING A URINARY DRAINAGE BAG, |

391
(2)

| | |
| --- | --- |
| | PROCEDURE: APPLYING A CONDOM CATHETER, |

393
(1)
394
(2)
19 Bowel Elimination,
396
(24)
399
(1)

| | |
| --- | --- |
| | Factors Affecting Bowel Elimination, |

399
(1)
400
(5)

| | |
| --- | --- |
| | PROCEDURE: CHECKING FOR FECAL IMPACTION, |

402
(1)

| | |
| --- | --- |
| | PROCEDURE: REMOVING A FECAL IMPACTION, |

403
(2)
405
(1)
406
(7)

| | |
| --- | --- |
| | PROCEDURE: GIVING A CLEANSING ENEMA, |

409
(2)

| | |
| --- | --- |
| | PROCEDURE: GIVING A SMALL-VOLUME ENEMA, |

411
(1)

| | |
| --- | --- |
| | PROCEDURE: GIVING AN OIL-RETENTION ENEMA, |

412
(1)
413
(2)

| | |
| --- | --- |
| | PROCEDURE: INSERTNG A RECTAL TUBE, |

414
(1)

| | |
| --- | --- |
| | The Person With An Ostomy, |

415
(5)

| | |
| --- | --- |
| | PROCEDURE: CHANGING AN OSTOMY POUCH, |

417
(3)
20 Nutrition and Fluids,
420
(35)
422
(6)

| | |
| --- | --- |
| | Factors Affecting Eating and Nutrition, |

428
(3)
431
(4)
435
(3)

| | |
| --- | --- |
| | Meeting Food and Fluids Needs, |

438
(6)

| | |
| --- | --- |
| | PROCEDURE: MEASURING INTAKE AND OUTPUT, |

438
(1)

| | |
| --- | --- |
| | PROCEDURE: PREPARING THE PERSON FOR MEALS, |

439
(2)

| | |
| --- | --- |
| | PROCEDURE: SERVING MEAL TRAYS, |

441
(2)

| | |
| --- | --- |
| | PROCEDURE: FEEDING A PERSON, |

443
(1)
444
(8)

| | |
| --- | --- |
| | Cross-Training Opportunities, |

452
(3)
21 Measuring Vital Signs,
455
(27)

| | |
| --- | --- |
| | Measuring and Reporting Vital Signs, |

457
(1)
457
(10)

| | |
| --- | --- |
| | PROCEDURE: TAKING A TEMPERATURE WITH A GLASS THERMOMETER, |

461
(3)

| | |
| --- | --- |
| | PROCEDURE: TAKING A TEMPERATURE WITH AN ELECTRONIC THERMOMETER, |

464
(3)
467
(7)

| | |
| --- | --- |
| | PROCEDURE: TAKING A RADIAL PULSE, |

471
(1)

| | |
| --- | --- |
| | PROCEDURE: TAKING AN APICAL PULSE, |

472
(1)

| | |
| --- | --- |
| | PROCEDURE: TAKING AN APICAL-RADIAL PULSE, |

473
(1)
474
(2)

| | |
| --- | --- |
| | PROCEDURE: COUNTING RESPIRATIONS, |

475
(1)
476
(6)

| | |
| --- | --- |
| | PROCEDURE: MEASURING BLOOD PRESSURE, |

479
(3)
22 Exercise and Activity,
482
(23)
484
(4)

| | |
| --- | --- |
| | Range-of-Motion Exercises, |

488
(6)

| | |
| --- | --- |
| | PROCEDURE: PERFORMING RANGE-OF-MOTION EXERCISES, |

490
(4)
494
(11)

| | |
| --- | --- |
| | PROCEDURE: HELPING THE PERSON WALK, |

495
(1)

| | |
| --- | --- |
| | PROCEDURE: HELPING THE FALLING PERSON, |

496
(9)
23 Comfort, Rest, and Sleep,
505
(12)
507
(5)
512
(1)
512
(5)
24 Admissions, Transfers, and Discharges,
517
(14)
519
(9)

| | |
| --- | --- |
| | PROCEDURE: PREPARING THE PERSONS ROOM, |

519
(4)

| | |
| --- | --- |
| | PROCEDURE: ADMITTING THE PERSON, |

523
(2)

| | |
| --- | --- |
| | PROCEDURE: MEASURING HEIGHT AND WEIGHT, |

525
(2)

| | |
| --- | --- |
| | PROCEDURE: MEASURING HEIGHT: THE PERSON IS IN BED, |

527
(1)
528
(1)

| | |
| --- | --- |
| | PROCEDURE: TRANSFERRING THE PERSON TO ANOTHER NURSING UNIT, |

528
(1)
529
(2)

| | |
| --- | --- |
| | PROCEDURE: DISCHARGING THE PERSON, |

529
(2)
25 Assisting With the Physical Examination,
531
(9)
532
(1)
533
(1)
534
(2)

| | |
| --- | --- |
| | PROCEDURE: PREPARING THE PERSON FOR AN EXAMINATION, |

535
(1)
536
(1)

| | |
| --- | --- |
| | Assisting With the Examination, |

537
(1)

| | |
| --- | --- |
| | Cross-Training Opportunities, |

538
(2)
26 Collecting and Testing Specimens,
540
(19)
542
(10)

| | |
| --- | --- |
| | PROCEDURE: COLLECTING A RANDOM URINE SPECIMEN, |

543
(2)

| | |
| --- | --- |
| | PROCEDURE: COLLECTING A MIDSTREAM SPECIMEN, |

545
(1)

| | |
| --- | --- |
| | PROCEDURE: COLLECTING A 24-HOUR URINE SPECIMEN, |

546
(1)

| | |
| --- | --- |
| | PROCEDURE: COLLECTING A DOUBLE-VOIDED SPECIMEN, |

547
(2)

| | |
| --- | --- |
| | PROCEDURE: COLLECTING A URINE SPECIMEN FROM AN INFANT OR CHILD, |

549
(1)

| | |
| --- | --- |
| | PROCEDURE: TESTING URINE WITH REAGENT STRIPS, |

550
(1)

| | |
| --- | --- |
| | PROCEDURE: STRAINING URINE, |

551
(1)
552
(4)

| | |
| --- | --- |
| | PROCEDURE: COLLECTING A STOOL SPECIMEN, |

553
(2)

| | |
| --- | --- |
| | PROCEDURE: TESTING A STOOL SPECIMEN FOR BLOOD, |

555
(1)
556
(3)

| | |
| --- | --- |
| | PROCEDURE: COLLECTING A SPUTUM SPECIMEN, |

557
(2)
27 The Person Having Surgery,
559
(22)
561
(1)
562
(8)

| | |
| --- | --- |
| | PROCEDURE: THE SURGICAL SKIN PREP, |

566
(3)

| | |
| --- | --- |
| | PROCEDURE: GIVING A DOUCHE, |

569
(1)
570
(2)
572
(9)

| | |
| --- | --- |
| | PROCEDURE: APPLYING ELASTIC STOCKINGS, |

575
(2)

| | |
| --- | --- |
| | PROCEDURE: APPLYING ELASTIC BANDAGES, |

577
(4)
28 Wound Care,
581
(21)
583
(2)
585
(6)
591
(1)
592
(3)
595
(4)

| | |
| --- | --- |
| | PROCEDURE: APPLYING A DRY, NONSTERILE DRESSING, |

598
(1)
599
(1)

| | |
| --- | --- |
| | Heat and Cold Applications, |

600
(1)
600
(2)
29 Heat and Cold Applications,
602
(17)
603
(11)

| | |
| --- | --- |
| | PROCEDURE: APPLYING HOT COMPRESSES, |

606
(1)
607
(2)

| | |
| --- | --- |
| | PROCEDURE: ASSISTING THE PERSON TO TAKE A SITZ BATH, |

609
(2)

| | |
| --- | --- |
| | PROCEDURE: APPLYING A HOT PACK, |

611
(2)

| | |
| --- | --- |
| | PROCEDURE: APPLYING AN AQUATHERMIA PAD, |

613
(1)
614
(3)

| | |
| --- | --- |
| | PROCEDURE: APPLYING AN ICE BAG, ICE COLLAR, ICE GLOVE, OR DRY COLD PACK, |

615
(1)

| | |
| --- | --- |
| | PROCEDURE: APPLYING COLD COMPRESSES, |

616
(1)

| | |
| --- | --- |
| | Cooling and Warming Blankets, |

617
(2)
30 Oxygen Needs,
619
(28)

| | |
| --- | --- |
| | Factors Affecting Oxygen Needs, |

621
(2)

| | |
| --- | --- |
| | Altered Respiratory Function, |

623
(5)

| | |
| --- | --- |
| | PROCEDURE: USING A PULSE OXIMETER, |

627
(1)
628
(4)

| | |
| --- | --- |
| | PROCEDURE: ASSISTING WITH COUGHING AND DEEP-BREATHING EXERCISES, |

629
(3)

| | |
| --- | --- |
| | Assisting With Oxygen Therapy, |

632
(6)

| | |
| --- | --- |
| | PROCEDURE: SETTING UP FOR OXYGEN ADMINISTRATION, |

636
(2)
638
(2)
640
(2)
642
(1)
643
(1)

| | |
| --- | --- |
| | Cardiopulmonary Resuscitation, |

644
(3)
31 Rehabilitation and Restorative Care,
647
(11)
649
(1)

| | |
| --- | --- |
| | Rehabilitation and the Whole Person, |

649
(5)
654
(1)
655
(1)
655
(3)
32 Hearing and Vision Problems,
658
(13)
659
(5)
664
(7)

| | |
| --- | --- |
| | PROCEDURE: CARING FOR EYEGLASSES, |

666
(5)
33 Common Health Problems,
671
(37)
673
(2)

| | |
| --- | --- |
| | Musculoskeletal Disorders, |

675
(11)

| | |
| --- | --- |
| | Nervous System Disorders, |

686
(4)
690
(2)

| | |
| --- | --- |
| | Cardiovascular Disorders, |

692
(4)

| | |
| --- | --- |
| | Urinary System Disorders, |

696
(2)
698
(2)
700
(1)
701
(7)
34 Mental Health Problems,
708
(9)
710
(1)
710
(2)
712
(1)
712
(1)
713
(1)
714
(1)
715
(2)
35 Confusion and Dementia,
717
(13)
718
(1)
719
(1)
720
(3)

| | |
| --- | --- |
| | Care of the Person With AD and Other |

723
(7)
36 Developmental Disabilities,
730
(8)
731
(1)
732
(1)
733
(1)
733
(1)
734
(1)
734
(2)
736
(2)
37 Sexuality,
738
(8)
739
(3)
742
(1)

| | |
| --- | --- |
| | Injury, Illness, and Surgery, |

742
(1)
742
(1)
742
(2)

| | |
| --- | --- |
| | The Sexually Aggressive Person, |

744
(1)

| | |
| --- | --- |
| | Sexually Transmitted Diseases, |

744
(2)
38 Caring For Mothers and Newborns,
746
(22)

| | |
| --- | --- |
| | Infant Safety and Security, |

747
(3)

| | |
| --- | --- |
| | Helping Mothers Breast-Feed, |

750
(3)
753
(3)

| | |
| --- | --- |
| | PROCEDURE: CLEANING BABY BOTTLES, |

753
(3)
756
(2)

| | |
| --- | --- |
| | PROCEDURE: DIAPERING A BABY, |

757
(1)

| | |
| --- | --- |
| | Care of the Umbilical Cord, |

758
(1)
759
(1)
760
(3)

| | |
| --- | --- |
| | PROCEDURE: GIVING A BABY A SPONGE BATH, |

761
(2)

| | |
| --- | --- |
| | PROCEDURE: GIVING A BABY A TUB BATH, |

763
(1)
763
(1)
764
(1)

| | |
| --- | --- |
| | PROCEDURE: WEIGHING AN INFANT, |

764
(1)
765
(3)
39 Assisted Living,
768
(9)
770
(2)
772
(1)
772
(1)
772
(3)

| | |
| --- | --- |
| | Transfer, Discharge, and Eviction, |

775
(2)
40 Basic Emergency Care,
777
(27)
778
(1)
779
(18)

| | |
| --- | --- |
| | PROCEDURE: ADULT CPR-ONE RESCUER, |

784
(1)

| | |
| --- | --- |
| | PROCEDURE: ADULT CPR-TWO RESCUERS, |

785
(1)

| | |
| --- | --- |
| | PROCEDURE: INFANT CPR-ONE RESCUER, |

786
(2)

| | |
| --- | --- |
| | PROCEDURE: CHILD CPR-ONE RESCUER, |

788
(3)

| | |
| --- | --- |
| | PROCEDURE: FBAO-THE RESPONSIVE ADULT, |

791
(1)

| | |
| --- | --- |
| | PROCEDURE: FBAO-THE UNRESPONSIVE ADULT, |

792
(1)

| | |
| --- | --- |
| | PROCEDURE: FBAO-THE RESPONSIVE INFANT, |

793
(1)

| | |
| --- | --- |
| | PROCEDURE: FBAO-THE RESPONSIVE CHILD, |

794
(1)

| | |
| --- | --- |
| | PROCEDURE: FBAO-THE UNRESPONSIVE INFANT OR CHILD, |

795
(2)
797
(1)
798
(1)
798
(1)
799
(1)
800
(1)
800
(1)
801
(3)
41 The Dying Person,
804
(11)
805
(1)
806
(1)
807
(1)

| | |
| --- | --- |
| | Psychological, Social, and Spiritual Needs, |

807
(1)
808
(1)
808
(1)
809
(1)
809
(1)
809
(2)
811
(1)

| | |
| --- | --- |
| | Care of the Body After Death, |

811
(4)

| | |
| --- | --- |
| | PROCEDURE: ASSISTING WITH POSTMORTEM CARE, |

812
(3)
Review Question Answers,
815
(6)
Appendix A,
821
(1)
Appendix B,
822
(11)
Appendix C,
833
(19)
Glossary,
852