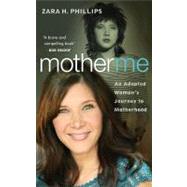 Mother Me : An Adopted Woman's Journey to Motherhood
by
Phillips, Zara
Summary
The adopted daughter of loving parents, Zara Phillips nonetheless felt out of place in her family and a misfit in the world around her. Although cherished by a well-meaning mother and father, she grew up feeling deeply insecure and alone, consumed by a void she found impossible to fill. Isolation led to alienation, yet her talent brought her to the center of the thriving London rock 'n┐ roll scene of the 1980s. Her downward spiral fueled by its lifestyle, Zara became lost in drugs, alcohol and destructive relationships. An intense search for the truth of her birth led to an awakening and successful recovery. Yet, it was her experience of becoming a mother that revealed what being an adopted person really meant to her. For the first time, she gained deep understanding and compassion for both her birth mother and her adoptive mother and was able to start the healing process. The tale of Zara┐s search for her birth mother and her path to health is riveting, as are the stories of many people sharing her past. Zara┐s activism for adoptee rights springs from a very personal passion. Mother Me is a brave and compelling memoir that illuminates the lifelong impact of adoption on every member of the adoption triad┐adoptee, birth mother and adoptive mother┐as well as the families of each
Author Biography
Zara H Phillips (www.zarahphillips.com) is a singer-songwriter, filmmaker, public speaker and advocate for adoptee rights. Raised in England, Zara lives outside New York City.
Table of Contents
Introduction
p. xxi
In the Beginning
p. 1
The Good Adoptee
p. 12
Hidden Truths
p. 17
Fantasy
p. 22
A Yearning to Connect
p. 27
Acting Out
p. 32
Rock 'N' Roll Lifestyle
p. 45
Turning Points
p. 56
The Search
p. 64
Contact
p. 78
Reunion
p. 89
Breaking the Silence
p. 100
A New Life In LA
p. 103
Marriage
p. 111
Motherhood
p. 115
Fear
p. 125
Understanding
p. 129
The Missing Link
p. 133
Healing And Loss
p. 138
Someone Who Looks Like Me
p. 143
Birthday Blues
p. 147
Telling The Truth
p. 151
Letting Go
p. 159
Full Circle
p. 166
Epilogue
p. 175
Resources
p. 191
About the Author
p. 197
Table of Contents provided by Ingram. All Rights Reserved.