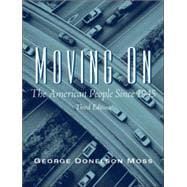 List Price: $74.40
Usually Ships in 3-5 Business Days
Currently Available, Usually Ships in 24-48 Hours
Questions About This Book?
What version or edition is this?
This is the 3rd edition with a publication date of 12/9/2009 1:45:00 PM.
What is included with this book?
The New copy of this book will include any supplemental materials advertised. Please check the title of the book to determine if it should include any CDs, lab manuals, study guides, etc.
The Used copy of this book is not guaranteed to inclue any supplemental materials. Typically, only the book itself is included.
Summary
Moving On is a comprehensive narrative synthesis covering U.S. History from 1945 until the present. Blending old and new historical approaches. it produces an inclusive account covering the historical experiences of all important groups and their contributions to the most successful multicultural society in human history. Reworked and updated to incorporate recent events and scholarship, the third edition includes the following: bull; bull;a new chapter covering the first few years of the new millennium bull;completely revised bibliographic essays bull;enhanced coverage of social and cultural topics
Table of Contents
The American People in 1945
The Rise of the Cold War
Postwar America
The American People at Mid-Century
The Politics of Consensus
New Frontiers
Great Society and Vietnam
Rebellion and Reaction
Calming Down
Deacute;tente, China, and Vietnam
Era of Limits
The American People in the 1970s
America Revived
Going Global
The New Millennium
The Declaration of Independence
Amendments to the United States Constitution Since 1945
Presidential Elections Since 1944
Population of the United States Since 1940
Index
Table of Contents provided by Publisher. All Rights Reserved.
Excerpts
Moving On: The American People Since 1945covers the sixty years of American history from the end of World War II to the present; it endeavors to explain how the American nation has become what it is today and how the American people have become what they are today. It represents my best efforts to probe the deeper meanings of the recent historical experiences that have shaped our nation and forged the social character of our people. Recent American history is a compelling saga of human struggle, achievement, and failure; it is filled with irony, tragedy, and comedy.It has been an exciting book to write and revise for a third edition, because our recent past has been, and no doubt will continue to be, supercharged with energy, conflict, and drama. The book has been thoroughly revised for this new edition. Each chapter has been carefully reworked. For some chapters, new material has been added. For others, material has been abbreviated or deleted. Chapters 13 and 14 covering the 1980s have been shortened and combined, as have Chapters 15 and 16 covering the 1990s. The new Chapter 14 encompassing the significant events of the 1990s also has been redesigned and largely rewritten.A new chapter, Chapter 15, has been added that covers the momentous events occurring during the first years of the twenty-first century, including the terrorist attacks on the United States that we know as 9/11/01. It contains accounts of the ongoing war on terrorism including the military interventions into Afghanistan and Iraq. This new edition also puts the war on terrorism into a larger historical context and provides an analytic framework. The ongoing war on terrorism is rooted in developments that occurred during the late 1970s and early 1980s.At the conclusion of each chapter, I have appended a short bibliographic essay. Each essay contains brief descriptions of carefully selected works chosen for their currency, accessibilty, and literary quality to assist students in selecting the best available books on topics that attract their interest. The bibliographic essays have all been revised and updated for this new edition. This edition also includes carefully selected Internet Web sites to help readers make their way through the proliferating online resources on recent U.S. history.The era that began amidst the storm of the planet's largest war and continues to the present global war against terrorism forms a coherent unit of study. It is no wonder that students have made recent U.S. history courses among the most popular currently being offered on the nation's college and university campuses. Paradoxically, most students, even the best and the brightest who have had good high school survey courses in U.S. history, are unlikely to know well the recent history of their country--even though it is that recent history that most usefully illuminates the present and suggests the shape of the future rapidly exploding upon us.For most young people, Watergate and the Warren Commission are merely rhetorical labels, names for events that scarcely one student in ten can discuss meaningfully. Students often know more about the Spanish-American War than they do about the Persian Gulf War. Having scant historical understanding of recent events, they have little sense of causation or consequences. They lack the experience of constructing meaningful patterns of explanation and interpretation that creates out of these recent events an intelligible, usable past.Did the upheavals of the 1960s have an enduring impact on the status of minorities, women, and gay-lesbian people? How has the legacy of the Vietnam War influenced subsequent American diplomatic and strategic policies? Does the ongoing war against terrorism derive from a long U.S. involvement in the Middle East, and if so, what are the particular sources of this conflict? Two of the most significant and challenging questions to try to answer is ho