Note: Supplemental materials are not guaranteed with Rental or Used book purchases.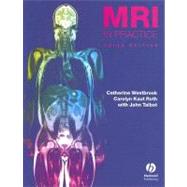 Summary
Since the first edition of MRI in Practice was published in 1993, the book has become the standard text for radiographers, technologists, radiology residents, radiologists and even sales representatives on the subject of magnetic resonance imaging. This text is essential reading on postgraduate courses. Furthermore, MRI in Practice has come to be known as the number one reference book and study guide in the areas of MR instrumentation, principles, pulse sequences, image acquisition, and imaging parameters for the advanced level examination for MRI offered by the American Registry for Radiologic Technologists (ARRT) in the USA. The book explains in clear terms the theory that underpins magnetic resonance so that the capabilities and operation of MRI systems can be fully appreciated and maximized. This third edition captures recent advances, and coverage includes: parallel imaging techniques, functional imaging techniques and new sequences such as balanced gradient echo. Building on the success of the first two editions, the authors have now re-conceptualized the design of the book. The third edition contains a wealth of additional illustrations and chapter enhancements draw on the depth of the authors' experience in delivering MRI education and training. To promote accessibility of difficult concepts, extended analogies have been developed to relate the complexities of MRI physics to everyday phenomena. Learning points are clearly articulated, and frequent summaries are included to assist the reader in digesting the information.
Author Biography
Catherine Westbrook
is a Senior Lecturer and MRI Field Leader at Anglia Polytechnic University, Cambridge, UK and external examiner, lecturer and advisor on several other postgraduate courses in MRI around the world. In the past, Cathy has been President of the British Association of MR Radiographers, Honorary Secretary of the British Institute of Radiology and Chairperson of the Consortium for the Accreditation of Clinical MR Education.
Carolyn Kaut Roth is the Director of MRI Internship Programs & Continuing Education for Technologists at the University of Pennsylvania Health Systems, Philadelphia, Pennsylvania, USA. In the past, Carolyn has served as President of the Section for Magnetic Resonance Technologists (SMRT), and is currently a Fellow of SMRT. She has lectured around the world and has published numerous books, articles and papers on the topic of MRI. Carolyn is also the CEO of Imaging Education Associates (IEA), a company that develops and produces computer-based education modules and educational curricula for radiographers & educators.

John Talbot is a Senior Lecturer at Anglia Polytechnic University, Cambridge UK and a leader in the development and production of e-learning materials. As well as lecturing MRI around the world, John is a gifted illustrator and his vision has been central to the re-shaping of the figures in the book.
Table of Contents
Foreword
x
Preface to the third edition
xi
Acknowledgments
xii
1
(20)
1
(1)
1
(2)
3
(1)
4
(1)
4
(1)
5
(3)
8
(1)
9
(1)
10
(5)
15
(1)

| | |
| --- | --- |
| | The free induction decay signal (FID) |

15
(1)
16
(1)
16
(1)
16
(3)
19
(1)
20
(1)

| | |
| --- | --- |
| | Image weighting and contrast |

21
(40)
21
(1)
21
(1)
22
(1)

| | |
| --- | --- |
| | Relaxation in different tissues |

23
(3)
26
(1)
27
(1)
27
(2)
29
(8)
37
(1)
37
(23)
60
(1)

| | |
| --- | --- |
| | Encoding and image formation |

61
(43)
61
(20)
61
(1)
62
(2)
64
(4)
68
(3)
71
(5)
76
(5)

| | |
| --- | --- |
| | Data collection and image formation |

81
(23)
81
(1)
81
(2)
83
(4)

| | |
| --- | --- |
| | Fast Fourier transform (FFT) |

87
(4)

| | |
| --- | --- |
| | Important facts about K space |

91
(6)

| | |
| --- | --- |
| | K space traversal and gradients |

97
(2)

| | |
| --- | --- |
| | Options that fill K space |

99
(2)
101
(2)
103
(1)

| | |
| --- | --- |
| | Parameters and trade-offs |

104
(39)
104
(1)

| | |
| --- | --- |
| | Signal to noise ratio (SNR) |

105
(20)

| | |
| --- | --- |
| | Contrast to noise ratio (CNR) |

125
(3)
128
(7)
135
(2)
137
(1)
137
(2)
139
(3)
142
(1)
143
(59)
143
(2)

| | |
| --- | --- |
| | Spin echo pulse sequences |

145
(23)
145
(1)
146
(10)
156
(6)
162
(1)

| | |
| --- | --- |
| | STIR (short tau inversion recovery) |

162
(3)

| | |
| --- | --- |
| | FLAIR (fluid attenuated inversion recovery) |

165
(3)

| | |
| --- | --- |
| | Gradient echo pulse sequences |

168
(30)

| | |
| --- | --- |
| | Conventional gradient echo |

168
(2)

| | |
| --- | --- |
| | The steady state and echo formation |

170
(3)
173
(3)

| | |
| --- | --- |
| | Incoherent gradient echo (spoiled) |

176
(3)

| | |
| --- | --- |
| | Steady state free precession (SSFP) |

179
(5)
184
(5)
189
(2)

| | |
| --- | --- |
| | Echo planar imaging (EPI) |

191
(7)

| | |
| --- | --- |
| | Parallel imaging techniques |

198
(4)
201
(1)
202
(27)
202
(1)
202
(2)
204
(9)

| | |
| --- | --- |
| | Time of flight phenomenon |

204
(3)
207
(5)
212
(1)

| | |
| --- | --- |
| | Flow phenomena compensation |

213
(16)
213
(1)
214
(1)

| | |
| --- | --- |
| | Gradient moment rephasing (nulling) |

214
(3)
217
(11)
228
(1)

| | |
| --- | --- |
| | Artefacts and their compensation |

229
(34)
229
(1)
229
(9)
238
(8)
246
(3)
249
(2)
251
(1)

| | |
| --- | --- |
| | Magnetic susceptibility artefact |

251
(4)

| | |
| --- | --- |
| | Cross excitation and cross talk |

255
(2)
257
(1)
258
(1)
259
(1)
260
(2)
262
(1)

| | |
| --- | --- |
| | Vascular and cardiac imaging |

263
(38)
263
(1)

| | |
| --- | --- |
| | Conventional MRI vascular imaging techniques |

263
(6)

| | |
| --- | --- |
| | Magnetic resonance angiography (MRA) |

269
(16)

| | |
| --- | --- |
| | Perfusion and diffusion imaging |

285
(1)
286
(6)
292
(2)
294
(1)

| | |
| --- | --- |
| | Multi-phase cardiac imaging |

294
(1)
295
(3)
298
(2)
300
(1)

| | |
| --- | --- |
| | Instrumentation and equipment |

301
(28)
301
(1)
302
(4)
306
(1)
306
(3)

| | |
| --- | --- |
| | Superconducting electromagnets |

309
(4)
313
(1)
313
(1)
314
(7)
321
(5)
326
(1)

| | |
| --- | --- |
| | Patient transportation system |

326
(1)
327
(1)
328
(1)
329
(23)
329
(1)
330
(5)
335
(1)
336
(1)
337
(5)
342
(1)
342
(2)
344
(2)
346
(1)
346
(1)
347
(1)
347
(1)

| | |
| --- | --- |
| | Monitors and devices in MRI |

348
(2)
350
(1)
351
(1)
352
(20)
352
(1)
353
(1)
354
(1)

| | |
| --- | --- |
| | Dipole-dipole interactions |

355
(1)
356
(2)
358
(1)
359
(2)
361
(1)

| | |
| --- | --- |
| | Current applications of contrast agents |

362
(9)
371
(1)
371
(1)

| | |
| --- | --- |
| | Functional imaging techniques |

372
(17)
372
(1)

| | |
| --- | --- |
| | Diffusion weighted imaging (DWI) |

373
(4)
377
(3)

| | |
| --- | --- |
| | Functional imaging (fMRI) |

380
(2)
382
(1)
383
(3)
386
(1)
387
(1)
388
(1)
Answers to questions
389
(4)
Glossary
393
(10)
Index
403