Note: Supplemental materials are not guaranteed with Rental or Used book purchases.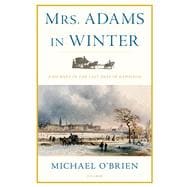 Mrs. Adams in Winter A Journey in the Last Days of Napoleon
ISBN13:
9780312681142
by
O'Brien, Michael
Summary
Early in 1815, Louisa Catherine Adams and her young son left St. Petersburg in a heavy Russian carriage and set out on a difficult journey to meet her husband, John Quincy Adams, in Paris. She traveled through the snows of Eastern Europe, across the battlefields of Germany, and into a France then experiencing the tumultuous events of Napoleon's return from Elba. The prize-winning historian Michael O'Brien reconstructs for the first time Louisa Adams's extraordinary passage. An evocative history of the experience of travel in the days of carriages and kings, Mrs. Adams in Winteroffers a moving portrait of a lady, her difficult marriage, and her conflicted sense of what it meant to be a woman caught between worlds.
Author Biography
Michael O'Brien is Professor of American Intellectual History at the University of Cambridge. He is the author of Conjectures of Order: Intellectual Life and the American South, 1810–1860, which won the Bancroft Prize and was a finalist for the Pulitzer Prize in History.
Table of Contents
List of Illustrations
p. viii
Map
p. x
Preface
p. xiii
Saint Petersburg
p. 3
From Saint Petersburg to Riga
p. 44
From Riga to Berlin
p. 96
From Berlin to Eisenach
p. 138
From Eisenach to Frankfurt
p. 191
From Frankfurt to Paris
p. 262
Appendix: Places
p. 297
Notes
p. 305
Acknowledgments
p. 351
Index
p. 353
Table of Contents provided by Ingram. All Rights Reserved.
Excerpts
1
SAINT PETERSBURG
SHE WAS IN A HURRY, because anxious. And she disliked partings, all the business of embraces, regrets, and promises. So she began the journey and left the city without ceremony, while her friends were distracted at Sunday dinner, which in Saint Petersburg occurred at five o'clock. The Moika Canal sat frozen close to her small, leaking apartment, and the deep snow and the hour deadened sound.1 The unsteadiness of the horses, the ordering of the servants, the instructing of the postilions, the care of a small boy, the disposition of a heavy carriage on runners and a sled behind, the noise of three languages, the heaving of luggage, and the storing of provisions made a muffled confusion in the dusk.
She was right to be anxious, because she was committing herself mostly to strangers. Though she knew her servant John Fulling, the postilions were anonymous and she barely knew the French nurse, Madame Babet, who had only been employed that day. And there was a rough soldier called Baptiste, a prisoner of war she had agreed to take westward in exchange for his ser vices. Baptiste worried her.2
To be sure, she had pieces of paper that were reassuring. There was a Russian passport from the State Board of Foreign Affairs, which had been issued five days before. Written in German, "in pursuance of the edict of His Majesty, the Sovereign Emperor Alexander Pavlovich, Ruler of all the Russias, etc., etc., etc," it gave her leave of absence and free passage from his empire. The minister of the interior, Osip Petrovich Kozodavlev, had given her the obligatory padarojna, or order for post-horses, and sent commands that she should be well treated by all the postmasters on the road "on pain of punishment."3 (Punishment from such a man was not something to contemplate lightly, for he was the tsar's spymaster and prison warden.) There was her French passport, signed in the name of the French ambassador by his secretary, but "au Nom du Roi," the restored Louis XVIII. The Prussian ambassador had given her yet another passport "im Namen seiner Majestät des Konigs von Preussen," which had a comforting ring, since she knew the Prussian king well, had danced with him, and trusted to his protective kindness. Then, too, she had hidden bags of gold and silver, as well as letters of credit to bankers along her way. For she was a fine lady of lofty rank, someone of fur and turquoise rings, someone who knew the tsar, the tsarina, a king or two, and aristocrats beyond number and often beyond remembrance. In crude post stations, in flea-bitten inns, she would be someone who might elicit deference, even fear. She would manipulate this response.
To her surprise, she was a little sorry to leave. For most of her time there, she had disliked the place, with its biting cold winters and humid listless summers, and she disliked the "gaudy loneliness" of being almost the only woman of her kind in the city.4 In Saint Petersburg, she had found few friends and little comfort. On that twelfth of February—as it happened, her fortieth birthday—she entered her carriage with trepidation. All her life, she had lacked confidence and seen the world as a challenge she could not meet. This journey would be a test, or so she came to think.
Being only seven, the boy had as yet little history that anyone cared to record. He was known as a child of quick passions, so wild that his mother could find him difficult to manage. But he was sweet and needy, someone who tried hard. He had lived almost all his short life in Saint Petersburg and there acquired an unstable mix of cultures. He was formed by a German nursemaid, parents who often spoke French, and servants who were Russian. English was only his third language, and he wrote letters in it blunderingly, with a pained sense of inadequacy. The city had made him grow up faster than was usual, for the Russians were uninterested in the innocence of childhood, and treated children like him as small adults. When not yet three, he had attended in fancy dress the palace of the French ambassador and opened a ball by leading out the ambassador's illegitimate daughter (at three and a half, his senior by about six months). Afterward there had been an "elegant supper" with "oceans of Champaign for the little people." For this hothouse growth his mother had been grateful in this last year, for he had discerned that she needed reassurance and had offered her "little tender assiduities; attentions gentle and affectionate" beyond his years.5
Being middle-aged and having hair streaked with gray, the boy's mother had a longer history. In appearance, she was petite and slim, though many years of a grueling social life—balls, dinners, fêtes, conversazioni—had added some weight. She was not sure this was a bad thing. ("At our time of life fat is very becoming.")6 She dressed fashionably, but she had never been a belle. She stopped no conversations when she entered a room, nor did she occasion pitiful stares. She was the middling sort, a girl and then a woman usually thought very pretty with her "heavenly blue-eyes," though her prettiness arose as much from her personality and what she did with words as from her form. She came from a family that had been acutely aware of physical appearance and had good reason to be. Her own mother had been "very lovely," "exquisitely delicate, and very finely proportioned." Her father was "the handsomest man" she ever saw, and this opinion had more basis than daughterly prejudice. Her eldest sister had an easy and graceful deportment, a fair complexion, auburn hair, a dimpled mouth, beautiful teeth, and hazel eyes with an "expression it is impossible to describe, for their brilliant gaiety seemed to call on those she looked on to be as gay and as happy as herself." Among such riches, she had felt herself inadequate, less attractive.7
Her wit had been too sharp to encourage brainless young men in drawing rooms, but people of urbanity thought of her as a peer, though only eventually. When young, she had been as "timid as a hare," had disliked to go into society, and had been a wallflower when forced into assembly rooms.8 Over time, painfully, she had acquired the knack of sociability. But she had a persistent sense that she entered society as an alien, scrutinized with skepticism by those who belonged. This anxiety meant that she made herself a close student of how society worked, of its rules and regulations, those plain and those implied. She was a closer student of those who inhabited society, for studying them helped her survive. She was sharply aware of glances, the placement of a jewel, the lifted eyebrow, the snigger in the corner, the candid smile. She warmed at kindliness, shrank from cynicism, and was offended by hypocrisy. She was not a natural inhabitant of an eighteenth-century or Regency salon, though there was nowhere else for her to live.
She thought of herself as proud and haughty, a trait that went back to her childhood, when she used to stand aside from schoolgirl cliques and so had been mistrusted. In fact, she needed to connect, for she was sentimental, readily amused, and liked parties where there were gossip, smiles, English country dances, and a lingering past midnight. But she preferred a society of those she knew and trusted. She did not need to be the center of attention, but she disliked being ignored, too, and she knew the entitlements of her rank. This delicate balance was not easy to accomplish, especially for those who had to deal with her. Her emotions lay very close to the surface. Anger, happiness, and fear registered on her face and in her movements quickly, and as quickly changed. This led some to think her shallow, even insincere, but it was not so. With her, emotions ran deep, too deep. She was less sure whether her reason ran as deep. Over the years, her greatest proble