Note: Supplemental materials are not guaranteed with Rental or Used book purchases.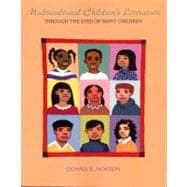 Multicultural Children's Literature: Through the Eyes of Many Children
ISBN13:
9780132431224
by
Norton, Donna E.
Related Products
Summary
Written by one of the most highly regarded names in the field of children's literature, this compact guide to selecting high-quality examples of multicultural literature offers future teachers the broad-based introduction they need to the literature of the many cultures that comprise America today. Coverage focuses on three main ideas: incorporating the best multicultural books into the classroom, honoring and respecting both the literature "and" the cultures inhabiting the classroom, and using quality children's literature to motivate readers while simultaneously nurturing a culturally-responsive classroom. Educators and pre-service teachers of children's literature and reading.
Table of Contents
| | |
| --- | --- |
| | Introduction to Multicultural Literature |

1
(12)

| | |
| --- | --- |
| | Developing a Study of Multicultural Literature |

4
(9)

| | |
| --- | --- |
| | Five-Phase Approach for the Study of Multicultural Literature |

5
(3)

| | |
| --- | --- |
| | Authenticating the Literature |

8
(5)

| | |
| --- | --- |
| | African American Literature |

13
(34)

| | |
| --- | --- |
| | Issues Related to African American Literature |

13
(2)

| | |
| --- | --- |
| | Changing Availability of Quality Literature |

15
(3)

| | |
| --- | --- |
| | Authors and Illustrators Who Write About the African American Culture and Experience |

15
(3)
18
(12)

| | |
| --- | --- |
| | History of Recording of African Folklore |

18
(1)

| | |
| --- | --- |
| | Types of Stories from Specific Regions |

19
(1)

| | |
| --- | --- |
| | Literary Characteristics of the Folklore |

20
(1)

| | |
| --- | --- |
| | Examples of African Folklore |

21
(4)

| | |
| --- | --- |
| | African American Folklore |

25
(5)

| | |
| --- | --- |
| | Historical Nonfiction and Fiction |

30
(6)

| | |
| --- | --- |
| | Informational Books That Develop Historical Perspectives |

31
(1)

| | |
| --- | --- |
| | Biographies and Autobiographies About the Slavery Period |

32
(2)

| | |
| --- | --- |
| | Historical Fiction About the Slavery Period |

34
(2)
36
(2)

| | |
| --- | --- |
| | Contemporary African American Literature |

38
(7)
38
(1)

| | |
| --- | --- |
| | Fiction for Middle-Elementary Grades |

39
(1)

| | |
| --- | --- |
| | Fiction for Older Children |

40
(3)
43
(2)
45
(2)
Involving Children with African American Literature
47
(62)

| | |
| --- | --- |
| | Phase One: Traditional Literature |

47
(3)

| | |
| --- | --- |
| | Discovering Oral Storytelling Styles from Africa |

47
(2)

| | |
| --- | --- |
| | Comparing Traditional Values in an African Folktale and an African Literary Folktale |

49
(1)

| | |
| --- | --- |
| | Phase Two: Folklore of the American South |

50
(2)

| | |
| --- | --- |
| | Webbing Traditional Values |

50
(2)

| | |
| --- | --- |
| | Discussing African American Folktales That Show European Influences |

52
(1)

| | |
| --- | --- |
| | Phase Three: Historical Nonfiction and Phase Four: Historical Fiction |

52
(3)

| | |
| --- | --- |
| | Developing a Multicultural Study of African American Historical Fiction and Biography |

53
(2)

| | |
| --- | --- |
| | Phase Five: Contemporary Literature |

55
(14)

| | |
| --- | --- |
| | Developing Listening Comprehension Through ELVES |

55
(14)

| | |
| --- | --- |
| | Native American Literature |

69
(40)
69
(1)

| | |
| --- | --- |
| | Stereotypes in Literature from the Past |

69
(1)

| | |
| --- | --- |
| | Authors and Illustrators Who Write About Native American Culture and Experience |

70
(1)

| | |
| --- | --- |
| | Issues Related to Native American Literature |

71
(5)

| | |
| --- | --- |
| | Authenticity of Text and Illustrations |

74
(1)

| | |
| --- | --- |
| | Conflicts over Sovereignty of the Stories |

74
(1)

| | |
| --- | --- |
| | Disputes over Literary Styles and Translations |

75
(1)

| | |
| --- | --- |
| | Disagreements over Literal versus Metaphorical Interpretations |

76
(1)
76
(11)

| | |
| --- | --- |
| | History of European Recording of North American Folklore in Written Form |

77
(1)

| | |
| --- | --- |
| | Importance of Native American Folklore |

78
(9)

| | |
| --- | --- |
| | Historical Nonfiction and Fiction |

87
(13)

| | |
| --- | --- |
| | Biography About Early Peoples |

88
(6)

| | |
| --- | --- |
| | Informational Books About Earlier Time Periods |

94
(1)
95
(3)

| | |
| --- | --- |
| | Characteristics of Contemporary Native American Authors |

98
(2)
100
(2)

| | |
| --- | --- |
| | Contemporary Realistic Fiction |

102
(4)
102
(2)
104
(2)

| | |
| --- | --- |
| | Nonfiction Informational Books |

106
(1)
107
(2)
Involving Children with Native American Literature
109
(55)

| | |
| --- | --- |
| | Phase One: Traditional Literature |

109
(3)

| | |
| --- | --- |
| | Developing Oral Storytelling Styles |

109
(2)

| | |
| --- | --- |
| | Identifying Types of Tales Found in Native American Folklore |

111
(1)

| | |
| --- | --- |
| | Phase Two: Folklore from Specific Peoples |

112
(4)

| | |
| --- | --- |
| | Identifying Traditional Values in Native American Folklore |

113
(1)

| | |
| --- | --- |
| | Comparing Variants of the Cinderella Story |

113
(2)

| | |
| --- | --- |
| | Webbing the Literary and Cultural Elements in Native American Folklore |

115
(1)

| | |
| --- | --- |
| | Phase Three: Historical Nonfiction |

116
(2)

| | |
| --- | --- |
| | Phase Four: Historical Fiction |

118
(2)

| | |
| --- | --- |
| | Evaluating Historical Fiction About Native Americans |

118
(2)

| | |
| --- | --- |
| | Phase Five: Contemporary Literature |

120
(13)

| | |
| --- | --- |
| | Developing Understanding of Author's Style |

120
(13)
133
(31)
135
(1)

| | |
| --- | --- |
| | Authors Who Write and Illustrate Latino Literature |

135
(2)
137
(2)
139
(10)

| | |
| --- | --- |
| | Ancient Mayan, Aztec, and Inca Folklore |

140
(6)

| | |
| --- | --- |
| | Folklore that Reflects Interaction with Other Cultures |

146
(3)

| | |
| --- | --- |
| | Historical Nonfiction and Fiction |

149
(5)

| | |
| --- | --- |
| | Informational Books That Develop Historical Perspectives |

147
(4)
151
(3)

| | |
| --- | --- |
| | Contemporary Realistic Fiction and Nonfiction |

154
(7)
154
(1)
155
(2)

| | |
| --- | --- |
| | Fiction for Middle-Elementary Grades |

157
(1)

| | |
| --- | --- |
| | Fiction Written for Older Readers |

158
(1)
159
(2)
161
(3)
Involving Children in Latino Literature
164
(52)

| | |
| --- | --- |
| | Phase One: Ancient Aztec and Mayan Folklore |

164
(1)

| | |
| --- | --- |
| | Phase Two: Stories That Reflect Interaction with Other Cultures |

165
(2)

| | |
| --- | --- |
| | Analyzing Folklore That Reflects Interactions with Other Cultures |

165
(2)

| | |
| --- | --- |
| | Phase Three: Historical Nonfiction |

167
(1)

| | |
| --- | --- |
| | Phase Four: Historical Fiction |

168
(3)

| | |
| --- | --- |
| | Searching for Cultural Beliefs and Historical Happenings in the Writings of Scott O'Dell |

168
(1)

| | |
| --- | --- |
| | Modeling Comprehension of Characterization with Fleischman's Bandit's Moon |

168
(3)

| | |
| --- | --- |
| | Phase Five: Contemporary Literature |

171
(12)

| | |
| --- | --- |
| | Responding to the Language in Nursery Rhymes and Poetry |

171
(1)

| | |
| --- | --- |
| | Responding to Courage in Literature |

172
(11)
183
(33)

| | |
| --- | --- |
| | Values That Are Part of the Cultures |

184
(1)

| | |
| --- | --- |
| | Concerns over Stereotypes in Literature from the Past |

185
(1)
185
(12)
186
(5)
191
(3)
194
(2)
196
(1)

| | |
| --- | --- |
| | Fantasy Selections That Have Threads with Folklore |

197
(1)

| | |
| --- | --- |
| | Early History of the People and the Culture |

197
(7)

| | |
| --- | --- |
| | Informational Books That Depict Asian History |

198
(1)

| | |
| --- | --- |
| | Biographies About Figures from Early Culture |

199
(1)

| | |
| --- | --- |
| | Historical Fiction About Asian Cultures |

199
(5)
204
(1)

| | |
| --- | --- |
| | Contemporary Literature with Asian Roots |

205
(9)
206
(1)
207
(2)

| | |
| --- | --- |
| | Historical Fiction with More Contemporary Settings |

209
(1)

| | |
| --- | --- |
| | Informational Books About World War II and Asian Experiences |

210
(1)

| | |
| --- | --- |
| | Contemporary Asian American Stories |

211
(3)
214
(2)
Involving Children with Asian Literature
216
(50)

| | |
| --- | --- |
| | Phase One: Traditional Values in Folklore |

216
(3)

| | |
| --- | --- |
| | Using a Web to Develop a Unit Around Chinese Folklore |

216
(2)

| | |
| --- | --- |
| | Listening to Asian Literature to Predict Outcomes |

218
(1)

| | |
| --- | --- |
| | Phase Two: Folklore Told in the United States |

219
(1)

| | |
| --- | --- |
| | Phase Three: Historical Nonfiction |

220
(2)

| | |
| --- | --- |
| | Integrating Literature and Geography |

220
(2)

| | |
| --- | --- |
| | Phase Four: Historical Fiction |

222
(1)

| | |
| --- | --- |
| | Identifying Traditional Values and Historical Happenings |

222
(1)

| | |
| --- | --- |
| | Phase Five: Contemporary Literature |

223
(12)

| | |
| --- | --- |
| | Compare Biographies of One Biographical Character |

223
(12)
235
(31)

| | |
| --- | --- |
| | What Does It Mean to Be Jewish? |

235
(1)

| | |
| --- | --- |
| | Folklore and Ancient Stories of the Jewish People |

236
(8)

| | |
| --- | --- |
| | History of the Collection of Folklore |

236
(1)
237
(1)

| | |
| --- | --- |
| | Examples of Jewish Folklore |

238
(6)

| | |
| --- | --- |
| | Early History of the Jewish People |

244
(3)

| | |
| --- | --- |
| | Years of Emigration and Immigration |

247
(1)

| | |
| --- | --- |
| | The Holocaust in Children's and Young Adult Literature |

248
(10)

| | |
| --- | --- |
| | Educational and Political Background of the Time of the Holocaust |

248
(2)

| | |
| --- | --- |
| | Informational Books About the Holocaust |

250
(2)
252
(3)

| | |
| --- | --- |
| | Biography and Autobiography |

255
(3)
258
(3)

| | |
| --- | --- |
| | Contemporary Jewish Literature |

261
(3)
261
(1)
262
(2)
264
(2)
Involving Children with Jewish Literature
266
(45)

| | |
| --- | --- |
| | Phase One: Traditional Literature |

266
(2)

| | |
| --- | --- |
| | Webbing the Values Found in Jewish Folklore |

266
(1)

| | |
| --- | --- |
| | Comparing Three Versions of the Golem |

266
(2)

| | |
| --- | --- |
| | Phase Two: Adaptations of Traditional Literature |

268
(2)

| | |
| --- | --- |
| | Developing a Person-Against-Person Plot Structure with a Literary Folktale |

268
(2)

| | |
| --- | --- |
| | Phase Three: Historical Nonfiction |

270
(1)

| | |
| --- | --- |
| | Prepare Time Lines and Maps Showing Early Jewish History |

270
(1)

| | |
| --- | --- |
| | Phase Four: Historical Fiction |

271
(4)

| | |
| --- | --- |
| | Developing Understandings of Holocaust Literature Through Modeling |

271
(4)

| | |
| --- | --- |
| | Phase Five: Contemporary Literature |

275
(10)

| | |
| --- | --- |
| | Analyzing Author's Style to Develop an Understanding of the Holocaust |

275
(10)

| | |
| --- | --- |
| | Middle Eastern Literature |

285
(26)
286
(1)
286
(1)

| | |
| --- | --- |
| | Authors Who Write and Illustrate Books |

287
(1)

| | |
| --- | --- |
| | Values Identified in the Culture and Literature |

288
(1)

| | |
| --- | --- |
| | Folklore and Ancient Stories from the Middle East |

289
(6)
289
(1)
290
(5)
295
(8)

| | |
| --- | --- |
| | Ancient Cultures of Egypt |

296
(1)
296
(1)

| | |
| --- | --- |
| | Mummies and Searching the Tombs |

297
(2)

| | |
| --- | --- |
| | Ancient Cultures of Other Middle Eastern Areas |

299
(1)

| | |
| --- | --- |
| | Juvenile Informational Literature |

299
(2)

| | |
| --- | --- |
| | Fictional Storybooks Set in the Ancient Middle East |

301
(1)

| | |
| --- | --- |
| | Historical Fiction Set in the Ancient Middle East |

302
(1)

| | |
| --- | --- |
| | Contemporary Literature with Middle Eastern Roots |

303
(6)
303
(1)
304
(2)

| | |
| --- | --- |
| | Contemporary Realistic Fiction |

306
(3)
309
(2)
Involving Children with Literature from the Middle East
311
(12)

| | |
| --- | --- |
| | Phase One: Traditional Values in Folklore |

311
(2)

| | |
| --- | --- |
| | Additional Activities to Enhance Phase One |

312
(1)

| | |
| --- | --- |
| | Phase Two: Narrowing the Folklore to the Literature of One Country |

313
(1)

| | |
| --- | --- |
| | Additional Activities to Enhance Phase Two |

313
(1)

| | |
| --- | --- |
| | Phase Three: Historical Nonfiction |

314
(1)

| | |
| --- | --- |
| | Additional Activities to Enhance Phase Three |

314
(1)

| | |
| --- | --- |
| | Phase Four: Historical Fiction |

315
(1)

| | |
| --- | --- |
| | Additional Activities to Enhance Phase Four |

315
(1)

| | |
| --- | --- |
| | Phase Five: Contemporary Literature |

315
(8)

| | |
| --- | --- |
| | Additional Activities to Enhance Phase Five |

317
(6)
Author and Title Index
323
(14)
Subject Index
337