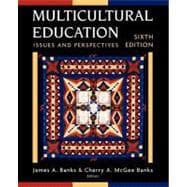 Questions About This Book?
What version or edition is this?
This is the 6th edition with a publication date of 10/1/2006.
What is included with this book?
The New copy of this book will include any supplemental materials advertised. Please check the title of the book to determine if it should include any CDs, lab manuals, study guides, etc.
The Used copy of this book is not guaranteed to include any supplemental materials. Typically, only the book itself is included.
Summary
With this outstanding collection of chapters, you can develop the knowledge and skills needed to maximize the opportunities that diversity offers and minimize its challenges. Leading scholars and researchers in the field present current and emerging research, concepts, debates, and teaching strategies for educating students from different cultural, racial, ethnic, language, gender, social-class, and religious groups. Book jacket.
Author Biography
James A. Banks
is Russell F. Stark University Professor and Director of the Center for Multicultural Education at the University of Washington, Seattle. He is past President of the National Council for the Social Studies (NCSS) and the American Educational Research Association (AERA), and a member of the National Academy of Education.
Cherry A. McGee Banks is professor of education at the University of Washington, Bothell. She is the co-author of Teaching Strategies for the Social Studies: Decision-Making and Citizen Action, and is the author of Improving Multicultural
Education: Lessons From the Intergroup Education Movement.
Table of Contents
| | |
| --- | --- |
| | Part I ISSUES AND CONCEPTS |

1
(84)

| | |
| --- | --- |
| | Multicultural Education: Characteristics and Goals |

3
(30)

| | |
| --- | --- |
| | The Nature of Multicultural Education |

3
(1)

| | |
| --- | --- |
| | High-Stakes Testing: A Challenge for Social Justice |

4
(1)

| | |
| --- | --- |
| | Multicultural Education: An International Reform Movement |

5
(1)

| | |
| --- | --- |
| | The Historical Development of Multicultural Education |

6
(1)

| | |
| --- | --- |
| | How Multicultural Education Developed |

7
(1)

| | |
| --- | --- |
| | The Nature of Culture in the United States |

7
(10)

| | |
| --- | --- |
| | The Social Construction of Categories |

17
(3)

| | |
| --- | --- |
| | The Dimensions of Multicultural Education |

20
(2)

| | |
| --- | --- |
| | The School as a Social System |

22
(3)
25
(1)
25
(1)
26
(7)

| | |
| --- | --- |
| | Culture in Society and in Educational Practices |

33
(30)
33
(2)

| | |
| --- | --- |
| | Alternative Definitions and Conceptions of Culture |

35
(7)

| | |
| --- | --- |
| | Cultural Issues in Education, in Society, and in Persons |

42
(5)

| | |
| --- | --- |
| | Teaching and Learning Multiculturally |

47
(7)

| | |
| --- | --- |
| | Conclusion: On Diversity of Tongues and Their Educational Potential |

54
(3)
57
(1)
57
(1)
58
(5)

| | |
| --- | --- |
| | Race, Class, Gender, and Disability in the Classroom |

63
(22)

| | |
| --- | --- |
| | Race, Class, Gender, Language, Disability, and Classroom Life |

65
(1)

| | |
| --- | --- |
| | Approaches to Multicultural Education |

66
(7)

| | |
| --- | --- |
| | Ms. Julie Wilson and Her Approach to Teaching |

73
(7)
80
(1)
81
(1)
82
(3)

| | |
| --- | --- |
| | Part II SOCIAL CLASS AND RELIGION |

85
(48)

| | |
| --- | --- |
| | Social Class and Educational Equality |

87
(22)
89
(2)
91
(2)

| | |
| --- | --- |
| | Teachers, Curriculum, and Teaching Practices |

93
(6)

| | |
| --- | --- |
| | Consequences of Social Class and Educational Inequality |

99
(1)

| | |
| --- | --- |
| | Recommendations for Action |

100
(2)
102
(1)
102
(1)
103
(6)

| | |
| --- | --- |
| | Christian Nation or Pluralistic Culture: Religion in American Life |

109
(24)

| | |
| --- | --- |
| | Europeans Plant Christianity in North America |

109
(1)
110
(2)
112
(1)

| | |
| --- | --- |
| | The Spread of Evangelical Protestantism |

113
(1)

| | |
| --- | --- |
| | Religious Freedom and the Separation of Church and State |

114
(4)

| | |
| --- | --- |
| | Diversity, Religious Freedom, and the Courts |

118
(4)

| | |
| --- | --- |
| | Pluralism Becomes the Norm |

122
(3)

| | |
| --- | --- |
| | The New Faces of Pluralism |

125
(3)

| | |
| --- | --- |
| | Summary and Educational Implications |

128
(1)
129
(1)
129
(1)
130
(3)
133
(86)

| | |
| --- | --- |
| | Gender Bias: From Colonial America to Today's Classrooms |

135
(36)

| | |
| --- | --- |
| | The Hidden Civil Rights Struggle |

136
(3)

| | |
| --- | --- |
| | Report Card: The Cost of Sexism in School |

139
(5)

| | |
| --- | --- |
| | Gender Bias in Today's Classrooms: The Curriculum |

144
(3)

| | |
| --- | --- |
| | Gender Bias in Today's Classrooms: Instructions |

147
(3)
150
(10)

| | |
| --- | --- |
| | A Dozen Strategies for Creating Gender-Fair Classrooms |

160
(2)
162
(2)
164
(7)

| | |
| --- | --- |
| | Classrooms for Diversity: Rethinking Curriculum and Pedagogy |

171
(24)

| | |
| --- | --- |
| | Mary Kay Thompson Tetreault |

171
(19)
190
(1)
191
(1)
191
(4)

| | |
| --- | --- |
| | Transforming the Curriculum: Teaching about Women of Color |

195
(24)

| | |
| --- | --- |
| | The Primacy of Race in the United States |

195
(1)

| | |
| --- | --- |
| | Identity, Knowledge, and Experience |

196
(2)
198
(2)

| | |
| --- | --- |
| | What We Learn from Studying Women of Color |

200
(2)

| | |
| --- | --- |
| | Women of Color: The Agent of Transformation |

202
(3)
205
(2)

| | |
| --- | --- |
| | Teaching about Women of Color |

207
(5)
212
(2)
214
(1)
215
(4)

| | |
| --- | --- |
| | Part IV RACE, ETHNICITY, AND LANGUAGE |

219
(108)

| | |
| --- | --- |
| | Culturally Responsive Teaching: Theory and Practice |

221
(26)
222
(3)

| | |
| --- | --- |
| | The Illusion of a Theoretical Inquiry |

225
(1)

| | |
| --- | --- |
| | The Participant-Observer Role for Researchers Who are ``Other'' |

226
(1)

| | |
| --- | --- |
| | Issues of Context and Methodology |

227
(1)

| | |
| --- | --- |
| | Concrete Experiences as a Criterion of Meaning |

228
(1)

| | |
| --- | --- |
| | The Use of Dialogue in Assessing Knowledge Claims |

228
(1)
229
(1)

| | |
| --- | --- |
| | The Ethic of Personal Accountability |

229
(1)

| | |
| --- | --- |
| | Culturally Relevant Pedagogy and Student Achievement |

230
(1)

| | |
| --- | --- |
| | Culturally Relevant Teaching and Cultural Competence |

231
(1)

| | |
| --- | --- |
| | Culturally Relevant Teaching and Cultural Critique |

232
(1)

| | |
| --- | --- |
| | Theoretical Underpinnings of Culturally Relevant Pedagogy |

233
(1)

| | |
| --- | --- |
| | Conceptions of Self and Others |

234
(1)
235
(2)
237
(1)
238
(1)
239
(8)

| | |
| --- | --- |
| | Approaches to Multicultural Curriculum Reform |

247
(24)

| | |
| --- | --- |
| | The Mainstream-Centric Curriculum |

247
(2)

| | |
| --- | --- |
| | Efforts to Establish a Multicultural Curriculum |

249
(2)

| | |
| --- | --- |
| | Levels of Integration of Multicultural Content |

251
(12)

| | |
| --- | --- |
| | Guidelines for Teaching Multicultural Content |

263
(3)
266
(1)
266
(1)
267
(4)

| | |
| --- | --- |
| | The Colorblind Perspective in School: Causes and Consequences |

271
(26)
271
(2)

| | |
| --- | --- |
| | The Research Site: Wexler Middle School |

273
(2)
275
(1)

| | |
| --- | --- |
| | The Colorblind Perspective and Its Corollaries |

276
(6)

| | |
| --- | --- |
| | The Functions and Consequences of the Colorblind Perspective and Its Corollaries |

282
(6)
288
(1)
289
(1)
289
(1)
289
(8)

| | |
| --- | --- |
| | Language Diversity and Schooling |

297
(30)

| | |
| --- | --- |
| | The Immigrant Population in the United States |

298
(5)

| | |
| --- | --- |
| | Historical and Legal Overview of Language Policy in the United States |

303
(6)

| | |
| --- | --- |
| | Programmatic Responses to Linguistic Diversity |

309
(3)

| | |
| --- | --- |
| | Views on Language Learning and Teaching |

312
(5)
317
(1)
318
(2)
320
(7)
327
(96)

| | |
| --- | --- |
| | Educational Equality for Students with Disabilities |

329
(40)

| | |
| --- | --- |
| | Who Are Students with Disabilities? |

330
(6)

| | |
| --- | --- |
| | History of Educational Equality for Students with Disabilities |

336
(2)

| | |
| --- | --- |
| | The Individuals with Disabilities Act: A Legislative Mandate for Educational Equality |

338
(13)

| | |
| --- | --- |
| | Educational Equality for Students with Disabilities: Progress Made but Challenges Remain |

351
(7)
358
(1)
358
(1)
359
(10)

| | |
| --- | --- |
| | School Inclusion and Multicultural Issues in Special Education |

369
(32)

| | |
| --- | --- |
| | The Special Education Mandate to Educate All Children |

370
(6)

| | |
| --- | --- |
| | Parent Participation and Multicultural Special Education |

376
(1)

| | |
| --- | --- |
| | The Structure of Parent Participation in the Context of Special Education |

377
(4)

| | |
| --- | --- |
| | Quality Inclusive Schooling: Building School Communities |

381
(8)

| | |
| --- | --- |
| | Diversity and Caring Communities: Outcomes for the Social Good |

389
(2)
391
(1)
392
(9)

| | |
| --- | --- |
| | Recruiting and Retaining Gifted Students from Diverse Ethnic, Cultural, and Language Groups |

401
(22)

| | |
| --- | --- |
| | Assumptions of the Chapter |

402
(1)

| | |
| --- | --- |
| | Recruitment Issues and Barriers |

403
(7)

| | |
| --- | --- |
| | Recruitment Recommendations |

410
(3)

| | |
| --- | --- |
| | Retention Recommendations |

413
(4)
417
(1)
417
(1)
418
(5)
423
(43)

| | |
| --- | --- |
| | School Reform and Student Learning: A Multicultural Perspective |

425
(20)

| | |
| --- | --- |
| | School Reform with a Multicultural Perspective |

427
(1)

| | |
| --- | --- |
| | Conditions for Systemic School Reform with a Multicultural Perspective |

428
(11)
439
(1)
439
(1)
440
(5)

| | |
| --- | --- |
| | Families and Teachers Working Together for School Improvement |

445
(21)

| | |
| --- | --- |
| | Why is Parent and Family Involvement in Schools Important? |

446
(1)
447
(1)

| | |
| --- | --- |
| | The Changing Face of the Family |

448
(5)

| | |
| --- | --- |
| | Teacher Concerns with Parent and Family Involvement |

453
(1)

| | |
| --- | --- |
| | Steps to Increase Parent and Family Involvement |

454
(7)
461
(1)
462
(1)
463
(2)

| | |
| --- | --- |
| | Internet Resources for Information on Parent Involvement |

465
(1)
Appendix Multicultural Resources
466
(5)
Glossary
471
(5)
Contributors
476
(5)
Index
481