Note: Supplemental materials are not guaranteed with Rental or Used book purchases.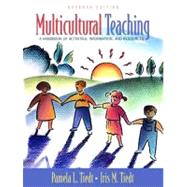 Questions About This Book?
What version or edition is this?
This is the 7th edition with a publication date of 1/1/2006.
What is included with this book?
The Used copy of this book is not guaranteed to include any supplemental materials. Typically, only the book itself is included.
Related Products
Summary
What is multicultural education? Why is it important in education today? The authors of Multicultural Teaching define multicultural education broadly to include all types of diversity as they generate an inclusive curriculum that meets the individual needs of each student. Bringing theory and practice together in a student-centered curriculum, they encourage reflection and discussion through working with Reflective Teaching Portfolios and Cooperative Learning Groups at the end of each chapter. The text is based on a strong model focusing on Esteem, Empathy, and Equity. Future teachers are guided to consider the implications of such topics as language diversity, the academic achievement gap, and racism as they plan lessons designed to develop a community of learners in their classroom.
Table of Contents
To the Reader
xvii

| | |
| --- | --- |
| | Part I A FRAMEWORK FOR MULTICULTURAL EDUCATION |

1
(88)

| | |
| --- | --- |
| | Educating Children in Our Unique Multiculture |

3
(28)

| | |
| --- | --- |
| | Diversity in the United States |

4
(4)

| | |
| --- | --- |
| | The United States Has Always Been Diverse |

4
(1)

| | |
| --- | --- |
| | The American Multiculture |

5
(1)
6
(1)

| | |
| --- | --- |
| | ``Positionality'' and Power |

7
(1)

| | |
| --- | --- |
| | A History of Multicultural Thinking |

8
(5)

| | |
| --- | --- |
| | The Myth of the Melting Pot |

8
(2)

| | |
| --- | --- |
| | New Voices, New Perspectives |

10
(1)

| | |
| --- | --- |
| | The United States in the Twenty-First Century |

11
(2)

| | |
| --- | --- |
| | The Bumpy Road to Human Rights |

13
(8)

| | |
| --- | --- |
| | African Americans Enslaved |

13
(1)
14
(1)

| | |
| --- | --- |
| | A Landmark in Civil Rights |

14
(1)

| | |
| --- | --- |
| | Immigrants Contributing to Building the Country |

14
(1)
15
(1)

| | |
| --- | --- |
| | Bilingualism in the Schools |

15
(1)

| | |
| --- | --- |
| | The Full Range of Human Rights |

15
(6)

| | |
| --- | --- |
| | The Best Education for All |

21
(6)

| | |
| --- | --- |
| | Creating an Inclusive Classroom Culture |

21
(1)

| | |
| --- | --- |
| | Definitions and Appropriate Terminology |

21
(3)

| | |
| --- | --- |
| | Comparing Models of Multicultural Education |

24
(3)
27
(1)
27
(1)
28
(1)

| | |
| --- | --- |
| | Creating Your Reflective Teaching Portfolio (RTP) |

28
(1)

| | |
| --- | --- |
| | Beginning to Work with a Cooperative Learning Group (CLG) |

28
(1)

| | |
| --- | --- |
| | Growing a Professional Library |

29
(1)
29
(2)

| | |
| --- | --- |
| | Organizing for Learning in Multicultural Education |

31
(30)

| | |
| --- | --- |
| | Defining a Multicultural Curriculum |

31
(8)

| | |
| --- | --- |
| | Presenting the Model: Esteem/Empathy/Equity (EEE) |

32
(1)
32
(4)
36
(1)

| | |
| --- | --- |
| | Teaching about Prejudice and Racism |

36
(1)

| | |
| --- | --- |
| | The ``Hidden Curriculum'' |

37
(2)

| | |
| --- | --- |
| | Thematic Approaches across the Curriculum |

39
(4)

| | |
| --- | --- |
| | Planning for Thematic Study |

39
(2)

| | |
| --- | --- |
| | Selection of an Appropriate Theme |

41
(1)

| | |
| --- | --- |
| | Introduction of the Theme |

41
(2)
43
(1)

| | |
| --- | --- |
| | Learning about Latinos: Thematic Study I |

43
(9)

| | |
| --- | --- |
| | Setting up a Spanish Language Center |

44
(2)
46
(2)

| | |
| --- | --- |
| | Celebrating Latino Culture and Heritage |

48
(4)

| | |
| --- | --- |
| | A Nation of Immigrants: Thematic Study II |

52
(2)
52
(1)

| | |
| --- | --- |
| | Planning an Integrated Study |

53
(1)

| | |
| --- | --- |
| | Locating Resources to Share |

53
(1)

| | |
| --- | --- |
| | Connecting across the Curriculum |

54
(1)

| | |
| --- | --- |
| | Assessing Student Progress |

54
(3)
57
(1)
57
(1)
57
(1)
58
(1)

| | |
| --- | --- |
| | Growing a Professional Library |

58
(1)
59
(2)

| | |
| --- | --- |
| | Individualizing Instruction for Multicultural Education |

61
(28)

| | |
| --- | --- |
| | Effective Multicultural Teaching |

61
(8)

| | |
| --- | --- |
| | Improving the Quality of Teachers |

62
(2)

| | |
| --- | --- |
| | A Student-Centered Approach |

64
(2)

| | |
| --- | --- |
| | Self-Confidence Is Contagious |

66
(1)

| | |
| --- | --- |
| | Plan Multicultural Evaluation Strategies |

66
(1)

| | |
| --- | --- |
| | The Important Early Years |

67
(2)

| | |
| --- | --- |
| | Developing Multicultural Lesson Plans |

69
(9)

| | |
| --- | --- |
| | Developing Multicultural Learning Centers |

72
(1)

| | |
| --- | --- |
| | Using the Learning Center |

73
(1)
74
(2)
76
(2)

| | |
| --- | --- |
| | Multicultural Teaching Strategies |

78
(5)

| | |
| --- | --- |
| | Picture Books as Launching Pads |

78
(1)

| | |
| --- | --- |
| | Learning through Listening |

79
(1)

| | |
| --- | --- |
| | Working with Cooperative Learning Groups |

80
(1)

| | |
| --- | --- |
| | Literature-Based Instruction |

80
(1)
81
(1)

| | |
| --- | --- |
| | Other Supportive Strategies |

81
(2)

| | |
| --- | --- |
| | Engage Students with Computer-Based Learning |

83
(3)
83
(1)
83
(1)

| | |
| --- | --- |
| | Tips for Using Computers Effectively |

84
(1)
84
(2)
86
(1)
86
(1)
86
(1)
86
(1)

| | |
| --- | --- |
| | Growing a Professional Library |

87
(1)
88
(1)

| | |
| --- | --- |
| | Part II MULTICULTURAL LEARNING ACTIVITIES ACROSS THE CURRICULUM |

89
(218)

| | |
| --- | --- |
| | Teaching Language Arts and Reading Multiculturally |

91
(34)

| | |
| --- | --- |
| | Focusing on Language Arts and Reading Instruction Directly |

91
(9)

| | |
| --- | --- |
| | Effective Language Arts and Reading Instructional Strategies |

92
(3)

| | |
| --- | --- |
| | Sample Multicultural Language Arts and Reading Lesson Plans |

95
(5)

| | |
| --- | --- |
| | Infusing Multicultural Language Arts and Reading Instruction across the Curriculum |

100
(22)

| | |
| --- | --- |
| | Engaging Students in All Language Processes across the Curriculum |

100
(1)

| | |
| --- | --- |
| | Developing Extensive Multicultural Thematic Studies |

100
(22)
122
(1)
122
(1)
122
(1)
122
(1)

| | |
| --- | --- |
| | Growing a Professional Library |

123
(1)
123
(2)

| | |
| --- | --- |
| | Teaching Social Studies Multiculturally |

125
(40)

| | |
| --- | --- |
| | Focusing on Social Studies Instruction Directly |

125
(7)

| | |
| --- | --- |
| | Effective Social Studies Instructional Strategies |

126
(6)

| | |
| --- | --- |
| | Infusing Multicultural Social Studies Instruction across the Curriculum |

132
(30)
132
(4)

| | |
| --- | --- |
| | Developing Extensive Multicultural Thematic Studies |

136
(26)
162
(1)
162
(1)
162
(1)
163
(1)

| | |
| --- | --- |
| | Growing a Professional Library |

163
(2)

| | |
| --- | --- |
| | Teaching Science and Mathematics Multiculturally |

165
(28)

| | |
| --- | --- |
| | Teaching Science Multiculturally |

165
(5)
165
(1)
166
(1)
166
(1)
166
(1)
166
(1)

| | |
| --- | --- |
| | Reading about Real Scientists |

167
(1)
167
(1)

| | |
| --- | --- |
| | Science Themes in Fiction |

168
(1)

| | |
| --- | --- |
| | A Multicultural Science Lesson Plan |

168
(2)

| | |
| --- | --- |
| | Infusing Multicultural Science Instruction across the Curriculum |

170
(6)

| | |
| --- | --- |
| | A Thematic Study: Nutrition |

170
(6)

| | |
| --- | --- |
| | Teaching Mathematics Multiculturally |

176
(5)

| | |
| --- | --- |
| | Strategies for Teaching Mathematics Multiculturally |

176
(5)

| | |
| --- | --- |
| | Infusing Mathematics Multiculturally across the Curriculum |

181
(9)
181
(9)
190
(1)
190
(1)
190
(1)
190
(1)

| | |
| --- | --- |
| | Growing a Professional Library |

191
(1)
191
(2)

| | |
| --- | --- |
| | Teaching the Performing Arts Multiculturally |

193
(54)

| | |
| --- | --- |
| | Focusing on Teaching Art Multiculturally |

193
(15)

| | |
| --- | --- |
| | Effective Multicultural Art Strategies |

193
(8)

| | |
| --- | --- |
| | Infusing Multicultural Art Instruction across the Curriculum |

201
(7)

| | |
| --- | --- |
| | Focusing on Teaching Music Multiculturally |

208
(23)

| | |
| --- | --- |
| | Effective Multicultural Music Strategies |

208
(5)

| | |
| --- | --- |
| | Infusing Multicultural Music Instruction across the Curriculum |

213
(18)

| | |
| --- | --- |
| | Focusing on Movement and Drama Multiculturally |

231
(12)

| | |
| --- | --- |
| | Effective Multicultural Instructional Strategies |

231
(3)

| | |
| --- | --- |
| | Infusing Multicultural Drama and Movement across the Curriculum |

234
(9)
243
(1)
243
(1)
243
(1)
243
(1)

| | |
| --- | --- |
| | Growing a Professional Library |

244
(1)
244
(3)

| | |
| --- | --- |
| | Teaching Multiculturally around the Year |

247
(60)
248
(2)
248
(1)
248
(1)

| | |
| --- | --- |
| | Strategies for Using the Calendar |

249
(1)
249
(1)
249
(1)
250
(1)
250
(1)
250
(40)
251
(3)
254
(3)
257
(3)
260
(4)
264
(3)
267
(5)
272
(3)
275
(4)
279
(3)
282
(2)
284
(3)
287
(3)
290
(1)

| | |
| --- | --- |
| | U.S. Holidays or Special Days |

290
(1)

| | |
| --- | --- |
| | Jewish Feasts and Festivals |

290
(1)
290
(1)

| | |
| --- | --- |
| | Variable Holidays and Activities |

291
(2)
291
(1)
292
(1)
292
(1)

| | |
| --- | --- |
| | Hanukkah---The Festival of Lights |

293
(1)

| | |
| --- | --- |
| | Teaching Multiculturally around a Theme: Time |

293
(4)
293
(1)
294
(1)

| | |
| --- | --- |
| | The Christian Church Calendar |

294
(1)
295
(1)
295
(1)
296
(1)
296
(1)

| | |
| --- | --- |
| | Sources for Further Study |

296
(1)

| | |
| --- | --- |
| | Multicultural Focus on a Group---Jewish Americans: Living in a ``Christian'' Country |

297
(7)

| | |
| --- | --- |
| | The Jewish Immigration to the United States |

298
(1)
298
(1)
299
(1)
299
(1)

| | |
| --- | --- |
| | The Life and Diary of Anne Frank |

300
(1)
301
(1)
301
(1)

| | |
| --- | --- |
| | The ``Problem'' of Christmas |

302
(1)
303
(1)
303
(1)

| | |
| --- | --- |
| | Sources of Information for Teaching about Jewish Americans Living in a ``Christian'' Country |

304
(1)
304
(1)
305
(1)
305
(1)
305
(1)

| | |
| --- | --- |
| | Growing a Professional Library |

305
(2)

| | |
| --- | --- |
| | Part III REFLECTING ON ADDITIONAL MULTICULTURAL TOPICS AND ISSUES |

307
(82)

| | |
| --- | --- |
| | Examining the Achievement Gap: Definition, Causes, and Cures |

309
(20)

| | |
| --- | --- |
| | Defining the Achievement Gap |

309
(2)

| | |
| --- | --- |
| | Comparing the Achievement of White Students and Students of Color |

310
(1)

| | |
| --- | --- |
| | Identifying Causes of the Achievement Gap |

311
(4)

| | |
| --- | --- |
| | Family Influences and Involvement |

312
(1)
313
(1)
314
(1)
314
(1)

| | |
| --- | --- |
| | English Language Acquisition |

314
(1)

| | |
| --- | --- |
| | Narrowing/Closing the Achievement Gap |

315
(3)

| | |
| --- | --- |
| | Evaluating Assessment Methods in Education |

315
(2)

| | |
| --- | --- |
| | Headstart Legislation and Funding |

317
(1)

| | |
| --- | --- |
| | No Child Left Behind Legislation |

318
(7)

| | |
| --- | --- |
| | Communities and Schools Working Together |

321
(4)
325
(1)
325
(1)
325
(1)
326
(1)

| | |
| --- | --- |
| | Growing a Professional Library |

326
(1)
326
(3)

| | |
| --- | --- |
| | Language: A Key Component of Multicultural Education |

329
(24)
329
(4)

| | |
| --- | --- |
| | Students' Right to Their Own Language |

330
(1)

| | |
| --- | --- |
| | Teaching Multicultural/Multilingual Children |

330
(2)
332
(1)
333
(3)
333
(1)

| | |
| --- | --- |
| | The Language in the Dictionary |

333
(1)

| | |
| --- | --- |
| | Black English Vernacular (BEV) |

334
(2)
336
(6)

| | |
| --- | --- |
| | The Indo-European Language Tree |

336
(2)
338
(1)

| | |
| --- | --- |
| | Linguistic Diversity in the United States |

338
(3)
341
(1)

| | |
| --- | --- |
| | Influences from Other Languages |

341
(1)

| | |
| --- | --- |
| | Learning English as an Additional Language |

342
(7)
343
(1)
344
(2)

| | |
| --- | --- |
| | Developing a Literacy Base |

346
(1)

| | |
| --- | --- |
| | Recording Class Activities |

347
(1)
348
(1)

| | |
| --- | --- |
| | Welcoming Limited-English-Speaking Students |

348
(1)
349
(1)
349
(1)
349
(1)
350
(1)

| | |
| --- | --- |
| | Growing a Professional Library |

350
(1)
350
(3)

| | |
| --- | --- |
| | Investigating Additional Issues and Concerns Related to Multicultural Education |

353
(20)

| | |
| --- | --- |
| | Think Globally, Act Locally |

353
(1)

| | |
| --- | --- |
| | When Crimes Become Hate Crimes |

354
(1)

| | |
| --- | --- |
| | Gay Marriage: The Pros and Cons |

355
(1)
356
(1)
357
(1)

| | |
| --- | --- |
| | Resistance to Multicultural Education |

357
(1)

| | |
| --- | --- |
| | Poverty and the Working Poor |

358
(1)

| | |
| --- | --- |
| | Slavery in the Twenty-First Century |

359
(1)

| | |
| --- | --- |
| | Still a Question of Access for People with Disabilities |

360
(2)
362
(1)
363
(1)

| | |
| --- | --- |
| | English as the Official Language of the United States |

364
(1)
365
(3)
368
(1)

| | |
| --- | --- |
| | Affirming Multiracial Identity |

369
(1)
369
(1)
369
(1)
370
(1)
370
(3)

| | |
| --- | --- |
| | Continued Professional Growth |

373
(16)

| | |
| --- | --- |
| | Reflection: What Have You Learned? |

373
(6)

| | |
| --- | --- |
| | The Roots of Multicultural Education |

374
(1)

| | |
| --- | --- |
| | The Professionalization of Teaching |

375
(1)

| | |
| --- | --- |
| | Schools as Centers of Inquiry |

376
(1)

| | |
| --- | --- |
| | Self-Assessment: How Am I Doing? |

377
(2)

| | |
| --- | --- |
| | How Can We Grow Professionally? |

379
(8)
380
(2)

| | |
| --- | --- |
| | Read Stories of Real Teachers Working with Diverse Students |

382
(4)

| | |
| --- | --- |
| | Share Reading with Your Students |

386
(1)
387
(1)
387
(1)
387
(1)

| | |
| --- | --- |
| | Sharing Conclusions in Your CLG |

388
(1)

| | |
| --- | --- |
| | Growing a Professional Library |

388
(1)
An Afterword
389
(2)
Index
391