Note: Supplemental materials are not guaranteed with Rental or Used book purchases.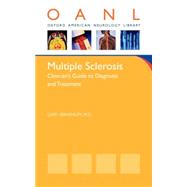 Summary
Multiple Sclerosis (MS) is an inflammatory, often progressive, and potentially disabling disease of the central nervous system. Onset of the disease is usually between the ages of 15 and 50, with the incidence nearly twice as high in women. While the cause of MS is still unknown, the predominant theory is that it is an autoimmune disease, triggered by an unknown environmental factor that results in both loss of central nervous system myelin and degeneration of axons and neurons. Although there have been a number of publications addressing different aspects of MS treatment in the neurological literature, there is a dearth of material on MS designed for internists and primary care physicians, who are often the first to see patients presenting symptons of MS. Therefore, this concise, clinically focused volume will serve as a valuable resource tailored to the specific needs of internists and primary care physicians. Part of the Oxford Neurology Library, this highly practical pocketbook covers current approaches and new developments in the diagnosis, treatment, and management of MS, including both early and advanced stages of the disease. The book offers in-depth coverage of special populations, as well as the more unusual manifestations of MS, which are less familiar to the internal medicine audience. It will also address the role of imaging studies in the diagnosis, differential diagnosis and monitoring of the progression of MS. In addition to providing up-to-date information on pharmacological therapies for MS, the book also describes an array of non-pharmacological treatment options.
Table of Contents
Contents Contributors
Introduction
Factors Involved in Causing Multiple Sclerosis
The Patterns and Pathophysiology MS
Imaging of the Central Nervous System in Multiple Sclerosis Symptons
Making a Diagnosis of Multiple Sclerosis
Complications and Comorbidities of MS
Relapses of MS and their Treatment
Long-Term Disease Modifying Therapies
Management of Multiple Sclerosis Symptons
Complementary Therapies for Multiple Sclerosis
Gender Issues and Special Multiple Sclerosis Populations
Resources
Table of Contents provided by Publisher. All Rights Reserved.