Note: Supplemental materials are not guaranteed with Rental or Used book purchases.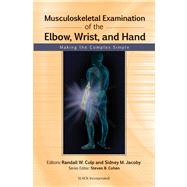 Questions About This Book?
What version or edition is this?
This is the 1st edition with a publication date of 1/15/2012.
What is included with this book?
The New copy of this book will include any supplemental materials advertised. Please check the title of the book to determine if it should include any CDs, lab manuals, study guides, etc.
Summary
The physical examination of the elbow, wrist, and hand can be a complex topic for professionals with all levels of clinical experience. How can advance concepts be taught in a user friendly, clear format, while still providing necessary information for effective diagnosis and treatment of the elbow, wrist, and hand? Musculoskeletal Examination of the Elbow, Wrist and Hand: Making the Complex Simple by Dr. Randall Culp answers these questions. Written by experts, this easy-to-carry book provides a thorough review of the most common pathologic elbow, wrist, and hand conditions, techniques for diagnosis, as well as the appropriate treatment for each condition. Musculoskeletal Examination of the Elbow, Wrist and Hand: Making the Complex Simplecontains clear photographic demonstrations, tables, sidebars, and charts throughout its pages, allowing a thorough and concise examination of the elbow, wrist, and hand. A glance at what is covered inside: " Physical Examination o Basics and specific tests of the elbow, wrist, and hand " General Imaging o Basics of general imaging of the elbow, wrist, and hand " Common Conditions o Tendinopathy, arthritis, wounds, soft tissue injuries, and more Musculoskeletal Examination of the Elbow, Wrist and Hand: Making the Complex Simplecontains essential information to successfully take a complex subject, and bring it to a level that will be welcomed by all orthopedic residents, attendings, physical therapists, athletic trainers, medical students in training, and other health care providers.
Author Biography
Randall W. Culp, MD, is a member of the prestigious Philadelphia Hand Center. Born in Wheeling, West Virginia, Dr. Culp attended the College of William & Mary and received his medical degree from Penn State University. While at the University of Pennsylvania, Dr. Culp was selected for a Surgical Internship, Residencies in Orthopedic Surgical Research and Orthopedic Surgery, and a Post-Residency Hand Surgery Fellowship.   

Dr. Culp was named one of the area's "Top Doctors" in the field of hand surgery byPhiladelphia magazine, and has received numerous awards for performance and research. He is the recipient of the George B. Archer Award (chemistry student at William & Mary), the Upjohn Award (excellence in creative scholarship at Penn State), the Deforest Willard Award (outstanding performance, University of Pennsylvania), the Meyerding Award (excellence in fracture care), the Navy Achievement Medal (service in the Persian Gulf War), and the Humanitarian Service Medal (service during the San Francisco earthquake).   

He is currently Professor of Orthopaedic, Hand, and Microsurgery at Thomas Jefferson University, and serves on the board of the Hand Rehabilitation Foundation. He has served on the council of the American Society for Surgery of the Hand and is now on the board of the American College of Surgeons. In addition, he is the consulting hand and wrist surgeon to the Philadelphia Phillies baseball organization, as well as the Philadelphia Flyers hockey organization. Recognizing the importance of giving back, Dr. Culp participates yearly in medical missions, bringing his services to international communities. He is committed to delivering state-of-the-art care for the hand, wrist, elbow, and arm to his patients. Dr. Culp is integrally involved in breakthrough research and regularly shares his expertise through numerous publications and presentations.   

Sidney M. Jacoby, MD, is a member of the renowned Philadelphia Hand Center at Thomas Jefferson University Hospital. Originally from Atlantic City, New Jersey, Dr. Jacoby graduated with honors from The University of Pennsylvania. He obtained his medical degree from Jefferson Medical College in Philadelphia. While at Jefferson, he completed his orthopaedic surgery training and pursued additional subspecialty training in hand, wrist, and elbow surgery at The Philadelphia Hand Center. Subsequently, Dr. Jacoby joined The Philadelphia Hand Center and is currently Assistant Professor of Orthopaedic Surgery at Thomas Jefferson University Hospital. He is also Chief of Hand Surgery at Phoenixville Hospital and the Clinical Research Coordinator of the Philadelphia Hand Center.    

Dr. Jacoby has been recognized throughout his academic career for both scholastic excellence and a genuine devotion to patient care. As an undergraduate student at University of Pennsylvania, Dr. Jacoby was awarded multiple government sponsored research fellowships at The National Institutes of Health (NIH) in Bethesda, Maryland. At Jefferson Medical College, he was awarded the prestigious James D. and Jennie M. Beach Memorial Scholarship, which provided a full academic scholarship for outstanding academic performance and an extraordinary commitment to the Jefferson community. As an orthopaedic resident, Dr. Jacoby was awarded The Mark D. Chilton Award, which recognized an outstanding level of compassion and commitment to patients entrusted to his care, as well as The Philip Syng Physick Annual Award, honoring orthopaedic residents with the most outstanding senior research project.   

As an avid researcher, Dr. Jacoby has already authored numerous scientific and clinical publications. Dr. Jacoby's commitment to academic medicine and patient care are guiding principles that he inherited from his outstanding mentors. Dr. Jacoby loves spending time with his young family, including his two children and neurosurgeon wife. He also likes to travel and enjoy Philadelphia's rich culture and history.
Table of Contents
Contents   Section I      Physical Examination Chapter 1     Physical Examination of the Elbow: The Basics and Specific Tests                    Taruna Madhav Crawford, MD and Uzoma Ukomadu, MD Chapter 2     Physical Examination of the Wrist: The Basics and Specific Tests                    Brandon J. Valentine, MD and Randall W. Culp, MD   Chapter 3     Physical Examination of the Hand: The Basics and Specific Tests                    John J. Fernandez, MD, FAAOS Section II     General Imaging Chapter 4     General Imaging of the Elbow                    Hiu Yan Miranda Lai, MBChB, FRCR, MMed; Amy F. Austin, MD; Kristen E. McClure, MD; and                    William B. Morrison, MD Chapter 5     General Imaging of the Wrist                    Frank E. Mullens, MD, MPH and William B. Morrison, MD Chapter 6     General Imaging of the Hand                    John Shum Sing Fai, MBBS, FRCR and William B. Morrison, MD Section III    Common Conditions of the Elbow, Wrist, and Hand Chapter 7     Elbow Instability                    Min Jung Park, MD, MMSc and Jeffrey Yao, MD Chapter 8     Ligament Injuries of the Wrist and Hand                    Danielle Scher, MD and Jennifer Moriatis Wolf, MD Chapter 9     Neuropathy                    Jason M. Erpelding, MD and Anthony J. Lauder, MD Chapter 10   Common Tendinopathies of the Wrist and Elbow                    David Essig, MD and Seth D. Dodds, MD 0pt right dotted 273.0pt; mso-layout-grid-align: none"Chapter 11   Ulnar Wrist: Triangular Fibrocartilage Complex and Distal Radio-Ulnar Joint                    Min Jung Park, MD, MMSc and Jeffrey Yao, MD Chapter 12   Arthritis of the Elbow, Wrist, and Hand                    Brian D. Adams, MD Chapter 13   Examination of Elbow, Wrist, and Hand Fractures                    David Ring, MD, PhD Chapter 14   Wounds and Soft-Tissue Injuries                    Jeffrey B. Friedrich, MD, FACS Chapter 15   Vascular Evaluation of the Upper Extremity Diane Payne, MD and Marc J. Richard, MD Financial Disclosures Index