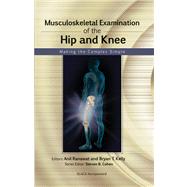 Questions About This Book?
What version or edition is this?
This is the 1st edition with a publication date of 1/15/2011.
What is included with this book?
The New copy of this book will include any supplemental materials advertised. Please check the title of the book to determine if it should include any CDs, lab manuals, study guides, etc.
The eBook copy of this book is not guaranteed to include any supplemental materials. Typically only the book itself is included.
Summary
The physical examination of the hip and knee can be a complex topic for professionals with all levels of clinical experience. How can advance concepts be taught in a user-friendly, clear format, while still providing necessary information for effective diagnosis and treatment of the hip and knee?Musculoskeletal Examination of the Hip and Knee: Making the Complex Simpleby Drs. Anil Ranawat and Bryan T. Kelly answers these questions. Written by experts, this easy-to-carry book provides a thorough review of the most common pathologic hip and knee conditions, techniques for diagnosis, as well as the appropriate treatment for each condition.Musculoskeletal Examination of the Hip and Knee: Making the Complex Simplecontains clear photographic demonstrations, tables, and charts throughout its pages, allowing a thorough and concise examination of the hip and knee.A glance at some of what is covered inside: bull; Physical Examination o Basics and specific tests of the physical examination of the hip and knee bull; General Imaging o Basics of general imaging of the hip and knee bull; Common Conditions o Arthroscopic management of labral tears, snapping hip syndromes, meniscal tears, and moreMusculoskeletal Examination of the Hip and Knee: Making the Complex Simplecontains essential information to successfully take a complex subject and bring it to a level that will be welcomed by orthopedic residents, attendings, physical therapists, athletic trainers, medical students in training, and other health care providers.
Author Biography
Anil Ranawat, MD's research and clinical interest focuses on joint-preserving procedures of both the hip and knee. His interest encompasses nonarthroplasty options of these joint including meniscal, ligament, labral, and capsular surgery with and without concomitant osteotomies. He has a faculty appointment at Weill Medical College of Cornell University in New York, NY and medical staff appointments at Hospital for Special Surgery and New York Presbyterian Hospital, New York, NY. He refined his area of expertise after his orthopedic residency at the Hospital for Special Surgery by doing 2 years of additional training. He was a sports medicine fellow at the University of Pittsburgh in Pittsburgh, PA, where he focused on knee surgery under Drs. Freddie Fu and Christopher Harner. The following year, he travelled abroad to the Schulthess Klinik in Switzerland where he studied hip surgery under Professor Rheinhold Ganz and Dr. Michael Leunig.  

Dr. Ranawat began his academic study at Duke University, Durham, NC, where he attained numerous academic honors. Later, he began his medical training at Weill Medical College and continued his training at Hospital for Special Surgery. Throughout his career, some of the accolades that Dr. Ranawat has received include the T. Campbell Thompson Award for Excellence in Orthopedic Surgery, the Jean C. McDaniel Resident Teaching Award at Hospital for Special Surgery, the Maurice Müller European Traveling Hip Fellowship, and the AAOS Washington Health Policy Fellowship. The latter is evidence of Dr. Ranawat's commitment to providing quality care for all patients, a mission encompassed by his interest in health policy initiatives.   Dr. Ranawat currently serves as the Medical Director of the Physicians Assistants at the Hospital of Special Surgery, Co-Director of Research for Center for Hip Pain and Preservation, Quality Chairman of the Orthopaedic Department of Cornell, and Assistant Team Physician for the New York Mets. Besides his administrative and clinical responsibilities, he has authored over 25 scientific publications, chapters, review articles, and books.   

Bryan T. Kelly, MD is a specialist in sports medicine injuries and arthroscopic and open surgical management of nonarthritic disorders around the hip. He has faculty appointments at New York Presbyterian's Weill Cornell Medical College as well as the Hospital for Special Surgery (HSS), both in New York, NY. He cares for several sports teams, serving as an associate team physician for the New York Giants and the New York Red Bull's MLS team, as well as team consultant for hip injuries for the New Jersey Nets and several collegiate teams in the tri-state region.    

After the completion of his residency at HSS in 2001, Dr. Kelly completed a 2-year fellowship there, specializing in sports medicine and shoulder surgery. Dr. Kelly then completed a fellowship in hip sports injuries and arthroscopy at the University of Pittsburgh Medical Center, Center for Sports Medicine in Pittsburgh, PA under the direction of Dr. Marc J. Philippon. Prior to starting his practice, he also completed an AO International Traveling Fellowship where he spent time with Dr. Herbert Resch at the Landeskliniken Hospital in Salzburg, Austria. He has also spent time with Professor Reinhold Ganz and Dr. Michael Leunig in Bern and Zurich, Switzerland studying advanced techniques in open surgical management of hip injury and deformity through an AO Surgical Preceptorship.  

Dr. Kelly currently serves as Co-Director for the Center for Hip Pain and Preservation at HSS, which is designed to provide multi-disciplinary care for patients at all levels with hip injuries. He has a broad range of both clinical and basic science research interests including the development of a clinical outcomes registry; biomechanical studies evaluating conflict patterns in femoroacetabular impingement and techniques in labral refixation; development of synthetic scaffolds for labral reconstruction and cartilage injuries in the hip; and the development of novel surgical techniques for managing soft tissue injuries around the hip joint. He has authored over 75 scientific publications, chapters, review articles, and books.
Table of Contents
Acknowledgments About the Editors Contributing Authors Preface Foreword by Freddie H. Fu, MD, DSc(Hon), DPs(Hon) Introduction Section I Physical Examination Chapter 1 Physical Examination of the Hip: The Basics and Specific Tests Hal David Martin, DO Chapter 2 Physical Examination of the Knee: The Basics and Specific Tests Andrew D. Pearle, MD Section II General Imaging Chapter 3 General Imaging of the Hip Michael H. Ngo, MD and Douglas N. Mintz, MD Chapter 4 General Imaging of the Knee C. Benjamin Ma, MD and Sunny Cheung, MD Section III Common Conditions of the Hip Chapter 5 Hip Instability Matthew V. Smith, MD and Jon K. Sekiya, MD Chapter 6 Femoroacetabular Impingement Nicola Mondanelli, MD; Michael S. H. Kain, MD; Reinhold Ganz, MD; and Michael Leunig, MD Chapter 7 Abductor Tears Asheesh Bedi, MD; RobRoy L. Martin, PhD, PT, CSCS;and Bryan T. Kelly, MD Chapter 8 Cartilage Injuries Ryan G. Miyamoto, MD and Marc J. Philippon, MD Chapter 9 Snapping Hip Syndromes Victor M. Ilizaliturri Jr, MD Chapter 10 Femoral Deformities and Hip Osteotomies Robert L. Buly, MD Chapter 11 Dysplasia in the Adult Martin Beck, MD Section IV Common Conditions of the Knee Chapter 12 Anterior Cruciate Ligament Injuries Andrew K. Wong, MD; Eric J. Kropf, MD; and Freddie H. Fu, MD, DSc(Hon), DPs(Hon) Chapter 13 Posterior Cruciate Ligament Injuries James R. Romanowski, MD and Christopher D. Harner, MD Chapter 14 Meniscal Injuries Seth L. Sherman, MD; Bradley S. Raphael, MD; and Scott A. Rodeo, MD Chapter 15 Cartilage Injuries Volker Musahl, MD; Olufemi R. Ayeni, MD; and Riley J. Williams III, MD Chapter 16 Posterolateral and Posteromedial Corners of the Knee Keith R. Reinhardt, MD; Mark Drakos, MD; and Russell F. Warren, MD Chapter 17 Knee Malalignment and High Tibial Osteotomy Volker Musahl, MD and Thomas L. Wickiewicz, MD Chapter 18 Patellofemoral Instability James P. Bradley, MD Financial Disclosures Index