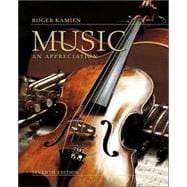 Music : An Appreciation
by
Kamien, Roger
McGraw-Hill Humanities/Social Sciences/Languages
Questions About This Book?
What version or edition is this?
This is the 7th edition with a publication date of 10/1/1999.
What is included with this book?
The Used copy of this book is not guaranteed to include any supplemental materials. Typically, only the book itself is included.
Summary
""This text provides an approach to perceptive listening and an introduction to musical elements, forms, and stylistic periods. Its discussions of composers' lives, individual styles, and representative works aim not merely to impart facts but to stimulate curiosity and enthusiasm. The book was written to heighten the readers' love of music as well as to develop their listening skills."" - from the Preface to the "Seventh Edition"
Through six editions, Roger Kamien's "Music: An Appreciation" has become the most widely used text for Music Appreciation and Introduction to Music Literature courses. The author has approached his new seventh edition with the goal of re-examining the scholarship and refreshing the repertoire while maintaining the strengths that have made the book number one - the clear presentation of musical elements, the vivid depiction of music history, the carefully chosen musical examples, the detailed and informative Listening Outlines, and the unsurpassed supplements package.
Table of Contents
PART I ELEMENTS 1 Sound: Pitch, Dynamics, and Tone Color 2 Performing Media: Voices and Instruments 3 Rhythm 4 Music Notation 5 Melody 6 Harmony 7 Key 8 Musical Texture 9 Musical Form 10 Performance 11 Musical Style PART II THE MIDDLE AGES 1 Music in the Middle Ages (450-1450) 2 Gregorian Chant 3 Secular Music in the Middle Ages 4 The Development of Polyphony: Organum 5 Fourteenth-Century Music: The "New Art" in Italy and France PART III THE RENAISSANCE 1 Music in the Renaissance (1450-1600) 2 Sacred Music in the Renaissnce 3 Secular Music in the Renaissance 4 The Venetian School: From Renaissance to Baroque PART IV THE BAROQUE PERIOD 1 Baroque Music (1600-1750) 2 Music in Baroque Society 3 The Concerto Grosso and Ritornello Form 4 The Fugue 5 The Elements of Opera 6 Opera in the Baroque Era 7 Claudio Monteverdi 8 Henry Purcell 9 The Baroque Sonata 10 Arcangelo Corelli 11 Antonio Vivaldi 12 Johann Sebastian Bach 13 The Baroque Suite 14 The Chorale and Church Cantata 15 The Oratorio 16 George Frideric Handel PART V THE CLASSICAL PERIOD 1 The Classical Style (1750-1820) 2 Composer, Patron, and Public in the Classical Period 3 Sonata Form 4 Theme and Variations 5 Minuet and Trio 6 Rondo 7 The Classical Symphony 8 The Classical Concerto 9 Classical Chamber Music 10 Joseph Haydn 11 Wolfgang Amadeus Mozart 12 Ludwig Van Beethoven PART VI THE ROMANTIC PERIOD 1 Romanticism in Music (1820-1900) 2 Romantic Composers and their Public 3 The Art Song 4 Franz Schubert 5 Robert Schumann 6 Clara Wieck Schumann 7 Frederic Chopin 8 Franz Liszt 9 Felix Mendelssohn 10 Program Music 11 Hector Berlioz 12 Nationalism in Nineteenth-Century Music 13 Peter Ilyich Tchaikovsky 14 Bedrich Smetana 15 Antonin Dvorak 16 Johannes Brahms 17 Giuseppe Verdi 18 Giacomo Puccini 19 Richard Wagner 20 Gustav Mahler PART VII THE TWENTIETH CENTURY 1 Musical Styles: 1900-1950 2 Music and Musicians in Society 3 Impressionism and Symbolism 4 Claude Debussy 5 Maurice Ravel 6 Neoclassicism 7 Igor Stravinsky 8 Expressionism 9 Arnold Schoenberg 10 Alban Berg 11 Anton Webern 12 Bela Bartok 13 Dimitri Shostakovich 14 Charles Ives 15 George Gershwin 16 William Grant Still 17 Aaron Copland 18 Musical Styles Since 1945 19 Music Since 1945: Eight Representative Pieces PART VIII JAZZ 1 Jazz Styles: 1900-1950 2 Ragtime 3 Blues 4 New Orleans Style 5 Swing 6 Bebop 7 Jazz Styles Since 1950 PART IX THE AMERICAN MUSICAL 1 Musical Theater 2 Leonard Bernstein PART X ROCK 1 Rock Styles 2 Rock in American Society 3 The Beatles PART XI NONWESTERN MUSIC 1 Music in Nonwestern Cultures 2 Music in Sub-Saharan Africa 3 Classical Music of India 4 Koto Music of Japan APPENDIXES 1 Glossary and Example Locator 2 Tone Color and the Harmonic Series 3 Key Signatures 4 Chronology 5 Bibliography and Selected Readings 6 Recordings