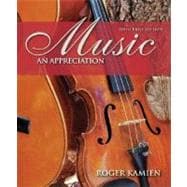 Questions About This Book?
What version or edition is this?
This is the 6th edition with a publication date of 2/26/2007.
What is included with this book?
The Used copy of this book is not guaranteed to include any supplemental materials. Typically, only the book itself is included.
Summary
Whether from a concert stage or at the front of a classroom, Roger Kamien knows how to reach an audience--blending intelligence and passion to lift music from the page and bring it to life. His unique combination of artistic and teaching skills makesMusic: An Appreciation,Brief Edition an invaluable tool for students wanting to learn more about music.This best-selling textbook introduces students to perceptive listening and provides an engaging introduction to musical elements, forms, and stylistic periods. It is organized chronologically, but individual sections can be addressed in any order, for a variety of teaching approaches. Musical notation is included but is not required to understand the popular listening guides featured in the text, which focus students' attention on musical events as they unfold.The Online Learning Center for this text provides open access for all students to many activities and video instrument demonstrations in addition to quiz and study materials for each chapter..
Author Biography
Roger Kamien received his B.A. in Musicology from Columbia and his M.A. and PhD. from Princeton. Kamien taught for 2 years at Hunter College and for 20 years at Queens College, where he coordinated the music appreciation courses. In 1983, he was appointed to the Zubin Mehta Chair in Musicology at The Hebrew University of Jerusalem. In addition to Music: An Appreciation, Prof. Kamien has written numerous articles and reviews, co-wrote A New Approach to Keyboard Harmony, and edited the Norton Scores. He is an accomplished pianist and, in recent years, has formed a two-piano team with his wife, Anita.
Table of Contents
Preface Part I Elements Performer Box: Roger Kamien's performance of Chopin's Prelude in E Minor 1. Sound: Pitch, Dynamics, and Tone Color Pitch: Highness or Lowness of Sound Dynamics Tone Color Listening Outlines, Vocal Music Guides, and the Properties of Sound The Firebird, Scene 2 by Igor StravinskyLISTENING OUTLINE C-Jam Blues, by Duke Ellington and His Famous Orchestra LISTENING OUTLINE 2. Performing Media: Voices and Instruments Voices Musical Instruments String Instruments Woodwind Instruments Brass Instruments Percussion Instruments Keyboard Instruments Electronic Instruments The Young Person's Guide to the Orchestra,Op.34, by Benjamin Britten LISTENING OUTLINE 3. Rhythm Beat Meter Accent and Syncopation Tempo 4. Music Notation Notating Pitch Notating Rhythm Notating Silence (Rests) Notating Meter The Score 5. Melody 6. Harmony Consonance and Dissonance The Triad Broken Chords (Arpegios) Prelude in E Minor for Piano, Op. 28, No.4, by Frederic Chopin LISTENING OUTLINE PERFORMANCE PERSPECTIVE: Pianist Roger Kamien playing Chopin's Prelude in E Minor 7. Key The Major Scale The Minor Scale The Key Signature The Chromatic Scale Modulation: Change of Key Tonic Key 8. Musical Texture Monophonic Texture Polyphonic Texture Homophonic Texture Changes of Texture FarandolefromL'Arlesienne (The Woman from Arles)Suite No.2, by Georges Bizet LISTENING OUTLINE 9. Musical Form Techniques That Create Musical Form Repetition Contrast Variation Types of Musical Form Three-Part (Ternary) Form: A B A Dance of the Reed PipesfromNutcracker Suite, by Peter Ilyich Tchaikovsky LISTENING OUTLINE Two-Part (Binary) Form: A B Contradance No. 7 in E Flat from Twelve Contradances for Orchestra, by Ludwig van Beethoven LISTENING OUTLINE Listening for Form 10. Musical Style Part II The Middle Ages And Renaissance Performer Box: Andrew Parrott 1. Music In The Middle Ages (450-1450) Gregorian Chant The Church Modes Alleluia: Vidimus stellam (We have seen his star) VOCAL MUSIC GUIDE O Successores (You successors)by Hildegard of Bingen VOCAL MUSIC GUIDE Secular Music in the Middle Ages Estampie The Development of Polyphony: Organum School of Notre Dame: Measured Rhythm Fourteenth-Century Music: The "New Art" in France Guilaume de Machaut Puis qu'en oubli sui de vous (Since I am forgotten by you VOCAL MUSIC GUIDE Notre Dame Mass: Agnus Dei VOCAL MUSIC GUIDE PERFORMANCE PERSPECTIVE: Andrew Parrott conducting the Agnus Dei from Machaut'sNotre DameMass 2. Music In The Renaissance (1450-1600) Characteristics of Renaissance Music Word and Music Texture Rhythm and Melody Sacred Music in the Renaissance Josquin Desprez and the Renaissance Motet Ave Maria...virgo serena (Hail Mary...serene virgin VOCAL MUSIC GUIDE Palestrina and the Renaissance Mass Pope MarcellusMass: Kyrie Secular Music in the Renaissance Vocal Music: The Renaissance Madrigal As Vesta Was Descending, by Thomas Weelkes VOCAL MUSIC GUIDE Instrumental Music Passamezzo and Galiard, by Pierre Fransisque Caroubel, fromTerpsichore, by Michael Praetorius Part III The Baroque Period Performer Box: Jeanne Lamon 1. Baroque Music (1600-1750) Characteristics of Baroque Music Unity of Mood Rhythm Melody Dynamics Texture Chords and the Basso Continuo (Figured Bass) Words and Music The Baroque Orchestra Baroque Forms 2. Music In Baroque Society 3. The Concerto Grosso And Ritornello Form BrandenburgConcerto No.5 in D Major, by Johann Sebastian Bach: First Movement LISTENING OUTLINE 4. Th