Note: Supplemental materials are not guaranteed with Rental or Used book purchases.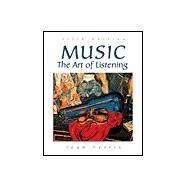 Music : The Art of Listening
ISBN13:
9780697293848
by
Ferris, Jean
Questions About This Book?
What version or edition is this?
This is the 5th edition with a publication date of 6/26/1998.
What is included with this book?
The New copy of this book will include any supplemental materials advertised. Please check the title of the book to determine if it should include any CDs, lab manuals, study guides, etc.
Summary
Emphasizing music in the context of the society that surrounds it, "Music: The Art of Listening" weaves the development of Western music into the fabric of cultural history, paying special attention to the biographies of significant composers. In a clear and accessible format, it introduces music from centuries past as well as that of the current era, and helps the listener develop techniques to fully appreciate music in public performance halls, on the radio, in films, or in the theater. Among the highlights of this seventh edition is a greatly expanded selection of Listening Examples, which are available on the text's companion CD set.
Table of Contents
OverturePart I. Basic Concepts1. SoundPitchDynamicsSummary2. RhythmTempoMeter3. MelodyMelodic TypesScalesSummary4. HarmonyConsonance and DissonanceChordsTonalityTextureSummary5. TimbreVocal TimbresInstruments of the OrchestraKeyboard InstrumentsElectronic InstrumentsSummary6. Attending PerformancesPerformance ProceduresOrchestral PerformancesBand PerformancesOther PerformancesSummaryPart II. Ancient Greece, The Middle Ages, Renaissance7. The Music of Ancient GreeceHistorical PerspectiveMusic in Greek Life The Greek's Lasting InfluenceSummary8. Medieval MusicHistorical PerspectiveEarly Christian MusicGregorian ChantRise of PolyphonySecular MusicThe Role of WomenThe Ars NovaMusicSummary9. The Renaissance: General CharacteristicsHistorical PerspectiveArtistic StyleMusicSummary10. Religious Music of the RenaissanceRenaissance MotetRenaissance MassGiovanni Pierluigi de PalestrinaProtestant Worship MusicSummary11. Secular Music in the RenaissanceMadrigalInstrumental MusicWomen MusiciansSummaryPart III. The Baroque, Classical, and Romantic Periods12. Toward the BaroqueHistorical PerspectiveArtistic StyleMusicSummary13. The Baroque: General CharacteristicsHistorical PerspectiveArtistic StyleMusicSummary14. Dramatic Vocal Music of the BaroqueClaudio MonteverdiFirst and Second PracticeEarly OperaRise of Italian OperaBallad OperaGeorge Frideric HandelOratorioJohann Sebastian BachCantataSummary15. Baroque Instrumental MusicMusic for KeyboardsThe ContinuoChamber MusicOrchestral MusicSummary16. Toward ClassicismHistorical PerspectiveVisual ArtsMusicSummary17. The Classical Period: General CharacteristicsArtistic StyleMusic in EuropeMusic in AmericaSummary18. Formal Design in the Classical PeriodThe OrchestraSymphonySolo ConcertoChamber MusicFranz Joseph HaydnSonataSummary19. Vocal Music in the Classical PeriodOperaReligious MusicSummary20. Toward RomanticismHistorical PerspectiveLiteraturePaintingMusicLudwig van BeethovenFranz SchubertSummary21. The Romantic Style: Orchestral MusicCharacteristics of RomanticismArtistic StyleRomantic Music-An OverviewOrchestral Program MusicAbsolute MusicSymphonyMusic in Nineteenth-Century America22. Romantic Extremes: Solos and Vocal EnsemblesSong in AmericaChoral MusicPiano MusicPiano Music in AmericaAmerican Music Comes of AgeSummary23. Music Theater in the Nineteenth CenturyGrand OperaOpera ComiqueItalian Romantic OperaMusic DramaOperettaMusic Theater in AmericaSummaryPart IV. Twentieth-Century Concert Music24. Toward a New MusicExpressionismImpressionismPrimitivismSummary25. Twentieth-Century Arts: General CharacteristicsVisual ArtsMusic: An OverviewSummary26. The RevolutionariesTwelve-Tone TechniqueExperimentalismConcrete MusicIndeterminate MusicEuropean RevolutionariesSummary27. The EvolutionariesLes SixTwentieth-Century NationalismIgor StravinskyNeoclassicismNeoromanticismMinimalismThe Role of Women and MinoritiesSummaryPart V. Music in the Vernacular28. American Popular MusicFolk MusicRagtimeEvolution of Rock 'n' RollEvolution of MusicalsSummary29. JazzBluesInstrumental JazzJazz Moves NorthConcert JazzSummaryPart VI. Cultural Connections: Seven Musical EncountersEncounter 1: Music of AfricaEncounter 2: Music of IndiaEncounter 3: Music of IslamEncounter 4: Music of ChinaEncounter 5: Music of JapanEncounter 6: Native American MusicEncounter 7: The New InternationalismCodettaAppendix A: Chronology of Western EventsGlossary Index