Note: Supplemental materials are not guaranteed with Rental or Used book purchases.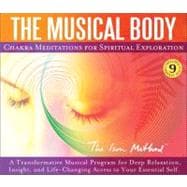 The Musical Body; Chakra Meditations for Spiritual Exploration
ISBN13:
9781602970052
by
David Ison
Summary
DISCOVERED INTUITIVELY AND PROVEN SCIENTIFICALLY. "In 1980 I was in a serious car accident. Left unable to walk, I drew upon my experience as a musician and energy practitioner to explore how I could use breath, meditation, and sound to stimulate and realign my energetic body in order to heal myself. To my doctor's amazement, I quickly made a full recovery. Wanting to share my experience with others, I refined what I had discovered and created a new kind of music, and also a new way of using music, which I call The Ison Method." Interested in my work, The National Institutes of Health funded a three-year study that demonstrated the transformational effectiveness of this music. Since that time the NIH has used this music with more than half a million of their patients with great results.--DAVID ISON. LIFE-CHANGING ACCESS TO YOUR ESSENTIAL SELF. David Ison has used this music to catalyze deep relaxation and transformational insight with thousands of clients. Each CD resonates with a different energy center, or Chakra, in your body. You will experience waves of relaxation and expanding emotional freedom. New possibilities for living spontaneously emerge as you release blockages in each chakra and your Essential Self flows ever more profoundly. There is a short guided meditation followed by an hourlong musical journey on each CD. Listen closely or play as a backdrop for relaxation and quiet inspiration.