Note: Supplemental materials are not guaranteed with Rental or Used book purchases.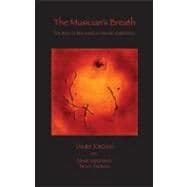 The Musician's Breath; The Role of Breathing in Human Expression
ISBN13:
9781579998349
by
Unknown
Summary
Examining breath in its role as the "delivery system" for ideas in musical performance, this provocative book makes a compelling case for the power of submitting oneself to its miracles. The study is divided into two sections--the first discussing the "why" of breathing and the second providing the "how" with practical applications for singers, instrumentalists, and conductors. Unique perspectives on the practice of yoga and other paradigms help to reveal the breath's potential, ensuring that all musicians--from choral directors to solo instrumentalists--can deepen their understanding of human expression through this simple practice.
Author Biography
James Jordan is a senior conductor at Westminster Choir College of Rider University, where he conducts the Westminster Williamson Voices and the Westminster Schola Cantorum as well as teaches undergraduate and graduate choral conducting. He is the author of Evoking Sound, The Musician's Soul, and The Musician's Walk. He lives in Yardley, Pennsylvania. Mark Moliterno is an adjunct associate professor of voice at Westminster Choir College of Rider University. He teaches private voice and yoga lessons for a wide range of students and for educational programs. He lives in Princeton, New Jersey. Nova Thomas is the author of Toward Center. She is an assistant professor of voice at Westminster Choir College of Rider University, is a professor of professional practice and departmental chair at the New School for Drama at New School University (formerly the Actors Studio Drama School), and teaches with renowned actor and Tony Award–winner Denis O'Hare. She lives in New York City.