Note: Supplemental materials are not guaranteed with Rental or Used book purchases.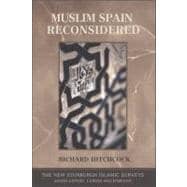 Muslim Spain Reconsidered
ISBN13:
9780748639601
by
Hitchcock, Richard
Edinburgh University Press
Summary
A comprehensive survey of Muslim Spain from 711-1492.This introduction to Muslim Spain covers the period from 711 to1492, giving readers a substantial overview of what it was that made it a unique and successful society, and of its powerful legacy in the formation of modern Spain.Using a chronological framework and pushing the main historical developments to the forefront, the author keeps in view the shifting social patterns caused by the changing balance between town and country, major and minor dynasties, foreign groupings and repeated invasions from North Africa. He also includes discussion of topics such as inter-faith relations, multi-ethnic competing groups, and how intellectual life was enriched by pluralism and influence from abroad.
Author Biography

Richard Hitchcock is a emeritus professor at the University of Exeter. He is author or editor of several books including The Kharjas (Boydell & Brewer), Studies on the Muwassah and the Kharja (Ithaca Press), Mozarebs in Medieval and Early Modern Spain (Ashgate) and The Arab Influence in Medieval Europe (Ithaca Press).

Table of Contents

Introduction
1. Background: Invasion and Settlement
2. Establishment of a quid pro quo in al-Andalus
3. Chaos in the Ninth Century
4. The Umayyad Caliphate of Córdoba
5. The Influence of Islam in Christian Territories of Iberia
6. Islamic Culture in the Heyday of al-Andalus
7. The Collapse of the Islamic State and the Emergence of the Taifas
8. The Change of Power in the Iberian Peninsula in the Eleventh Century
9. Revitalisation: the Murabitun and the Muwahhidun
10. A Case Study: Toledo from the Eleventh to the Fourteenth Centuries
11. The Nasrids of Granada
Conclusion
Bibliography