Note: Supplemental materials are not guaranteed with Rental or Used book purchases.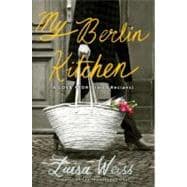 My Berlin Kitchen : A Love Story, with Recipes
ISBN13:
9780670025381
by
Weiss, Luisa
Summary
The Wednesday Chef cooks her heart out, finds her way home, and shares her recipes with us It takes courage to turn your life upside down, especially when everyone is telling you how lucky you are. But sometimes what seems right can feel deeply wrong. My Berlin Kitchentells the story of how one thoroughly confused, kitchen-mad perfectionist broke off her engagement to a handsome New Yorker, quit her dream job, and found her way to a new life, a new man, and a new home in Berlin-one recipe at a time. Luisa Weiss grew up with a divided heart, shuttling back and forth between her father in Boston and her Italian mother in Berlin. She was always yearning for home-until she found a new home in the kitchen. Luisa started clipping recipes in college and was a cookbook editor in New York when she decided to bake, roast, and stew her way through her by then unwieldy collection over the course of one tumultuous year. The blog she wrote to document her adventures in (and out) of the kitchen, The Wednesday Chef, soon became a sensation. But she never stopped hankering for Berlin. Luisa will seduce you with her stories of foraging for plums in abandoned orchards, battling with white asparagus at the tail end of the season, orchestrating a three-family Thanksgiving in Berlin, and mending her broken heart with batches (and batches) of impossible German Christmas cookies. Fans of her award-winning blog will know the happy ending, but anyone who enjoyed Julie and Juliawill laugh and cheer and cook alongside Luisa as she takes us into her heart and tells us how she gave up everything only to find love waiting where she least expected it.
Author Biography
Luisa Weiss was born in West Berlin and spent her childhood between Berlin and Boston. She started The Wednesday Chef, an award-winning food blog, in 2005. She has worked as a cookbook editor in Paris and New York and now lives in Berlin with her husband, Max.


Table of Contents
Introduction: A Strange Little Island
p. 1
I Never Want to Leave
p. 9
The Apple of His Eye
p. 13
A Distant Memory
p. 20
An Unfair Advantage
p. 25
My Sicilian Uncle
p. 33
The Matter of Breakfast
p. 41
Depression Stew
p. 46
At First Sight
p. 54
Not At All Ready
p. 61
I Fell Hard and Fast
p. 69
The Wednesday Chef
p. 77
So Easy
p. 84
A Divided Heart
p. 91
Everything You Could Ever Want
p. 97
It Shook Me Awake
p. 106
Eating for Heartbreak
p. 116
A Solemn Oath
p. 121
I Believe It Now
p. 127
Leap and the Net Will Appear
p. 136
A Chorus of Thousands
p. 143
Crossroads of the World
p. 148
Not for the Faint of Heart
p. 155
Light and Sparkle
p. 163
That Sacred Space
p. 169
Bitter Greens
p. 179
Breaking the Spell
p. 187
Yearning with a Vengeance
p. 192
I'll Get It Right Next Time
p. 198
I Decide to Be Brave
p. 207
Friends and Neighbors
p. 213
We've Come a Long Way
p. 222
Turning Up the Heat
p. 229
Such Abundance
p. 234
Stunningly Complete
p. 239
The Happiest Man in the World
p. 247
Thanksgiving in Berlin
p. 252
Something of an Epiphany
p. 258
Full of Rewards
p. 267
The Perfect Place
p. 274
All of Me
p. 281
The Luckiest Girl
p. 288
Acknowledgments
p. 295
Index
p. 299
Table of Contents provided by Ingram. All Rights Reserved.