Note: Supplemental materials are not guaranteed with Rental or Used book purchases.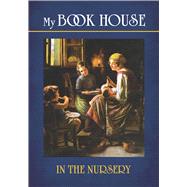 Questions About This Book?
What version or edition is this?
This is the Unabridged edition with a publication date of 2/20/2013.
What is included with this book?
The New copy of this book will include any supplemental materials advertised. Please check the title of the book to determine if it should include any CDs, lab manuals, study guides, etc.
Summary
From Mother Goose to Shakespeare, this My Book House compilation assembles more than 350 beloved nursery rhymes, chants, and children's poetry from around the world. Hundreds of full-color illustrations highlight Japanese lullabies, American Indian songs, Russian rhymes, and other folklore favorites. Contributors include Robert Louis Stevenson, Kate Greenaway, Christina Rossetti, and Robert Burns.
Table of Contents
A, B, C, Kitty's in the Snow I See!, German Nursery Rhyme
African Child Rhymes
All the Cats Consulted, (Maryland) American Rhymes
American Indian Songs
American Rhymes
Animal Crackers, Christopher Morley
Annie Goes to the Cabbage Field, Czechoslovakian Rhyme
As It Fell Upon a Day, William Shakespeare
As I Went to Bonner, Mother Goose
As Tommy Snooks and Bessie Brooks, Mother Goose
A-Tisket, A-Tasket, American Rhyme
At the Wedding of Miss Jenny Wren, French Nursery Rhyme
Auntie, Where Are You Going?, Czechoslovakian Rhyme
Baa, Baa, Black Sheep, Mother Goose
Baby Bye, Here's a Fly, American Rhyme
Bang-Whang-Whang, Robert Browning
The Barnyard, (Kentucky Mountain Song) American Rhyme
Bat, Bat, Come Under My Hat, Mother Goose
Big Clock--Tick, Tock!, Polish Rhyme
The Big Street in the Big City, Lucy Sprague Mitchell
The Big Umbrella and the Little Rubbers
Billy, Billy Come and Play, Mother Goose
Birds of a Feather, Mother Goose
Biting Marion, Lucy Sprague Mitchell
Blessings on Thee, Dog of Mine, Elizabeth Barrett Browning
Blow, Wind, Blow, and Go, Mill, Go!, Mother Goose
The Boatman, He's a Lucky Man!, (Ohio River Boatman's Song) American Rhyme
Bobby Shafto's Gone to Sea, Mother Goose
"Bow-Wow," Says the Dog, Mother Goose
Bow, Wow, Wow, Whose Dog Art Thou?, Mother Goose
Boys and Girls, Come Out to Play, Mother Goose
The Boy Who Made Hay, Norse Nursery Rhyme
Bring the Comb and Play Upon It!, Robert Louis Stevenson
Building with Blocks
Butterflies, Butterflies, (Pueblo Song) American Indian Song
Bye-lo, Bubbeli, Sleep, Pennsylvania Dutch Rhyme
Bye-o! Bye-o!, (Georgia) American Rhyme
Canadian Songs
Catherine, My Dearie, French Nursery Rhyme
Charley, Barley, Buck and Rye, (Maine) American Rhyme
Charley's Neat and Charley's Sweet, (Kentucky Mountains) American Rhyme
Child, I Must Sweep the Hut Today, (West Africa, Cameroon) African Child Rhyme
Child, I See Thee!, John Keats
The Children and the Bear, Adapted from Hans Christian Andersen
Children's Songs of Ancient Greece, Theognis
Chimney Sweep, Swiss Nursery Rhyme
Chinese Nursery Rhymes
Chink, Chink, Chocket, Mexican Rhyme
Cinderella Dressed in Green, (Pennsylvania) American Rhyme
The Clucking Hen, From Aunt Effie's Rhymes
Cock-A-Doodle-Doo!, Mother Goose
The Cock Is Crowing, William Wordsworth
The Cock's on the Housetop, Mother Goose
Cold, Son of Wind and Snow, Finnish Rhyme
Come, Let's Go to Sant' Anita, Mexican Rhyme
Conversation, Rose Fyleman
Crocus Flowers Bloom Like Fire, Meleager
The Cuckoo and the Donkey, German Nursery Rhyme
Czeckoslovakian Fhymes
Daffy-Down-Dilly, Mother Goose
Dainty Little Maiden, Alfred Tennyson
Dame Durden, Welsh Rhyme
Dance, Little Baby, Dance Up High!, Mother Goose
Dance to Your Daddie, Scotch Rhyme
Dickery, Dickery, Dare, Mother Goose
Diddle, Diddle, Dumpling, Mother Goose
Diddle, Diddle on a Bass Fiddle, Polish Rhyme
Don't Run Away My Kitty, Russian Rhyme
Down in a Cottage, Irish Rhyme
Dreamland Opens Here, (Creole Lullaby, Louisiana) American Rhyme
The Drums Call the Village to Dance, (South Africa, Rhodesia) African Child Rhyme
Dutch Nursery Rhymes
East Indian Rhymes
The Elevator, Dorothy Baruch
Engine, Engine Number Nine, (Middle West) American Rhyme
An English Boy's Game
English Nursery Rhymes
Eye of the Wise Men, Santo Domingo Rhyme
Everyone's Glad in Our City Today, Swedish Rhyme
The Farmer in the Dell, American Rhyme
The Farmer's Boy, American Rhyme
First Adventures
Five Little Chicks, Spanish Nursery Rhyme
The Fog, Carl Sandburg
Four-and-Twenty Tailors, Mother Goose
French Nursery Rhymes
The Friendly Cow All Red and White, Robert Louis Stevenson
Froggie Goes A-Courting, (Kentucky Mountains) American Rhyme
Gay Go Up and Gay Go Down, Mother Goose
Geman Nursery Rhymes
Get Out of the Way, (North Carolina) American Rhyme
Get Up, Little Horsey, Spanish Rhyme
Go Ask Your Mother For Fifty Cents, American Rhyme
A Goat One Day Was Feeling Fine, American Negro Rhyme
God Hath Made Me to Laugh, The Bible
Good Morning, Peter
Good Morrow, 'tis St. Valentine's Day, William Shakespeare
Goosey, Goosey, Gander, Mother Goose
Go Out, Children, Elizabeth Barrett Browning
Go to Sleepy, Little Baby, (Georgia) American Rhyme
Great A, Llittle A, Bouncing B, Mother Goose
The Green Bus, James S. Tippett
Groceries, James S. Tippett
Guiseppi, The Cobbler, (Tuscany) Italian Nursery Rhyme
Gurgle, Water, Gurgle, Polish Rhyme
Handy-Spandy, Mother Goose
The Harbor
Hark, Hark! Bow-Wow!, William Shakespeare
Hark, the Christmas Bells Are Ringing, Russian Rhyme
Hear How the Birds, Alexander Pope
Hector Protector, Mother Goose
Hei, Jim Along Josey, Pennsylvania Dutch Rhyme
Here Am I, Little Jumping Joan, Mother Goose
Here Come Three Jolly, Jolly Sailor Boys, (Maryland) American Rhyme
Here Is the Key, Dutch Nursery Rhyme
Here's the Church, American Rhyme
Here We Come, We Children Come, Theognis
Here We Sail So Fast and Free, (Maryland) American Rhyme
Hey Diddle Diddle, Mother Goose
Hickety, Pickety, My Black Hen, Mother Goose
Hickory, Dickory, Dock!, Mother Goose
Higgledy, Piggledy! See How They Run!, Kate Greenaway
Hippety Hop to the Barber Shop, Mother Goose
Hi-Yi, Hi-Yi, Hytola, Finnish Rhyme
Hop, Mother Annika!, Swedish Rhyme
Hop, My Horsey, Leap and Spring, German Nursery Rhyme
How Doth the Little Busy Bee, Isaac Watts
How Many Days Has My Baby To Play?, Mother Goose
How Many Miles to Babylon?, Mother Goose
How Strong a Bridge Have You?, Czechoslovakian Rhyme
Humpty Dumpty, Mother Goose
Hungarian Rhymes
Hurry Up, Engine, (Southern States) American Rhyme
Ice-Cold Lemonade, American Rhyme
If I Could Walk, (Lombardy) Italian Nursery Rhyme
I Had a Little Dog, American Negro Rhyme
I Had a Little Husband, Mother Goose
I Had a Little Mule, American Negro Rhyme
I Had a Little Nut-Tree, Mother Goose
I Had a Piece of Pie, (Texas) American Rhyme
Ihi! Ihi! Ihi!, (Nootka Lullaby) American Indian Rhyme
I Love Little Pussy, Jane Taylor
I'm a Butcher, Czechoslovakian Rhyme
I'm a Little Indian, Mexican Rhyme
I'm a Peddler, American Rhyme
I'm Captain Jinks, American Rhyme
I'm Going to Lady Washington's, (Eastern United States) American Rhyme
In Basel at the Old Crown Inn, Swiss Nursery Rhyme
In Spring the Birds Do Sing, Old English Rhyme
In the Barnyard of My House, South American Rhyme
In the Springtime, William Shakespeare
I Saw a Crow A-Flying Low, (Kentucky Mountains) American Rhyme
I Saw a Ship A-Sailing, Mother Goose
I Should Like to Plough, Hungarian Rhyme
I Stand in the Pulpit and Preach, Pennsylvania Dutch Rhyme
Italian Nursery Rhymes
It Is God That Hath Made Us, The Bible
I Took a Walk One Evening, Swedish Rhyme
It Snows and It Blows, American Rhyme
It's Raining, Swiss Nursery Rhyme
It's Spring
I Went to the Animal Fair, American Rhyme
I Yay! I Yay! I Yay!, Eskimo Rhyme
Jack and Jill, Mother Goose
Jack, Be Nimble, Mother Goose
A Japanese Lullaby
Jingle Bells, Jingle Bells, American Rhyme
Jog On, Jog On, William Shakespeare
John Brown Had a Little Indian, American Rhyme
Johnny Shall Have a New Bonnet, Mother Goose
Jokeli, Swiss Nursery Rhyme
Jumbo Was an Elephant, (Kentucky) American Rhyme
The Key to Bibbley-Babbley-Town, Dutch Nursery Rhyme
King Dagobert, French Nursery Rhyme
The King of France Went Up the Hill, Mother Goose
King Stephen Was a Worthy Peer, William Shakespeare
Knitting Still, Czechoslovakian Rhyme
Lame Tame Crane, American Rhyme
Lavender's Blue, Mother Goose
Lazy Old Mary, (Maryland) American Rhyme
Lie A-Bed, Christina Rossetti
Lines for a City Child
Little Bells, Pretty Flowers of the Steppes, Russian Rhyme
Little Beppo Pippo, Italian Nursery Rhyme
A Little Bird Sits in the Willow, Polish Rhyme
Little Bo-Peep, Mother Goose
Little Boy Blue, Mother Goose
A Little Cock Sparrow, Mother Goose
The Little Girl and the New Dress, Adapted from Hans Christian Andersen
Little Girl, Little Girl, Mother Goose
Little Good Baby, (Cheyenne Lullaby) American Indian Song
Little Jack Horner, Mother Goose
Little King Boggin, Mother Goose
Little Liese Comes A-Running, German Nursery Rhyme
Little Maid, Pretty Maid, Mother Goose
Little Miss Muffet, Mother Goose
Little Nanny Etticoat, Mother Goose
Little Peppino, (Campania) Italian Nursery Rhyme
The Little Pig
Little Robin Redbreast, Mother Goose
The Little Rooster and the Little Hen, A Czechoslovakian Folk Tale
Little Tommy Tucker, Mother Goose
The Little Turtle, Vachel Lindsay
Look, See the Boat!, Olive Beaupre Miller
Lucy Locket Lost Her Pocket, Mother Goose
Lullabies
The Man Who Has Plenty of Good Peanuts, (New England) American Rhyme
Many, Many Stars Are in the Skies, (Georgia) American Rhyme
Mario, Marietta, and Vanno, (Sicily) Italian Nursery Rhyme
Mary and the Christ-Child, Olive Beaupre Miller
Mary Had a Little Lamb, American Rhyme
Mary, Mary Quite Contrary, Mother Goose
Mary Milks the Cow, Norse Nursery Rhyme
Mexican Rhymes
Minnie and Mattie, Christina Rossetti
Mister Postman, Olive Beaupre Miller
Mr. Toad Set Out on a Journey, South American Rhyme
Mix a Pancake, Christina Rossetti
Monkeys, James Whitcomb Riley
The Mouse Climbed Up the Candlestick, Chinese Nursery Rhyme
My Boat, Anonymous
My Lady Wind, Mother Goose
My Maid Mary, Mother Goose
Norse Nursery Rhymes
Of All de Beasts dat Roam de Woods, American Negro Rhyme
Of All the Girls That Are So Smart, H. Carey
Of Speckled Eggs the Birdie Sings, Robert Louis Stevenson
Oh, Here's a Leg for a Stocking, Mother Goose
O If My Top Would Only Spin, Canadian Song
O I'll Build a Square with My Pretty Red Blocks, Olive Beaupre Miller
O, I'm a Jolly Old Cowboy, (Texas Cowboy Song) American Rhyme
O, Lady Mary Ann, Robert Burns
Old Dan Tucker, American Rhyme
Old King Cole, Mother Goose
Old Mother Goose, Mother Goose
Old Mother Hubbard, Mother Goose
Old Mother Wind, Chinese Nursery Rhyme
Old Noah, (New England Song) American Rhyme
O My Dame Had a Lamb Tame Crane, (Maryland) American Rhyme
Once I Saw a Little Bird, Mother Goose
One Misty Moisty Morning, Mother Goose
One, Two, Three, Four, (Maryland) American Rhyme
Open Your Beak, My Little Bird, (Central Africa, Congo) African Child Rhyme
O Rattlin', Roarin' Willie, Robert Burns
The Orchestra
O Sailor, Come Ashore, Christina Rossetti
Otto Would A-Riding Go, Swedish Rhyme
O 'Twas on a Bright Mornin' in Summer, Irish Rhyme
Over in the Meadow, Olive A. Wadsworth
Over the Hill to Feed My Sheep, (Kentucky Mountains) American Rhyme
Over the River, (American Rhyme) Lydia Maria Child
O Well for the Fisherman's Boy, Alfred Tennyson
O Where Has My Little Dog Gone, German-American Rhyme
O Will You Shoe Our Pony, Pray?, Swiss Nursery Rhyme
Park Play, James S. Tippett
Pat-A-Cake, Pat-A-Cake, Baker's Man!, Mother Goose
Pease-Porridge Hot, Mother Goose
Peekaboo, I See You!, Swedish Rhyme
Pennsylvania Dutch Rhymes
Peter, Peter, Pumpkin Eater, Mother Goose
A Pie Sat on a Pear-Tree, Mother Goose
Pinny, Pinny, Poppy Show!, American Rhyme
Playing in the Sandpile
The Ploughman He's a Bonnie Lad, Robert Burns
Poems by Alfred Tennyson
Poems by Christina Rossetti
Poems by Robert Louis Stevenson
The Police Cop Man, Margaret Morrison
Polish Rhymes
Polly, Put the Kettle On, Mother Goose
Pop! Goes the Weasel!, American Rural Song
Precocious Piggy, Thomas Hood
Pretty Flowers of the Steppes, Russian Rhymes
Pretty Sally, H. Carey
Pretty, See the Cloud Appear!, (Zuni Song) American Indian Song
Puddin' Tame, American Rhyme
Pussy Cat, Pussy Cat, Mother Goose
Pussy, Kittie, Spanish Nursery Rhyme
Pussy, Pussy, Dear Pussy, Polish Rhyme
Pussy Sits Beside the Fire, Mother Goose
Puva, Puva, Sleep!, (Hopi Lullaby) American Indian Song
Quaker, Quaker, How Is Thee?, (Philadelphia and Eastern States) American Rhyme
Rain, Robert Louis Stevenson
The Rajah Went to Delhi, East Indian Rhyme
Reinar Was Watching His Cattle, Norse Rhyme
A Rhyme from Santo Domingo
Rhymes from Ireland
Rhymes from Shakespeare
Rhymes of Finland
Ride a Cock-Horse to Banbury Cross, Mother Goose
Ride Away, Ride Away, Mother Goose
Ride, Ride A Horsey, Pennsylvania Dutch Rhyme
Ride, Ride Away, Norse Rhyme
Ring Around A Rosy, (Maryland) American Rhyme
A Robin and a Robin's Son, Mother Goose
Robin and Richard Were Two Pretty Men, Mother Goose
Rock-A-Bye, Baby, Mother Goose
Roll It, Bowl It, Canadian Song
A Roman Boy's Game
The Rose Is Red, American Rhyme
A Roumanian Lullaby
Round Is My Bun, Hungarian Rhyme
Row, Row, To the Fishing Banks Fare!, Norse Rhyme
Rub-A-Dub-Dub, Mother Goose
Russian Rhymes
Sally's Blue Ball, Marion Walker
A Sea-Song from the Shore, James Whitcomb Riley
See-Saw, Margery Daw, Mother Goose
See-Saw, Sacaradown, Mother Goose
Simple Simon, Mother Goose
Sing a Song of Sixpence, Mother Goose
Sing, Sing!--What Shall I Sing?, Mother Goose
Sleep, Baby, Sleep, Mother Goose
Sleep, My Baby! Sleep an Hour, Roumanian Lullaby
Sleep, My Baby! Sleep My Baby!, Japanese Lullaby
Sleep, Sleep, My Little One!, (East Africa, Abyssinia) African Child Rhyme
The Sleepy Song, Josephine Daskam Bacon
Smiling Girls, Rosy Boys, Mother Goose
Snail, Snail, Russian Rhyme
The Snow Man
A Song of the Railroad Men
Songs of Joy from the Bible
South American Rhymes
Spanish Nursery Rhymes
A Squirrel, American Negro Rhyme
The Squirrel Went Out to Cut the Hay, Norse Rhyme
Star Light, Star Bright, American Rhyme
A Story of the Wind
St. Valentine's Day, William Shakespeare
Sum-m, Sum-m, Sum-m!, German Nursery Rhyme
Swedish Rhymes
Sweet and Low, Alfred Tennyson
Swiss Nursery Rhymes
Teddy Bear, Teddy Bear, American Rhyme
There Are Twelve Months, Old English Ballad
There's Not a Budding Boy, Robert Herrick
There Was a Crow, Mother Goose
There Was a Farmer Had a Dog, (Maryland) American Rhyme
There Was a Horse, Mother Goose
There Was a Little Boy, Chinese Nursery Rhyme
There Was a Little Boy, English Nursery Rhyme
There Was a Little Man and His Name Was Gice, Dutch Nursery Rhyme
There Was a Monkey, Mother Goose
There Was a Naughty Boy, John Keats
There Was a Piper Had a Cow, Mother Goose
There Was an Old Dame Called Tartine, French Nursery Rhyme
There Was an Old Man, Mother Goose
There Was an Old, Old Indian, Canadian Song
There Was an Old Pig, American Rhyme
There Was an Old Woman, Chinese Nursery Rhyme
There Was an Old Woman, Mother Goose
There Was an Old Woman of Harrow, Mother Goose
There Was an Old Woman Tossed Up in a Basket, Mother Goose
There Was an Old Woman Who Lived in a Shoe, Mother Goose
There Was an Owl, Mother Goose
There Were Three Duckies, Dutch Nursery Rhyme
There Were Two Blackbirds, Mother Goose
There Were Two Little Boys, Swedish Rhyme
This Little Ant Went About with a Will, Mexican Rhyme
This Little Pig Went to Market, Mother Goose
This One Stole an Egg, Mexican Rhyme
The Three Autos, Lucy Sprague Mitchell
Three Jolly Sailor Boys, American Rhyme
Three Little Kittens, English Nursery Rhyme
Three Old Maids A-Skating Went, American Child Game
Through the Jungle, East Indian Rhyme
Thus I Guard My Mother's Lambkins, Finnish Rhyme
Ting-A-Ling-Ling, (Maryland) American Rhyme
The Toads in the Lake, South American Rhyme
To Market, to Market, Mother Goose
Tommy Was a Silly Boy, Kate Greenaway
Tom, Tom, the Piper's Son, Mother Goose
Train Story, Irma Simonton
Turkey in the Straw, American Rural Song
Up in the Green Orchard, Mother Goose
Verses by John Keats
Verses by Robert Burns
Wake Up, Jacob, (Texas) American Rhyme
Weaver John, Irish Rhyme
Wee Willie Winkie, Mother Goose
Welsh and Scottish Rhymes
We've Come to See Miss Jenny Jones, American Rhyme
What Are You Able to Build with Your Blocks?, Robert Louis Stevenson
What Does Little Birdie Say?, Alfred Tennyson
What's the News of the Day, Mother Goose
What's Your Name?, (Maryland) American Rhyme
What They Say, Mary Mapes Dodge
When I Go A-Courting, (Southern States) American Rhyme
When I See a Lady, South American Rhyme
When I Was a Baby, Estonian Folk Song
When I Was Down Beside the Sea, Robert Louis Stevenson
When Mrs. Bird Wants Mr. Bird, South American Rhyme
When That I Was But a Little Tiny Boy, William Shakespeare
When Uncle Henry Was a Little Tiny Boy (Mississippi Boatman's Song) American Rhyme
When Woods Awake, Old English Ballad
Where Are My Roses?, (A Greek Game) Athenaeus
Where Be You Going, You Devon Maid?, John Keats
Where, O Where Has My Little Dog Gone?, German-American Rhyme
White Fields, James Stephens
A White Hen Sitting, Christina Rossetti
Who Has Seen the Wind?, Christina Rossetti
Who's on the Roof?, Spanish Nursery Rhyme
William T. Trinity, (Maryland) American Rhyme
Willie Boy, Willie Boy, Mother Goose
A Winky-Tooden Song, James Whitcomb Riley
A Woman Had a Rooster, Polish Rhyme
The World Is So Full, Robert Louis Stevenson
Would You Like to See Goats Dance on Stilts?, German Nursery Rhyme
Yankee Doodle, American Rhyme
The Zoo in the Park