Note: Supplemental materials are not guaranteed with Rental or Used book purchases.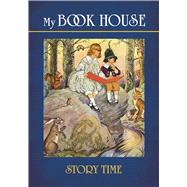 Questions About This Book?
What version or edition is this?
This is the Reprint edition with a publication date of 2/20/2013.
What is included with this book?
The New copy of this book will include any supplemental materials advertised. Please check the title of the book to determine if it should include any CDs, lab manuals, study guides, etc.
Summary
Filled with vibrant full-color illustrations, this edition of Story Timefrom the acclaimed My Book House series presents a charming selection of more than 75 tales from the world's folklore and literature. Contents include Aesop's "Belling the Cat," Lear's "The Owl and the Pussy-Cat," and Tolstoy's "Uncle Mitya's Horse," plus stories and verse by Whitman, Blake, Sandburg, and dozens of others.
Table of Contents
Across the Fields, Anatole France
An American Miner's Song, "Giant" O'Neill
Answer to a Child's Question, Samuel Taylor Coleridge
At Christmas Play and Make Good Cheer, Thomas Tusser
Awake, O North Wind, Song of Solomon
The Bee, the Mouse and the Bum-Clock, An Irish Tale
Behold the Fig Tree, Jesus of Nazareth
A Belgian Morning, Emile Cammaerts
Belling the Cat, Adapted from Aesop
The Birds' Convention, Aristophanes
A Bohemian Evening, A Czechoslovakian Nursery Rhyme
The Bow that Bridges Heaven, Christina G. Rossetti
A Boy in the Island of Bali
Building the Bridge, Adapted from a Russian Folk Song
The City Mouse and the Country Mouse, Adapted from Aesop
Come, Little Leaves, George Cooper
Dame Wiggins of Lee, Mary E. Sharpe and John Ruskin
The Dancing Monkeys, Adapted from Aesop
Dawlish Fair, John Keats
The Donkey and the Lap Dog, Adapted from Aesop
An Explanation of the Grasshopper, Vachel Lindsay
A German Evening, Wilhelm Schiller
The Gingerbread Man, A New England Tale
The Goldfinch, Odell Shepard
Grasshopper Green
The Hare and the Tortoise, Adapted from Aesop
Heap on More Wood, Sir Walter Scott
How the Finch Got Her Colors, A Flemish Legend
I Heard the Bells on Christmas Day, Henry Wadsworth Longfellow
Jack Frost, Gabriel Setoun
Johnny and the Three Goats, A Norse Tale
Krazy Kat, John Alden Carpenter
Late, Josephine Preston Peabody
Laughing Song, William Blake
The Lion and the Mouse, Adapted from Aesop
The Little Dog Waltz, A Story of the Musician, Chopin
The Little Engine that Could
The Little Gray Pony, Maud Lindsay
Little Gustava, Celia Thaxter
Little Hansworst, A Story of the Dutch Puppet Show
The Little Rabbit Who Wanted Red Wings, Retold by Carolyn Sherwin Bailey
The Little Red Hen and the Grain of Wheat, An English Folk Tale
The Magpie's Nest, An English Folk Tale
Merry Christmas
Moon, So Round and Yellow, Mathias Barr
My Beloved Is Gone Down into His Garden, Song of Solomon
The Night Before Christmas, Clement Moore
Noah's Ark, Retold from The Bible
Nonsense Rhymes, Edward Lear
Nurse's Song, William Blake
Old Shellover, Walter De La Mare
Ole Shut-Eyes, The Sandman, Adapted from Hans Christian Andersen
The Owl and the Pussy-Cat, Edward Lear
Paper Boats, Rabindranath Tagore
Please Give Me a Ride on Your Back, Edward Lear
The Poor Old Lady, Translated by Rafael Pombo
The Purple Cow, Gelett Burgess
Reen-Reen-Reeny-Croak-Frog, Translated by Rafael Pombo
The Rooster and the Sultan, A Hungarian Fairy Tale
The Sheep and the Pig That Made a Home, A Norse Folk Tale
Shingebiss, A Chippewa Indian Tale
Snow, Mary Mapes Dodge
A Song for Easter, Olive Beaupre Miller
The Song of the Bee, Old Jingle
The Song of the Flea, From the Opera on Faust by Hector Berlioz
Spring Songs from the Bible
The Star, Jane Taylor
The Strange Adventure of the Baron Munchausen
The Sugar-Plum Tree, Eugene Field
A Swedish Evening, Gustaf Froding
The Tale of Nutcracker, Basis of the Ballet by Peter Tchaikovsky
The Tale of Peter Rabbit, Beatrix Potter
The Teddy Bears' Picnic, From the Musical Composition by John W. Bratton
Ten Little Indians
There Was an Old Man with a Beard, Edward Lear
The Turtle Who Could Not Stop Talking, An East Indian Fable
The Twilight, Madison Cawein
Two Birds and Their Nest, Walt Whitman
Two Children, From the German of Heinrich Heine (Translated by Elizabeth Barrett Browning)
The Two Crabs, Adapted from Aesop
The Ugly Duckling, Retold from Hans Christian Andersen
Uncle Mitya's House, Leo N. Tolstoy
The Village of Cream Puffs, Carl Sandburg
Wee Robin's Christmas Song, Attributed to Robert Burns (from a Scotch Folk Tale)
Whisky Frisky
Wind Bloweth Where it Listeth, Jesus of Nazareth
Wynken, Blynken, and Nod, Eugene Field