Note: Supplemental materials are not guaranteed with Rental or Used book purchases.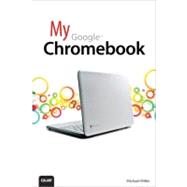 Questions About This Book?
What version or edition is this?
This is the 1st edition with a publication date of 10/14/2011.
What is included with this book?
The eBook copy of this book is not guaranteed to include any supplemental materials. Typically only the book itself is included.
Summary
Get comfortable with Google Chrome OS fast, with this media-rich, customized, hands-on learning experience! The Chrome OS is a new, fast, web-oriented operating system from Google, based on the Chrome web browser Tightly integrated with online video, screencast tutorials, podcasts, and more: the total learning experience for new Google Chrome OS users Practical, approachable coverage that completely flattens the Using Google Chrome OS learning curve Using Google Chrome OSis a customized, media-rich learning experience designed to help you master Google Chrome OS quickly, and get the most out of it, fast! It starts with a concise, friendly, straight-to-the-point guide to Google Chrome OS. This exceptional book is fully integrated with an unprecedented collection of online learning resources: online video, screencasts, podcasts, and additional web content, all designed to reinforce key concepts and help you achieve real mastery. Using books are designed to offer a solid and accessible introduction-both tutorial and reference-to a topic. The Using series is written in a succinct yet friendly manner and offers real-world advice and step by step tasks.
Author Biography
Michael Miller is a prolific and popular writer of non-fiction books, known for his ability to explain complex topics to everyday readers. He writes about a variety of topics, including technology, business, and music. His best-selling books for Que include Using Google Advanced Search, Absolute Beginner's Guide to Computer Basics,Windows 7 Your Way,Your First Notebook PC, and Facebook for Grown-Ups. Worldwide, his books have sold more than one million copies.

Table of Contents
P Understanding Chrome, Chromebooks, and Cloud Computing 3
What Is Cloud Computing? 4
How Traditional Desktop Computing Works 4
How Cloud Computing Works 4
Defining the Cloud 5
Why Is Cloud Computing Important? 6
What Is Google Chrome OS? 7
What Is a Chromebook? 9
What Chromebooks Are Available? 10
Chromebook Pros and Cons 13
Chromebook Benefits 14
Chromebook Disadvantages 15
Should You Buy a Chromebook? 16
What Types of Users Should Buy a Chromebook? 16
What Types of Users Shouldn't Buy a Chromebook? 17
1 Unboxing and Setting Up Your New Chromebook 21
Unboxing Your Chromebook 21
Turning on Your Chromebook—For the Very First Time 23
Setting Up a Chromebook 23
Creating a New Google Account 26
Creating a Google Account 26
2 Getting to Know Your Chromebook 31
Getting to Know Your Chromebook 31
Screen 32
Illumination Sensor 32
Webcam 33
Microphone 33
Keyboard 33
Touchpad 34
Multi-Card Slot 34
User Mode Switch 35
SIM Card Slot 35
USB Port (Right) 36
Status Indicator 36
Power Connector 36
Monitor Port 37
USB Port (Left) 37
Headset Jack 37
Using the Keyboard 37
Using the Touchpad 40
Moving the Cursor 41
Clicking the Cursor 41
Right-Clicking the Cursor 42
Dragging an Item 42
Scrolling the Screen 42
Adjusting Touchpad Sensitivity 43
Connecting External Devices 44
Connecting an External Mouse 44
Connecting an External Keyboard 44
Connecting an External Display 45
Adjusting Brightness and Volume 46
Adjusting Screen Brightness 46
Adjusting and Muting the Volume 47
3 Using Chrome OS 49
Starting Up and Shutting Down 49
Starting Up and Logging In 50
Putting Your Chromebook to Sleep 51
Powering Off Your Chromebook 51
Navigating Chrome 52
Understanding Chrome's Status Icons 53
Navigating Tabs and Windows 55
Navigating Tabs 55
Navigating Windows 55
Switching to Full Screen Mode 56
Zooming into a Page 57
Using the Customize and Control Menu 57
4 Managing Multiple Users 61
Adding Users to Your Chromebook 61
Adding a User 61
Editing User Information 63
Changing Your Chrome User Picture 63
Creating Your Profile 65
Switching Users 67
Switching User Accounts 67
Logging in as a Guest User 67
5 Working Wirelessly 69
Connecting to a Wi-Fi Network 69
Enabling Wi-Fi on Your Chromebook 70
Connecting to an Open Wi-Fi Network 70
Connecting to a Secure Wi-Fi Network 71
Viewing Network Status 72
Connecting to a 3G Network 72
Activating Verizon 3G Service 73
Connecting via 3G 74
Using Your Chromebook with a SIM Card 75
Roaming with a Different 3G Carrier 76
Monitoring Data Usage 76
Connecting to an Ethernet Network 77
Connecting via Ethernet 77
Managing Network Connections 78
Automatically Connecting to a Network 78
Forgetting a Network 79
Viewing Network Details 79
6 Configuring and Personalizing Chrome OS 81
Changing Themes 81
Selecting a New Theme 83
Resetting to the Default Theme 84
Configuring Basic Options 85
Configuring Startup Behavior 85
Changing Chrome's Home Page 86
Displaying the Home Button 86
Displaying the Bookmarks Bar 87
Changing Search Providers 88
Enabling Google Instant 89
Configuring Personal Stuff 89
Changing Your Account Password 89
Waking from Sleep 90
Syncing Your Account 90
Saving Passwords 92
Enabling Autofill 93
Configuring System Options 94
Changing Your Time Zone 94
Managing Touchpad Sensitivity 95
Customizing Languages and Input Methods 95
Changing Search, Ctrl, and Alt Key Behavior 96
Enabling Accessibility Features 97
Configuring Networking Options 98
Getting Under the Hood 98
Configuring Privacy Options 98
Displaying Web Content 98
Changing Proxy Settings 99
Translating Pages 100
Managing HTTPS/SSL Security 101
Managing Users 101
Disabling Guest Browsing 102
Hiding Usernames 102
Restricting Sign-In 103
7 Managing Files and Using External Storage 105
Using Chrome's File Manager 105
Viewing and Opening Files 108
Renaming Files and Folders 109
Deleting Files 109
Creating a New Folder 110
Saving Files from the Web 111
sing an External USB Memory Device or Memory Card 113
Connecting a USB Memory Device 113
Inserting a Memory Card 114
8 Viewing and Listening to Photos,Music, and Videos 117
Viewing Digital Photos 117
Viewing Photos from an External Storage Device 118
Viewing a Photo Slideshow 119
Listening to Music 119
Listening to a Single Track 120
Listening to a Playlist 121
Watching Videos 122
Viewing a Video 122
9 Browsing and Searching the Web 125
Browsing the Web 125
Going to a Web Page 126
Clicking Links 127
Reloading a Page 128
Moving Forward and Back Through Pages 128
Viewing and Managing Browser History 128
Viewing Your Recent History 129
Viewing Your Full History 129
Deleting Browsing History 130
Searching the Web 131
Entering a Query 132
Using Google Instant 133
Using Google's Advanced Search 134
Understanding Search Results 135
Fine-Tuning Search Results 138
Changing Change Search Providers 140
Managing Your Home Page 140
Choosing a New Home Page 141
Displaying the Home Button 141
Bookmarking Favorite Pages 142
Bookmarking a Web Page 142
Displaying the Bookmarks Bar 143
Going to a Bookmarked Page 144
Managing Bookmarks 144
Using Autofill 146
Enabling Autofill 147
Saving Form Information 147
Automatically Entering Form Information 147
Manage Stored Information 148
Browsing in Incognito Mode 149
Opening an Incognito Window 150
10 Installing Chrome Extensions 153
Installing and Using Extensions 153
Downloading and Installing Extensions 154
Using Extensions 155
Managing Extensions 156
Configuring Extension Options 156
Disabling or Uninstalling Extensions 158
Examining Popular Extensions 159
11 Using Chrome Apps 163
Understanding Chrome Apps 163
Getting to Know the Chrome Web Store 165
Installing and Launching Apps 165
Downloading and Installing Apps 166
Launching Chrome Apps 167
Using Chrome Apps 167
Managing Installed Apps 167
Configuring App Options 168
Uninstalling Apps 168
Determining How Apps are Launched 169
Examining Chrome Apps—by Category 170
Education Apps 170
Entertainment Apps 171
Family Apps 173
Games 174
Lifestyle Apps 175
News and Weather Apps 176
Productivity Apps 177
Shopping Apps 178
Social and Communication Apps 179
Utilities 180
12 Working in the Cloud 183
Office Suites in the Cloud 183
Google Docs 184
Microsoft Office Web Apps 186
Microsoft Office Live 365 187
Zoho Docs 188
Other Web-Based Office Suites 189
Word Processing in the Cloud 189
Google Docs 189
Microsoft Word Web App 190
Zoho Writer 191
Other Web-Based Word Processors 192
Spreadsheets in the Cloud 192
Google Spreadsheets 193
Microsoft Excel Web App 194
Zoho Sheet 194
Other Cloud Spreadsheet Apps 195
Presentations in the Cloud 195
Google Presentations 196
Microsoft PowerPoint Web App 197
Zoho Show 197
Other Web-Based Presentation Apps 198
Photo Editing in the Cloud 198
Adobe Photoshop Express Editor 199
Picnik 200
Picture2Life 200
Finances and Banking in the Cloud 201
Calendars in the Cloud 202
Google Calendar 203
Yahoo! Calendar 204
Windows Live Calendar 205
Email in the Cloud 205
Gmail 206
Windows Live Hotmail 207
Yahoo! Mail 207
Instant Messaging in the Cloud 208
IM Solutions 208
Using Google Talk 208
Skyping in the Cloud 210
13 Printing from Google Chrome 213
Understanding Google Cloud Print 213
Connecting a Printer to Google Cloud Print 215
Connecting a Cloud Print-Ready Computer 215
Connecting an Existing Printer 216
Printing to Google Cloud Print 217
Printing from Your Chromebook 217
Sharing a Printer with Google Cloud Print 218
Sharing a Printer 218
Disabling Sharing 219
Disconnecting a Printer from Cloud Print 220
Disconnecting a Cloud Print-Ready Printer 220
Disconnecting a "Classic" Printer 220
14 Using Google Chrome Safely and Securely 223
Cloud Computing and Data Security 223
Chrome OS and Malware 224
Protecting Against Phishing 225
Practicing Safe Computing 227
Protecting Your Personal Data 227
Avoiding Cyberstalkers 229
Protecting Your Children Online 229
Configuring Chrome's Privacy and Security Settings 231
Don't Save Passwords 231
Don't Use Autofill 232
Configure Privacy Settings 232
Configure Content Settings 234
Clear Browsing Data 236
Restrict Sign-In 237
15 Optimizing Your Chromebook's Performance 239
Optimizing Battery Life 239
Using the Right Adapter 239
Keeping It Cool 240
Maintaining a Little Charge .240
Dimming the Screen 240
Disabling Wireless 240
Speeding Up Performance 241
Don't Multitask 241
Disabling or Removing Extensions 242
Hiding Images 242
Enabling DNS Prefetching 243
Disabling Feedback to Google 244
16 Troubleshooting and Recovering from Problems 247
Dealing with a Frozen App or Web Page 247
Clearing Local User Data 249
Recovering from Severe Problems 250
Updating Chrome OS 252
A Google Chrome Keyboard Shortcuts 255
Index 261