Note: Supplemental materials are not guaranteed with Rental or Used book purchases.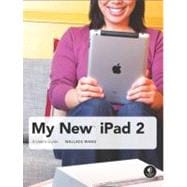 My New iPad 2: A User's Guide
ISBN13:
9781593273866
by
Wang, Wallace
Questions About This Book?
What version or edition is this?
This is the edition with a publication date of 5/30/2011.
What is included with this book?
The New copy of this book will include any supplemental materials advertised. Please check the title of the book to determine if it should include any CDs, lab manuals, study guides, etc.
Summary
The iPad is cute, lovable, fun to play with, and a bit mysterious. This third edition of the best-selling My New iPadremoves the mystery, showing every user how to get the most from their new iPad. A simple, patient, and complete guide to the iPad, My New iPadshows readers, step-by-step, how to surf the Internet, send email, listen to music, take notes, read ebooks, play with photos, and much more. Wallace Wang, bestselling author of My New Macand My New iPhone, walks readers through the iPad's many useful features, like using the Maps app and compass; shopping on iTunes and the iBook Store; customizing the iPad's appearance; setting parental controls and privacy; editing Office documents; and getting organized with the Notes, Calendar, and Contacts apps. This revised edition covers all new iPad 2 and iOS 4.3 features, including FaceTime video messaging, streaming music, movies, and TV across a network, the iPad's new camera, the best new iPad apps, and more.
Table of Contents
Praise for the My New™ series
Praise for My New™ iPad
Praise for My New™ Mac
Acknowledgments
Introduction
How This Book Is Organized;
Basic Training
Turning Your iPad On and Off
What You'll Be Using
Turning On Your iPad
Turning Off Your iPad
Putting Your iPad to Sleep
Putting Your iPad to Sleep Automatically
Waking Up Your iPad from Sleep Mode
Turning Airplane Mode On and Off (3G iPad Models Only)
Additional Ideas for Turning Your iPad On and Off
Charging and Conserving Battery Power
What You'll Be Using
Recharging an iPad
Turning Off Push Accounts
Turning Off Location Services
Monitoring Battery Life
Turning Off Bluetooth
Additional Ideas for Conserving Power
Using Your iPad's Physical and Virtual Controls
What You'll Be Using
Viewing the Home Screen
Adjusting the Volume
Multitasking with the Home Button
Configuring the Silent/Screen Rotation Lock Switch
Muting the Volume or Locking the Screen Rotation Without the Side Switch
Adjusting the Screen Brightness
Additional Ideas for Controlling Your iPad
Controlling the iPad User Interface
What You'll Be Using
Using the Multi-Touch Screen
Additional Ideas for Controlling Your iPad
Using and Customizing the Virtual Keyboard
What You'll Be Using
Displaying Different Virtual Keyboards
Typing on a Virtual Keyboard
Selecting, Copying, and Cutting Text
Spellchecking
Customizing the Virtual Keyboard
Turning Off Audible Keyboard Clicks
Typing Foreign Characters
Additional Ideas for Using the Virtual Keyboard;
Making the Most of Your iPad
Customizing the Home Screen
What You'll Be Using
Rearranging Icons on the Home Screen
Putting Apps on the Dock
Modifying the Wallpaper
Additional Ideas for Customizing Your Home Screen
Using Parental Controls
What You'll Be Using
Blocking iPad Features
Filtering Content
Disabling Restrictions
Additional Ideas for Using Restrictions on Your iPad
Protecting Your Privacy
What You'll Be Using
Setting (or Removing) a Passcode
Defining When to Ask for a Passcode
Erasing Data After 10 Incorrect Passcodes
Additional Ideas for Protecting Your iPad
Setting Up an Internet Connection
What You'll Be Using
Setting Up a Wi-Fi Connection
Forgetting a Wi-Fi Network
Connecting to a 3G Cellular Network
Canceling (or Switching) a Cellular Data Plan
Additional Ideas for Connecting to the Internet
Installing (and Uninstalling) Apps
What You'll Be Using
Finding Apps on Your iPad
Installing an App
Finding Apps in iTunes
Updating Apps on the iPad
Deleting Apps from the iPad
Running iPhone Apps on the iPad
Additional Ideas for Installing and Uninstalling Apps;
Getting on the Internet
Browsing with Safari
What You'll Be Using
Navigating Safari
Searching in Safari
Opening Multiple Web Pages
Emailing a Web Page Link
Copying a Graphic Image from a Web Page
Printing a Web Page
Additional Ideas for Browsing the Internet
Using Bookmarks with Safari
What You'll Be Using
Using the History Window
Adding and Managing Bookmarks
Saving a Website as a Home Screen Icon
Creating Folders in the Bookmarks Window
Additional Ideas for Bookmarking Favorite Websites
Setting Up an Email Account
What You'll Be Using
Setting Up an Email Account Automatically
Setting Up an Email Account Manually
Customizing Mail Accounts
Additional Ideas for Setting Up and Customizing Email Accounts
Sending and Reading Email
What You'll Be Using
Reading Email
Moving a Message to a Folder
Replying to, Forwarding, or Printing an Email Message
Writing a New Message
Deleting Messages
Searching Email
Viewing Multiple Email Accounts
Additional Ideas for Reading, Writing, and Organizing Messages;
Video, Music, Photos, and Ebooks
Transferring Songs, Videos, and Other Stuff to Your iPad
What You'll Be Using
Importing Files to iTunes on Your Computer
Transferring Music to Your iPad
Synchronizing Podcasts
Transferring Movies and TV Shows to Your iPad
Synchronizing Photos
Importing Ebooks into Your iPad
Synchronizing Contacts
Synchronizing Appointments
Synchronizing Mail, Notes, and Bookmarks
Additional Ideas for Syncing Data
Shopping on iTunes and the iBookstore
What You'll Be Using
Shopping for Music, Movies, TV Shows, and Audiobooks
Shopping for iBooks
Additional Ideas for Shopping Online
Listening to Music and Other Audio Files
What You'll Be Using
Playing a Song in Different iPod Modes
Choosing a Song
Controlling Your Music
Finding a Podcast, Audiobook, or iTunes U Course
Searching for Any Audio File
Additional Ideas for Listening to Audio Files
Watching Videos
What You'll Be Using
Choosing a Video File
Viewing a Video File
Choosing a YouTube Video
Viewing a YouTube Video
Searching for a YouTube Video
Additional Ideas for Watching Videos
Reading Ebooks
What You'll Be Using
Opening (and Closing) an Ebook
Turning the Pages of an Ebook
Searching for Text
Using Bookmarks
Making Ebooks Easier to Read
Additional Ideas for Reading Ebooks
Photos, Videos, and FaceTime
What You'll Be Using
Taking Pictures
Using Photo Booth
Setting Up FaceTime
Making a FaceTime Call
Additional Ideas for Using the iPad's Cameras
Viewing, Using, and Sharing Photographs
What You'll Be Using
Viewing Pictures
Navigating Through Pictures
Creating a Slideshow
Sending Pictures by Email
Assigning a Picture to a Contact
Viewing and Trimming Videos
Additional Ideas for Using Your Pictures;
Organizing Yourself
Jotting Down Notes
What You'll Be Using
Typing a Note
Creating New Notes
Navigating Through Your Notes
Sending a Note by Email
Deleting a Note
Additional Ideas for Typing Notes
Keeping Contact Information
What You'll Be Using
Viewing Contact Information
Adding a New Contact
Editing (or Deleting) a Contact
Sending Contact Information by Email
Sending Email to a Contact
Getting Directions to a Contact
Additional Ideas for Using Contacts
Using the Calendar
What You'll Be Using
Understanding Calendar Views
Setting an Appointment
Editing (or Deleting) an Appointment
Searching for an Appointment
Viewing and Managing Multiple Calendars
Additional Ideas for Using Calendars
Using Maps
What You'll Be Using
Viewing a Map
Changing the Appearance of a Map
Finding Your Current Location
Using the Compass
Finding Places on a Map
Bookmarking Favorite Locations
Getting Directions
Additional Ideas for Finding Places and Getting Directions with Maps
Searching Your iPad with Spotlight
What You'll Be Using
Searching with Spotlight
Customizing Spotlight
Additional Ideas for Searching with Spotlight;
Additional Tips
Making Your iPad Accessible
What You'll Be Using
Improving the Visual Quality of the Screen
Turning On VoiceOver
Turning On Closed Captioning and Mono Audio
Turning Accessibility Features On and Off Rapidly
Additional Ideas for Making Your iPad Accessible
Using Foreign Languages
What You'll Be Using
Switching the iPad's Default Language
Defining a Foreign-Language Virtual Keyboard
Using a Foreign-Language Virtual Keyboard
Additional Ideas for Using Foreign Languages on Your iPad
The Best iPad Apps
What You'll Be Using
Office Productivity Apps
News and Information
Painting and Drawing Apps
Entertainment Apps
Additional Ideas for Using Apps
Troubleshooting Your iPad
What You'll Be Using
An App Is Frozen
Your iPad Runs Sluggishly or Freezes
iTunes Won't Recognize Your iPad
Your iPad Cannot Access the Internet
Restoring Your iPad
Resetting Everything
Resetting Location Services
Finding a Stolen or Lost iPad
Additional Ideas for Troubleshooting Your iPad
Table of Contents provided by Publisher. All Rights Reserved.