Note: Supplemental materials are not guaranteed with Rental or Used book purchases.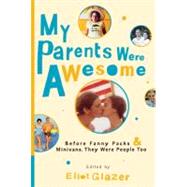 Questions About This Book?
What version or edition is this?
This is the edition with a publication date of 4/5/2011.
What is included with this book?
The New copy of this book will include any supplemental materials advertised. Please check the title of the book to determine if it should include any CDs, lab manuals, study guides, etc.
Summary
Based on the popular blog My Parents Were Awesome, this collection is celebration of warmth, remembrance, and bygone fashion--an anthology of essays from known writers and celebrities honoring the good people who made us into who we are today. Photos.
Table of Contents
introduction: where did awesome go?
p. ix
jimmy and paula
p. 3
eleanor and johnny
p. 7
steve and teena
p. 11
tony and leeka
p. 16
bruno and elena
p. 20
richard and jennifer
p. 25
bob and kitty
p. 30
elaine and jerry
p. 34
josephine and jim
p. 38
lil and jon
p. 43
seymour
p. 48
christy and teddy
p. 58
joe and patricia
p. 62
ron and sherry
p. 69
chuck and debra
p. 74
bob and leslie
p. 78
gerry and maddy
p. 83
david
p. 88
seymour
p. 92
patricia and jerry
p. 96
deborah
p. 100
carol and jimmy
p. 104
heather and ian
p. 110
phil and Karen
p. 115
marty and aveva
p. 117
azra and ilarion
p. 122
david and maria
p. 126
wayne and margaret
p. 131
martha and jim
p. 135
roger and terry
p. 139
diane and michael
p. 146
kevin and moira
p. 150
pete
p. 155
martin
p. 160
addie and james
p. 164
dolores
p. 169
terry and kathy
p. 173
jim and kathy
p. 177
hazel
p. 180
andrei
p. 185
jud and claudia
p. 189
kathryn and phillipe
p. 193
astrid
p. 200
don and corinne
p. 205
panfilo and leonina
p. 210
your parents
p. 215
acknowledgments
p. 221
Table of Contents provided by Ingram. All Rights Reserved.
Excerpts
jimmy and paula

by Jamie Deen

I am so excited to have the opportunity to contribute tothis book, My Parents Were Awesome, because, well they are awesome. I got todigging around my old photo box looking for the perfect picture of my parentsto submit and, lo and behold, two reasons why they are awesome jumped out ofthis photo that is more than forty years old.

First my mother, Paula Ann Hiers. Beauty queen.Cheerleader. The life of the party. I mean, her nickname was Poot. Poot as infart. That's my momma. The personality she was born with is now enjoyed bymillions of people, but in 1965 she only had eyes for my dad...Jimmy Deen. Badboy. Wrong side of the tracks. Fast car. Marlboro Reds with a cold Bud rackedup tight in the crotch cruising Slappey Boulevard on a Saturday night.

Which leads me to reason number one:

My mom doesn't judge people. Never ever. She took onelook at Jimmy and was off. Riding shotgun in that fast car with her feetpropped up on the dash, stealing a sip of cold beer while puffing on her own cigarette-menthol,of course. My mom didn't care where my dad came from, and loved him for the boyhe was and the man that was sure to come.

Reason number two:

Look at that picture again. My dad was cool! Look at him.White dinner jacket with a thin little bow tie. Tan, rested, and ready. Butlook closer...down at his shoes...brown penny loafers. My dad didn't have theability or finances to jaunt off to the shoe store and get a new pair of lace-upsfor the big dance. What's a South Georgia boy to do? Make do, that's what.Shine up those Weejuns and cut a rug. The best part about the whole thing is heowns that outfit. After seeing this photo my wife said, "They were a reallygood-looking couple." You're damn right they were, as much for the brownshoes with a tux as anything else. Good luck solving the riddle of the papier-mâchéface looming over my parents. I've asked for thirty-some odd years for anexplanation and neither one has a clue what it meant.

In the year 1965 Jimmy proposed marriage to Paula andafter a small wedding attended by family and friends, they lived happily everafter...until about 1971 anyway.

My mom lost both of her parents within a few years ofeach other. Grandfather Hiers passed away before I was born, and GrandmotherHiers went to Heaven right after my brother Bobby was born in 1970. Mom'sbrother, Bubba, was a teenager at the time and moved in with us. The loss ofher parents coupled with the pressure of raising not only my brother and me,but her brother too, proved to be too much. It was slow to come, but when I wasin middle school my mom was a total agoraphobic.

My dad was raised in a family that had their own set ofchallenges. He came from a big family on a very small budget. The easiest wayto classify his childhood was dysfunctional. People deal with situationsdifferently, and at that time my dad self-medicated. Nothing illegal, mind you,but not within the boundaries my mom set...which were pretty damn toughconsidering her condition. Right now you may be thinking I'm taking a prettystrange route to the "My Parents Were Awesome" part, right?

Well, here's the awesome part:

My mom and dad loved us every day. More important, theytold us every day and kissed us and hugged us. My dad kisses me on the mouth tothis day and I'm a forty-two-year-old man. And you know what? I'm gonna kiss myson on the mouth until I'm pushing up dirt. A parent's love, y'all. That'sawesome.

We also learned to let yesterday go. The past is in thepast forever. Learn from your mistakes and try like hell not to repeat them. Noregrets, y'all. That's awesome. We also learned from my parents the importanceof not taking ourselves too seriously. When you laugh at yourself first, itdrowns out the sound of everyone who is really laughing at you.

Love, a free spirit, and laughter. That's not a bad lifeplan. And the fact that we learned it from two kids born in South Georgia whowere chewed up and tumbled through their early adulthoods is damn near amiracle.

The curtain came down on my parents' marriage after twenty-sevenyears but it proved to only be an intermission. My father has moved back to ourhometown, Albany, Georgia, and married the woman he dated before he met my mom.He has straightened out all his curves in the road and taught me there is noway to measure the will of a man. I am as proud of him as I am of anything elsein my life.

And my mom, well, you know about her already.

* * *

Jamie Deen is one half of the Deen Brothers Incorporatedand wants to the be the best husband, father, son, and brother he can be.


eleanor and johnny

by Jennifer Mascia

I was eleven when I realized my parents Did It.

It was sometime after science class in sixth grade, and Idon't know how the conversation started, but before long, sitting on one of thesteel benches outside our homeroom, Julian Garcia, Jessica Quimbo, and I hadpieced together the origin of our existence: Somewhere, sometime, at leastonce, our mothers and fathers had given in to animal lust-the same animal lustwe ourselves were on the threshold of feeling-and mashed their private partstogether and Did It.

"Ewwww!" we screeched, writhing and restless,darting to and fro as if we could physically shake the utter grossness of thisthought from our tender systems. But it was too late: The notion had been planted.Our parents had had sex. And in Julian's and Jessica's cases, definitely morethan once; I am an only child, but that was cold comfort in light of this ickyrevelation.

The thought of my parents having sex was horrific enough-unlikemy classmates, my parents had birthed me in their forties, and imagining fifty-somethingsdoing the nasty was just too much for this prepubescent girl to handle-but fromthis idea, another evolved: My parents had lives before me. And that wasdownright barbaric.

My short life was all I knew, so certainly my life wasall they knew, too. Right? But now I imagined that they must have hadexperiences that had nothing to do with me. Years full of them, in fact. Itfelt like cheating. They had cheated on me, with each other! How dare they!

Several years ago, not long after my father died (and afew years before my mother followed), I rescued my parents' phone-book-thickred and blue photo albums from the basement of my mother's apartment building,which flooded every winter like clockwork. Over her shrillobjections-"Jenny, stop! They're full of mold!"-I carefully extractedhundreds of 1970s-era Polaroids from the soppy albums. Luckily, most of thesnaps were untarnished, clear as if they'd been taken the day before, but somehad been tinted blue from water damage, which actually gave them an artsyflair.

And there they were: Eleanor and Johnny in the Keys.Eleanor and Johnny mid-laugh, slightly stoned and loving it. Eleanor sitting onJohnny's lap, beaming with newly minted devotion, a cigarette dangling betweenher delicate fingers as his muscular, tattooed arms tightly encircled herwaist. Johnny with his arm draped over Eleanor in the living room of hismother's house after she tasted her mother-in-law's marinara for the firsttime. (Years later my father would admit that my mother's red sauce was better,much to her delight.) Forget about being a twinkle in their eye-I'm not even afragment of a thought in these pictures. And though seeing them that young andcarefree is undeniably a trip, that fact sends a shiver down my spine.

We can't help it-we think of ourselves as flesh-and-bloodinevitabilities, wandering the earth, paying our taxes, emptying our DVRs, andit's chilling to think that there was a time when our existence wasn't socertain. An unexpected aberration-an untimely breakup, a "Honey, I have aheadache," a condom that didn't break-and we wouldn't be here at all.

But there's also something charming about seeing ourparents in their taut, sinewy prime. When those photos were taken, the petite,attractive brunette and her Italian roughneck boyfriend weren't Jenny's parents-theywere Johnny Mascia and Eleanor Sacks of Brooklyn, New York. Those four eyesthat stare back at me from 1975 haven't a clue as to what they would become,and without the weight of parental responsibility, they look so free.Weightless. Buoyant. And stylish! My mother's enviable waist, not yet thickenedby childbirth, slithers into a smart white pantsuit. My father's hands, not yetswollen and callused by years of carpet cleaning and installation, aregracefully splayed across my mother's demure shoulders. They don't know theyare parents. They may as well be me and my boyfriend.

They also don't know they are dead. These Polaroids areall I have left of them, and for that I'm glad-no, proud-that I disobeyed mymother and rescued them from her dank Staten Island basement. My weakness fornostalgia came in handy after all.

And now, when I look at pictures of me and my boyfriend,I see that same childless innocence in our eyes. We glow in the embrace offresh desire, and it dawns on me that someday soon my own waist will bethickened by childbirth, never to retract, and he will grow a rueful paunch,and in twenty years we'll look back at our own set of pictures and think, Wewere awesome once, weren't we?

And one day, these photos will be all our children haveleft of us.

* * *

Jennifer Mascia received an MS from Columbia University'sGraduate School of Journalism in 2007 and has spent the past four years as aneditorial assistant on the Metro desk of The New York Times. Her memoir, NeverTell Our Business to Strangers, was published in 2010 by Villard.


steve and teena

by Mike Adamick

It's the red shoes that get me. I stare at this photo ofmy parents-my dad poured into tight clothes, with his belt pulled up around hisnaval; my mom in a blue-and-white maternity dress dotted with red buttons thatresemble candy-and I wonder who these people are. Surely they aren't related tome. Surely this isn't the same woman who ruined my summer days of leisure,hauling me around to thrift store after thrift store in search of"new" shoes or purses or dresses.

The strangers in this ancient, sepia-tinged photo-they'retoo put together. Too fashionable. Too, what's the word? Cool.

It makes me cringe to even think it.

But I keep coming back to those shoes.

Flat and comfortable looking, they are the sensible kindof thing you'd probably wear if you're carrying around an extra ten pounds inyour vagina. But at the same time, they gleam. They sparkle. They provide aperfect complement to the splay of red buttons running down my mom's elegantbodice, giving the appearance of a subdued Fourth of July party.

They match her outfit so perfectly that it makes meconsider the idea that she had, at one time, thoughts revolving around thingsother than me-thoughts that centered on fashion and style and the kind of kickylittle red shoes you might find on some innocent soul in an emerald world, heryoung heart bursting with song and promise. That's the thing that gets me. Mymom was young once, and although this feels awkward to admit, this photo provesshe was also good looking.

My mom had always told me that her first job was as aclerk at her local Montgomery Ward department store, and I had always filedaway this information in some rarely dwelled-upon internal locker. She wasyoung. She worked as a store clerk. Probably billions of American girls did thesame thing. But now it occurs to me that she could have found a similarcustomer service job just about anywhere. She could have been a carhop or aburger flipper. She could have been the girl handing you slightly damp rentedbowling shoes, smiling at the thought of making clowns for a living. But shechose a department store-a place filled with clothes. And I'm only nowbeginning to see why.

When I was a kid, my mom shopped at any and every thriftstore she could find. Growing up, I never realized we might be hurting formoney. It just felt normal to see her in some overly floral dress or totingaround a leather purse with a frayed seam tucked snugly against her midsection,as if to hide it from view. Her shoes were always worn and creased, no matterthat she had just purchased them the day before. She'd come home from a day ofshopping, and in contrast with my friends' mothers-who littered their hallwayswith shopping bags and hatboxes-my mom returned with only the aroma of dust andattic.

"Oh they're just as good as any other clothes,"she'd say, dumping her new...ish dresses in the washing machine for the firsttime in who knows how long.

I wouldn't necessarily use the word frumpy but it painedme to see my mom's horrible choice of clothes. I'd cluck my tongue and shake myhead at her selections, sighing to myself and coming to terms with the ideathat she just had no sense of fashion. No sense of style.

I grew up during the great Guess Jeans fad of the 1980s,yearning for the little green ass triangle to mark me as the apotheosis ofcool. Add in Reebok Pumps and a leather bomber jacket from Aéropostale or oneof those heat-sensitive shirts that changed color as you wore it, and I couldhave probably made a perfect stand-in for that kid on Silver Spoons. Oh how Iwanted a train in my house.

I remember standing in the kitchen one afternoon, beggingand pleading with my mom for a pair of Guess overalls-not so I could go aroundlooking like a pint-sized farmer in the latest Italian denim, but so I couldleave the straps dangling out from under my shirt like all my friends.

"Why not just buy jeans then?" my mom wondered."They do the same thing and they're cheaper!"

Poor woman. Had she even heard of the word cool?

My mom looked down at her shoes for a moment. They werescuffed and the rubber on the heel tilted sharply to one side. She sighed andtossed a dishrag on the counter, agreeing that she could probably find a dressfor her upcoming party "somewhere" although we both knew where thatmight be.

"Okay," she finally relented.