Note: Supplemental materials are not guaranteed with Rental or Used book purchases.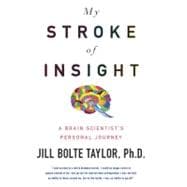 My Stroke of Insight : A Brain Scientist's Personal Journey
ISBN13:
9780670020744
by
Taylor, Jill Bolte
Summary
A brain scientist's journey from a debilitating stroke to full recovery becomes an inspiring exploration of human consciousness and its possibilities On the morning of December 10, 1996 Jill Bolte Taylor, a thirty-seven-year-old Harvard-trained brain scientist experienced a massive stroke when a blood vessel exploded in the left side of her brain. A neuroanatomist by profession, she observed her own mind completely deteriorate to the point that she could not walk, talk, read, write, or recall any of her life, all within the space of four brief hours. As the damaged left side of her brain – the rational, grounded, detail and time-oriented side – swung in and out of function, Taylor alternated between two distinct and opposite realties: the euphoric nirvana of the intuitive and kinesthetic right brain, in which she felt a sense of complete well-being and peace; and the logical, sequential left brain, which recognized Jill was having a stroke, and enabled her to seek help before she was lost completely. In My Stroke of Insight, Taylor shares her unique perspective on the brain and its capacity for recovery, and the sense of omniscient understanding she gained from this unusual and inspiring voyage out of the abyss of a wounded brain. It would take eight years for Taylor to heal completely. Because of her knowledge of how the brain works, her respect for the cells composing her human form, and most of all an amazing mother, Taylor completely repaired her mind and recalibrated her understanding of the world according to the insights gained from her right brain that morning of December 10th. Today Taylor is convinced that the stroke was the best thing that could have happened to her. It has taught her that the feeling of nirvana is never more than a mere thought away. By stepping to the right of our left brains, we can all uncover the feelings of well-being and peace that are so often sidelined by our own brain chatter. A fascinating journey into the mechanics of the human mind, My Stroke of Insightis both a valuable recovery guide for anyone touched by a brain injury, and an emotionally stirring testimony that deep internal peace truly is accessible to anyone, at any time.
Author Biography
Jill Bolte Taylor, Ph.D. is a neuroanatomist who is affiliated with the Indiana University School of Medicine in Indianapolis. She is the national spokesperson for the mentally ill at the Harvard Brain Tissue Resource Center (Brain Bank) and the consulting neuroantomist for the Midwest Proton Radiotherapy Institute (MPRI). Since 1993 she has been an active member of NAMI (National Alliance on Mental Illness). She was named one of Time magazine-'s 100 Most Influential People in the World for 2008.
Table of Contents
Jill's Pre-Stroke Life
p. 5
Simple Science
p. 12
Hemispheric Asymmetries
p. 27
Morning of the Stroke
p. 37
Orchestrating My Rescue
p. 47
My Return to the Still
p. 56
Bare to the Bone
p. 64
Neurological Intensive Care
p. 74
Day Two: The Morning After
p. 81
Day Three: G.G. Comes to Town
p. 86
Healing and Preparing for Surgery
p. 93
Stereotactic Craniotomy
p. 108
What I Needed the Most
p. 110
Milestones for Recovery
p. 122
My Stroke of Insight
p. 131
My Right and Left Minds
p. 137
Own Your Power
p. 146
Cells and Multidimensional Circuitry
p. 149
Finding Your Deep Inner Peace
p. 159
Tending the Garden
p. 175
Recommendations for Recovery
Ten Assessment Questions
p. 179
Forty Things I Needed Most
p. 181
The Harvard Brain Bank
p. 184
Table of Contents provided by Blackwell. All Rights Reserved.