Note: Supplemental materials are not guaranteed with Rental or Used book purchases.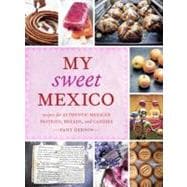 My Sweet Mexico : Recipes for Authentic Pastries, Breads, Candies, Beverages, and Frozen Treats
ISBN13:
9781580089944
by
Gerson, Fany
Questions About This Book?
What version or edition is this?
This is the edition with a publication date of 9/14/2010.
What is included with this book?
The New copy of this book will include any supplemental materials advertised. Please check the title of the book to determine if it should include any CDs, lab manuals, study guides, etc.
Summary
While there are countless cookbooks about Mexican food, very little has been written about the vast and varied world of Mexican desserts, confections, beverages, and breads. In My Sweet Mexico, Fany Gerson explores the history behind the familiar landmark Mexican staples of her homeland, explains the significance of unfamiliar ingredients, and provides modern twists on old favorites and flavours, such as Cheesecake with Tart Tamarind Sauce or Chocolate, Hazelnut, and Caramel Layered Cake with Tequila Whipped Cream. Fany also includes the indispensable culinary delights that accompany national celebrations such as Day of the Dead. With its blend of beloved standards and inventive variations, My Sweet Mexico is a rich journey into the culture, history, and sweet soul of Mexican cuisine.
Author Biography
FANY GERSON graduated from the Culinary Institute of America and has worked in kitchens worldwide, including Michelin three-star Akelare in Spain, Eleven Madison Park, and Rosa Mexicano in New York, where she developed their acclaimed modern Mexican desserts. Her work has been featured in Gourmet, NY Daily News, and New York Magazine.

Excerpts
Introduction
 
Sweetness in Mexico is found all around—in the intimacy of the home, at birthday parties, at patriotic holidays, during religious celebrations, and even at death. It's visible in the capirotadas (bread puddings) decorated with toasted peanuts, raisins, and colaciones (colorful hard candies) for Easter; in the chocolate and sugar skulls elegantly adorned with the names of mortals that don't scare anyone; and in the fragrant aromas of cooked guava and cinnamon for the ponche navideño.
 
The ubiquity of sweets may be true for many cultures, but Mexico's variety is something to be noted and celebrated. There are sonnets, melodies, paintings, and poems written about the subject; there are festivals and fairs; there are handmade sweets and breads made in the shapes of worms, pigs, corn, bows, ears, and shells. They are colorful and playful and embedded in our culture. It's a geography made up of alegrías (crunchy amaranth candies with nuts and seeds), cocadas (coconut candies), and palanquetas (brittles).
 
Mexico is renowned for sweet yeast breads that adorn the air with scents of cinnamon, anise, sugar, fruit, and honey; ice cream pushcarts that brighten the plazas and parks with watermelon, mango, and avocado flavors; and beautiful shops filled with confections that look like precious stones and taste like heaven (if it had a flavor)—if you haven't tried the bright green candied limes filled with sweetened coconut, the crumbly pecan marzipans wrapped in brilliant purple and orange papier-mâché, or the lusciously sweet goat's milk caramel hidden inside a round wooden box waiting to be opened like an engagement ring, then you haven't lived.
 
Mexico is a country that is privileged in the geographical sense. There are mountains, deserts, forests, coasts, and temperate rural areas. These provide an enormously diverse cuisine intimately linked and defined by the climate and products that are produced in each of them.
 
There are many candies, desserts, breads, and beverages that are associated with a certain region. The north of Mexico is characterized by candies made from milk, particularly goat's milk, and pecans; the roads leading to the coast have a wide array of coconut and tamarind candies; and the center of Mexico is known for its crystallized fruits, such as pumpkin, chirimoyas (custard apples), prickly pear, figs, and pineapple.
 
Even more distinct are the pastes, derived from the term "Cornish pastry" that the British brought in 1824 to Real del Monte in Hidalgo; sweet sticky cajeta sold in wooden boxes or jars from Celaya; burnt milk ice cream from the markets and stands in Oaxaca; dulces de arrayán, a delicious soft candy made from this tart and fragrant fruit from Jalisco; rompope (similar to eggnog) from the convents in Puebla; the anise-scented bread from Pomuch, Campeche; and chamuco, a beverage made from fermented red plums, sweetened with piloncillo from Puebla.
 
The distinction between candies or confections and desserts is difficult to describe in Mexican cuisine. The word dulce literally means "sweet," and it is used both descriptively and as a general term for candies or confections. Dulces are often served at the end of a meal as what many would consider dessert. However, sweets in Mexico are enjoyed at all times of the day.
 
I have always had a special affinity for sweets. Growing up in Mexico City, my favorite place to visit was a store downtown called Dulcería de Celaya. It is a family-owned store that has been around since 1874. Even after visiting countless times, I am transported to an era that has only existed in my imagination. The windows, ceilings, tile floor, wooden showcases, glass jars, and lamps allow me to escape the incredibly noisy and busy city right outside. The showcases are filled with delicacies, and the hardest thing to do is not buy the whole store! Brittle turrón made from almonds and chocolate cut into triangles, covered with a thin rice wafer; square goat's milk caramels with pine nuts carefully placed to resemble a flower; and giant crumbly meringues were almost an obligation.
 
Mexican sweets are a highlight of my childhood memories. I used to select the candies and fruit to fill my sister's piñata, which we carefully crafted each year. I remember strolling downtown with my aunt Cucus on Sundays while deliciously sweet and tart tamarind juice dripped down my cheeks from the melted nieve (sorbet). A friend of my father's, Dr. Abdon, would visit from Puebla and bring delicacies prepared by the nuns—beautiful cookies that resembled the sun, with a creamy center made from pumpkin seeds, and borrachitos, vibrant red gummies filled with a drunken juice of sorts, were always part of the selection. I anticipated his visits with much enthusiasm and discovered my love affair with Mexican sweets at a very young age.
 
 
Dulces through Time
 
A book about Mexican sweets is truly an encounter with the country's fascinating history that covers five distinct periods. The rich tradition of sweets is one of the fortunate results of the mestizaje, or cultural blend.
 
Pre-Hispanics utilized maguey plants, mesquite, and insect honeys (such as ants, bees, and wasps) to sweeten things and turned out pumpkin seed brittles, amaranth candies, and beverages made from cactus and cacao. The presence of the Arabs through their ingredients and exquisite artistic sensibility impregnated Spain and was adored by Mexico; they influenced the marzipans, buñuelos, brittles, conservas, and fruit pastes.
 
The conquest by the Spanish of Tenochtitlan, the Aztec capital, began in 1521, and they brought with them more than just weapons. They arrived with cinnamon, wheat, cows, nuts, and sugar cane. The thousand or so nuns who arrived in Mexico gave life to an endless world of candy making. They supported themselves by making and selling confections and adapted their recipes to embrace tropical fruits, vanilla, corn, cacao, and new sugars. The importance of the religious convents as producers of sweets was fundamental in the New Spain.
 
The Spaniards' cuisine and culture was deeply influenced by eight centuries of Arab occupancy, and this was apparent in their use of preserves, tamarind, dates, spices, and overly sweet preparations that helped preserve food in the warm climate. Their arrival undoubtedly enriched our cuisine, and it is fair to say, in my opinion, that the combination of the imports from Europe and the indigenous ingredients of this land composes what we refer to as traditional Mexican cuisine today.
 
Sugar cane is perhaps the most influential ingredient that the Spaniards brought to the culture of sweets. Its introduction in the New Spain was only three years after the fall of Tenochtitlan in 1524. It is believed that Spanish conquistador Hernán Cortés ordered the first trapiche (a rustic sugar mill commonly fueled by water or animal strength).
 
In the first decades of the colony, candy was produced in four places: in the trapiches and ingenios (industrialized sugar mills) by artisans using the sugar mainly to make preserves and crystallized fruit; in the convents by the nuns; and by some home cooks and producers who sold their merchandise on a small scale.
 
In the sixteenth century, Sebastián Elcano arrived in the Philippines. This expansion of the Spanish throne opened new routes of commerce between two faraway lands that had not been in contact previously. As with Arab sweets, there is a parallel in flavors between these two lands that has remained apparent ever since.
 
Independence from the Spaniards occurred in 1810. At that time, the influence of French cuisine enriched Mexico's sweet culture with its napoleons, cakes, and ice creams. The French brought new techniques and styles of sweets, with an emphasis on those that were very rich, buttery, and creamy. Layered cakes, rich ice creams, and the way to enjoy sweets—moving from cloistered parlors to cafés and plazas—were just some of the francophone influences. The populist administration of Porfirio Díaz played a very important role in this shift, and the consumption of sweets became a more popular affair rather than an elitist one.
 
The inherited culture of the Revolution, a century later, allowed for the continuity of techniques that are deeply rooted in our culture, both popular and regional. Many of the desserts, breads, confections, and beverages have remained the same but introductions of new flavors can always be found, particularly in the enormous diversity of candies made or finished with spicy and/or very sour flavors. Fancy restaurants and shops continue to borrow techniques from the Europeans, while always putting Mexican flavors at center stage.
 
Today, however, many of these heirloom recipes are part of an oral tradition that is being lost. Younger generations are not as interested in these sweets or don't have the time to make them, and the heart of the older generation resists the uniformity of modernization.
 
In my quest to save these recipes from extinction, I visited artisans in small family-run factories, homes, museums, libraries, bakeries, ice cream shops, and endless markets. I talked to everyone I knew, everyone who might know someone who may know someone who has heard of someone in a place where it is said they make the best ice cream, bread, or caramel. I spoke to everyone I could, even when I was asking for directions or buying a bus ticket. The people working in the different casas de cultura populares, taxi drivers, and market vendors seemed to be some of the best resources. I was not always welcomed, because people are very protective of their recipes and many told me they prefer to go to their grave with them rather than share, even if no one in their family is interested in them at all.
 
On the other hand, many candy artisans welcomed me and showed me how their treats were made; some even gave me their recipes, for which I am extremely grateful. As a Mexican pastry chef, I then filled in the blanks, so to speak. Although I discovered many wonderful things along the way, my journey only reinforced the fact that there is still so much more to learn, to savor, and to document.
 
It is not surprising that one of the hardest things for me was to let go and not include some recipes. With more than three hundred types of regional confections and two hundred varieties of sweet morning pastries, not to mention the countless fruits in Mexico and new recipes I found along the way, the task was not easy. Many of the original recipes are very lengthy, so I have made them more user-friendly while preserving the essence that captures much happiness from my childhood.
 
I believe that documenting is continuity, and I have attempted to do just that. I hope to highlight some of the most important aspects of Mexican culture and the wonderful people who have helped keep the traditions alive. Welcome to the cultural and tasty journey of my sweet Mexico.
 
 
 
Jamoncillo de Leche | Milk Fudge
 
2 (14-ounce) cans condensed milk
1 (12-ounce) can evaporated goat's or cow's milk
6 tablespoons unsalted butter
2 teaspoons pure vanilla extract
Pinch of salt
 
Jamoncillos come in different shapes and sizes, but they are always deliciously sweet (very sweet), fudgelike candies. Some of the best I've had are prepared by the Hernandez family in Toluca. This three-generation family-run business is set up in their home. The copper pots are filled with raw cow's or goat's milk, and while some stir as it cooks down with sugar for many hours, other members of the family are busy pouring or cutting different candies out on the sunny patio. The flavors they have never cease to surprise me, including lime, pine nut, coffee, papaya, guava, and coconut, to name a few.
 
I wanted to include at least one candy recipe in the book that wasn't as time-consuming as the others, so this is a modern adaptation of a classic. It will definitely not be as good as the ones the Hernandez family makes, but they did inspire me to play around with a few variations that will surely please anyone with a sweet tooth.
 
Lightly grease a 9 by 9-inch square pan. Line the pan with a piece of parchment paper or aluminum foil, leaving about a 1-inch overhang on all sides.
 
Combine the condensed milk, evaporated milk, butter, vanilla, and salt in a saucepan and cook over medium heat, stirring continuously with a wooden spoon or heatproof spatula, until the mixture has thickened and starts pulling away from the sides of the pan, 20 to 30 minutes. When ready, it will slide easily out of the pan when tilted.
 
Pour into the prepared pan and allow to set, about 2 hours. Cut into rectangles or desired shapes.
 
Makes about 2 dozen