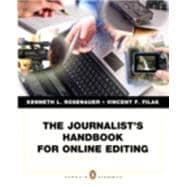 List Price: $66.67
Currently Available, Usually Ships in 24-48 Hours
Questions About This Book?
What version or edition is this?
This is the 1st edition with a publication date of 9/13/2012.
What is included with this book?
The New copy of this book will include any supplemental materials advertised. Please check the title of the book to determine if it should include any CDs, lab manuals, study guides, etc.
Summary
An editing handbook that puts the Web first Focusing on the world of online media, the authors explore the dynamic, interactive, and evolving nature of online writing. Building on the foundation of proper grammar, good word choice, and editing for style and clear communication, the book discusses the added challenges that online writers have to address. Learning Goals Upon completing this book, readers will be able to: Understand how writing for the Web differs from traditional journalism Explore the challenges faced by online writers Create clear, effective copy for the Web The Journalist's Handbook for Online Editingis now available in the most student-friendly format at a student-friendly price. With MySearchLab with eText, students gain access to an interactive eText and a suite of resources to help them experience and interact with the process of online editing. Students may purchase access directly from http://www.mysearchlab.com by using the following ISBNs:ISBN-10: 0205912230 / ISBN-13: 9780205912230. The Journalist's Handbook for Online Editingis also available in an on-demand, printed format from Pearson Learning Solutions. Visit http://www.pearsoncustomlibrary.comfor more information.
Author Biography
Kenneth L. Rosenauer (B.A., Missouri Western State University; M.A., Southeast Missouri State University; Ph.D, University of Missouri-Kansas City) is a professor of journalism at Missouri Western State University in St. Joseph. He teaches reporting, photography, public relations writing and editing as well as writing and management courses in the Master of Applied Arts in Integrated Media program. He previously advised yearbook and newspaper and is adviser to the online Griffon Today. He wrote Storycrafting: A Process Approach to Writing News (2004) and Copycrafting: A Concise Editing Textbook and Workbook (2012).
Vincent F. Filak (B.A. and M.A. University of Wisconsin-Madison; Ph.D. University of Missouri) is an associate professor at the University of Wisconsin-Oshkosh. He teaches writing and editing courses and serves as the adviser to the school's award-winning newspaper, The Advance-Titan. He has taught journalism courses at the University of Missouri, the University of Wisconsin and Ball State University, where he also advised the Ball State Daily News. He produced the book Convergent Journalism: An Introduction (2005) with Dr. Stephen Quinn and has contributed to the books Media in an American Crisis: Studies of Sept. 11, 2001 and Understanding Media Convergence. He has extensively published research on issues of media convergence, e-learning and student journalism.
Table of Contents
In>
1) Brief Table of Contents
2) Full Table of Contents
1) Brief Table of Contents
Section One: Establishing a Foundation
Chapter 1: Online
Chapter 2: Online editors
Chapter 3: Online audiences

Section Two: Generating Content
Chapter 4: Convergent packages
Chapter 5: Photographs, galleries, slideshows and captions
Chapter 6: Graphics, blurbs and boxes
Chapter 7: Audio, video and the Web

Section Three: Revising and Editing
Chapter 8 : Making copy right
Chapter 9 : Making copy sing
Chapter 10 : Punctuation and usage
Chapter 11: Style

Section Four: Gathering an Audience and Gaining its Attention
Chapter 12 : Headlines
Chapter 13: Social media and linked material
Chapter 14: Design on the Web
Chapter 15: Online marketing

Section Six: Guarding Against Problems
Chapter 16: Online law, copyright and fair use
Chapter 17: Online ethics
---
1) Full Table of Contents
Section One: Establishing a Foundation
Chapter 1: Online
Online storytelling forms
Shovelware sites
Web-first and Web-only sites
Web-only sites
Hyperlocal and citizens journalism sites
Mobile delivery of content
Social media interaction
Final thoughts
Chapter 2: Online editors
Preparing to be an editor
The job of an editor
The editor as a manager
How to coach writers
The editing process
The first cut
How to criticize effectively
Editing for the bigger picture
Final thoughts
Chapter 3: Online audiences
Online audiences
Researching your site's audience
Local focus
Final thoughts
Section Two: Generating Content
Chapter 4: Convergent packages
Understanding convergence
Tools of the trade
Approaching the news
Dealing with feedback
Final thoughts
Chapter 5: Photographs, galleries, slideshows and captions
Choosing photographs
Preparing photographs
Presenting photographs
Writing captions
Working with photographers
Final thoughts
Chapter 6: Graphics, blurbs and boxes
Basics of a graphic
The spectrum of graphics
Boxes
Graphics beyond the box
Interactive graphics
Final thoughts
Chapter 7: Audio, video and the Web
Audio
Video
Video quality
Editing basics
Editing the package step by step
Final thoughts
Section Three: Revising and Editing
Chapter 8 : Making copy right
Making copy right with content that speaks to your audience
Making copy right with leads
Making copy right with solid facts
Making copy right with tight writing
Final thoughts
Chapter 9 : Making copy sing

Making copy sing with effective leads
Making copy sing with concrete details
Making copy sing with strong quotes
Final thoughts
Chapter 10 : Punctuation and usage
Commas
Semicolons
Apostrophes
Hyphens
Dashes
Colons
Quotation marks
Question marks
Exclamation points
Parentheses
Irregular verbs
Agreement
Troublesome pronouns
Prepositions
Final thoughts
Chapter 11: Style
Breakout: David Minthorn
Abbreviations and acronyms
Capitalization
Misspelled and misused words
Numbers
Plurals
Final thoughts
Section Four: Gathering an Audience and Gaining its Attention
Chapter 12 : Headlines
What headlines do
The core of a good headline
Things to do before writing a headline
Key elements to writing a headline
Things to do after writing a headline
SEO and headlines
How is SEO comparable to what I'm already doing?
How is SEO different from what I'm doing?
The dark side of SEO headlines
Final thoughts
Chapter 13: Social media and linked material
Social media defined
Understanding social media approaches
Social networking sites
Social news sites
Reacting tools
Disadvantages of social media
Hyperlinking
Basic rules for linking
Final thoughts
Chapter 14: Design on the Web
Basic principles of design
Color and background
Type
Font selection
Font size
Font color/contrast
Photos, graphics and other visuals
Creating your pages
Sketching out the basics
Modular design
Other design considerations
Final thoughts
Chapter 15: Online marketing
Website marketing goals
Search engine optimization
Reader comments
Email promotion
RSS and Feedburner
Social media marketing
Other marketing techniques
Final thoughts
Section Six: Guarding Against Problems
Chapter 16: Online law, copyright and fair use
Freedom of the press
Libel
Defenses against libel
Communications Decency Act
Libel tourism
Invasion of privacy
Copyright
Online limits to liability
Creative Commons
Final thoughts
Chapter 17: Online ethics
Ethics defined
Models of ethics
Issues regarding editing and ethics
Audience standards and the Breakfast Test
Establishing rules and guidelines
Working with reporters
The balancing act
Visual ethics
An ethical thought process
Final thoughts
Appendix
Chapter 3 — Free polling and survey sites
Chapter 7 — Multimedia news sites
Chapter 8 — Checking math
Chapter 8 — Weak adjectives and adverbs
Chapter 8 — Circumlocutions
Chapter 8 — Redundancies
Chapter 8 — Clichés
Chapter 8 — Euphemisms
Chapter 10 — Conjunctive adverbs
Chapter 10 — Irregular verbs
Chapter 10 — Collective nouns
Chapter 10 — Wordy prepositions