Note: Supplemental materials are not guaranteed with Rental or Used book purchases.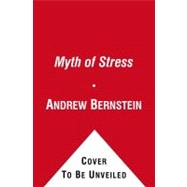 The Myth of Stress Where Stress Really Comes From and How to Live a Happier and Healthier Life
ISBN13:
9781439159453
by
Bernstein, Andrew
Questions About This Book?
What version or edition is this?
This is the 1st edition with a publication date of 5/4/2010.
What is included with this book?
The New copy of this book will include any supplemental materials advertised. Please check the title of the book to determine if it should include any CDs, lab manuals, study guides, etc.
Summary
Where does stress come from?Financial pressures? Looming deadlines? Conflicts at work or at home? For more than half a century, we've been told that stress comes from circumstances like these, that it's a by-product of our ancestors' fight-or-flight response to danger, and that the best we can do, given the fast pace of life today, is to breathe, try to relax, and accept that life is hard. All of this, according to Andrew Bernstein, is wrong. Spurred by the death of several family members when he was young, Bernstein began a quest to understand the real dynamics of stress and resilience. He eventually realized that stress doesn't come from your circumstancesit comes fromyour thoughts aboutyour circumstances. More specifically, stress is created by a particular kind of thought that humans happen to excel at. Seeing this, Bernstein realized that the antidote to stressand the key to far greater resilienceisnotexercise or physical relaxation, but finding these stress-producing thoughts and finally dismantling them. He created a process called ActivInsight that helps youand the people you care aboutdo this on your own in just seven steps, often yielding life-changing breakthroughs in a matter of minutes.Bernstein has been teaching ActivInsight to great acclaim in schools, not-for-profits, and Fortune 500 companies since 2004. Now he shares this technique for the first time with a wider audience. InThe Myth of Stress,you will experience the surprising power of this new approach for yourself as you apply ActivInsight to a wide variety of today's most common challenges, including:weight loss money success interpersonal conflict addiction trafficdivorce heartbreak discrimination anger uncertainty about the future loss of a loved oneand moreWith compassion, intelligence, and humor,The Myth of Stressoffers a complete reeducation in the nature of stress, permanently changing the way you relate to challengesat school, at work, and at homein order to live a happier and healthier life.
Table of Contents
Preface-How I Came to Write This Book
p. ix
The Truth About Stress
The Myth Exposed
p. 3
Where stress comes from.
The Iron Rule of Stress.
The Power of Insight
p. 17
ActivInsight at Phoenix House.
A worksheet on "I shouldn't be here".
The 7 steps.
The point drop.
The Birth of Stress
p. 37
Factual and counterfactual thinking.
Stress is not a survival advantage.
Expansive versus contractive thoughts.
Using should and shouldn't.
Insight in Action
Introduction to part two.
p. 49
The Myth of Traffic
p. 53
Why stressful-life-events scales are not accurate.
Measuring stress.
ActivInsight as an investment.
"There shouldn't be so much traffic."
The Myth of Anger
p. 69
The ActivInsight SPIRAL.
"They shouldn't get so angry."
The Myth of Conflict Resolution
p. 85
"They should see it my way."
Learning to lose.
The Myth of Weight Loss
p. 103
"I should weigh less."
The stress threshold.
The paradox of insight.
The Myth of Success
p. 123
"I should be more successful."
The myth of stress as a motivator.
The Myth of Financial Happiness
p. 139
"I know that I'd be happier if I had more money."
Negation-checking.
ActivInsight in Context
p. 161
The secret.
What you think is what you feel.
Believing is seeing.
Additive versus subtractive processes.
The Myth of Uncertainty
p. 173
"I need to know what's going to happen to me."
Want versus need.
The Myth of a Broken Heart
p. 185
"I want him back."
"He should still want to be with me."
The Myth of Having Too Much to Do
p. 201
"I shouldn't have so much to do."
A problem versus a situation.
The Myth of Regret
p. 213
"I shouldn't have done that."
Relative Peak Intelligence.
The Myth of Discrimination
p. 227
"They shouldn't discriminate."
Psychological shrinkage.
The Myth of Dying Too Soon
p. 245
"They shouldn't have died."
Seeing life and death as partners, not opponents.
Epilogue
p. 265
Acknowledgments
p. 271
Frequently Asked Questions
p. 273
The ActivInsight Worksheet
p. 283
Table of Contents provided by Ingram. All Rights Reserved.
Excerpts
INTRODUCTION TO PART TWO
In part 2, we're going to work together on twelve commonly stressful issues, including money, success, interpersonal conflict, weight loss, and more. As we go forward, it's helpful if you think of ActivInsight as a kind of exercise program. Instead of losing physical weight, though, you'll be losing mental weight. And instead of building physical flexibility, you're going to build your mental flexibility and resilience.
In a physical exercise program, you don't do every exercise at once. The same applies here. The best way to get value from part 2 is to do one chapter at a time, pausing to integrate and reflect on each exercise. Try to do at least three chapters a week (though if you feel able to move faster, go ahead). We'll start with fairly easy topics and build to harder ones as we go along. It's important that you not skip ahead. The topics are arranged in order so that by the time we get to the harder topics, you're ready for them.
Some people have breakthroughs from the very first worksheet, but for others the initial attempts can sometimes lead to a disappointing sense that what we're doing is just playing with words in our heads and justifying people's behaviors. This is not the case. Continuing with the sports analogy, think of the first time you tried to ride a bike and fell, or the first time you swung at a golf ball and missed completely. ActivInsight is a skill, and like any skill, some people take to it right away, but most need a little more time to feel that they're truly getting it. If you keep practicing and sincerely work through each topic in the pages ahead, the steps of ActivInsight will make more and more sense, you'll get better at them, and you'll soon notice profound changes taking place in your thought process and, even more important, in your life.
We're going to prove that all the saber-toothed tigers or stressors in your life were never really out there. They were in here, in your head. But they don't look like tigers. Here is what they really look like for the typical stressed-out person:
Stress is a by-product of contracted thoughts. You can't see these thoughts, but you can certainly feel them in your mind and in your body. They may seem to disappear when you exercise, have a drink, get a massage, or think positively, but they remain in place deeper in the mind. Like weeds cut just at the surface, their roots remain intact, so they soon reemerge. With ActivInsight, we go for the roots.
In the chapters that follow, we're going to explore all the topics in that head above, using the same seven steps for each topic. If this seems repetitive, that's because it is. Every time you experience stress, your mind is doing the same thing—it's contracting away from reality in the same way. Consequently, every time you do ActivInsight, you reconnect your mind to reality in the same way. ActivInsight is repetitive by design. Give yourself time between worksheets so that you can refresh your energy and remind yourself of your goal—less stress, greater insight, and a happier life.
For our first topic, we'll tackle something that isn't too threatening but is still stressful for millions of people around the world. Print out a worksheet, get a pen, and buckle your seat belt. We're heading into traffic.
© 2010 Andrew J. Bernstein