Note: Supplemental materials are not guaranteed with Rental or Used book purchases.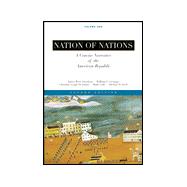 Table of Contents
The Creation of a New America
Old World, New Worlds
The Meeting of Europe and America Early North American Cultures
The European Background of American Colonization
The Reformation in Europe England's Entry into America
The First Century of Settlement in the Colonial South
English Society on the Chesapeake
Chesapeake Society in Crisis From the Caribbean to the Carolinas
The First Century of Settlement in the Colonial North
The Founding of New England New England Communities
The Middle Colonies Adjustment to Empire
The Mosaic of Eighteenth-Century America Forces of Division
Slave Societies in the Eighteenth-Century South
Enlightenment and Awakening in America Anglo-American Worlds of the Eighteenth Century Toward the Seven Years' War
The Creation of a New Republic
Toward the War for American Independence
The Seven Years' War
The Imperial Crisis Toward the Revolution
The American People and the American Revolution
The Decision for Independence
The Fighting in the North
The Turning Point The Struggle in the South
The World Turned Upside Down
Crisis and Constitution Republican Experiments
The Temptations of Peace Republican Society From Confederation to Constitution
The Republic Launched 1789: A Social Portrait
The New Government Expansion and Turmoil in the West
The Emergence of Political Parties
The Presidency of John Adams
The Jeffersonian Republic Jefferson in Power Jefferson and Western Experience Whites and Indians on the Frontier
The Second War for American Independence America Turns Inward
The Republic Transformed and Tested
The Opening of America
The Market Revolution A Restless Temper
The Rise of Factories Social Structures of the Market Society Prosperity and Anxiety
The Rise of Democracy Equality and Opportunity
The New Political Culture of Democracy Jackson's Rise to Power Democracy and Race
The Nullification Crisis
The Bank War Van Buren and Depression
The Jacksonian Party System
The Fires of Perfection Revivalism and the Social Order Women's Sphere American Romanticism
The Age of Reform Abolitionism Reform Shakes the Party System
The Social Structure of the Cotton Kingdom Class Structure of the White South
The Peculiar Institution Slave Culture Southern Society and the Defense of Slavery
Western Expansion and the Rise of the Slavery Issue Manifest (and Not So Manifest) Destinies
The Trek West
The Political Origins of Expansion New Societies in the West Escape from Crisis
The Union Broken Sectional Changes in American Society
The Political Realignment of the 1850s The Worsening Crisis
The Road to War
Total War and the Republic
The Demands of Total War Opening Moves Emancipation
The Confederate Home Front
The Union Home Front Gone to Be a Soldier The Union's Triumph
The Impact of War
Reconstructing the Union Presidential Reconstruction Congressional Reconstruction Reconstruction in the South Black Aspirations The Abandonment of Reconstruction
Table of Contents provided by Publisher. All Rights Reserved.