Note: Supplemental materials are not guaranteed with Rental or Used book purchases.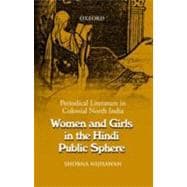 Women and Girls in the Hindi Public Sphere Periodical Literature in Colonial North India
ISBN13:
9780198074076
by
Nijhawan, Shobna
Summary
The early 20th century in India witnessed the emergence of Hindi women's periodicals, which played a critical role in shaping a nationalist-feminist thought in India. Analysing the format and structure of Hindi women's periodicals, this volume investigates how women's periodicals became a medium for elite and middle-class women to think in new idioms and express themselves collectively in a period of social transition and political emancipation. In discussing topics surrounding domesticity, political emancipation, and language politics, the book argues that women's periodicals were an instigator of change and not merely a witness thereof. Providing case studies of Hindi women's periodicals includingStri Darpan(Women's Mirror),Grihalakshmi(Lakshmi of the Home), andArya Mahila(Arya Woman), the volume also takes into account Hindi girls' periodicals likeKumari DarpanandKanya Manoranjan, and looks at the nationalist demand for home rule for women. Alongside a perceptive Introduction by the author setting the tone for the volume, the book includes an Index for cross-reference and a detailed Bibliography to help scholars for future research.
Table of Contents

List of Illustrations
Preface
Acknowledgements
Note on Transliteration and Translation
PART I: WOMEN'S AND GIRLS' PERIODICALS
1. INTRODUCTION:
THE PERIODICAL AS A GENRE: THE PARTICIPATORY FRAMEWORK OF WOMEN'S PERIODICALS MIDDLE-CLASS WOMEN IN NATIONALIST NARRATIVES GENDER
o TRADITION AND THE POLITICS OF NATIONALISM: PRINT CAPITALISM AND THE PARTICIPATION OF WOMEN IN THE HINDI PUBLIC SPHERE, GANDHIAN POLITICS AND THE NATIONALIZATION OF WOMEN'S PERIODICALS
2. WOMEN'S PERIODICALS-STRI DARPAN, WOMEN'S MIRROR (1909-1928)
o GRIHALAKSHMI, LAKSHMI OF THE HOME (1909-1929)
o ARYA MAHILA, ARYA WOMAN (1917-1940S)
o MAHILA MANORANJAN, WOMAN'S ENTERTAINMENT IN MADHURI, SWEETNESS (1922-1950)
o CHAND, MOON (1922-1940S)
3. GIRLS' PERIODICALS-KUMARI DARPAN, MAIDEN MIRROR (1916-1920S)
o MAPPING PATRIOTISM
o KANYA MANORANJAN, GIRLS' ENTERTAINMENT (1913-19?)
o LEARNING BY PLAYING: THE MORAL EDUCATION OF GIRLS
o COURAGEOUS GIRLS AND INTELLIGENT WOMEN
3. GIRLS' PERIODICALS-KUMARI DARPAN, MAIDEN MIRROR (1916-1920S)
o MAPPING PATRIOTISM
o KANYA MANORANJAN, GIRLS' ENTERTAINMENT (1913-19?)
o LEARNING BY PLAYING: THE MORAL EDUCATION OF GIRLS
o COURAGEOUS GIRLS AND INTELLIGENT WOMEN
4. GENRE AND DOMESTICITY-TOWARD OLD, NEW, AND BETTER DOMESTICITY
o GRIHALAKSHMI AND PATIVRATA: OF FAITHFUL AND DEVOTED WOMEN
o PERSONAL FULFILMENT IN THE ABSENCE OF THE BELOVED: SUHAG UNDER THREAT
o HOME RULE FOR WOMEN: A NATIONALIST DEMAND
5. HINDI AND THE QUESTION OF COMPREHENSIBILITY-EDITORIAL AGENDAS AND LANGUAGE POLITICS
o QUOTIDIAN HINDI
o SAHITYA SEVA AS NATIONAL SERVICE TO LITERATURE BY WOMEN
o FROM REGIONAL TO NATIONAL DEBATES ABOUT HINDI
6. CONCLUSION
PART II: A READER
1. INTRODUCTION: FORMAT AND STRUCTURE OF WOMEN'S AND GIRLS' PERIODICALS
2. EDITORIALS AND READERS' LETTERS
o EDITORIAL (GRIHALAKSHMI, Vaisakh 1970 [April/May 1913])
o CONVERSATION WITH GIRLS (KUMARI DARPAN, May 1922)
o EDITORIAL: IMPORTANT INFORMATION (STRI DARPAN, September 1917)
o CONJUGAL LOVE (STRI DARPAN, August 1917)
o MY OPINION ON MATTERS RELATED TO STRI-DHARMA-SHIKSHAK (RAJBAHADUR, STRI DARPAN, November 1917)
3. ESSAYS, SPEECHES AND ADVICE TEXTS
o HOW LONG WILL THE WOMEN'S COMMUNITY BE CONTENT AS SHOES? (HUKMA DEVI, GRIHALAKSHMI, Kartik 1974 [October/November 1917])
o WOMEN AND THE SERVICE OF LITERATURE (PANDIT SATYABHAKT, ARYA MAHILA, Vaisakh/Jyest/Asarh 1975 [April/May/June/July 1918])
o 10. THE ATROCITIES OF MEN OVER WOMEN (A READER, GRIHALAKSHMI, Asarh 1974 [JUNE/JULY 1917])
o WHY WOMEN SHOULD PREPARE THE FOOD WITH THEIR OWN HANDS (SATYAVATI DEVI, STRI DARPAN, April 1917)
o THE MODEL GIRL (SHRIMATI KAILASH RANI VATAL, STRI DARPAN, September 1917)
o THE IMPACT OF WOMEN (ANADIDHAN BANDYOPADHYAY, GRIHALAKSHMI, Asvin 1970 [September/October 1913])
o TASTY FOOD (N.N. VANITA VINOD, Margsirs 1978 [November/December 1921])
o MANAGEMENT OF THE HOME (N.N. VANITA VINOD, MARGSIRS 1978 [November/December 1921])
o CHASTITY AND LOYALTY, THE PRIME DHARMA OF WOMEN (AMBIKAPRASAD SHUKLA, GRIHALAKSHMI, Asvin 1970 [September/October 1913])
o A HUSBAND'S DUTY TOWARDS HIS WIFE (VIDYARTHI BANVARILAL GUPTA, GRIHALAKSHMI, Bhadrapad 1974 [August/September 1917])
4. (AUTO)BIOGRAPHICAL ACCOUNTS, FICTION AND POETRY KUMARI MRINALINI CHATTOPADHYAY (KRISHNA KUMARI, MADHURI, January 1923)
o A THIEF IN THE HOUSE (ANADIDHAN BANDYOPADHYAY, KANYA MANORANJAN, November 1913)
o A CHAPTER OF MY LIFE (CHARUSHILA DEVI (TRANS. GIRIJAKUMAR GHOSH), STRI DARPAN, June 1920)
o THE MODEL FRIEND (GULABDEVI CHATURVEDI, STRI DARPAN, July 1918)
o GRANDMOTHER'S STORIES: THE SELLING OF A VIRTUE (CAMPALAL JAUHARI, GRIHALAKSHMI, PAUS 1971 [December/January 1914/1915])
o PATNI-VRATA-LOYALTY AND CHASTITY TOWARDS THE WIFE (PANDIT ISHWARI PRASAD SHARMMA, MARYADA, April 1911)
o A PLEA TO WOMEN (MATADIN SHUKLA, STRI DARPAN, March 1917)
o YOU WANT HOME RULE? (JYANDEVI, STRI DARPAN, December 1918)
5. ADVERTISEMENTS AND BOOK REVIEWS
o FRAGRANT PUSHPAVILAS HAIR OIL (GRIHALAKSHMI, Paus 1970 [December/January1913/1914])
o SEEKING (GRIHALAKSHMI, Vaisakh 1971 [April/May 1914])
o LUCRATIVE EMPLOYMENT AT CAWNPORE WOOLLEN MILLS CO. LTD. (STRI DARPAN, March 1914)
o COMPLEMENTARY gifts ON THE OCCASION OF THE NEW YEAR (KANYA MANORANJAN, December 1913)
o REVIEW OF CHILDREN'S LULLABIES (STRI DARPAN, August 1918)
o REVIEW OF ARYA MAHILA (STRI DARPAN, October 1918)
6. CONCLUSION
Bibliography
Index