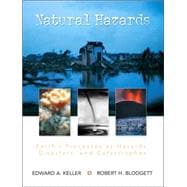 List Price: $70.20
Usually Ships in 2-3 Business Days
Questions About This Book?
What version or edition is this?
This is the edition with a publication date of 1/1/2006.
What is included with this book?
The Used copy of this book is not guaranteed to inclue any supplemental materials. Typically, only the book itself is included.
Summary
Included free with every text, Hazard City provides meaningful, easy-to-assign, easy-to-grade, class-tested assignments. Based on the idealized town of Hazard City, the assignments put students in the role of a practicing geologist-gathering and analyzing real data, evaluating risk, making assessments and recommendations. The second edition of this widely-used CD contains a new module, Shoreline Property Assessment, and, in response to reviewer requests, there are now three sets of assessment questions for each activity. Book jacket.
Table of Contents
Preface
xxiii

| | |
| --- | --- |
| | Introduction to Natural Hazards |

2
(28)

| | |
| --- | --- |
| | Case History: Nevado del Ruiz: A Story of People, Land Use, and Volcanic Eruption |

2
(3)

| | |
| --- | --- |
| | Why Studying Natural Hazards Is Important |

5
(4)

| | |
| --- | --- |
| | Processes: Internal and External |

5
(1)

| | |
| --- | --- |
| | Hazard, Disaster, or Catastrophe |

6
(2)

| | |
| --- | --- |
| | Death and Damage Caused by Natural Hazards |

8
(1)

| | |
| --- | --- |
| | Role of History in Understanding Hazards |

9
(1)
9
(6)
9
(4)
13
(1)
14
(1)
14
(1)

| | |
| --- | --- |
| | Fundamental Concepts for Understanding Natural Processes as Hazards |

15
(11)

| | |
| --- | --- |
| | Concept 1: Hazards are predictable from scientific evaluation |

16
(1)

| | |
| --- | --- |
| | Science and Natural Hazards |

16
(1)

| | |
| --- | --- |
| | Hazards Are Natural Processes |

16
(2)
18
(1)

| | |
| --- | --- |
| | Concept 2: Risk assessment is an important component of our understanding of the effects of hazardous processes |

19
(1)

| | |
| --- | --- |
| | Concept 3: Linkages exist between natural hazards and between hazards and the physical environment |

20
(1)

| | |
| --- | --- |
| | Concept 4: Hazardous events that previously produced disasters are now producing catastrophes |

20
(1)

| | |
| --- | --- |
| | Examples of Disasters in Densely Populated Areas |

20
(1)
21
(1)

| | |
| --- | --- |
| | Magnitude and Frequency of Hazardous Events |

21
(1)

| | |
| --- | --- |
| | Box 1.1 Case Study: Human Population through History |

22
(1)

| | |
| --- | --- |
| | Box 1.2 Case Study: The Magnitude-Frequency Concept |

23
(1)

| | |
| --- | --- |
| | Concept 5: Consequences of hazards can be minimized |

24
(1)

| | |
| --- | --- |
| | Reactive Response: Impact of and Recovery from Disasters |

24
(1)

| | |
| --- | --- |
| | Anticipatory Response: Avoiding and Adjusting to Hazards |

25
(1)

| | |
| --- | --- |
| | Many Hazards Provide a Natural Service Function |

26
(1)

| | |
| --- | --- |
| | Global Climate Change and Hazards |

27
(3)
28
(1)
28
(1)
28
(1)

| | |
| --- | --- |
| | Critical Thinking Questions |

29
(1)
29
(1)
30
(38)

| | |
| --- | --- |
| | Case History: Earthquakes of Early 2001---Lessons Learned |

30
(3)

| | |
| --- | --- |
| | Introduction to Earthquakes |

33
(3)
33
(2)
35
(1)
36
(6)
36
(2)
38
(1)
38
(3)
41
(1)
42
(6)

| | |
| --- | --- |
| | Distance to the Epicenter |

42
(2)
44
(1)

| | |
| --- | --- |
| | Direction of the Epicenter |

44
(1)

| | |
| --- | --- |
| | Local Geologic Conditions |

44
(4)
48
(1)

| | |
| --- | --- |
| | Geographic Regions at Risk from Earthquakes |

49
(3)

| | |
| --- | --- |
| | Plate Boundary Earthquakes |

50
(1)
50
(2)

| | |
| --- | --- |
| | Effects of Earthquakes and Linkages with Other Natural Hazards |

52
(2)

| | |
| --- | --- |
| | Shaking and Ground Rupture |

52
(1)
53
(1)

| | |
| --- | --- |
| | Regional Changes in Land Elevation |

53
(1)
53
(1)
53
(1)
54
(1)

| | |
| --- | --- |
| | Natural Service Functions of Earthquakes |

54
(1)

| | |
| --- | --- |
| | Groundwater and Energy Resources |

54
(1)
54
(1)
55
(1)

| | |
| --- | --- |
| | Future Earthquake Hazard Reduction |

55
(1)

| | |
| --- | --- |
| | Human Interaction with Earthquakes |

55
(1)

| | |
| --- | --- |
| | Earthquakes Caused by Human Activity |

55
(1)

| | |
| --- | --- |
| | Minimizing the Earthquake Hazard |

56
(4)

| | |
| --- | --- |
| | The National Earthquake Hazard Reduction Program |

56
(1)

| | |
| --- | --- |
| | Estimation of Seismic Risk |

57
(1)
57
(1)

| | |
| --- | --- |
| | The Future of Earthquake Prediction |

58
(1)

| | |
| --- | --- |
| | Earthquake Warning Systems |

59
(1)

| | |
| --- | --- |
| | Box 2.1 Survivor Story: Earthquakes in Canada |

60
(1)

| | |
| --- | --- |
| | Perception of and Adjustment to the Earthquake Hazard |

60
(8)

| | |
| --- | --- |
| | Perception of the Earthquake Hazard |

60
(1)

| | |
| --- | --- |
| | Community Adjustments to the Earthquake Hazard |

61
(1)

| | |
| --- | --- |
| | Box 2.2 Professional Profile: Andrea Donnellan, Earthquake Forecaster |

62
(1)

| | |
| --- | --- |
| | Personal Adjustments: Before, During, and After an Earthquake |

63
(1)
64
(1)
65
(1)
66
(1)

| | |
| --- | --- |
| | Critical Thinking Questions |

66
(1)
67
(1)

| | |
| --- | --- |
| | Hazard City: Assignments in Applied Geology---Earthquake Damage Assessment |

67
(1)
68
(34)

| | |
| --- | --- |
| | Case History: Mt. Unzen, 1991 |

68
(1)

| | |
| --- | --- |
| | Introduction to Volcanoes |

68
(10)
71
(3)
74
(2)
76
(2)

| | |
| --- | --- |
| | Geographic Regions at Risk for Volcanoes |

78
(1)
79
(11)
81
(1)
81
(1)
82
(2)

| | |
| --- | --- |
| | Debris Flows, Mudflows, and Other Mass Movements |

84
(1)

| | |
| --- | --- |
| | Box 3.1 Case Study: Volcanic Landslides and Tsunamis |

85
(1)

| | |
| --- | --- |
| | Mount St. Helens 1980--2005: From Lateral Blasts to Lava Flows |

86
(4)

| | |
| --- | --- |
| | Linkages between Volcanoes and Other Natural Hazards |

90
(1)

| | |
| --- | --- |
| | Natural Service Functions of Volcanoes |

91
(1)
91
(1)
91
(1)
92
(1)
92
(1)

| | |
| --- | --- |
| | Human Interaction with Volcanoes |

92
(1)

| | |
| --- | --- |
| | Minimizing the Volcanic Hazard |

92
(5)
92
(2)

| | |
| --- | --- |
| | Box 3.2 Professional Profile: Chris Eisinger, Studying Active Volcanoes |

94
(2)

| | |
| --- | --- |
| | Box 3.3 Survivor Story: A Close Call with Mount St. Helens |

96
(1)

| | |
| --- | --- |
| | Volcanic Alert or Warning |

96
(1)

| | |
| --- | --- |
| | Perception of and Adjustment to the Volcanic Hazard |

97
(5)

| | |
| --- | --- |
| | Perception of the Volcanic Hazard |

97
(1)

| | |
| --- | --- |
| | Adjustments to Volcanic Hazards |

97
(1)

| | |
| --- | --- |
| | Attempts to Control Lava Flows |

98
(1)
99
(1)
100
(1)
100
(1)

| | |
| --- | --- |
| | Critical Thinking Questions |

100
(1)
100
(1)

| | |
| --- | --- |
| | Hazard City: Assignments in Applied Geology---Volcanic Hazard Assessment |

101
(1)
102
(38)

| | |
| --- | --- |
| | Case History: Great Britain Floods of 2000 |

102
(2)

| | |
| --- | --- |
| | An Introduction to Rivers |

104
(5)

| | |
| --- | --- |
| | Earth Material Transported by Rivers |

104
(1)

| | |
| --- | --- |
| | River Velocity, Discharge, Erosion, and Sediment Deposition |

104
(3)

| | |
| --- | --- |
| | Channel Patterns and Floodplain Formation |

107
(2)
109
(9)

| | |
| --- | --- |
| | Box 4.1 Case Study: Alluvial Fan Flooding on the Ventura River |

110
(2)

| | |
| --- | --- |
| | Upstream and Downstream Floods |

112
(2)

| | |
| --- | --- |
| | Box 4.2 Case Study: Magnitude and Frequency of Floods |

114
(2)

| | |
| --- | --- |
| | Box 4.3 Survivor Story: Flash Flood |

116
(2)

| | |
| --- | --- |
| | Geographic Regions at Risk for Flooding |

118
(1)

| | |
| --- | --- |
| | Effects of Flooding and Linkages between Floods and Other Hazards |

119
(1)

| | |
| --- | --- |
| | Natural Service Functions |

120
(2)
120
(1)
120
(1)
120
(1)

| | |
| --- | --- |
| | Box 4.4 Case Study: The Grand Canyon Flood of 1996 |

121
(1)

| | |
| --- | --- |
| | Human Interaction with Flooding |

122
(4)
122
(2)
124
(1)

| | |
| --- | --- |
| | Urbanization and Flooding |

124
(2)

| | |
| --- | --- |
| | Box 4.5 Case Study: Flash Floods in Eastern Ohio |

126
(1)

| | |
| --- | --- |
| | Minimizing the Flood Hazard |

126
(6)
126
(4)

| | |
| --- | --- |
| | Channel Restoration: Alternative to Channelization |

130
(2)

| | |
| --- | --- |
| | Perception of and Adjustment to the Flood Hazard |

132
(8)

| | |
| --- | --- |
| | Perception of the Flood Hazard |

132
(1)

| | |
| --- | --- |
| | Adjustments to the Flood Hazard |

132
(2)

| | |
| --- | --- |
| | Box 4.6 Professional Profile: Walter G. Green, III, Emergency Operations Director |

134
(1)

| | |
| --- | --- |
| | Relocating People from Floodplains: Examples from North Carolina and North Dakota |

135
(1)

| | |
| --- | --- |
| | Personal Adjustment: What to Do and What Not to Do |

135
(2)
137
(1)
137
(1)
138
(1)

| | |
| --- | --- |
| | Critical Thinking Questions |

138
(1)
138
(1)

| | |
| --- | --- |
| | Hazard City: Assignments in Applied Geology---Flood Insurance Rate Maps |

139
(1)
140
(32)

| | |
| --- | --- |
| | Case History: Portuguese Bend, California |

140
(3)

| | |
| --- | --- |
| | An Introduction to Landslides |

143
(10)
143
(2)
145
(1)
146
(6)
152
(1)

| | |
| --- | --- |
| | Geographic Regions at Risk from Landslides |

153
(1)

| | |
| --- | --- |
| | Effects of Landslides and Linkages with Other Natural Hazards |

153
(6)
153
(1)

| | |
| --- | --- |
| | Box 5.1 Case Study: La Conchita: Southern California Landslide Disaster of 2005---Lessons Learned |

154
(3)

| | |
| --- | --- |
| | Linkages between Landslides and Other Natural Hazards |

157
(1)

| | |
| --- | --- |
| | Box 5.2 Survivor Story: Landslide |

158
(1)

| | |
| --- | --- |
| | Natural Service Functions of Landslides |

159
(1)

| | |
| --- | --- |
| | Human Interaction with Landslides |

159
(3)

| | |
| --- | --- |
| | Timber Harvesting and Landslides |

159
(1)

| | |
| --- | --- |
| | Urbanization and Landslides |

159
(2)

| | |
| --- | --- |
| | Box 5.3 Professional Profile: Bob Rasely, Mass Wasting Specialist |

161
(1)

| | |
| --- | --- |
| | Minimizing the Landslide Hazard |

162
(5)

| | |
| --- | --- |
| | Identification of Potential Landslides |

162
(1)
162
(4)

| | |
| --- | --- |
| | Landslide Warning Systems |

166
(1)

| | |
| --- | --- |
| | Perception of and Adjustment to the Landslide Hazard |

167
(5)

| | |
| --- | --- |
| | Perception of the Landslide Hazard |

167
(1)

| | |
| --- | --- |
| | Adjustments to the Landslide Hazard |

167
(1)

| | |
| --- | --- |
| | Personal Adjustments: What You Can Do to Minimize Your Landslide Hazard |

167
(2)
169
(1)
169
(1)
169
(1)

| | |
| --- | --- |
| | Critical Thinking Questions |

170
(1)
170
(1)

| | |
| --- | --- |
| | Hazard City: Assignments in Applied Geology---Landslide Hazard Assessment |

171
(1)
172
(24)

| | |
| --- | --- |
| | Case History: Venice Is Sinking |

172
(1)

| | |
| --- | --- |
| | Introduction to Subsidence |

172
(9)
174
(2)
176
(1)

| | |
| --- | --- |
| | Box 6.1 Survivor Story: Sinkholes |

177
(1)

| | |
| --- | --- |
| | Sediment and Soil Compaction |

178
(1)
179
(1)
180
(1)

| | |
| --- | --- |
| | Deflation of Magma Chambers |

181
(1)

| | |
| --- | --- |
| | Regions at Risk for Subsidence-Related Hazards |

181
(1)
182
(3)
182
(1)
182
(2)

| | |
| --- | --- |
| | Damage Caused by Melting Permafrost |

184
(1)

| | |
| --- | --- |
| | Coastal Flooding and Loss of Wetlands |

184
(1)

| | |
| --- | --- |
| | Damage Caused by Expansive Soils |

184
(1)

| | |
| --- | --- |
| | Linkages between Subsidence and Other Natural Hazards |

185
(1)

| | |
| --- | --- |
| | Natural Service Functions of Subsidence |

185
(1)
185
(1)

| | |
| --- | --- |
| | Aesthetic and Scientific Resources |

185
(1)
186
(1)

| | |
| --- | --- |
| | Human Interaction with Subsidence |

186
(4)
186
(1)
187
(1)
188
(1)

| | |
| --- | --- |
| | Restricting Deltaic Sedimentation |

189
(1)
189
(1)

| | |
| --- | --- |
| | Landscaping Expansive Soils |

189
(1)

| | |
| --- | --- |
| | Box 6.2 Professional Profile: Helen Delano, Environmental Geologist |

190
(1)

| | |
| --- | --- |
| | Minimizing the Subsidence Hazard |

190
(2)

| | |
| --- | --- |
| | Perception of and Adjustment to the Subsidence Hazard |

192
(4)

| | |
| --- | --- |
| | Perception of the Subsidence Hazard |

192
(1)

| | |
| --- | --- |
| | Adjustment to the Subsidence Hazard |

192
(1)
193
(1)
193
(1)
194
(1)

| | |
| --- | --- |
| | Critical Thinking Questions |

194
(1)
194
(2)

| | |
| --- | --- |
| | Atmosphere and Severe Weather |

196
(28)

| | |
| --- | --- |
| | Case History: Tri-State Tornado, March 18, 1925 |

196
(2)
198
(2)
199
(1)
199
(1)
200
(2)
200
(1)

| | |
| --- | --- |
| | Radiation, Absorption, and Temperature |

201
(1)
202
(1)

| | |
| --- | --- |
| | Composition of the Atmosphere |

202
(1)

| | |
| --- | --- |
| | Structure of the Atmosphere |

202
(1)
203
(4)
203
(2)
205
(1)
205
(1)
205
(2)
207
(12)
207
(3)

| | |
| --- | --- |
| | Box 7.1 Case Study: Lightning |

210
(1)
210
(2)

| | |
| --- | --- |
| | Box 7.2 Survivor Story: Struck by Lightning |

212
(4)
216
(1)
217
(1)
217
(1)
218
(1)

| | |
| --- | --- |
| | Human Interaction with Weather |

219
(1)

| | |
| --- | --- |
| | Natural Service Functions of Severe Weather |

219
(1)

| | |
| --- | --- |
| | Box 7.3 Professional Profile: Tornadoes |

220
(1)

| | |
| --- | --- |
| | Minimizing Severe Weather Hazards |

220
(4)

| | |
| --- | --- |
| | Forecasting and Prediction of Weather Hazards |

220
(1)

| | |
| --- | --- |
| | Adjustment to the Severe Weather Hazard |

221
(1)
222
(1)
222
(1)
222
(1)

| | |
| --- | --- |
| | Critical Thinking Questions |

223
(1)
223
(1)
224
(42)

| | |
| --- | --- |
| | Case History: Hurricane Ivan |

224
(2)

| | |
| --- | --- |
| | Introduction to Coastal Processes |

226
(6)
226
(2)

| | |
| --- | --- |
| | Box 8.1 Case Study: Rogue Waves |

228
(1)
229
(3)
232
(3)
235
(5)

| | |
| --- | --- |
| | Box 8.2 Case Study: Indonesian Tsunami of 2004 |

236
(4)

| | |
| --- | --- |
| | Box 8.3 Survivor Story: Tsunami in the Lowest Country on Earth |

240
(1)

| | |
| --- | --- |
| | Geographic Regions at Risk for Coastal Hazards |

240
(3)

| | |
| --- | --- |
| | Effects of Coastal Processes |

243
(4)
243
(1)
244
(2)
246
(1)
246
(1)

| | |
| --- | --- |
| | Linkages between Coastal Processes and Other Natural Hazards |

247
(1)

| | |
| --- | --- |
| | Natural Service Functions of Coastal Processes |

248
(1)

| | |
| --- | --- |
| | Human Interaction with Coastal Processes |

249
(3)
249
(2)
251
(1)
251
(1)
252
(1)

| | |
| --- | --- |
| | Minimizing the Effects of Coastal Hazards |

252
(7)
252
(2)
254
(3)

| | |
| --- | --- |
| | Box 8.4 Professional Profile: The Hurricane Hunters |

257
(1)
258
(1)

| | |
| --- | --- |
| | Perception of and Adjustment to Coastal Hazards |

259
(7)

| | |
| --- | --- |
| | Perception of Coastal Hazards |

259
(1)

| | |
| --- | --- |
| | Box 8.5 Case Study: E-Lines and E-Zones |

260
(1)

| | |
| --- | --- |
| | Adjustment to Coastal Erosion |

260
(1)
261
(1)
262
(1)
263
(1)
263
(1)
263
(1)

| | |
| --- | --- |
| | Critical Thinking Questions |

264
(1)
264
(1)

| | |
| --- | --- |
| | Hazard City: Assignments in Applied Geology---Shoreline Property Assessment |

265
(1)

| | |
| --- | --- |
| | Climate and Climate Change |

266
(26)

| | |
| --- | --- |
| | Case History: California Threatened by Climate Change |

266
(2)
268
(1)
268
(1)

| | |
| --- | --- |
| | The Koeppen System and Natural Processes |

269
(1)
269
(3)
269
(1)
269
(1)
270
(2)

| | |
| --- | --- |
| | Structure of the Atmosphere |

272
(1)
272
(1)
272
(8)
272
(1)
273
(2)

| | |
| --- | --- |
| | Global Temperature Change |

275
(3)
278
(2)

| | |
| --- | --- |
| | Hazards Associated with Climate Change |

280
(4)
280
(1)
280
(1)
281
(1)

| | |
| --- | --- |
| | Desertification and Drought |

281
(1)

| | |
| --- | --- |
| | Box 9.1 Case Study: El Nino |

282
(2)

| | |
| --- | --- |
| | Box 9.2 Professional Profile: Moving the Cape Hatteras Lighthouse |

284
(1)
284
(1)

| | |
| --- | --- |
| | Minimizing the Effects of Global Warming |

284
(8)

| | |
| --- | --- |
| | Box 9.3 Survivor Story: Residents of the Maldive Islands |

286
(1)
287
(1)

| | |
| --- | --- |
| | Manipulation of Carbon Dioxide ``Sinks'' |

288
(1)

| | |
| --- | --- |
| | Fossil Fuels and the Future Threat of Global Warming |

288
(1)
289
(1)
289
(1)
289
(1)

| | |
| --- | --- |
| | Critical Thinking Questions |

290
(1)
290
(1)

| | |
| --- | --- |
| | Hazard City: Assignments in Applied Geology---Snowpack Monitoring |

291
(1)
292
(22)

| | |
| --- | --- |
| | Case History: Wildfires in 2002---Colorado and Arizona |

292
(2)
294
(1)
294
(6)

| | |
| --- | --- |
| | Box 10.1 Case Study: Indonesian Fires of 1997--1998 |

295
(2)
297
(3)

| | |
| --- | --- |
| | Effects of Wildfires and Linkages with Other Natural Hazards |

300
(6)

| | |
| --- | --- |
| | Effects on the Geologic Environment |

300
(1)

| | |
| --- | --- |
| | Effects on the Atmospheric Environment |

301
(1)

| | |
| --- | --- |
| | Linkages with Climate Change |

301
(1)

| | |
| --- | --- |
| | Box 10.2 Case Study: Wildfire in Southern California |

302
(3)

| | |
| --- | --- |
| | Box 10.3 Professional Profile: Wildfires |

305
(1)

| | |
| --- | --- |
| | Effects on the Biological Environment |

306
(1)

| | |
| --- | --- |
| | Natural Service Functions of Wildfires |

306
(1)
306
(1)

| | |
| --- | --- |
| | Benefits to Plants and Animals |

306
(1)

| | |
| --- | --- |
| | Yellowstone Fires of 1988 |

307
(1)

| | |
| --- | --- |
| | Minimizing the Wildfire Hazard |

307
(1)
307
(1)

| | |
| --- | --- |
| | Perception of and Adjustment to the Wildfire Hazard |

308
(6)

| | |
| --- | --- |
| | Perception of the Wildfire Hazard |

308
(1)

| | |
| --- | --- |
| | Adjustments to the Wildfire Hazard |

309
(1)

| | |
| --- | --- |
| | Personal Adjustment to the Fire Hazard |

310
(1)

| | |
| --- | --- |
| | Box 10.4 Survivor Story: The Cedar Fire |

311
(1)
312
(1)
312
(1)
312
(1)

| | |
| --- | --- |
| | Critical Thinking Questions |

312
(1)
313
(1)
314
(25)

| | |
| --- | --- |
| | Case History: The Tunguska Event |

314
(2)
316
(3)

| | |
| --- | --- |
| | Asteroids, Meteoroids, and Comets |

318
(1)

| | |
| --- | --- |
| | Aerial Bursts and Impacts |

319
(7)
320
(1)

| | |
| --- | --- |
| | Box 11.1 Survivor Story: Meterorites in Chicagoland |

321
(4)

| | |
| --- | --- |
| | Box 11.2 Case Study: Uniformitarianism, Gradualism, and Catastrophe |

325
(1)
326
(5)

| | |
| --- | --- |
| | Late Cretaceous: K-T Boundary Mass Extinction |

327
(4)

| | |
| --- | --- |
| | Minimizing the Impact Hazard |

331
(8)
331
(1)

| | |
| --- | --- |
| | Box 11.3 Case Study: Near Earth Objects |

332
(1)

| | |
| --- | --- |
| | Minimizing the Impact Hazard |

332
(2)

| | |
| --- | --- |
| | Box 11.4 Professional Profile: Michael J. S. Shelton, Astronomer |

334
(2)
336
(1)
336
(1)
336
(1)

| | |
| --- | --- |
| | Critical Thinking Questions |

336
(1)
337
(2)
Appendix A Minerals
339
(8)
Appendix B Rocks
347
(2)
Appendix C Maps and Related Topics
349
(8)
Appendix D How Geologists Determine Geologic Time
357
(4)
Glossary
361
(12)
References
373
(10)
Index
383