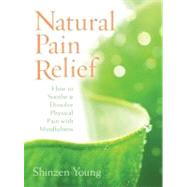 Natural Pain Relief : How to Soothe and Dissolve Physical Pain with Mindfulness
by
Young, Shinzen
Summary
The newest treatment for pain is one of the oldest, most effective strategies for pain-free living: mindfulness. With Natural Pain Relief, meditation expert Shinzen Young teaches you how to retrain your relationship to pain through traditional meditation practices. Drawing from 30 years of results in the field, this widely respected teacher offers the essential techniques that have proven successful at pain management centres around the country. Natural Pain Relief adapts the core principles of mindfulness training to a practical process that can treat even extreme, chronic pain effectively, possibly reducing the need for drugs or surgery. Step-by-step techniques taught in plain language show how to overcome internal resistance-the key to transforming physical pain into a flow of pure energy. With Shinzen's five most effective meditations for pain, listeners will learn how to: Deconstruct pain into manageable pieces Experience how pain naturally transforms into energy Allow pain to dissipate into space Use the "Breath Pleasure" technique to soothe pain dramatically Free up your energy to begin living your life again
Author Biography
Shinzen Young is a highly respected meditation teacher and scholar with extensive background in the major Buddhist traditions. His innovative technique for Mindfulness-Based Pain Management comes from his own challenges with pain as well as four decades of guiding others through their chronic and acute pain issues. His key interest lies in the merging of Eastern meditation with Western science, and he currently leads meditation retreats throughout North America.
Table of Contents
Foreword
p. vii
Introduction
p. 1
My Own Story
p. 5
The Practice of Meditation
p. 17
A New Perspective on Pain
p. 35
Practical Tips for Working with Pain
p. 49
Introduction to the Guided Meditations
p. 59
Pain Relief in Action
p. 71
Going Further
p. 81
Additional Resources
p. 85
About the Author
p. 87
Table of Contents provided by Ingram. All Rights Reserved.