Note: Supplemental materials are not guaranteed with Rental or Used book purchases.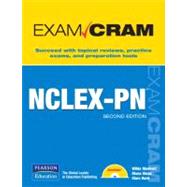 Questions About This Book?
What version or edition is this?
This is the 2nd edition with a publication date of 1/1/2008.
What is included with this book?
The eBook copy of this book is not guaranteed to include any supplemental materials. Typically only the book itself is included.
Summary
TheNCLEX-PN Exam Cram, Second Edition provides concise coverage of all the topics a candidate needs to study for the practical nurse licensing exam. Completely updated for 2007 changes to the exam, it replaces the popular first edition that filled a unique late-stage study need for Nursing students. This Second Edition blends the ideal level of discussion, drawings, tables and case studies into an easily digestible format for study. The PN exam is very similar in content to the RN exam, but is not as in-depth as the RN exam nor does it require the same level of critical thinking decisions. The NCLEX-PN exam is not a comprehensive recall of clinical nursing facts, but tests on a combination of the knowledge and skills required to care for the client and address family issues. It is a Computer Adaptive Test (CAT) in which each test is assembled interactively based on the candidate's response to previous questions. The eclosed CD-ROM testing engine provides ideal practice with 900 questions, while the PN exam varyies between 85 and 205 questions given in a five-hour timeframe. TheNCLEX-PN Exam Cram,Second Edition offers the cram sheet, notes, tips, exam alerts, and highlights judgment skills throughout the text.
Table of Contents
Introduction
p. xxv
Preparing for the National Council Exam for Licensed Practical Nurses
p. 3
Preparing for the Exam
p. 4
The Computer Adaptive Test
p. 4
Testing Strategies
p. 5
Reading the Question Carefully
p. 6
Look for Keywords
p. 6
Watch for Specific Details
p. 6
Exam Prep Questions
p. 9
Answer Rationales
p. 11
Simplifying Pharmacology
p. 13
Pharmacology
p. 14
Three Areas of Pharmacology
p. 14
How Nurses Work with Pharmacology
p. 15
Time-Released Drugs
p. 16
Administering Medications
p. 17
Understanding and Identifying the Various Drugs
p. 18
Angiotensin-Converting Enzyme Inhibitors
p. 18
Beta Adrenergic Blockers
p. 19
Anti-Infectives (Aminoglycosides)
p. 20
Benzodiazepines (Anticonvulsants/Antianxiety)
p. 22
Phenothiazines (Antipsychotic/Antiemetic)
p. 24
Glucocorticoids
p. 25
Antivirals
p. 26
Cholesterol-Lowering Agents
p. 28
Angiotensin Receptor Blockers
p. 29
Cox
p. 2
Enzyme Blockers
p. 30
Histamine
p. 2
Antagonists
p. 31
Proton Pump Inhibitors
p. 32
Anticoagulants
p. 33
More Drug Identification Helpers
p. 34
Herbals
p. 35
Drug Schedules
Table of Contents provided by Publisher. All Rights Reserved.
Excerpts
Praise for NCLEX-PN Exam Cram Praise for NCLEX-PN Exam Cram"The book offers a quick 'cram' approach to the NCLEX that is user friendly and not time intensive. The overall approach is learner-centered and the content is well paced." -- Catherine Dearman , RN, PhD Introduction Welcome to the NCLEX-PN reg; Exam CramThis book will help you prepare to take and pass the Licensure Exam for Practical Nurses. This Introduction discusses the NCLEX reg; exam in general and how theExam Cramcan help you prepare for the test. It doesn't matter whether this is the first time you're going to take the exam or if you have taken it previously; this book gives you the necessary information and techniques to obtain licensure.Exam Crambooks help you understand and appreciate the subjects and materials you need to pass. The books are aimed at test preparation and review. They do not teach you everything you need to know about the subject of nursing. Instead they present materials you are likely to encounter on the exam.Using a simple approach, we help you understand the need-to-know information. First, you learn content as it applies to medical-surgical nursing, psychiatric-mental health nursing, obstetric nursing, and pediatric nursing, with an emphasis on pharmacology, skills, and management of these disorders. In a well-organized format, you learn the pathophysiology of the most common problems affecting clients, the treatment of these disorders, and the nursing care required.The NCLEX-PN reg; consists of questions from the cognitive levels of knowledge, comprehension, application, and analysis. The majority of questions are written at the application and analysis levels. Questions incorporate the five stages of the nursing process (assessment, diagnosis, planning, implementation, and evaluation) and the four categories of client needs. Client needs are divided into subcategories that define the content within each of the four major categories. These categories and subcategories areA. Safe, effective care environment:Coordinated care: 12%-18%Safety and infection control: 8%-14%B. Health promotion and maintenance: 7%-13%C. Psychosocial integrity: 8%-14%D. Physiological integrity:Basic care and comfort: 11%-17%Pharmacological and parenteral therapy: 9%-15%Reduction of risk: 10%-16%Physiological adaptation: 11%-17% Taking the Computerized Adaptive TestComputer Adaptive Testing offers the candidate several advantages. The graduate can schedule the exam at a time that is convenient for him. The Pearson VUE testing group is responsible for administering the exam. Because you might not be familiar with the Pearson VUE testing centers, we recommend that you arrive at least 30 minutes early to acclimate yourself to the surroundings and learn what you need to do while testing at the center. If you are late, you will not be allowed to test. Bring two forms of identification with you, one of which must be a picture ID. Be sure that your form of identification matches your application. You will be photographed and fingerprinted upon entering the testing site, so don't let this increase your stress. The allotted time is 5 hours. The candidate can receive results within approximately 7 days (in some states even sooner). Remember that the exam is written at approximately the 10th-grade reading level so keep a good dictionary handy during your studies. The Cost of the ExamThe candidate wanting to take the licensure exam must fill out two