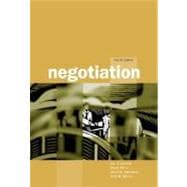 Questions About This Book?
What version or edition is this?
This is the 4th edition with a publication date of 12/27/2002.
What is included with this book?
The Used copy of this book is not guaranteed to include any supplemental materials. Typically, only the book itself is included.
Summary
Negotiation is a critical skill needed for effective management. NEGOTIATION 4/e explores the major concepts and theories of the psychology of bargaining and negotiation, and the dynamics of interpersonal and intergroup conflict and its resolution. It is relevant to a broad spectrum of management students, not only human resource management or industrial relations candidates.
Table of Contents
| | |
| --- | --- |
| | The Nature of Negotiation |

1
(30)
1
(2)
3
(1)

| | |
| --- | --- |
| | Characteristics of a Negotiation Situation |

4
(3)
7
(2)
9
(5)

| | |
| --- | --- |
| | Interdependence and Perceptions |

14
(2)
16
(1)
17
(3)

| | |
| --- | --- |
| | Functions and Dysfunctions of Conflict |

| | |
| --- | --- |
| | Factors That Make Conflict Difficult to Manage |

20
(4)

| | |
| --- | --- |
| | Overview of the Chapters in This Book |

24
(6)

| | |
| --- | --- |
| | Negotiation: Strategizing, Framing, and Planning |

30
(44)

| | |
| --- | --- |
| | Goals---The Objectives That Drive a Negotiation Strategy |

31
(3)

| | |
| --- | --- |
| | Direct Effects of Goals on Choice of Strategy |

| | |
| --- | --- |
| | Indirect Effects of Goals on Choice of Strategy |

| | |
| --- | --- |
| | Strategy---The Overall Plan to Achieve One's Goals |

34
(3)

| | |
| --- | --- |
| | Strategy, Tactics, or Planning? Strategic Options---Vehicles for Achieving Goals |

| | |
| --- | --- |
| | Defining the Issues---The Process of ``Framing'' the Problem |

37
(13)

| | |
| --- | --- |
| | Why Frames Are Critical to Understanding Strategy |

| | |
| --- | --- |
| | Another Approach to Frames: Interests, Rights, and Power |

| | |
| --- | --- |
| | The Frame of an Issue Changes as the Negotiation Evolves |

| | |
| --- | --- |
| | Understanding the Flow of Negotiations: Stages and Phases |

50
(3)

| | |
| --- | --- |
| | Phase Models of Negotiation |

| | |
| --- | --- |
| | Getting Ready to Implement the Strategy: The Planning Process |

53
(19)

| | |
| --- | --- |
| | Assembling the Issues and Defining the Bargaining Mix |

| | |
| --- | --- |
| | Knowing Your Limits and Alternatives |

| | |
| --- | --- |
| | Setting Targets and Openings |

| | |
| --- | --- |
| | Assessing My Constituents |

| | |
| --- | --- |
| | Analyzing the Other Party |

| | |
| --- | --- |
| | What Strategy Do I Want to Pursue? |

| | |
| --- | --- |
| | How Will I Present the Issues to the Other Party? |

| | |
| --- | --- |
| | What Protocol Needs to Be Followed in This Negotiation? |

| | |
| --- | --- |
| | Summary on the Planning Process |

72
(2)

| | |
| --- | --- |
| | Strategy and Tactics of Distributive Bargaining |

74
(39)

| | |
| --- | --- |
| | The Distributive Bargaining Situation |

75
(5)

| | |
| --- | --- |
| | The Role of Alternatives to a Negotiated Agreement |

80
(3)

| | |
| --- | --- |
| | Discovering the Other Party's Resistance Point |

| | |
| --- | --- |
| | Influencing the Other Party's Resistance Point |

83
(7)

| | |
| --- | --- |
| | Assess Outcome Values and the Costs of Termination |

| | |
| --- | --- |
| | Manage the Other Party's Impressions |

| | |
| --- | --- |
| | Modify the Other Party's Perceptions |

| | |
| --- | --- |
| | Manipulate the Actual Costs of Delay or Termination |

| | |
| --- | --- |
| | Positions Taken During Negotiation |

90
(6)

| | |
| --- | --- |
| | Pattern of Concession Making |

96
(6)

| | |
| --- | --- |
| | Tactical Considerations in Using Commitments |

| | |
| --- | --- |
| | Establishing a Commitment |

| | |
| --- | --- |
| | Preventing the Other Party from Committing Prematurely |

| | |
| --- | --- |
| | Finding Ways to Abandon a Committed Position |

102
(1)
103
(9)

| | |
| --- | --- |
| | Dealing with Typical Hardball Tactics |

112
(1)

| | |
| --- | --- |
| | Strategy and Tactics of Integrative Negotiation |

113
(34)
113
(1)

| | |
| --- | --- |
| | What Makes Integrative Negotiation Different? |

| | |
| --- | --- |
| | An Overview of the Integrative Negotiation Process |

114
(3)

| | |
| --- | --- |
| | Creating a Free Flow of Information |

| | |
| --- | --- |
| | Attempting to Understand the Other Negotiator's Real Needs and Objectives |

| | |
| --- | --- |
| | Emphasizing the Commonalities between the Parties and Minimizing the Differences |

| | |
| --- | --- |
| | Searching for Solutions That Meet the Goals and Objectives of Both Sides |

| | |
| --- | --- |
| | Key Steps in the Integrative Negotiation Process |

117
(18)

| | |
| --- | --- |
| | Identify and Define the Problem |

| | |
| --- | --- |
| | Understand the Problem Fully---Identify Interests and Needs |

| | |
| --- | --- |
| | Generate Alternative Solutions |

| | |
| --- | --- |
| | Evaluation and Selection of Alternatives |

| | |
| --- | --- |
| | Factors That Facilitate Successful Integrative Negotiation |

135
(8)

| | |
| --- | --- |
| | Some Common Objective or Goal |

| | |
| --- | --- |
| | Faith in One's Problem-Solving Ability |

| | |
| --- | --- |
| | A Belief in the Validity of One's Own Position and the Other's Perspective |

| | |
| --- | --- |
| | The Motivation and Commitment to Work Together |

| | |
| --- | --- |
| | Clear and Accurate Communication |

| | |
| --- | --- |
| | An Understanding of the Dynamics of Integrative Negotiation |

| | |
| --- | --- |
| | Why Integrative Negotiation Is Difficult to Achieve |

143
(2)

| | |
| --- | --- |
| | The History of the Relationship between the Parties |

| | |
| --- | --- |
| | A Belief That an Issue Can Only Be Resolved Distributively |

| | |
| --- | --- |
| | The Mixed-Motive Nature of Most Negotiating Situations |

145
(2)

| | |
| --- | --- |
| | Perception, Cognition, and Communication |

147
(42)

| | |
| --- | --- |
| | Perception and Negotiation |

148
(4)

| | |
| --- | --- |
| | Perceptual Distortion in Negotiation |

| | |
| --- | --- |
| | Cognitive Biases in Negotiation |

152
(9)

| | |
| --- | --- |
| | Irrational Escalation of Commitment |

| | |
| --- | --- |
| | Mythical Fixed-Pie Beliefs |

| | |
| --- | --- |
| | Availability of Information |

| | |
| --- | --- |
| | Ignoring Others' Cognitions |

| | |
| --- | --- |
| | Managing Misperceptions and Cognitive Biases in Negotiation |

161
(2)

| | |
| --- | --- |
| | Communication in Negotiation |

163
(5)

| | |
| --- | --- |
| | Distortion in Communication |

| | |
| --- | --- |
| | Phase Models of Communication in Negotiation |

| | |
| --- | --- |
| | What Is Communicated during Negotiation? |

168
(4)

| | |
| --- | --- |
| | Information about Alternatives |

| | |
| --- | --- |
| | Information about Outcomes |

| | |
| --- | --- |
| | Communication about Process |

| | |
| --- | --- |
| | Is More Information Always Better? |

| | |
| --- | --- |
| | How People Communicate in Negotiation |

172
(3)

| | |
| --- | --- |
| | Selection of a Communication Channel |

| | |
| --- | --- |
| | How to Improve Communication in Negotiation |

175
(7)

| | |
| --- | --- |
| | Mood, Emotion, and Negotiation |

182
(3)

| | |
| --- | --- |
| | Special Communication Considerations at the Close of Negotiations |

185
(2)
187
(2)

| | |
| --- | --- |
| | Finding and Using Negotiation Leverage |

189
(45)

| | |
| --- | --- |
| | Leverage as Advantage: Why Is Power Important to Negotiators? |

189
(3)
192
(1)

| | |
| --- | --- |
| | Sources of Power---How People Acquire Power |

193
(9)

| | |
| --- | --- |
| | Power Based on Information and Expertise |

| | |
| --- | --- |
| | Power Based on Control over Resources |

| | |
| --- | --- |
| | Power Based on One's Position |

| | |
| --- | --- |
| | Managing Power: Influence and Persuasion |

202
(3)

| | |
| --- | --- |
| | The Central Route to Influence: The Message and Its Delivery |

205
(6)

| | |
| --- | --- |
| | Persuasive Style: How to Pitch the Message |

| | |
| --- | --- |
| | Peripheral Routes to Influence |

211
(16)

| | |
| --- | --- |
| | Aspects of Messages That Foster Peripheral Influence |

| | |
| --- | --- |
| | Source Characteristics That Foster Peripheral Influence |

| | |
| --- | --- |
| | Aspects of Context That Foster Peripheral Influence |

| | |
| --- | --- |
| | The Role of Receivers---Targets of Influence |

227
(5)

| | |
| --- | --- |
| | Exploring or Ignoring the Other's Position |

| | |
| --- | --- |
| | Resisting the Other's Influence |

232
(2)
234
(43)

| | |
| --- | --- |
| | Why Do Negotiators Need to Know about Ethics? |

234
(2)

| | |
| --- | --- |
| | What Are Ethics and Why Do They Apply to Negotiation? |

236
(2)

| | |
| --- | --- |
| | What Are the Major Ethical Concerns That Apply to Negotiation? |

238
(7)

| | |
| --- | --- |
| | What Major Types of Ethical and Unethical Conduct Are Likely to Occur in Negotiation? |

245
(6)

| | |
| --- | --- |
| | The Range of Available Influence Tactics |

| | |
| --- | --- |
| | Typologies of Deceptive Tactics and Attitudes toward Their Use |

| | |
| --- | --- |
| | Does Tolerance for Unethical Tactics Lead to Their Actual Use? |

| | |
| --- | --- |
| | Intentions and Motives to Use Deceptive Tactics |

251
(9)

| | |
| --- | --- |
| | The Motivation to Behave Unethically |

| | |
| --- | --- |
| | The Consequences of Unethical Conduct |

| | |
| --- | --- |
| | Explanations and Justifications |

| | |
| --- | --- |
| | What Factors Shape a Negotiator's Predisposition to Use Unethical Tactics? |

260
(11)

| | |
| --- | --- |
| | Personality Differences and Moral Development |

| | |
| --- | --- |
| | Moral Development and Personal Values |

| | |
| --- | --- |
| | Contextual Influences on Unethical Conduct |

| | |
| --- | --- |
| | How Can Negotiators Deal with the Other Party's Use of Deception? |

271
(3)
274
(3)

| | |
| --- | --- |
| | Social Context: Relationships and Representatives |

277
(46)

| | |
| --- | --- |
| | The Number of Parties in a Negotiation |

278
(1)

| | |
| --- | --- |
| | Negotiating through Others within a Relationship |

279
(10)

| | |
| --- | --- |
| | The Adequacy of Past Theory and Research for Understanding Negotiation within Relationships |

| | |
| --- | --- |
| | Negotiations in Communal Relationships |

| | |
| --- | --- |
| | Key Elements in Managing Negotiations within Relationships |

289
(9)
298
(24)

| | |
| --- | --- |
| | Audiences: Team Members, Constituents, Bystanders, and Audiences |

| | |
| --- | --- |
| | Tactical Implications of Social Structure Dynamics: The Negotiator's Dilemma |

| | |
| --- | --- |
| | Advice to Negotiators for Managing Their Constituencies and Audiences |

| | |
| --- | --- |
| | Advice to Constituents in Managing Agents |

322
(1)

| | |
| --- | --- |
| | Coalitions, Multiple Parties, and Teams |

323
(40)

| | |
| --- | --- |
| | Situations with More Than Two Parties |

323
(2)

| | |
| --- | --- |
| | Coalitions in Negotiation |

325
(17)

| | |
| --- | --- |
| | What Is a Coalition? Types of Coalitions |

| | |
| --- | --- |
| | Understanding When and Why Coalitions Form |

| | |
| --- | --- |
| | The ``Tragedy of the Commons.'' |

| | |
| --- | --- |
| | Standards for Coalition Decision Making |

| | |
| --- | --- |
| | Power and Leverage in Coalitions |

| | |
| --- | --- |
| | How to Build Coalitions: Some Practical Advice |

| | |
| --- | --- |
| | The Nature of Multiparty Negotiations |

342
(6)

| | |
| --- | --- |
| | Differences between Two-Party Negotiations and Multiparty Negotiations |

| | |
| --- | --- |
| | Managing Multiparty Negotiations |

348
(12)

| | |
| --- | --- |
| | The Formal Negotiation Stage---Managing the Group Process and Outcome |

360
(2)
362
(1)
363
(31)

| | |
| --- | --- |
| | Early Research on Individual Differences and Negotiation |

363
(4)

| | |
| --- | --- |
| | Personality and Negotiation |

367
(10)

| | |
| --- | --- |
| | Conflict Management Style |

| | |
| --- | --- |
| | Self-Efficacy and Locus of Control |

| | |
| --- | --- |
| | The ``Big Five'' Personality Factors |

| | |
| --- | --- |
| | Sex, Gender, and Negotiation |

377
(8)

| | |
| --- | --- |
| | Male and Female Negotiators: Theoretical Perspectives |

| | |
| --- | --- |
| | Male and Female Negotiators: Recent Empirical Findings |

385
(2)

| | |
| --- | --- |
| | Perspective-Taking Ability |

| | |
| --- | --- |
| | The Behavioral Approach to Differences among Negotiators |

387
(2)

| | |
| --- | --- |
| | Closing Comments: The Future of Research on Individual Differences in Negotiation |

389
(2)
391
(3)
394
(29)

| | |
| --- | --- |
| | The American Negotiating Style |

395
(1)

| | |
| --- | --- |
| | Not Everyone Negotiates Like Americans! |

396
(2)

| | |
| --- | --- |
| | What Makes Cross-Border Negotiations Different? |

398
(6)

| | |
| --- | --- |
| | How Do We Explain Global Negotiation Outcomes? |

404
(1)

| | |
| --- | --- |
| | Conceptualizing Culture and Negotiation |

405
(2)

| | |
| --- | --- |
| | Culture as Learned Behavior |

| | |
| --- | --- |
| | Hofstede's Dimensions of Culture |

407
(5)

| | |
| --- | --- |
| | Individualism/Collectivism |

| | |
| --- | --- |
| | How Do Cultural Differences Influence Negotiations? |

412
(4)

| | |
| --- | --- |
| | Culturally Responsive Negotiation Strategies |

416
(5)
421
(2)

| | |
| --- | --- |
| | Managing Difficult Negotiations: Individual Approaches |

423
(40)
423
(1)

| | |
| --- | --- |
| | The Nature of ``Difficult to Resolve'' Negotiations and Why They Occur |

424
(11)

| | |
| --- | --- |
| | What Makes a Negotiation Intractable? |

| | |
| --- | --- |
| | Characteristics of the Parties |

| | |
| --- | --- |
| | Characteristics of the Negotiation Context |

| | |
| --- | --- |
| | Characteristics of the Issues |

| | |
| --- | --- |
| | Characteristics of the Conflict Resolution Processes |

| | |
| --- | --- |
| | Strategies for Resolving Impasse: Joint Approaches |

435
(18)

| | |
| --- | --- |
| | Reducing Tension and Synchronizing De-escalation |

| | |
| --- | --- |
| | Improving the Accuracy of Communication |

| | |
| --- | --- |
| | Establishing Common Ground |

| | |
| --- | --- |
| | Enhancing the Desirability of Options to the Other Party |

| | |
| --- | --- |
| | Mismatched Models: Intentional and Otherwise |

453
(8)

| | |
| --- | --- |
| | Responding to the Other Side's Hard Distributive Tactics |

| | |
| --- | --- |
| | Responding When the Other Side Has More Power |

| | |
| --- | --- |
| | The Special Problem of Handling Ultimatums |

| | |
| --- | --- |
| | Responding When the Other Side Is Being Difficult |

461
(2)

| | |
| --- | --- |
| | Managing Difficult Negotiations: Third-Party Approaches |

463
(36)

| | |
| --- | --- |
| | Adding Third Parties to the Two-Party Negotiation Process |

463
(6)

| | |
| --- | --- |
| | Benefits and Liabilities of Third-Party Intervention |

| | |
| --- | --- |
| | When Is Third-Party Involvement Appropriate? |

| | |
| --- | --- |
| | Which Type of Intervention Is Appropriate? |

| | |
| --- | --- |
| | Types of Third-Party Intervention |

469
(1)

| | |
| --- | --- |
| | Formal Intervention Methods |

469
(17)

| | |
| --- | --- |
| | Trading Off the Advantages and Disadvantages of Arbitration versus Mediation |

| | |
| --- | --- |
| | Informal Intervention Methods |

486
(7)

| | |
| --- | --- |
| | Which Approach Is More Effective? |

| | |
| --- | --- |
| | Dispute Resolution Systems: When the Organization Is the Third Party |

493
(4)
497
(2)
Bibliography
499
(34)
Name Index
533
(8)
Subject Index
541