Note: Supplemental materials are not guaranteed with Rental or Used book purchases.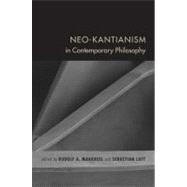 Neo-kantianism in Contemporary Philosophy
ISBN13:
9780253221445
by
Luft, Sebastian
Summary
This comprehensive treatment of Neo-Kantianism discusses the main topics and key figures of the movement and their intersection with other 20th-century philosophers. With the advent of phenomenology, existentialism, and the Frankfurt School, Neo-Kantianism was deemed too narrowly academic and science-oriented to compete with new directions in philosophy. These essays bring Neo-Kantianism back into contemporary philosophical discourse. They expand current views of the Neo-Kantians and reassess the movement and the philosophical traditions emerging from it. This groundbreaking volume provides new and important insights into the history of philosophy, the scope of transcendental thought, and Neo-Kantian influence on the sciences and intellectual culture.
Author Biography
Rudolf A. Makkreel is Charles Howard Candler Professor of Philosophy at Emory University. He is author of Dilthey, Philosopher of the Human Studies and Imagination and Interpretation in Kant.
Sebastian Luft is Associate Professor of Philosophy at Marquette University and author of "Ph+˝nomenologie der Ph+˝nomenologie."
Table of Contents
Acknowledgments
p. vii
Introduction
p. 1
Phenomenology, Hermeneutics, and Neo-Kantianism
Neo-Kantianism and Phenomenology: The Problem of Intuition
p. 25
The Hermeneutics of Perception in Cassirer, Heidegger, and Husserl
p. 41
Reconstruction and Reduction: Natorp and Husserl on Method and the Question of Subjectivity
p. 59
The Neo-Kantian Heritage in Gadamer
p. 92
The Nature of Transcendental Philosophy
Interpreting Kant Correctly: On the Kant of the Neo-Kantians
p. 113
The Highest Principle and the Principle of Origin in Hermann Cohen's Theoretical Philosophy
p. 132
Transcendental Logic and Minimal Empiricism: Lask and McDowell on the Unboundedness of the Conceptual
p. 150
The Neo-Kantians and the Sciences
Ernst Cassirer and Thomas Kuhn: The Neo-Kantian Tradition in the History and Philosophy of Science
p. 177
To Reach for Metaphysics: ╔mile Boutroux's Philosophy of Science
p. 192
History, Culture, and Value
Wilhelm Dilthey and the Neo-Kantians: On the Conceptual Distinctions between Geisteswissenschaften and Kulturwissenschaften
p. 253
The Multiplicity of Virtues and the Problem of Unity in Hermann Cohen's Ethics and Philosophy of Religion
p. 272
Is Cassirer a Neo-Kantian Methodologically Speaking?
p. 293
List of Contributors
p. 315
Index
p. 319
Table of Contents provided by Ingram. All Rights Reserved.