Note: Supplemental materials are not guaranteed with Rental or Used book purchases.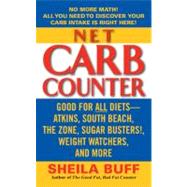 Net Carb Counter
ISBN13:
9780060821524
by
Buff Sheila
HarperCollins Publications
Questions About This Book?
What version or edition is this?
This is the 1st edition with a publication date of 2/4/2011.
What is included with this book?
The New copy of this book will include any supplemental materials advertised. Please check the title of the book to determine if it should include any CDs, lab manuals, study guides, etc.
Summary
Whether you're on Atkins, South Beach, Weight Watchers, Sugar Busters!, the Zone, or ANY of today's most popular weightloss programs, the Net Carb Counter takes the guesswork out of shopping and meal planning by placing the essential net carb content information you need right at your fingertips!
Table of Contents
Introduction
p. ix
Low-Carb Concepts
p. 1
Understanding Net Carbs
p. 11
Low-Carb Living
p. 20
Low-Carb Diets and Your Health
p. 31
Comparing the Low-Carb Diets
p. 43
How to Use These Tables
p. 56
Net Carb Food Tables
Baked Products: Brownies, Cakes, Doughnuts, and Pies
p. 58
Beans and Peas
p. 62
Beef, Veal, and Lamb
p. 65
Beef
p. 66
Veal
p. 67
Lamb
p. 68
Beverages
p. 69
Beer and Malt Beverages
p. 70
Reduced-Carb Products
p. 73
Carbonated Drinks
p. 74
Coffee and Coffee Beverages
p. 77
Distilled Spirits and Mixed Drinks
p. 79
Fruit and Vegetable Juices and Beverages
p. 81
Sport and Energy Beverages
p. 84
Tea, Tea Beverages, and Herbal Teas
p. 85
Wine and Wine Beverages
p. 86
Breads, Muffins, and Rolls
p. 87
Reduced-Carb Products
p. 92
Reduced-Carb Bake Mixes
p. 94
Breakfast Cereals
p. 96
Cold Cereals
p. 97
Reduced-Carb Products
p. 103
Hot Cereals
p. 103
Reduced-Carb Products
p. 104
Breakfast Pastries: Pancakes, Waffles, Toaster Pastries
p. 106
Reduced-Carb Products
p. 109
Candy
p. 110
Reduced-Carb Products
p. 114
Canned and Packaged Entrees
p. 115
Cheese and Cheese Products
p. 119
Cold Cuts
p. 123
Condiments and Sauces
p. 128
Reduced-Carb Products
p. 132
Cookies
p. 134
Reduced-Carb Products
p. 139
Crackers
p. 140
Eggs and Egg Substitutes
p. 145
Energy, Meal Replacement, and Snack Bars
p. 147
Reduced-Carb Products
p. 151
Fast Food
p. 153
Arby's
p. 154
Burger King
p. 156
Burger King Low-Carb Choices
p. 159
Dairy Queen
p. 160
Domino's Pizza
p. 161
KFC
p. 165
McDonald's
p. 167
Pizza Hut
p. 172
Subway
p. 175
Taco Bell
p. 178
Wendy's
p. 183
Fats, Oils, and Spreads
p. 185
Fish and Seafood
p. 189
Flour and Baking Products
p. 195
Reduced-Carb Products
p. 197
Frozen Breakfasts
p. 198
Frozen Meals and Entrees
p. 201
Fruit
p. 208
Ice Cream and Frozen Desserts
p. 213
Reduced-Carb Products
p. 218
Jam, Jelly, Sugar, and Syrups
p. 219
Milk and Milk Beverages
p. 222
Milk and Cream
p. 223
Nondairy Milks
p. 224
Reduced-Carb Products
p. 225
Nuts and Seeds
p. 226
Pasta
p. 229
Reduced-Carb Products
p. 232
Pizza
p. 233
Reduced-Carb Products
p. 235
Pork
p. 237
Poultry
p. 240
Pudding, Custard, and Gelatin
p. 243
Salad Dressings
p. 246
Reduced-Carb Products
p. 250
Shakes and Nutritional Drinks
p. 252
Reduced-Carb Products
p. 254
Snack Foods
p. 257
Reduced-Carb Products
p. 259
Soup
p. 261
Reduced-Carb Products
p. 266
Soy Foods
p. 268
Vegetables
p. 275
Yogurt
p. 288
Reduced-Carb Products
p. 292
Table of Contents provided by Ingram. All Rights Reserved.
Excerpts
Net Carb Counter
Chapter One
Low-Carb Concepts
Everybody's talking about carbohydrates, but what arethey? And why does cutting back on them in your diet helpyou lose weight?
Let's start by understanding what carbohydrates are. Putsimply, carbohydrates are the starchy or sugary part offoods. They're made up of long chains of molecules of carbon,hydrogen, and oxygen. Shorter, simpler chains of carbohydratesare sugars such as sucrose (table sugar), fructose(the sugar found in fruit), and glucose (the sugar that yourbody uses for fuel). Longer chains of carbohydrates arestarchier and don't taste sweet -- these complex carbs arefound in plant foods such as vegetables, beans, and grains.When you eat complex carbohydrates, your body quicklybreaks them down into simpler sugars. (An easy way toprove this to yourself is to put a piece of plain white breadinto your mouth and hold it there. You'll notice a slightsweet taste as digestive enzymes in your saliva begin to convertthe bread into glucose.)
So, when your body digests carbohydrates, it converts theminto glucose, which then enters your bloodstream. To carry theglucose from your blood into your cells, your body releases the hormone insulin. So far, so good -- but if you eat a diet high incarbs, the system doesn't work all that smoothly. Digesting thecarbs puts a lot of extra glucose into your blood, which in turnmean you have to produce a lot of insulin to carry it into yourcells. But if your cells have all the fuel they need for the moment,the extra glucose can't go into them. Instead, the insulincarries it off to be stored -- mostly as body fat.
For many people, eating a lot of refined carbohydrates -- foods such as white bread, snack foods, chips, french fries,sugary soft drinks, and all the other processed foods thattake up so large a part of the typical diet -- does more thanjust make them gain weight. The simple sugars in refinedcarbs hit your bloodstream soon after you eat. Your bodyputs out a surge of insulin to deal with all that glucose, andyou get a quick surge of energy. But for a lot of people, thatinsulin surge works all too well -- it clears away so much ofthe extra sugar that the energy surge is followed by an energycrash and feelings of hunger. What happens then? Youreach for a candy bar or cookie for some more quick energy.It's a cycle of energy ebbs and flows that leads almost inevitablyto putting on weight.
Here's where the low-carb approach comes in. First, youeliminate those refined carbohydrates from your diet and replacethem with nutritionally dense whole foods. Thatmeans you're now eating a much healthier diet, becauseyou've eliminated highly processed sugary or starchy foodsthat have little or no nutritional value. These foods can behigh in salt and dangerous trans fats (you'll learn moreabout those later in this book), and they tend to crowd outmore nutritious foods from your diet. Second, your bloodsugar stays on a more even keel, giving you steady energythroughout the day. And third, you lose weight if you needto, because when you take away the carbs, your body burnsfat for fuel instead.
If you need to lose weight, cutting carbs is almost certain tohelp. The approach works because you're replacing lowquality,high-calorie refined carbs with small amounts ofhigh-quality carbs, along with plenty of fresh vegetablesand other good low-carb foods, good fats, and high-qualityprotein. But how low do you need to go?
If you follow the approach taken by two of the leadinglow-carb diet doctors -- the late Dr. Robert C. Atkins and Dr.Arthur Agatston of South Beach Diet fame -- you'll start offby cutting your net carb count down to just 20 grams a dayfor the first two or three weeks. (Net carbs are the carbohydratesin a food minus the fiber -- Chapter Two of this bookwill explain this more.) After that, you'll slowly increaseyour daily carbohydrate intake. To continue losing weight,you'll probably have to keep your net carb count to under60 grams a day. How your body responds to carbs is very individual,however. Some people will stop losing weight oreven gain at just 40 grams of net carbs a day, while others cankeep losing or stay at a steady weight at up to 100 or even 120grams a day. Generally speaking, low-carbing means you'resticking to under 120 net carb grams a day (up to 150 gramsa day for very active people), but you'll probably have to experimenta bit to find the level that's best for you.
To put all this in perspective, take a look at the typicalcarbohydrate counts for some commonly eaten foods:
1 slice white bread = 12 grams
8 ounces orange juice = 27 grams
5 Oreo® cookies = 55 grams
1 medium banana = 28 grams
1 12-ounce can cola soda = 27 grams
10 french fries = 16 grams
Is it any surprise that the average person takes in anywherefrom 200 to 300 grams of carbohydrates a day?(When looking at these numbers, it helps to remember thatthere are roughly 15 grams in a tablespoon and about 30grams in an ounce.) Unfortunately, many of those carbgrams come from sugary or salty snacks that are high incalories but low in nutrition. In fact, Americans today getabout one-third of their daily calories from snack foods. It'sno wonder over half of all Americans today are overweight.By cutting back on carbs, you're almost automatically cuttingback on the lowest-quality foods in your diet and substitutingbetter foods such as fresh vegetables and protein.
Net Carb Counter
. Copyright © by Sheila Buff. Reprinted by permission of HarperCollins Publishers, Inc. All rights reserved. Available now wherever books are sold.
---

Excerpted from Net Carb Counter by Sheila Buff
All rights reserved by the original copyright owners. Excerpts are provided for display purposes only and may not be reproduced, reprinted or distributed without the written permission of the publisher.