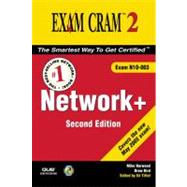 Questions About This Book?
What version or edition is this?
This is the 2nd edition with a publication date of 1/1/2005.
What is included with this book?
The eBook copy of this book is not guaranteed to include any supplemental materials. Typically only the book itself is included.
Summary
Attention Network + Candidates: Stop spending valuable study time sorting through confusing study aids.Network + Exam Cram 2is the second edition of a best-selling Network + study guide that gives you unique insight into exam concepts. Packed with test-taking strategies, time-saving tips and Exam Notes, only the information that you need to know for the test is included in a logical, easy-to-follow format. You will also receive a CD that includes over 100 practice test questions and the Cram Sheet tear card for last-minute test review.Network + Exam Cram 2is the smarter, more efficient way to get certified.
Table of Contents
Introduction
xxiv
Self-Assessment
xxix

| | |
| --- | --- |
| | Introduction to Networking |

1
(32)
2
(1)
2
(2)
2
(1)
3
(1)
3
(1)
4
(1)
4
(1)

| | |
| --- | --- |
| | Client/Server Networking Model |

4
(1)

| | |
| --- | --- |
| | Centralized and Distributed Computing |

5
(1)
6
(6)
6
(1)
7
(1)
8
(1)
9
(1)
10
(2)

| | |
| --- | --- |
| | IEEE and Networking Standards |

12
(3)
13
(1)
13
(1)
14
(1)
15
(3)
16
(2)

| | |
| --- | --- |
| | Infrared Wireless Networking |

18
(1)
19
(1)

| | |
| --- | --- |
| | Spread Spectrum Technology |

19
(1)

| | |
| --- | --- |
| | FHSS, DSSS, and 802.11 Standards |

20
(2)

| | |
| --- | --- |
| | Establishing Communications Between Wireless Devices |

22
(1)

| | |
| --- | --- |
| | Factors Affecting Wireless Signals |

23
(3)
23
(1)
24
(1)
25
(1)
26
(6)
26
(2)
28
(1)
29
(1)

| | |
| --- | --- |
| | Answers to Exam Prep Questions |

30
(2)
32
(1)
33
(26)
34
(1)

| | |
| --- | --- |
| | General Media Considerations |

34
(2)

| | |
| --- | --- |
| | Broadband Versus Baseband |

34
(1)

| | |
| --- | --- |
| | Simplex, Half Duplex, and Full Duplex |

34
(1)
35
(1)
35
(1)
36
(1)
36
(6)
37
(2)
39
(1)
40
(2)
42
(5)
42
(1)
43
(1)
43
(1)
44
(1)
45
(1)
46
(1)

| | |
| --- | --- |
| | Universal Serial Bus (USB) |

46
(1)
47
(5)

| | |
| --- | --- |
| | 10 Mbps Networking Standards |

47
(2)
49
(1)
50
(2)
52
(1)
52
(6)
53
(1)
54
(1)
55
(1)

| | |
| --- | --- |
| | Answers to Exam Prep Questions |

56
(2)
58
(1)
59
(28)
60
(1)
60
(1)
60
(1)
61
(3)
62
(2)
64
(2)

| | |
| --- | --- |
| | Bridge Placement and Bridging Loops |

65
(1)
65
(1)
66
(3)
66
(1)
67
(2)
69
(1)
70
(1)
70
(1)
71
(1)
71
(1)
72
(2)

| | |
| --- | --- |
| | Transceivers (Media Converters) |

74
(1)
75
(2)
77
(1)
78
(7)
79
(2)
81
(1)
82
(2)

| | |
| --- | --- |
| | Answers to Exam Prep Questions |

84
(1)
85
(2)

| | |
| --- | --- |
| | OSI Model and Network Protocols |

87
(24)
88
(1)
88
(4)
89
(1)

| | |
| --- | --- |
| | Data-link Layer (Layer 2) |

89
(1)
89
(1)

| | |
| --- | --- |
| | Transport Layer (Layer 4) |

90
(1)
91
(1)

| | |
| --- | --- |
| | Presentation Layer (Layer 6) |

91
(1)

| | |
| --- | --- |
| | Application Layer (Layer 7) |

92
(1)
92
(1)

| | |
| --- | --- |
| | Identifying the OSI Layers at Which Various Network Components Operate |

93
(1)

| | |
| --- | --- |
| | Differentiating Among Protocols |

94
(9)

| | |
| --- | --- |
| | Connectionless and Connection-oriented Protocols |

94
(1)

| | |
| --- | --- |
| | Internetwork Packet Exchange/Sequenced Packet Exchange |

95
(2)
97
(1)
97
(3)

| | |
| --- | --- |
| | The TCP/IP Protocol Suite |

100
(2)
102
(1)
103
(6)
103
(1)
104
(2)
106
(1)

| | |
| --- | --- |
| | Answers to Exam Prep Questions |

107
(2)
109
(2)

| | |
| --- | --- |
| | TCP/IP (Transmission Control Protocol/Internet Protocol) |

111
(32)
113
(4)
113
(1)
113
(1)
114
(1)
115
(1)
115
(1)
116
(1)
117
(1)

| | |
| --- | --- |
| | Identifying the Differences Between Public and Private Networks |

117
(2)
118
(1)
119
(11)
119
(1)
119
(1)
120
(1)
121
(9)
130
(1)
131
(7)

| | |
| --- | --- |
| | Domain Name Service (DNS) |

132
(1)

| | |
| --- | --- |
| | Network Address Translation (NAT) and Internet Connection Sharing (ICS) |

133
(1)

| | |
| --- | --- |
| | Windows Internet Name Service (WINS) |

134
(1)

| | |
| --- | --- |
| | Simple Network Management Protocol (SNMP) |

134
(1)

| | |
| --- | --- |
| | Network File System (NFS) |

135
(1)

| | |
| --- | --- |
| | Zero Configuration (Zeroconf) |

135
(1)

| | |
| --- | --- |
| | Server Message Block (SMB) |

136
(1)

| | |
| --- | --- |
| | Apple File Protocol (AFP) |

136
(1)

| | |
| --- | --- |
| | Line Printer Daemon (LPD) |

137
(1)
137
(1)
138
(4)
138
(1)
139
(1)

| | |
| --- | --- |
| | Answers to Exam Prep Questions |

140
(2)
142
(1)

| | |
| --- | --- |
| | WAN Technologies Internet Access, and Security Protocols |

143
(34)
144
(1)
144
(8)
144
(2)
146
(1)

| | |
| --- | --- |
| | Integrated Services Digital Network (ISDN) |

146
(2)

| | |
| --- | --- |
| | Fiber Distributed Data Interface (FDDI) |

148
(1)
149
(1)
150
(1)
151
(1)

| | |
| --- | --- |
| | Internet Access Technologies |

152
(7)
153
(1)
154
(2)

| | |
| --- | --- |
| | POTS/PSTN (Plain Old Telephone Service/Public Switched Telephone Network) |

156
(1)

| | |
| --- | --- |
| | Satellite Internet Access |

157
(1)
158
(1)

| | |
| --- | --- |
| | Remote Access Protocols and Services |

159
(5)

| | |
| --- | --- |
| | Remote Access Service (RAS) |

159
(1)
160
(1)
161
(1)
162
(1)
163
(1)
164
(1)
164
(5)
165
(1)

| | |
| --- | --- |
| | Layer 2 Tunneling Protocol (L2TP) |

166
(1)

| | |
| --- | --- |
| | Secure Sockets Layer (SSL) |

166
(1)
167
(1)
168
(1)
168
(1)
169
(2)

| | |
| --- | --- |
| | Remote Authentication Dial-In User Service (RADIUS) |

170
(1)
170
(1)
171
(5)
171
(2)
173
(1)
174
(1)

| | |
| --- | --- |
| | Answers to Exam Prep Questions |

175
(1)
176
(1)

| | |
| --- | --- |
| | Network Operating Systems and Client Connectivity |

177
(40)
178
(1)

| | |
| --- | --- |
| | Network Operating Systems |

178
(19)
179
(3)
182
(4)
186
(4)

| | |
| --- | --- |
| | Windows 2000 and Windows Server 2003 |

190
(6)
196
(1)

| | |
| --- | --- |
| | Operating System Interoperability |

197
(2)

| | |
| --- | --- |
| | Using Windows with NetWare |

198
(1)

| | |
| --- | --- |
| | Using Windows and Linux Servers |

199
(1)

| | |
| --- | --- |
| | Using NetWare and Linux Servers |

199
(1)

| | |
| --- | --- |
| | Operating System Client Support |

199
(2)

| | |
| --- | --- |
| | Windows Server Client Support |

199
(1)

| | |
| --- | --- |
| | NetWare Server Client Support |

200
(1)

| | |
| --- | --- |
| | Linux Server Client Support |

200
(1)

| | |
| --- | --- |
| | Configuring a Client to Access and Use Network Resources |

201
(4)
201
(4)
205
(3)
205
(1)
206
(1)

| | |
| --- | --- |
| | Tone Generators (and Tone Locators) |

206
(1)
207
(1)

| | |
| --- | --- |
| | Hardware Loopback Connectors |

208
(1)

| | |
| --- | --- |
| | Configuring Remote Connectivity |

208
(3)
209
(1)
210
(1)
211
(5)
211
(1)
212
(1)
213
(2)

| | |
| --- | --- |
| | Answers to Exam Prep Questions |

215
(1)
216
(1)
217
(24)
218
(1)
218
(3)

| | |
| --- | --- |
| | Packet-filtering Firewalls |

219
(1)
220
(1)

| | |
| --- | --- |
| | Application Gateway Firewalls |

220
(1)
221
(4)
223
(1)
224
(1)

| | |
| --- | --- |
| | Understanding How Security Affects a Network |

225
(6)
225
(1)

| | |
| --- | --- |
| | Port Blocking and Network Users |

226
(1)
226
(3)
229
(2)
231
(3)
231
(2)
233
(1)
234
(5)
234
(1)
235
(1)
236
(2)

| | |
| --- | --- |
| | Answers to Exam Prep Questions |

238
(1)
239
(2)

| | |
| --- | --- |
| | VLANs, Antivirus, Fault Tolerance, and Disaster Recovery |

241
(30)
242
(1)
242
(3)
243
(2)

| | |
| --- | --- |
| | Viruses, Virus Solutions, and Malicious Software |

245
(4)

| | |
| --- | --- |
| | Trojans, Worms, Spyware, and Hoaxes |

246
(1)

| | |
| --- | --- |
| | Protecting Computers from Viruses |

247
(2)
249
(8)

| | |
| --- | --- |
| | Disk-level Fault Tolerance |

249
(5)

| | |
| --- | --- |
| | Server and Services Fault Tolerance |

254
(1)
255
(1)

| | |
| --- | --- |
| | Using Uninterruptible Power Supplies |

256
(1)
257
(7)
258
(1)
258
(1)
259
(1)
260
(1)
261
(1)
261
(2)

| | |
| --- | --- |
| | Hot, Warm, and Cold Sites |

263
(1)
264
(5)
264
(1)
265
(1)
266
(2)

| | |
| --- | --- |
| | Answers to Exam Prep Questions |

268
(1)
269
(2)

| | |
| --- | --- |
| | Troubleshooting Connectivity |

271
(46)
272
(1)

| | |
| --- | --- |
| | Troubleshooting with Diagnostic Utilities |

272
(21)

| | |
| --- | --- |
| | The Trace Route Utility (tracert/traceroute) |

273
(3)
276
(4)
280
(1)
281
(5)
286
(1)
287
(2)
289
(1)
290
(1)
291
(2)

| | |
| --- | --- |
| | Interpreting Visual Indicators |

293
(3)

| | |
| --- | --- |
| | LEDs on Networking Devices |

293
(2)

| | |
| --- | --- |
| | LEDs on NICs and Other Devices |

295
(1)

| | |
| --- | --- |
| | Troubleshooting Remote Connectivity |

296
(6)

| | |
| --- | --- |
| | Troubleshooting Physical Connectivity |

296
(3)

| | |
| --- | --- |
| | Troubleshooting Authentication Failure |

299
(1)

| | |
| --- | --- |
| | Troubleshooting Protocol Configuration Problems |

300
(1)

| | |
| --- | --- |
| | Troubleshooting Small Office/Home Office Router |

301
(1)

| | |
| --- | --- |
| | Identifying and Troubleshooting Client Connectivity Problems |

302
(3)
302
(1)
303
(1)
304
(1)

| | |
| --- | --- |
| | Physical Connectivity Errors |

305
(1)

| | |
| --- | --- |
| | Troubleshooting Checklists |

305
(3)

| | |
| --- | --- |
| | Troubleshooting Cabling Problems |

305
(1)

| | |
| --- | --- |
| | Troubleshooting Operating System Connectivity |

306
(1)

| | |
| --- | --- |
| | Troubleshooting Network Printing |

306
(1)

| | |
| --- | --- |
| | Troubleshooting Data Access |

307
(1)
308
(1)
308
(7)
308
(2)
310
(1)
311
(2)

| | |
| --- | --- |
| | Answers to Exam Prep Questions |

313
(2)
315
(2)

| | |
| --- | --- |
| | Troubleshooting and Supporting the Network |

317
(28)
318
(1)

| | |
| --- | --- |
| | Predicting the Impact of Modifying, Adding, or Removing Network Services |

318
(2)

| | |
| --- | --- |
| | Adding, Modifying, or Removing DHCP |

318
(1)

| | |
| --- | --- |
| | Adding, Modifying, or Removing WINS |

319
(1)

| | |
| --- | --- |
| | Adding, Modifying, or Removing DNS |

320
(1)

| | |
| --- | --- |
| | Identify and Troubleshoot Errors with a Particular Physical Topology |

320
(5)
321
(1)
321
(2)
323
(1)
324
(1)

| | |
| --- | --- |
| | Infrastructure Troubleshooting |

325
(8)

| | |
| --- | --- |
| | Troubleshooting Network Media |

325
(2)

| | |
| --- | --- |
| | Troubleshooting Infrastructure Hardware |

327
(1)

| | |
| --- | --- |
| | Troubleshooting a Wireless Infrastructure |

328
(5)

| | |
| --- | --- |
| | Troubleshooting Steps and Procedures |

333
(5)

| | |
| --- | --- |
| | Identify the Symptoms and Potential Causes |

334
(1)

| | |
| --- | --- |
| | Identifying the Affected Area |

334
(1)

| | |
| --- | --- |
| | Establishing What Has Changed |

335
(1)

| | |
| --- | --- |
| | Selecting the Most Probable Cause of the Problem |

335
(1)

| | |
| --- | --- |
| | Implement an Action Plan and Solution Including Potential Effects |

335
(1)
336
(1)

| | |
| --- | --- |
| | Identify the Results and Effects of the Solution |

336
(1)
337
(1)
338
(5)
338
(1)
339
(1)
340
(2)

| | |
| --- | --- |
| | Answers to Exam Prep Questions |

342
(1)
343
(2)
345
(16)

| | |
| --- | --- |
| | Answer Key to Practice Exam I |

361
(12)

| | |
| --- | --- |
| | Answers to Exam Questions |

361
(1)

| | |
| --- | --- |
| | Answers and Explanations to Practice Exam I |

362
(11)
373
(16)

| | |
| --- | --- |
| | Answers to Practice Exam 2 |

389
(12)

| | |
| --- | --- |
| | Answers to Exam Questions |

389
(1)

| | |
| --- | --- |
| | Answers and Explanations to Exam Questions |

390
(11)

| | |
| --- | --- |
| | Appendix A CD Contents and Installation Instructions |

401
(6)
401
(1)
401
(1)
401
(1)
402
(1)
402
(1)
402
(1)

| | |
| --- | --- |
| | Random Questions and Order of Answers |

402
(1)

| | |
| --- | --- |
| | Detailed Explanations of Correct and Incorrect Answers |

402
(1)

| | |
| --- | --- |
| | Attention to Exam Objectives |

402
(1)
403
(2)

| | |
| --- | --- |
| | Creating a Shortcut to the MeasureUp Practice Tests |

404
(1)
405
(2)
Glossary
407
(50)
Index
457
Excerpts
= 0) {slash = '\\';} else {slash = '/';}openLoc = figLoc.substring(0, figLoc.lastIndexOf(slash) + 1);while (pPage.substring(0,3) == '../') {openLoc = openLoc.substring(0, openLoc.lastIndexOf(slash, openLoc.length - 2)+ 1);pPage = pPage.substring(3, pPage.length + 1);}popUpWin =window.open('','popWin','resizable=1,scrollbars=1,location=0,toolbar=0,width=525,height=394');figDoc = popUpWin.document;zhtm= ' ' + pPage + ' ';zhtm += ' ';zhtm += ' ';zhtm += ' ';zhtm += '' + pPage.substring(pPage.lastIndexOf('/') + 1, pPage.length) + '';zhtm += ' ';figDoc.write(zhtm);figDoc.close();}// modified 3.1.99 RWE v4.1 --> Introduction IntroductionWelcome to theNetwork+ Exam Cram. This book is designed to prepare you to take--and pass--the CompTIA Network+ exam. The Network+ exam has become the leading introductory-level network certification available today. It is recognized by both employers and industry giants (such as Microsoft and Novell) as providing candidates with a solid foundation of networking concepts, terminology, and skills. The Network+ exam covers a broad range of networking concepts to prepare candidates for those technologies they are likely to be working with in today's network environments. About Network+ Exam CramExam Cramsare specifically designed to give you the "what-you-need-to-know" information to prepare for the Network+ exam. They cut through the extra information, focusing on the areas you need to get through the exam. With this in mind, the elements within theExam Cramtitles are aimed directly at providing the exam information you need in the most succinct and accessible manner.In this light, this book is organized to closely follow the actual CompTIA objectives. As such, it is easy to find the information required for each of the specified CompTIA Network+ objectives. The objective focus design used by this Exam Cram is an important feature because the information you need to know is easily identifiable and accessible. To see what we mean, compare the CompTIA objectives to the book's layout, and you will see that the facts are right where you would expect them to be.Within the chapters themselves, potential exam hotspots are clearly highlighted withExam Alerts. Exam Alerts have been carefully placed to let you know that the surrounding discussion is an important area for the exam. To further help you prepare for the exam, a Cram Sheet is included that can be used in the final stages of test preparation. Be sure to pay close attention to the bulleted points provided in the Cram Sheet, as they pinpoint the technologies and facts you are likely going to encounter on the test.Finally, great effort has go