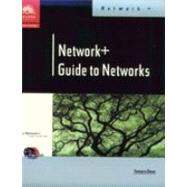 Network + Guide to Networks
by
DEAN
Related Products
Summary
Network+ Guide to Networks, Fourth Edition is designed to prepare users for CompTIA's newly-revised 2005 Network+ certification exam and will also offer mapping features to the exam objectives.
Table of Contents
An Introduction to Networking
Networking Standards and the OSI Model
Transmission Basics and Networking Media
Network Protocols
Networking Hardware
Topologies and Access Methods
WANs, Internet Access, and Remote Connectivity
Network Operating Systems and Windows Server 2003?Based Networking
Networking with UNIX-type of Operating Systems
NetWare-Based Networking
In-Depth TCP/IP Networking
Troubleshooting Network Problems
Ensuring Integrity and Availability
Network Security
Implementing and Managing Networks
Appendices
Network+ Examination Objectives
Network+ Practice Exam
Visual Guide to Connectors
Standard Networking Forms CoursePrep Exam
Guide for Network+
Table of Contents provided by Publisher. All Rights Reserved.