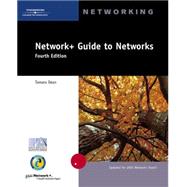 Network+ Guide To Networks
by
DEAN
Questions About This Book?
What version or edition is this?
This is the 4th edition with a publication date of 4/4/2005.
What is included with this book?
The Used copy of this book is not guaranteed to include any supplemental materials. Typically, only the book itself is included.
Summary
Network+ Guide to Networks, Fourth Edition is designed to prepare users for CompTIA's newly-revised 2005 Network+ certification exam and will also offer mapping features to the exam objectives.
Table of Contents
Preface
xv

| | |
| --- | --- |
| | An Introduction to Networking |

1
(38)
2
(1)
2
(6)
2
(2)
4
(2)
6
(2)

| | |
| --- | --- |
| | Elements Common to Client/Server Networks |

8
(4)
12
(4)
12
(1)
13
(1)
13
(1)
14
(1)
14
(2)

| | |
| --- | --- |
| | Becoming a Networking Professional |

16
(5)

| | |
| --- | --- |
| | Mastering the Technical Challenges |

16
(1)

| | |
| --- | --- |
| | Developing Your ``Soft Skills'' |

17
(2)
19
(1)

| | |
| --- | --- |
| | Finding a Job in Networking |

20
(1)

| | |
| --- | --- |
| | Joining Professional Associations |

21
(1)
21
(2)
23
(4)
27
(3)
30
(6)
36
(3)

| | |
| --- | --- |
| | Networking Standards and the OSI Model |

39
(36)

| | |
| --- | --- |
| | Networking Standards Organizations |

40
(4)
41
(1)
41
(1)
42
(1)
42
(1)
42
(1)
43
(1)
43
(1)
44
(12)
46
(1)
47
(1)
47
(1)
48
(2)
50
(2)
52
(3)
55
(1)
56
(3)

| | |
| --- | --- |
| | Communication Between Two Systems |

56
(2)
58
(1)

| | |
| --- | --- |
| | IEEE Networking Specifications |

59
(1)
60
(2)
62
(5)
67
(3)
70
(4)
74
(1)

| | |
| --- | --- |
| | Transmission Basics and Networking Media |

75
(80)
76
(16)

| | |
| --- | --- |
| | Analog and Digital Signaling |

76
(5)
81
(1)
82
(4)

| | |
| --- | --- |
| | Relationships Between Nodes |

86
(1)
87
(1)
88
(1)
89
(3)

| | |
| --- | --- |
| | Common Media Characteristics |

92
(3)
92
(1)
92
(1)
93
(1)

| | |
| --- | --- |
| | Connectors and Media Converters |

94
(1)
95
(1)
95
(3)
98
(8)

| | |
| --- | --- |
| | STP (Shielded Twisted-Pair) |

99
(1)

| | |
| --- | --- |
| | UTP (Unshielded Twisted-Pair) |

99
(3)
102
(1)
103
(1)

| | |
| --- | --- |
| | 100BASE-T (Fast Ethernet) |

104
(2)

| | |
| --- | --- |
| | 1000BASE-T (Gigabit Ethernet over Twisted-Pair) |

106
(1)

| | |
| --- | --- |
| | 1000BASE-CX (Gigabit Ethernet over Twinax) |

106
(1)
106
(7)
107
(1)
108
(2)
110
(1)
111
(1)
111
(1)
111
(1)

| | |
| --- | --- |
| | 10-Gigabit Fiber-Optic Standards |

112
(1)

| | |
| --- | --- |
| | Summary of Physical Layer Standards |

113
(1)

| | |
| --- | --- |
| | Cable Design and Management |

114
(4)
118
(5)
123
(9)
123
(1)

| | |
| --- | --- |
| | Characteristics of Wireless Transmission |

123
(6)
129
(1)

| | |
| --- | --- |
| | Wireless LAN (WLAN) Architecture |

129
(3)
132
(3)
135
(10)
145
(4)
149
(4)
153
(2)
155
(66)

| | |
| --- | --- |
| | Introduction to Protocols |

156
(1)

| | |
| --- | --- |
| | TCP/IP (Transmission Control Protocol/Internet Protocol) |

156
(38)

| | |
| --- | --- |
| | The TCP/IP Core Protocols |

157
(10)
167
(5)
172
(5)
177
(2)
179
(2)

| | |
| --- | --- |
| | Host Names and DNS (Domain Name System) |

181
(8)

| | |
| --- | --- |
| | Some TCP/IP Application Layer Protocols |

189
(5)

| | |
| --- | --- |
| | IPX/SPX (Internetwork Packet Exchange/Sequenced Packet Exchange) |

194
(2)

| | |
| --- | --- |
| | The IPX and SPX Protocols |

195
(1)
195
(1)
196
(2)
197
(1)

| | |
| --- | --- |
| | WINS (Windows Internet Naming Service) |

197
(1)
198
(1)

| | |
| --- | --- |
| | Binding Protocols on a Windows XP Workstation |

198
(2)
200
(3)
203
(6)
209
(5)
214
(5)
219
(2)
221
(64)

| | |
| --- | --- |
| | NICs (Network Interface Cards) |

222
(21)
222
(9)
231
(12)
243
(3)
246
(3)
249
(7)
250
(2)
252
(1)
253
(1)

| | |
| --- | --- |
| | Using Switches to Create VLANs |

253
(2)
255
(1)
256
(5)

| | |
| --- | --- |
| | Router Features and Functions |

256
(3)

| | |
| --- | --- |
| | Routing Protocols: RIP, OSPF, EIGRP, and BGP |

259
(2)
261
(1)
261
(1)
262
(3)
265
(5)
270
(6)
276
(6)
282
(3)

| | |
| --- | --- |
| | Topologies and Access Methods |

285
(56)

| | |
| --- | --- |
| | Simple Physical Topologies |

286
(4)
286
(2)
288
(1)
288
(2)

| | |
| --- | --- |
| | Hybrid Physical Topologies |

290
(2)
290
(1)
291
(1)
292
(4)
292
(1)
293
(1)
294
(1)
295
(1)
296
(1)
297
(2)
297
(1)
298
(1)
298
(1)
299
(6)

| | |
| --- | --- |
| | CSMA/CD (Carrier Sense Multiple Access with Collision Detection) |

299
(2)
301
(1)
301
(3)

| | |
| --- | --- |
| | PoE (Power over Ethernet) |

304
(1)
305
(2)

| | |
| --- | --- |
| | FDDI (Fiber Distributed Data Interface) |

307
(1)

| | |
| --- | --- |
| | ATM (Asynchronous Transfer Mode) |

308
(2)
310
(11)
310
(5)
315
(4)
319
(2)
321
(2)
323
(5)
328
(5)
333
(6)
339
(2)

| | |
| --- | --- |
| | WANs, Internet Access, and Remote Connectivity |

341
(74)
342
(2)
344
(5)
344
(1)
345
(1)
345
(1)
346
(1)
347
(2)
349
(4)
353
(2)
355
(2)
357
(5)
358
(2)
360
(2)
362
(5)
363
(1)
364
(3)
367
(2)

| | |
| --- | --- |
| | SONET (Synchronous Optical Network) |

369
(3)

| | |
| --- | --- |
| | Wireless WANs and Internet Access |

372
(6)

| | |
| --- | --- |
| | IEEE 802.11 Internet Access |

372
(2)

| | |
| --- | --- |
| | IEEE 802.16 (WiMAX) Internet Access |

374
(1)

| | |
| --- | --- |
| | Satellite Internet Access |

374
(4)

| | |
| --- | --- |
| | WAN Technologies Compared |

378
(1)
379
(9)
380
(1)
381
(1)
382
(1)
383
(3)
386
(1)
387
(1)

| | |
| --- | --- |
| | (VPNs) Virtual Private Networks |

388
(2)
390
(4)
394
(8)
402
(5)
407
(6)
413
(2)

| | |
| --- | --- |
| | Network Operating Systems and Windows Server 2003-Based Networking |

415
(70)

| | |
| --- | --- |
| | Introduction to Network Operating Systems |

416
(3)

| | |
| --- | --- |
| | Selecting a Network Operating System |

417
(1)

| | |
| --- | --- |
| | Network Operating Systems and Servers |

418
(1)

| | |
| --- | --- |
| | Network Operating System Services and Features |

419
(16)
419
(5)

| | |
| --- | --- |
| | Identifying and Organizing Network Elements |

424
(4)
428
(2)
430
(2)

| | |
| --- | --- |
| | Managing System Resources |

432
(3)

| | |
| --- | --- |
| | Introduction to Windows Server 2003 |

435
(2)

| | |
| --- | --- |
| | Windows Server 2003 Hardware Requirements |

437
(1)

| | |
| --- | --- |
| | A Closer Look at Windows Server 2003 |

438
(14)

| | |
| --- | --- |
| | Windows Server 2003 Memory Model |

438
(1)

| | |
| --- | --- |
| | Windows Server 2003 File Systems |

439
(3)

| | |
| --- | --- |
| | MMC (Microsoft Management Console) |

442
(2)
444
(8)

| | |
| --- | --- |
| | Planning for Installation |

452
(3)

| | |
| --- | --- |
| | Installing and Configuring a Windows Server 2003 Server |

455
(8)
455
(2)
457
(2)

| | |
| --- | --- |
| | Establishing Users and Groups |

459
(4)

| | |
| --- | --- |
| | Internetworking with Other Network Operating Systems |

463
(1)
464
(2)
466
(6)
472
(6)
478
(4)
482
(3)

| | |
| --- | --- |
| | Networking with UNIX-Type of Operating Systems |

485
(42)
486
(1)
487
(3)
488
(1)
489
(1)
490
(1)

| | |
| --- | --- |
| | UNIX Server Hardware Requirements |

491
(2)

| | |
| --- | --- |
| | Solaris Hardware Requirements |

491
(1)

| | |
| --- | --- |
| | Linux Hardware Requirements |

492
(1)

| | |
| --- | --- |
| | Mac OS X Server Hardware Requirements |

493
(1)
493
(4)
494
(1)
494
(1)
495
(1)

| | |
| --- | --- |
| | UNIX System File and Directory Structure |

495
(1)

| | |
| --- | --- |
| | UNIX System File Services |

496
(1)
497
(5)
502
(2)

| | |
| --- | --- |
| | Planning a Linux Installation |

502
(1)

| | |
| --- | --- |
| | Installing and Configuring Fedora Core |

503
(1)

| | |
| --- | --- |
| | Administering a UNIX-Type of Server |

504
(8)

| | |
| --- | --- |
| | Establishing Groups and Users on Linux and Solaris |

504
(2)

| | |
| --- | --- |
| | Establishing Groups and Users on Mac OS X Server |

506
(2)

| | |
| --- | --- |
| | Changing File Access Permissions |

508
(2)

| | |
| --- | --- |
| | Connecting to UNIX-Type of Servers |

510
(2)
512
(3)
515
(2)
517
(5)
522
(2)
524
(3)
527
(38)
528
(2)

| | |
| --- | --- |
| | NetWare Server Hardware Requirements |

530
(2)

| | |
| --- | --- |
| | A Closer Look at the NetWare 6.5 Operating System |

532
(8)

| | |
| --- | --- |
| | NetWare Integrated Kernel |

532
(2)
534
(2)
536
(4)

| | |
| --- | --- |
| | Planning for Installation |

540
(2)

| | |
| --- | --- |
| | Installing and Configuring a NetWare 6.5 Server |

542
(5)
542
(2)

| | |
| --- | --- |
| | Establishing Users and Groups |

544
(3)
547
(3)

| | |
| --- | --- |
| | Traditional Client Access |

547
(1)
548
(1)
549
(1)

| | |
| --- | --- |
| | Internetworking with Other Operating Systems |

550
(1)
551
(2)
553
(2)
555
(5)
560
(3)
563
(2)

| | |
| --- | --- |
| | In-Depth TCP/IP Networking |

565
(52)

| | |
| --- | --- |
| | Designing TCP/IP-Based Networks |

566
(16)
566
(9)

| | |
| --- | --- |
| | CIDR (Classless Interdomain Routing) |

575
(2)
577
(1)

| | |
| --- | --- |
| | NAT (Network Address Translation) |

578
(2)

| | |
| --- | --- |
| | ICS (Internet Connection Sharing) |

580
(2)
582
(1)
582
(3)

| | |
| --- | --- |
| | SMTP (Simple Mail Transfer Protocol) |

583
(1)

| | |
| --- | --- |
| | MIME (Multipurpose Internet Mail Extensions) |

583
(1)

| | |
| --- | --- |
| | POP (Post Office Protocol) |

584
(1)

| | |
| --- | --- |
| | IMAP (Internet Message Access Protocol) |

584
(1)

| | |
| --- | --- |
| | Additional TCP/IP Utilities |

585
(10)
586
(2)
588
(1)
588
(1)
589
(1)
590
(1)
591
(1)
592
(1)
593
(1)
594
(1)
595
(4)
599
(3)
602
(3)
605
(5)
610
(5)
615
(2)

| | |
| --- | --- |
| | Troubleshooting Network Problems |

617
(50)

| | |
| --- | --- |
| | Troubleshooting Methodology |

618
(22)

| | |
| --- | --- |
| | Identify the Symptoms and Potential Causes |

619
(1)

| | |
| --- | --- |
| | Identify the Affected Area |

620
(4)

| | |
| --- | --- |
| | Establish What Has Changed |

624
(2)

| | |
| --- | --- |
| | Select the Most Probable Cause |

626
(6)

| | |
| --- | --- |
| | Implement an Action Plan and Solution Including Potential Effects |

632
(3)
635
(1)

| | |
| --- | --- |
| | Identify the Results and Effects of the Solution |

636
(1)

| | |
| --- | --- |
| | Document the Solution and Process |

637
(3)

| | |
| --- | --- |
| | Help to Prevent Future Problems |

640
(1)
640
(13)
641
(1)

| | |
| --- | --- |
| | Tone Generator and Tone Locator |

641
(1)
642
(2)
644
(1)

| | |
| --- | --- |
| | Cable Performance Testers |

645
(2)
647
(2)
649
(2)
651
(2)
653
(2)
655
(2)
657
(4)
661
(3)
664
(3)

| | |
| --- | --- |
| | Ensuring Integrity and Availability |

667
(56)

| | |
| --- | --- |
| | What Are Integrity and Availability? |

668
(2)
670
(8)
671
(2)
673
(1)
674
(3)
677
(1)
678
(19)
678
(1)
679
(4)

| | |
| --- | --- |
| | Topology and Connectivity |

683
(4)
687
(2)
689
(8)
697
(6)
697
(3)
700
(3)
703
(2)

| | |
| --- | --- |
| | Disaster Recovery Planning |

703
(1)

| | |
| --- | --- |
| | Disaster Recovery Contingencies |

704
(1)
705
(3)
708
(5)
713
(5)
718
(3)
721
(2)
723
(60)
724
(1)
725
(5)

| | |
| --- | --- |
| | Risks Associated with People |

725
(2)

| | |
| --- | --- |
| | Risks Associated with Transmission and Hardware |

727
(1)

| | |
| --- | --- |
| | Risks Associated with Protocols and Software |

728
(1)

| | |
| --- | --- |
| | Risks Associated with Internet Access |

729
(1)

| | |
| --- | --- |
| | An Effective Security Policy |

730
(3)
730
(1)
731
(1)
732
(1)
733
(2)

| | |
| --- | --- |
| | Security in Network Design |

735
(6)
735
(4)
739
(1)
740
(1)

| | |
| --- | --- |
| | Network Operating System Security |

741
(2)
742
(1)
742
(1)
743
(9)
744
(4)

| | |
| --- | --- |
| | PGP (Pretty Good Privacy) |

748
(1)

| | |
| --- | --- |
| | SSL (Secure Sockets Layer) |

749
(1)
750
(1)

| | |
| --- | --- |
| | SCP (Secure CoPy) and SFTP (Secure File Transfer Protocol) |

751
(1)

| | |
| --- | --- |
| | IPSec (Internet Protocol Security) |

751
(1)
752
(6)
752
(1)

| | |
| --- | --- |
| | PAP (Password Authentication Protocol) |

753
(1)
754
(2)

| | |
| --- | --- |
| | EAP (Extensible Authentication Protocol) |

756
(1)
757
(1)

| | |
| --- | --- |
| | Wireless Network Security |

758
(3)

| | |
| --- | --- |
| | WEP (Wired Equivalent Privacy) |

759
(1)

| | |
| --- | --- |
| | IEEE 802.11i and WPA (Wi-Fi Protected Access) |

760
(1)
761
(2)
763
(7)
770
(5)
775
(5)
780
(3)

| | |
| --- | --- |
| | Implementing and Managing Networks |

783
(44)
784
(10)

| | |
| --- | --- |
| | Determining Project Feasibility |

786
(1)
787
(1)
788
(1)
789
(4)
793
(1)
794
(6)

| | |
| --- | --- |
| | Obtaining Baseline Measurements |

794
(2)

| | |
| --- | --- |
| | Performance and Fault Management |

796
(3)
799
(1)
800
(8)
801
(2)
803
(1)

| | |
| --- | --- |
| | Shared Application Upgrades |

804
(1)

| | |
| --- | --- |
| | Network Operating System Upgrades |

805
(3)

| | |
| --- | --- |
| | Reversing a Software Upgrade |

808
(1)

| | |
| --- | --- |
| | Hardware and Physical Plant Changes |

808
(6)

| | |
| --- | --- |
| | Adding or Upgrading Equipment |

809
(2)
811
(1)
812
(1)

| | |
| --- | --- |
| | Reversing Hardware Changes |

813
(1)
814
(2)
816
(2)
818
(4)
822
(4)
826
(1)

| | |
| --- | --- |
| | APPENDIX A Network+ Examination Objectives |

827
(8)

| | |
| --- | --- |
| | Domain 1.0 Media and Topologies -- 20% of Examination |

828
(1)

| | |
| --- | --- |
| | Domain 2.0 Protocols and Standards -- 20% of Examination |

829
(3)

| | |
| --- | --- |
| | Domain 3.0 Network Implementation -- 25% of Examination |

832
(1)

| | |
| --- | --- |
| | Domain 4.0 Network Support -- 35% of Examination |

833
(2)

| | |
| --- | --- |
| | APPENDIX B Network+ Practice Exam |

835
(26)

| | |
| --- | --- |
| | APPENDIX C Visual Guide to Connectors |

861
(4)

| | |
| --- | --- |
| | APPENDIX D Standard Networking Forms |

865
(8)
Glossary
873
(56)
Index
929