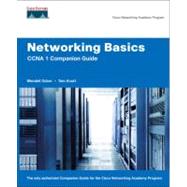 Questions About This Book?
What version or edition is this?
This is the 1st edition with a publication date of 1/1/2006.
What is included with this book?
The Used copy of this book is not guaranteed to include any supplemental materials. Typically, only the book itself is included.
Related Products
Summary
The completely revised and only authorized textbook for the Cisco Networking Academy Program CCNA 1 curriculum.
Author Biography
Wendell Odom, CCIE No. 1624, is a senior instructor with Skyline Advanced Technology Services, where he teaches QOS, CCIE, and CCNA courses Tom Knott is the Cisco Networking Academy instructor and regional instructor at Southeast Raleigh Magnet High School in North Carolina
Table of Contents
Introduction
xxii

| | |
| --- | --- |
| | Introduction to Networking |

1
(68)
1
(1)
1
(2)

| | |
| --- | --- |
| | Connecting to Networks and the Internet |

3
(42)
3
(1)

| | |
| --- | --- |
| | A Small Network: Two PCs and One Cable |

4
(1)

| | |
| --- | --- |
| | A Very Large Network: The Internet |

4
(3)

| | |
| --- | --- |
| | Perspectives on Networks of Different Sizes |

7
(1)
7
(1)
7
(6)
13
(3)
16
(1)
17
(2)

| | |
| --- | --- |
| | Enterprise Networks and Home Internet Access |

19
(1)

| | |
| --- | --- |
| | Enterprise Network Basics |

19
(2)

| | |
| --- | --- |
| | Accessing an ISP Through a Phone Line and an Analog Modem |

21
(2)

| | |
| --- | --- |
| | Accessing an ISP Through a Phone Line and a DSL Modem |

23
(1)

| | |
| --- | --- |
| | Accessing an ISP Through a Cable TV Cable and a Cable Modem |

24
(1)

| | |
| --- | --- |
| | TCP/IP Protocol Suite and TCP/IP Software |

25
(1)

| | |
| --- | --- |
| | Networking Standards, Protocols, and the TCP/IP Protocol Suite |

25
(1)

| | |
| --- | --- |
| | Using HTTP to Download a Web Page |

26
(2)
28
(1)

| | |
| --- | --- |
| | TCP/IP Transport Layer and the TCP Protocol |

29
(1)

| | |
| --- | --- |
| | TCP/IP Internet Layer and the Internet Protocol |

30
(4)

| | |
| --- | --- |
| | Troubleshooting Basics for IP |

34
(4)
38
(7)
45
(1)
45
(18)
45
(1)

| | |
| --- | --- |
| | Names and Abbreviations for Large Numbers of Bits and Bytes |

45
(1)

| | |
| --- | --- |
| | Names for the Rate at Which a Network Sends Data |

46
(1)
47
(1)

| | |
| --- | --- |
| | Decimal Numbering System: Base 10 |

48
(1)

| | |
| --- | --- |
| | Binary Numbering System: Base 2 |

49
(1)

| | |
| --- | --- |
| | Converting From 8-Bit Binary Numbers to Decimal Numbers |

49
(2)

| | |
| --- | --- |
| | Converting from Decimal Numbers to 8-Bit Binary Numbers |

51
(1)

| | |
| --- | --- |
| | Generic Decimal-to-8-Bit-Binary Conversion Process |

51
(1)

| | |
| --- | --- |
| | Example 1 of the Generic Conversion Process: Decimal 235 |

52
(2)

| | |
| --- | --- |
| | Alternative Decimal-to-Binary Conversion Process |

54
(2)

| | |
| --- | --- |
| | Example 2 of the Generic Conversion Process: Decimal 192 |

56
(1)

| | |
| --- | --- |
| | Converting IP Addresses Between Decimal and Binary |

56
(1)

| | |
| --- | --- |
| | Converting Decimal IP Addresses to Binary IP Addresses |

57
(1)

| | |
| --- | --- |
| | Converting Binary IP Addresses to Decimal IP Addresses |

57
(1)
58
(1)

| | |
| --- | --- |
| | Hexadecimal Numbering System: Base 16 |

59
(1)
60
(1)
61
(1)

| | |
| --- | --- |
| | Using Boolean Math with Subnets |

62
(1)
63
(1)
64
(3)

| | |
| --- | --- |
| | Challenge Questions and Activities |

67
(2)
69
(54)
69
(1)
69
(2)

| | |
| --- | --- |
| | Networking Basics and Terminology |

71
(26)

| | |
| --- | --- |
| | A Brief History of the Networking Universe |

71
(2)

| | |
| --- | --- |
| | The Need for Networking Protocols and Standards |

73
(1)

| | |
| --- | --- |
| | Ethernet LANs and LAN Devices |

74
(1)
75
(1)

| | |
| --- | --- |
| | Ethernet Hubs and 10BASE-T |

76
(2)
78
(2)
80
(1)

| | |
| --- | --- |
| | Unicast and Broadcast Ethernet Frames and Addresses |

81
(1)
82
(1)
83
(1)

| | |
| --- | --- |
| | Point-to-Point Leased Lines |

83
(2)

| | |
| --- | --- |
| | Routers and Their Use with WANs |

85
(1)
85
(1)
85
(1)
86
(1)
87
(2)
89
(1)

| | |
| --- | --- |
| | Comparing Intranet VPNs to Extranet and Access VPNs |

90
(1)
91
(1)

| | |
| --- | --- |
| | Physical Bus, Physical Star, and Logical Bus Topologies |

91
(3)
94
(1)

| | |
| --- | --- |
| | Hierarchical and Extended Star Physical Topologies |

95
(1)
95
(2)
97
(8)
97
(1)
97
(1)
98
(2)

| | |
| --- | --- |
| | Throughput Versus Bandwidth |

100
(2)

| | |
| --- | --- |
| | Calculating Data Transfer Time |

102
(1)
103
(1)
104
(1)

| | |
| --- | --- |
| | The OSI and TCP/IP Networking Models |

105
(10)
106
(1)
107
(1)

| | |
| --- | --- |
| | Functions of the OSI Layers |

108
(2)
110
(1)
111
(1)

| | |
| --- | --- |
| | Segments, Packets, Frames, and PDUs |

112
(1)
113
(1)
114
(1)
115
(3)
118
(5)
123
(42)
123
(1)

| | |
| --- | --- |
| | Additional Topics of Interest |

123
(1)
124
(1)
125
(21)

| | |
| --- | --- |
| | Digital Transmission Using Copper Wires |

125
(1)

| | |
| --- | --- |
| | The Chemistry Behind Electricity: Atoms and Electrons |

126
(3)

| | |
| --- | --- |
| | Insulators, Conductors, and Semiconductors |

129
(1)

| | |
| --- | --- |
| | Electromagnetic Force (Voltage) |

130
(1)
130
(2)

| | |
| --- | --- |
| | Resistance, Impedance, and Attenuation |

132
(1)
133
(1)

| | |
| --- | --- |
| | Popular LAN Copper Cabling |

134
(2)
136
(1)
137
(2)
139
(7)
146
(6)

| | |
| --- | --- |
| | Comparing Fiber-Optic Cabling and Copper Cabling |

146
(1)
147
(2)
149
(1)

| | |
| --- | --- |
| | Using Two Fibers---One for Each Direction |

150
(1)

| | |
| --- | --- |
| | Fiber-Optic Cable Components |

150
(1)

| | |
| --- | --- |
| | Multimode and Single-Mode Fiber |

151
(1)
152
(5)

| | |
| --- | --- |
| | Enterprise WLAN Components and Design |

153
(2)

| | |
| --- | --- |
| | WLAN Organization and Standards |

155
(2)
157
(2)
159
(3)

| | |
| --- | --- |
| | Challenge Questions and Activities |

162
(3)
165
(22)
165
(1)

| | |
| --- | --- |
| | Additional Topics of Interest |

165
(1)
166
(1)

| | |
| --- | --- |
| | Frequency-Based Cable Testing |

167
(4)
167
(1)

| | |
| --- | --- |
| | Sine Waves and Square Waves |

168
(1)

| | |
| --- | --- |
| | Analog and Digital Signals |

169
(1)

| | |
| --- | --- |
| | Simple and Complex Analog Signals |

169
(1)

| | |
| --- | --- |
| | Creating Digital Signals from Analog Signals |

170
(1)
171
(12)

| | |
| --- | --- |
| | Signaling over Copper and Fiber-Optic Cabling |

172
(1)

| | |
| --- | --- |
| | Copper Cabling Transmission Basics |

172
(2)

| | |
| --- | --- |
| | Optical Cabling Transmission Basics |

174
(1)

| | |
| --- | --- |
| | Attenuation and Insertion Loss on Copper Media |

175
(1)

| | |
| --- | --- |
| | Sources of Noise on Copper Media |

176
(2)
178
(2)
180
(3)
183
(2)
185
(2)
187
(48)
187
(1)

| | |
| --- | --- |
| | Additional Topics of Interest |

187
(1)
187
(2)
189
(27)
189
(1)

| | |
| --- | --- |
| | Ethernet LAN Physical Layer |

190
(1)

| | |
| --- | --- |
| | Choosing Ethernet Types (Speeds) in the Campus |

191
(3)

| | |
| --- | --- |
| | Ethernet LAN Media and Connectors |

194
(2)

| | |
| --- | --- |
| | Picking UTP Cable Pinouts |

196
(4)

| | |
| --- | --- |
| | Connecting Ethernet Networking Devices |

200
(1)
200
(1)
201
(2)
203
(3)
206
(3)

| | |
| --- | --- |
| | Wireless Communications and Wireless Access Points |

209
(2)
211
(1)

| | |
| --- | --- |
| | Using the LAN: Models for PC Communications |

212
(1)
213
(2)
215
(1)
216
(11)

| | |
| --- | --- |
| | WAN Physical and Data Link Layers |

217
(1)
217
(3)
220
(1)
221
(1)

| | |
| --- | --- |
| | Choosing DCE and DTE Cables |

222
(2)

| | |
| --- | --- |
| | Fixed and Modular Routers |

224
(1)
225
(2)
227
(2)
229
(3)

| | |
| --- | --- |
| | Challenge Questions and Activities |

232
(3)
235
(32)
235
(1)

| | |
| --- | --- |
| | Additional Topics of Interest |

235
(1)
235
(2)
237
(14)
237
(1)

| | |
| --- | --- |
| | The Names of Different IEEE Ethernet Types |

238
(2)

| | |
| --- | --- |
| | IEEE Ethernet Standards and the OSI Model |

240
(1)
240
(1)

| | |
| --- | --- |
| | The IEEE 802.2 Logical Link Control Standard |

240
(1)

| | |
| --- | --- |
| | Comparing Ethernet Standards to the OSI Model |

241
(1)
242
(1)

| | |
| --- | --- |
| | Encapsulating Packets Inside Ethernet Frames |

243
(1)

| | |
| --- | --- |
| | The Fields in the IEEE 802.3 Frame |

244
(2)

| | |
| --- | --- |
| | DIX Framing and IEEE Framing |

246
(1)

| | |
| --- | --- |
| | The Format of MAC Addresses |

247
(1)

| | |
| --- | --- |
| | Sending Frames over Different Types of Ethernet |

247
(1)

| | |
| --- | --- |
| | LLC, SNAP, and Determining the Type of Protocol |

248
(1)

| | |
| --- | --- |
| | Additional Background on IEEE 802.2 Logical Link Control |

249
(1)
250
(1)

| | |
| --- | --- |
| | The DIX and IEEE Type Field |

250
(1)
251
(9)

| | |
| --- | --- |
| | Rules Governing When a Device Can Transmit: CSMA/CD |

251
(1)
252
(1)

| | |
| --- | --- |
| | CSMA/CD and Collisions on 10BASE-T LANs with Hubs |

253
(1)

| | |
| --- | --- |
| | Full Duplex, Half Duplex, and Collision Domains |

254
(1)

| | |
| --- | --- |
| | Preventing Collisions with Switch Buffering |

255
(1)

| | |
| --- | --- |
| | Collision Domains and Full Duplex |

256
(1)

| | |
| --- | --- |
| | Autonegotiation of Duplex and Speed |

257
(2)

| | |
| --- | --- |
| | Deterministic and Nondeterministic Media Access |

259
(1)
260
(2)
262
(3)

| | |
| --- | --- |
| | Challenge Questions and Activities |

265
(2)
267
(28)
267
(1)

| | |
| --- | --- |
| | Additional Topics of Interest |

267
(1)
267
(2)

| | |
| --- | --- |
| | 10- and 100-Mbps Ethernet |

269
(13)
269
(3)
272
(1)
272
(3)

| | |
| --- | --- |
| | 10BASE-T Design: Using Hubs, CSMA/CD, and Half Duplex |

275
(1)

| | |
| --- | --- |
| | 10BASE-T Design: Using Switches |

276
(2)
278
(1)
278
(2)

| | |
| --- | --- |
| | Designing Ethernets with Two Speeds |

280
(1)
281
(1)

| | |
| --- | --- |
| | Gigabit Ethernet and Beyond |

282
(8)
283
(3)
286
(2)
288
(2)
290
(2)
292
(2)

| | |
| --- | --- |
| | Challenge Questions and Activities |

294
(1)
295
(42)
295
(1)
295
(2)

| | |
| --- | --- |
| | Ethernet Switch Operations |

297
(20)

| | |
| --- | --- |
| | Layer 2 Bridging and Switching Operations |

297
(1)

| | |
| --- | --- |
| | The Forwarding and Filtering Decision |

298
(3)

| | |
| --- | --- |
| | Learning CAM Table Entries and Flooding Unknown Unicasts |

301
(3)

| | |
| --- | --- |
| | Handling Unknown Unicasts |

304
(1)

| | |
| --- | --- |
| | Forwarding Broadcasts and Multicasts |

304
(2)
306
(1)

| | |
| --- | --- |
| | Switch Internal Processing |

307
(1)
307
(1)

| | |
| --- | --- |
| | Store-and-Forward Switching |

308
(1)
309
(1)
309
(1)

| | |
| --- | --- |
| | Comparing the Internal Processing Paths |

310
(1)
310
(2)
312
(1)
313
(1)

| | |
| --- | --- |
| | Changing the CAM with the Listening and Learning States |

314
(3)

| | |
| --- | --- |
| | LAN Design: Collision Domains and Broadcast Domains |

317
(14)
318
(1)

| | |
| --- | --- |
| | Large/Long Collision Domains |

319
(2)

| | |
| --- | --- |
| | Creating Many Small Collision Domains |

321
(2)

| | |
| --- | --- |
| | How Switches and Bridges Prevent Collisions |

323
(2)

| | |
| --- | --- |
| | Layer 2 Broadcast Domains |

325
(1)

| | |
| --- | --- |
| | Performance Impact of Broadcast and Broadcast Domains |

326
(1)

| | |
| --- | --- |
| | The Impact of Broadcasts and Multicasts Today |

327
(1)

| | |
| --- | --- |
| | Identifying Networking Devices by OSI Layer |

328
(1)

| | |
| --- | --- |
| | Data Flow Using Layer 1, Layer 2, and Layer 3 Devices |

329
(2)

| | |
| --- | --- |
| | The Ambiguous Term Segment |

331
(1)
331
(2)
333
(3)

| | |
| --- | --- |
| | Challenge Questions and Activities |

336
(1)

| | |
| --- | --- |
| | TCP/IP Protocol Suite and IP Addressing |

337
(54)
337
(1)

| | |
| --- | --- |
| | Additional Topics of Interest |

337
(1)
337
(2)
339
(14)

| | |
| --- | --- |
| | TCP/IP Network Access (Network Interface) Layer |

340
(1)
341
(1)

| | |
| --- | --- |
| | Core Protocols of the Internet Layer |

341
(1)
342
(1)
343
(1)

| | |
| --- | --- |
| | How IP Routing Uses IP Addresses |

344
(1)
345
(2)
347
(2)

| | |
| --- | --- |
| | Perspectives on the TCP/IP and OSI Models |

349
(1)

| | |
| --- | --- |
| | Perspectives on the Different TCP/IP Layers |

350
(1)

| | |
| --- | --- |
| | TCP/IP Internetworks and the Network Layer Perspective |

350
(2)

| | |
| --- | --- |
| | Network-Centric and Host-Centric Views of Networking Models |

352
(1)

| | |
| --- | --- |
| | IP Addressing Fundamentals |

353
(20)

| | |
| --- | --- |
| | Basic Facts About IP Addresses |

353
(1)

| | |
| --- | --- |
| | Address Assignment and Address Classes |

353
(2)

| | |
| --- | --- |
| | Three Key Rules for IP Address Assignment on LANs |

355
(1)

| | |
| --- | --- |
| | Defining Class A, B, and C IP Networks |

356
(2)

| | |
| --- | --- |
| | Analyzing the Structure of IP Addresses |

358
(1)

| | |
| --- | --- |
| | Other Address Classes and the Entire IPv4 Address Space |

359
(2)

| | |
| --- | --- |
| | IP Network Number and the Broadcast Address |

361
(1)
362
(1)
362
(1)

| | |
| --- | --- |
| | Calculating the Number of Hosts per Network |

363
(1)

| | |
| --- | --- |
| | Number of Class A, B, and C Networks |

363
(1)

| | |
| --- | --- |
| | Converting from Decimal to Binary: Large Numbers |

364
(1)
364
(1)

| | |
| --- | --- |
| | A Simple Subnetting Example |

365
(1)

| | |
| --- | --- |
| | Differing Views of the Format of Subnetted IP Addresses |

366
(1)
367
(1)

| | |
| --- | --- |
| | Ensuring Unique IP Addresses Throughout the Internet |

368
(1)

| | |
| --- | --- |
| | Original Internet Design: Unique Network Numbers for Each Enterprise Network |

369
(1)

| | |
| --- | --- |
| | The Problem of IPv4 Address Depletion |

370
(1)

| | |
| --- | --- |
| | One Short-Term Solution: NAT and Private IP Networks |

371
(1)
372
(1)

| | |
| --- | --- |
| | Long-Term Solution: IP Version 6 (IPv6) |

372
(1)

| | |
| --- | --- |
| | Assigning and Mapping IP Addresses |

373
(11)

| | |
| --- | --- |
| | Static IP Address Configuration |

373
(2)

| | |
| --- | --- |
| | Dynamic IP Address Configuration Using DHCP |

375
(2)

| | |
| --- | --- |
| | Comparing Static and DHCP Address Assignment |

377
(1)

| | |
| --- | --- |
| | Using ARP and Proxy ARP on LANs |

378
(1)

| | |
| --- | --- |
| | Using IP ARP on a Single LAN |

378
(2)

| | |
| --- | --- |
| | Using IP ARP in Larger Networks |

380
(3)
383
(1)
384
(2)
386
(3)

| | |
| --- | --- |
| | Challenge Questions and Activities |

389
(2)

| | |
| --- | --- |
| | Routing Fundamentals and Subnets |

391
(62)
391
(1)
391
(2)
393
(18)

| | |
| --- | --- |
| | A Brief History of Some Confounding Terms |

394
(1)

| | |
| --- | --- |
| | Routing Between Two Connected LAN Subnets |

395
(1)
396
(1)

| | |
| --- | --- |
| | Network Access Layer Perspective |

397
(1)

| | |
| --- | --- |
| | IP Routing: Host Perspective |

398
(2)

| | |
| --- | --- |
| | Brief Review of Routing So Far |

400
(1)
400
(1)

| | |
| --- | --- |
| | Details of Routing in a Single Router |

401
(2)

| | |
| --- | --- |
| | Perspectives on WAN Routing |

403
(1)

| | |
| --- | --- |
| | IP Routing: Working with Layer 2 Protocols |

403
(1)

| | |
| --- | --- |
| | Importance of Layer 3-to-Layer 2 Mapping |

404
(1)

| | |
| --- | --- |
| | Comparing Routing and Switching Logic |

405
(1)

| | |
| --- | --- |
| | Comparing the Benefits of Routing and Switching |

406
(1)

| | |
| --- | --- |
| | Important Characteristics of IP |

407
(1)
408
(1)
408
(1)
409
(2)
411
(13)

| | |
| --- | --- |
| | How Routers Learn IP Routes |

411
(1)

| | |
| --- | --- |
| | Learning Connected Routes |

411
(1)
412
(1)

| | |
| --- | --- |
| | Basics of Learning Routes with Routing Protocols |

413
(1)

| | |
| --- | --- |
| | Routing Protocol Features |

414
(1)

| | |
| --- | --- |
| | Using Metrics to Pick the Best Routes |

414
(4)

| | |
| --- | --- |
| | Interior and Exterior Routing Protocols |

418
(1)

| | |
| --- | --- |
| | Routing Protocol Algorithms |

419
(2)
421
(1)

| | |
| --- | --- |
| | Classless and Classful Routing Protocols |

422
(1)

| | |
| --- | --- |
| | Comparing Routing Protocols |

422
(2)
424
(21)

| | |
| --- | --- |
| | A Brief Review of Subnetting |

424
(1)

| | |
| --- | --- |
| | Determining the Number of Required Subnets and the Resulting Subnet Mask |

425
(1)

| | |
| --- | --- |
| | Determining the Number of Subnets and Hosts |

426
(1)

| | |
| --- | --- |
| | Determining the Number of Subnet and Host Bits in the Mask |

427
(2)

| | |
| --- | --- |
| | Determining the Subnet Mask: Binary Version |

429
(3)

| | |
| --- | --- |
| | Determining the Subnet Mask: Shortcut Version |

432
(2)

| | |
| --- | --- |
| | Determining the Subnet Numbers and Assignable IP Addresses in Each Subnet |

434
(1)

| | |
| --- | --- |
| | Terminology and Background |

434
(1)

| | |
| --- | --- |
| | Finding the Subnet Numbers---Binary |

435
(3)

| | |
| --- | --- |
| | Finding the Subnet Broadcast Address: Binary |

438
(1)

| | |
| --- | --- |
| | Finding the Range of Valid Addresses |

438
(1)

| | |
| --- | --- |
| | Finding Subnets and Broadcast Addresses Using Shortcuts |

439
(3)

| | |
| --- | --- |
| | Determining the Subnet in Which a Host Resides |

442
(1)

| | |
| --- | --- |
| | Finding the Resident Subnet: Binary |

443
(1)

| | |
| --- | --- |
| | Finding the Resident Subnet: Shortcut |

444
(1)
445
(2)
447
(4)

| | |
| --- | --- |
| | Challenge Questions and Activities |

451
(2)

| | |
| --- | --- |
| | TCP/IP Transport and Application Layers |

453
(32)
453
(1)
453
(2)

| | |
| --- | --- |
| | The TCP/IP Transport Layer |

455
(13)

| | |
| --- | --- |
| | Flow Control and Windowing |

456
(1)

| | |
| --- | --- |
| | Flow Control Through Dynamic Sliding Windows |

456
(1)

| | |
| --- | --- |
| | Flow Control Through Withholding Acknowledgments |

457
(1)

| | |
| --- | --- |
| | Establishing and Terminating TCP Connections |

458
(1)

| | |
| --- | --- |
| | TCP Error Recovery (Reliability) |

459
(2)

| | |
| --- | --- |
| | Segmentation, Reassembly, and In-Order Delivery |

461
(1)

| | |
| --- | --- |
| | TCP and UDP Header Reference |

462
(2)

| | |
| --- | --- |
| | Identifying Application Processes Using Port Numbers |

464
(1)

| | |
| --- | --- |
| | Connection to Servers: Well-Known Ports |

465
(2)

| | |
| --- | --- |
| | Comparing Well-Known, Dynamic, and Registered Ports |

467
(1)

| | |
| --- | --- |
| | The TCP/IP Application Layer |

468
(10)

| | |
| --- | --- |
| | Application Protocols Used by End Users |

469
(1)

| | |
| --- | --- |
| | Name Resolution Using DNS |

469
(2)
471
(1)

| | |
| --- | --- |
| | E-Mail Protocols: SMTP and POP3 |

472
(2)
474
(1)

| | |
| --- | --- |
| | Application Protocols Often Used for Network Management |

475
(1)
475
(1)
475
(1)
476
(1)

| | |
| --- | --- |
| | Application Protocol Summary |

477
(1)
478
(1)
479
(5)

| | |
| --- | --- |
| | Challenge Questions and Activities |

484
(1)
Appendix A Answers to Check Your Understanding and Challenge Questions
485
(26)
Appendix B Decimal to Binary Conversion Table
511
(6)
Appendix C Extra Practice
517
(14)
Glossary
531
(36)
Index
567