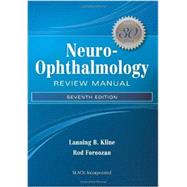 Questions About This Book?
What version or edition is this?
This is the 7th edition with a publication date of 9/15/2012.
What is included with this book?
The New copy of this book will include any supplemental materials advertised. Please check the title of the book to determine if it should include any CDs, lab manuals, study guides, etc.
The eBook copy of this book is not guaranteed to include any supplemental materials. Typically only the book itself is included.
Summary
More than 30 years ago, Neuro-Ophthalmology Review Manual, presented a unique and user-friendly approach to address clinical neuro-ophthalmology principles used in everyday practice. The new Seventh Editioncontinues that tradition, providing a timely update, while also maintaining the same user-friendly and concise format. Lanning B. Kline, MD and Rod Foroozan, MD are joined by seven contributors on this Seventh Editionwho have organized the book to provide the essential key information on neuro-ophthalmic disorders. The inclusion of over 130 illustrations and 29 tables allows for a user-friendly format and quick access to valuable information. The Seventh Editionprovides a timely and comprehensive update to the current information, effective exercises, and case studies, as well as the addition of a chapter on neuroimaging. Neuro-Ophthalmology Review Manual, Seventh Editionis a succinct text for all practitioners and residents in ophthalmology, neurology, and neurosurgery. A popular choice among colleagues for more than 30 years, this a must have resource in neuro-ophthalmology Reviews from the past edition: "For the doctor who sees the occasional neuro-ophthalmology patient, this book should be an excellent resource. Residents should read this book, because they can learn the subject material. The book could also be an excellent resource on a general practitioner's shelf, because it is concise and easy to use." -William V. Good, Smith-Kettlewell Eye Research Institute, San Francisco, California, Optometry and Vision Science "Overall, this is a very good introductory textbook for residents in ophthalmology and neurology and can be used as a quick reference book by practitioners in either discipline. It is still the best-sized review book available on the topic for residents preparing for their in-training exams and will continue to be a popular choice for this purpose." -Nurhan Torun, MD, FRCSC, Canadian Journal of Ophthalomogy
Author Biography
Lanning B. Kline, MD was born in Edmonton, Alberta, Canada. He received his Bachelor of Arts degree from the University of Alberta and graduated from Duke University School of Medicine in Durham, North Carolina. He served an internship at Duke University Department of Medicine and a residency in the Department of Ophthalmology, McGill University, Montreal, Quebec, Canada. Dr. Kline completed fellowships in neuro-ophthalmology at the Montreal Neurological Institute and at the Bascom Palmer Eye Institute, Miami, Florida.  

Dr. Kline has been a faculty member in the University of Alabama-Birmingham Department of Ophthalmology since 1979. In 1998, he became Professor and Chairman of the department, and in 2000 was appointed to the EyeSight Foundation of Alabama Endowed Chair in Ophthalmology. He served in that capacity until 2011.   

Dr. Kline is certified by the American Board of Ophthalmology, a member of the North American Neuro-Ophthalmology Society, a Fellow of the American College of Surgeons, and Editor-in-Chief of the Journal of Neuro-Ophthalmology. He recently celebrated his 35th wedding anniversary with his wife, Ricki. Their two children, Aaron and Evelyn, are both professionally employed in California.   

Rod Foroozan, MD completed his residency training in ophthalmology and fellowship training in neuro-ophthalmology at Wills Eye Hospital in Philadelphia, Pennsylvania. He is an associate professor of ophthalmology at Baylor College of Medicine in Houston, Texas.   

Dr. Foroozan is the current chair of the Basic and Clinical Sciences Course Section 5: Neuro-Ophthalmology with the American Academy of Ophthalmology. He is also the current editor-in-chief of International Ophthalmology Clinics.
Table of Contents
CONTENTS Dedication About the Authors Contributing Authors Introduction Chapter 1 Visual Fields Lanning B. Kline, MD Chapter 2 Supranuclear and Internuclear Gaze Pathways Mark F. Walker, MD and Lanning B. Kline, MD Chapter 3 Nystagmus and Related Ocular Oscillations Mark F. Walker, MD and Lanning B. Kline, MD Chapter 4 The Six Syndromes of the VI Nerve (Abducens) Lanning B. Kline, MD Chapter 5 The Seven Syndromes of the III Nerve (Oculomotor) Lanning B. Kline, MD Chapter 6 The Five Syndromes of the IV Nerve (Trochlear) Lanning B. Kline, MD Chapter 7 Cavernous Sinus Syndrome Lanning B. Kline, MD Chapter 8 The Pupil Lanning B. Kline, MD Chapter 9 The Swollen Optic Disc Lanning B. Kline, MD Chapter 10 The Pale Optic Disc: Optic Atrophy Lanning B. Kline, MD and Rod Foroozan, MD Chapter 11 Myasthenia and Ocular Myopathies Lanning B. Kline, MD and Rod Foroozan, MD Chapter 12 V Nerve (Trigeminal) Syndromes Lanning B. Kline, MD and Rod Foroozan, MD Chapter 13 The Seven Syndromes of the VII Nerve (Facial) Lanning B. Kline, MD and Rod Foroozan, MD Chapter 14 Eyelid Disorders Jennifer T. Scruggs, MD and Saunders L. Hupp, MD Chapter 15 Headache John E. Carter, MD Chapter 16 Carotid Artery Disease and the Eye Rod Foroozan, MD and Milton F. White Jr, MD Chapter 17 Nonorganic Visual Disorders Richard H. Fish, MD, FACS and Rod Foroozan, MD Chapter 18 Disorders of Higher Visual Function Jason J. S. Barton, MD, PhD, FRCPC and Christopher A. Girkin, MD, MSPH, FACS Chapter 19 The Phakomatoses: Neurocutaneous Disorders Angela R. Lewis, MD Chapter 20 Neuroimaging Rod Foroozan, MD Financial Disclosures Index