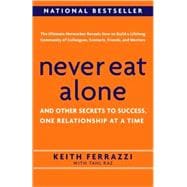 List Price: $14.95
Not Yet Printed. Place an order and we will ship it as soon as it arrives.
Questions About This Book?
What version or edition is this?
This is the Reprint edition with a publication date of 12/31/2035.
What is included with this book?
The New copy of this book will include any supplemental materials advertised. Please check the title of the book to determine if it should include any CDs, lab manuals, study guides, etc.
Summary
Do you want to get ahead in life? Climb the ladder to personal success? The secret, master networker Keith Ferrazzi claims, is in reaching out to other people. As Ferrazzi discovered early in life, what distinguishes highly successful people from everyone else is the way they use the power of relationshipsso that everyone wins. InNever Eat Alone, Ferrazzi lays out the specific stepsand inner mindsethe uses to reach out to connect with the thousands of colleagues, friends, and associates on his Rolodex, people he has helped and who have helped him. The son of a small-town steelworker and a cleaning lady, Ferrazzi first used his remarkable ability to connect with others to pave the way to a scholarship at Yale, a Harvard MBA, and several top executive posts. Not yet out of his thirties, he developed a network of relationships that stretched from Washington's corridors of power to Hollywood's A-list, leading to him being named one of Crain's 40 Under 40 and selected as a Global Leader for Tomorrow by the Davos World Economic Forum. Ferrazzi's form of connecting to the world around him is based on generosity, helping friends connect with other friends. Ferrazzi distinguishes genuine relationship-building from the crude, desperate glad-handling usually associated with "networking." He then distills his system of reaching out to people into practical, proven principles. Among them: Don't keep score:It's never simply about getting what you want. It's about getting what you want and making sure that the people who are important to you get what they want, too. "Ping" constantly:The Ins and Outs of reaching out to those in your circle of contacts all the timenot just when you need something. Never eat alone:The dynamics of status are the same whether you're working at a corporation or attending a society event "invisibility" is a fate worse than failure. In the course of the book, Ferrazzi outlines the timeless strategies shared by the world's most connected individuals, from Katherine Graham to Bill Clinton, Vernon Jordan to the Dalai Lama. Chock full of specific advice on handling rejection, getting past gatekeepers, becoming a "conference commando," and more,Never Eat Aloneis destined to take its place alongsideHow to Win Friends and Influence Peopleas an inspirational classic.
Author Biography
KEITH FERRAZZI is founder and CEO of the training and consulting company Ferrazzi Greenlight and a contributor to Inc., the Wall Street Journal, and Harvard Business Review. Earlier in his career, he was CMO of Deloitte Consulting and at Starwood Hotels and Resorts, and CEO of YaYa Media. He lives in Los Angeles.

TAHL RAZ is an editor at Fortune Small Business. He's written for Inc. magazine, the Jerusalem Post, the San Francisco Chronicle, and GQ. Raz lives in New York City.
Excerpts
Chapter One
Becoming a Member of the Club
Relationships are all there is. Everything in the universe only
exists because it is in relationship to everything else. Nothing
exists in isolation. We have to stop pretending we are individuals
that can go it alone.
–Margaret Wheatley
How on earth did I get in here?" I kept asking myself in those early days as an overwhelmed first-year student at Harvard Business School.
There wasn't a single accounting or finance class in my background. Looking around me, I saw ruthlessly focused young men and women who had undergraduate degrees in business. They'd gone on to crunch numbers or analyze spreadsheets in the finest firms on Wall Street. Most were from wealthy families and had pedigrees and legacies and Roman numerals in their names. Sure, I was intimidated.
How was a guy like me from a working-class family, with a liberal arts degree and a couple years at a traditional manufacturing company, going to compete with purebreds from McKinsey and Goldman Sachs who, from my perspective, seemed as if they'd
been computing business data in their cribs?
It was a defining moment in my career, and in my life.
I was a country boy from southwestern Pennsylvania, raised in a small, hardworking steel and coal town outside of Latrobe called Youngstown. Our region was so rural you couldn't see another house from the porch of our modest home. My father worked in the local steel mill; on weekends he'd do construction. My mother cleaned the homes of the doctors and lawyers in a nearby town. My brother escaped small-town life by way of the army; my sister got married in high school and moved out when I
was a toddler.
At HBS, all the insecurities of my youth came rushing back. You see, although we didn't have much money, my dad and mom were set on giving me the kind of opportunities my brother and sister (from my mom's previous marriage) never got. My parents pushed me and sacrificed everything to get me the kind of education that only the well-to-do kids in our town could afford. The memories rushed back to those days when my mother would pick me up in our beat-up blue Nova at the bus stop of the private elementary school I attended, while the other children ducked into limos and BMWs. I was teased mercilessly about our car and my polyester clothes and fake Docksiders–reminded daily of my station in life.
The experience was a godsend in many ways, toughening my resolve and fueling my drive to succeed. It made clear to me there was a hard line between the haves and the have-nots. It made me angry to be poor. I felt excluded from what I saw as the old boys' network. On the other hand, all those feelings pushed me to work harder than everyone around me.
Hard work, I reassured myself, was one of the ways I'd beaten the odds and gotten into Harvard Business School. But there was something else that separated me from the rest of my class and gave me an advantage. I seemed to have learned something long
before I arrived in Cambridge that it seemed many of my peers had not.
As a kid, I caddied at the local country club for the homeowners and their children living in the wealthy town next to mine. It made me think often and hard about those who succeed and those who don't. I made an observation in those days that would alter
the way I viewed the world.
During those long stretches on the links, as I carried their bags, I watched how the people who had reached professional heights unknown to my father and mother helped each other. They found one another jobs, they invested time and money in one another's ideas, and they made sure their kids got help getting into the best schools, got the right internships, and ultimately got the best jobs.
Before my eyes, I saw proof that success breeds success and, in
---

Excerpted from Never Eat Alone: And Other Secrets to Success, One Relationship at a Time by Keith Ferrazzi, Tahl Raz
All rights reserved by the original copyright owners. Excerpts are provided for display purposes only and may not be reproduced, reprinted or distributed without the written permission of the publisher.