Note: Supplemental materials are not guaranteed with Rental or Used book purchases.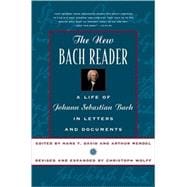 Questions About This Book?
What version or edition is this?
This is the 00 edition with a publication date of 10/17/1999.
What is included with this book?
The New copy of this book will include any supplemental materials advertised. Please check the title of the book to determine if it should include any CDs, lab manuals, study guides, etc.
Summary
Through hundreds of letters, family papers, anecdotes, and records, the Bach Reader established a new approach to biography by offering original documents in impeccable translations. In The New Bach Reader, Christoph Wolff has incorporated numerous facsimiles and added many newly discovered items, reflecting the current state of scholarship about the composer's life and music. The readings in this volume provide an accurate and vivid picture of Bach's world and of his far-reaching influence.
Table of Contents
Part I. Johann Sebastian Bach: A Portrait in Outline

| | |
| --- | --- |
| | Background, Career, and Personality |

3
(6)
9
(7)

| | |
| --- | --- |
| | Attitude toward the Art of Music |

16
(15)
Part II. Bach's Life in His Own Writings and Other Documents
EISENACH (1685--1695)
31
(3)

| | |
| --- | --- |
| | Bach's Father, Johann Ambrosius Bach, Gives a Public Performance (1672) |

31
(1)

| | |
| --- | --- |
| | Report from the Eisenach town chronicle |

31
(1)

| | |
| --- | --- |
| | Eisenach Church Records on Bach and His Parents (1685--1695) |

31
(1)
31
(1)

| | |
| --- | --- |
| | Burial of Bach's mother, Maria Elisabeth Bach, nee Lammerhirt |

31
(1)

| | |
| --- | --- |
| | Remarriage of Bach's father, to Barbara Margaretha, nee Keul |

32
(1)
32
(1)

| | |
| --- | --- |
| | Bach Attends the Latin School in Eisenach (1693--1695) |

32
(1)

| | |
| --- | --- |
| | Excerpts from the student registers |

32
(1)

| | |
| --- | --- |
| | Bach's Stepmother Worries About Waning Musical Talent in the Family (1695) |

32
(1)

| | |
| --- | --- |
| | Excerpt from a petition for a bounty Barbara Margaretha Bach, widow of Johann Ambrosius |

32
(2)
OHRDRUF (1695--1700)
34
(3)

| | |
| --- | --- |
| | Bach Attends the Lyceum, 1696--1700 |

34
(1)

| | |
| --- | --- |
| | Excerpts from the student registers |

34
(1)

| | |
| --- | --- |
| | Bach's Brother Johann Christoph Writes about Himself (1700) |

35
(1)

| | |
| --- | --- |
| | J. C. Bach's autobiographical note |

35
(1)

| | |
| --- | --- |
| | The Organs at St. Michael's in Ohrdruf |

36
(1)

| | |
| --- | --- |
| | Specifications of the organs |

36
(1)
LUNEBURG AND WEIMAR (1700--1703)
37
(3)

| | |
| --- | --- |
| | Bach Is a Member of the Mettenchor (1700) |

37
(1)

| | |
| --- | --- |
| | Excerpt from the Luneburg school records |

37
(1)

| | |
| --- | --- |
| | Johann Adam Reinken's Organ at St. Catherine's in Hamburg |

38
(1)

| | |
| --- | --- |
| | Specifications of the organ |

38
(1)

| | |
| --- | --- |
| | Bach Is Briefly Employed at the Weimar Court (1703) |

39
(1)

| | |
| --- | --- |
| | Excerpts from the ducal treasury register |

39
(1)
ARNSTADT (1703--1707)
40
(9)

| | |
| --- | --- |
| | The Johann Friedrich Wender Organ in the New Church (1703) |

40
(1)

| | |
| --- | --- |
| | Specifications of the organ |

40
(1)

| | |
| --- | --- |
| | Excerpt from the records of the consistory of the Count of Arnstadt |

40
(1)

| | |
| --- | --- |
| | Bach Is Appointed Organist |

41
(1)

| | |
| --- | --- |
| | Certificate of Bach's appointment |

41
(1)

| | |
| --- | --- |
| | Bach's Salary, 1703--1707 |

42
(1)

| | |
| --- | --- |
| | Two receipts from the church treasury |

42
(1)

| | |
| --- | --- |
| | Bach Composes a Piece of Program Music |

42
(1)

| | |
| --- | --- |
| | Capriccio sopra la lontananza de il fratro dilettissimo, BWV 992, movement titles |

42
(1)

| | |
| --- | --- |
| | Bach Is Involved in a Brawl (1705) |

43
(1)

| | |
| --- | --- |
| | Excerpts from the proceedings of the Arnstadt consistory |

43
(3)

| | |
| --- | --- |
| | Bach Has Disciplinary Problems (1706) |

46
(1)

| | |
| --- | --- |
| | Rebuke to Bach for his prolonged absence and improper playing |

46
(1)

| | |
| --- | --- |
| | Rebuke to Bach for inviting a female visitor into the choir loft |

47
(2)
MUHLHAUSEN (1707--1708)
49
(10)

| | |
| --- | --- |
| | Bach Is Appointed Organist at St. Blasius's Church (1707) |

49
(1)

| | |
| --- | --- |
| | Excerpts from the proceedings of parish meetings |

49
(1)

| | |
| --- | --- |
| | Announcement of Bach's appointment |

50
(1)
51
(1)

| | |
| --- | --- |
| | Bach's request for his dismissal |

51
(1)

| | |
| --- | --- |
| | Bach assigns his remaining salary to his cousin Johann Ernst Bach |

51
(1)

| | |
| --- | --- |
| | Bach Marries Maria Barbara, nee Bach |

51
(1)

| | |
| --- | --- |
| | Excerpt from the Arnstadt marriage register |

51
(1)

| | |
| --- | --- |
| | Bach's First Publication (1708) |

52
(1)

| | |
| --- | --- |
| | Gott ist mein Konig, cantata, BWV 71: title page |

52
(1)

| | |
| --- | --- |
| | Bach Is Paid for His Town Council Election Cantatas |

52
(1)

| | |
| --- | --- |
| | Excerpts from the town treasury register |

52
(2)

| | |
| --- | --- |
| | The Organ of St. Blasius's Church |

54
(1)

| | |
| --- | --- |
| | Specifications of the organ |

54
(1)

| | |
| --- | --- |
| | Bach's suggested improvements to the organ |

55
(1)

| | |
| --- | --- |
| | Bach's ``Project for New Repairs to the Organ'' |

55
(1)
56
(1)

| | |
| --- | --- |
| | Bach's request for his dismissal |

56
(2)

| | |
| --- | --- |
| | Bach's dismissal, as recorded in the proceedings of a parish meeting |

58
(1)

| | |
| --- | --- |
| | Excerpt from the minutes of St. Blasius's Church on Bach's successor, Johann Friedrich Bach |

58
(1)
WEIMAR (1708--1717)
59
(23)

| | |
| --- | --- |
| | Bach Is Appointed Court Organist (1708) |

59
(1)

| | |
| --- | --- |
| | The duke's order for Bach's salary and compensation |

59
(1)

| | |
| --- | --- |
| | Bach's Compensation at Weimar, 1708--1717 |

60
(1)

| | |
| --- | --- |
| | Monetary present for Bach on his arrival |

60
(1)

| | |
| --- | --- |
| | Fees for instrument repairs |

60
(1)

| | |
| --- | --- |
| | The duke's order for a salary increase |

60
(1)

| | |
| --- | --- |
| | Excerpts from the ``Complete Chamber Accounts from Michaelmas,'' ducal archives |

61
(2)

| | |
| --- | --- |
| | The Organ in the Castle Chapel |

63
(1)

| | |
| --- | --- |
| | Specifications of the organ |

63
(1)

| | |
| --- | --- |
| | Bach's Eldest Son, Wilhelm Friedemann, Is Baptized (1710) |

63
(1)

| | |
| --- | --- |
| | Entry in the church records |

63
(1)

| | |
| --- | --- |
| | Bach Writes a Testimonial for the Organ Builder Heinrich Nicolaus Trebs (1711) |

64
(1)

| | |
| --- | --- |
| | Bach's letter on behalf of Trebs |

64
(1)

| | |
| --- | --- |
| | Bach Gives Instruction to the Duke's Page |

64
(1)

| | |
| --- | --- |
| | Entries in the private account books of Duke Ernst August |

64
(1)

| | |
| --- | --- |
| | Bach Presents a Guest Performance in Weissenfels |

64
(1)

| | |
| --- | --- |
| | Excerpt from the state archive |

64
(1)

| | |
| --- | --- |
| | Bach Signs an Autograph Album with a Canon |

65
(1)

| | |
| --- | --- |
| | Canon for four voices, BWV 1073 |

65
(1)

| | |
| --- | --- |
| | Bach Auditions in Halle and Turns Down an Appointment |

65
(1)

| | |
| --- | --- |
| | Excerpts from the account book of the Church of Our Lady |

65
(1)

| | |
| --- | --- |
| | Bach's receipt for travel expenses |

66
(1)

| | |
| --- | --- |
| | Text of the proffered agreement |

66
(2)

| | |
| --- | --- |
| | Bach's letter requesting changes in the agreement |

68
(1)

| | |
| --- | --- |
| | Bach's letter refuting an accusation of unfair dealings |

69
(1)

| | |
| --- | --- |
| | Bach Is Promoted to Concertmaster at Weimar (1714) |

70
(1)

| | |
| --- | --- |
| | Excerpt from ``Reports concerning the Office of the Princely Court Marshal of Weimar at the Wilhelmsburg'' |

70
(1)

| | |
| --- | --- |
| | Bach's Day-to-Day Activities at Weimar |

71
(1)

| | |
| --- | --- |
| | A note concerning rehearsals |

71
(1)

| | |
| --- | --- |
| | A list of the Castle Capelle members |

71
(1)

| | |
| --- | --- |
| | Payments for strings and music paper |

72
(1)

| | |
| --- | --- |
| | Bach's Son Carl Philipp Emanuel Is Baptized |

72
(1)

| | |
| --- | --- |
| | Entry in the records of the Town Church |

72
(1)

| | |
| --- | --- |
| | Bach's Son Johann Gottfried Bernhard is Baptized (1715) |

73
(1)

| | |
| --- | --- |
| | Entry in the records of the Town Church |

73
(1)

| | |
| --- | --- |
| | Bach Receives a Salary Increase |

73
(1)

| | |
| --- | --- |
| | Excerpt from the Weimar state archives |

73
(1)

| | |
| --- | --- |
| | Bach Examines the New Christoph Cuntzius Organ in Halle (1716) |

73
(1)

| | |
| --- | --- |
| | Bach's acknowledgment of the church board's invitation |

73
(1)

| | |
| --- | --- |
| | Report on the organ by Johann Kuhnau, Christian Friedrich Rolle and Bach |

74
(3)

| | |
| --- | --- |
| | ``Menu of the Dinner ... on the Occasion of the Dedication of the New Organ'' |

77
(1)

| | |
| --- | --- |
| | Reimbursement of travel costs |

77
(1)

| | |
| --- | --- |
| | Bach and Johann Anton Weise Write a Testimonial for the Organ Builder Johann Georg Schroter |

77
(1)

| | |
| --- | --- |
| | Statement by Bach and Weise on behalf of Schroter |

77
(1)

| | |
| --- | --- |
| | Bach Presents a Passion Performance in Gotha (1717) |

78
(1)

| | |
| --- | --- |
| | Excerpt from the private ducal account book |

78
(1)

| | |
| --- | --- |
| | Excerpt from the ducal account book |

78
(1)
78
(1)

| | |
| --- | --- |
| | Bach Takes on His Cousin Johann Lorenz Bach as a Student |

79
(1)

| | |
| --- | --- |
| | Excerpt from J. L. Bach's letter of application |

79
(1)

| | |
| --- | --- |
| | Bach and Louis Marchand Compete at the Dresden Court |

79
(1)

| | |
| --- | --- |
| | A later account by Johann Abraham Birnbaum |

79
(1)

| | |
| --- | --- |
| | Bach Is Jailed and Unfavorably Dismissed from His Weimar Post |

80
(1)

| | |
| --- | --- |
| | Excerpt from the court secretary's report |

80
(1)

| | |
| --- | --- |
| | Bach Titles a Collection of Organ Chorales for the Ecclesiastical Year |

80
(1)

| | |
| --- | --- |
| | Orgel-Buchlein, BWV 599-644: title page |

80
(2)
COTHEN (1717--1723)
82
(17)

| | |
| --- | --- |
| | Bach's Salary, 1717--1718 |

82
(1)

| | |
| --- | --- |
| | Excerpts from the record of the Princely Capelle and trumpeters' wages |

82
(1)

| | |
| --- | --- |
| | The Johann Scheibe Organ of St. Paul's Church in Leipzig (1717) |

83
(1)

| | |
| --- | --- |
| | Specifications of the organ |

83
(1)

| | |
| --- | --- |
| | Bach's report on the organ |

83
(3)

| | |
| --- | --- |
| | Receipt for Bach's examination fee |

86
(1)

| | |
| --- | --- |
| | Bach Is Reimbursed for Various Expenses (1718--1719) |

86
(1)
86
(1)

| | |
| --- | --- |
| | Rehearsals and harpsichord maintenance |

86
(1)
86
(1)

| | |
| --- | --- |
| | Purchase of a harpsichord in Berlin |

87
(1)

| | |
| --- | --- |
| | Bach's Son Leopold Augustus Is Baptized, with Noble Godparents Appointed (1718) |

87
(1)

| | |
| --- | --- |
| | Excerpt from the Castle Church record |

87
(1)

| | |
| --- | --- |
| | Bach Compiles a Collection of Pieces for His Eldest Son (1720) |

88
(1)

| | |
| --- | --- |
| | Clavier-Buchlein fur Wilhelm Friedemann Bach: title page |

88
(1)

| | |
| --- | --- |
| | Death of Bach's Wife, Maria Barbara |

88
(1)

| | |
| --- | --- |
| | Burial notice from the Cothen register of deaths |

88
(1)

| | |
| --- | --- |
| | Bach Applies for the Organist's Post at St. Jacobi Church in Hamburg |

89
(1)

| | |
| --- | --- |
| | Excerpts from the minutes of St. Jacobi Church |

89
(2)

| | |
| --- | --- |
| | Johann Mattheson's later account of the appointment process |

91
(1)

| | |
| --- | --- |
| | Bach Assembles the Brandenburg Concertos (1721) |

91
(1)

| | |
| --- | --- |
| | Six Concerts avec plusieurs Instruments, BWV 1046--1051: title page |

91
(1)

| | |
| --- | --- |
| | Bach's dedication to the Margrave of Brandenburg |

92
(1)

| | |
| --- | --- |
| | Bach Visits the Court of Schleiz |

93
(1)

| | |
| --- | --- |
| | Excerpts from the court account book |

93
(1)

| | |
| --- | --- |
| | Bach Is Married Again, to Anna Magdalena, Nee Wilcke |

93
(1)

| | |
| --- | --- |
| | Excerpt from the Castle Church register |

93
(1)

| | |
| --- | --- |
| | Salaries for Bach and His Wife, 1721--1723 |

93
(1)

| | |
| --- | --- |
| | Excerpts from the Cothen Capelle accounts |

93
(1)

| | |
| --- | --- |
| | Bach Compiles a Collection of Pieces for His Wife (1722) |

94
(1)

| | |
| --- | --- |
| | Clavier-Buchlein fur Anna Magdalena Bach: title page |

94
(1)

| | |
| --- | --- |
| | Bach Wards Off a Lawsuit by the Lammerhirt Heirs |

94
(1)

| | |
| --- | --- |
| | Bach's petition to the Erfurt town council |

94
(3)

| | |
| --- | --- |
| | Bach Completes 24 Preludes and Fugues |

97
(1)

| | |
| --- | --- |
| | Das Wohltemperirte Clavier, Book I, BWV 846-869: title page |

97
(1)

| | |
| --- | --- |
| | Bach Repairs the Prince's Harpsichords |

97
(1)

| | |
| --- | --- |
| | Excerpts from the Cothen Capelle accounts |

97
(1)

| | |
| --- | --- |
| | Bach Complies 15 Two-Part Inventions and 15 Three-Part Sinfonias (1723) |

97
(1)

| | |
| --- | --- |
| | Inventions and Sinfonias, BWV 772-801: title page |

97
(2)
LEIPZIG (1732--1730)
99
(54)

| | |
| --- | --- |
| | Bach Is Appointed Cantor and Music Director at St. Thomas's (1723) |

99
(1)

| | |
| --- | --- |
| | A summary account from Johann Salomon Riemer's Chronicle of Leipzig |

99
(1)

| | |
| --- | --- |
| | Deliberations excerpted from the proceedings of the town council |

100
(1)

| | |
| --- | --- |
| | Newspaper report on Bach's audition |

101
(1)

| | |
| --- | --- |
| | Letter of Bach's dismissal, from the Prince of Cothen |

101
(1)

| | |
| --- | --- |
| | Bach's preliminary pledge to the town council |

102
(1)

| | |
| --- | --- |
| | Proceedings of the three councils of Leipzig on Bach's election |

102
(1)

| | |
| --- | --- |
| | Notifications of Bach's election |

103
(1)

| | |
| --- | --- |
| | Bach's final pledge to the town council |

104
(1)

| | |
| --- | --- |
| | The examiner's certificate of Bach's theological competence |

105
(1)

| | |
| --- | --- |
| | The Bach Family Moves to Leipzig |

106
(1)

| | |
| --- | --- |
| | Report in the Hamburg Staats-und Gelehrte Zeitung on Bach's arrival in Leipzig |

106
(1)

| | |
| --- | --- |
| | Bach Is Formally Installed and Commences His Duties |

106
(1)

| | |
| --- | --- |
| | Excerpt from Acta Lipsiensium Academica |

106
(1)

| | |
| --- | --- |
| | Excerpt from the town council proceedings |

106
(2)

| | |
| --- | --- |
| | Report in the Hamburg Relationscourier of Bach's first Leipzig performance |

108
(1)

| | |
| --- | --- |
| | Dr. Salomon Deyling's Report on Bach to the consistory |

109
(1)
109
(1)

| | |
| --- | --- |
| | Bach's Income, 1723--1750 |

110
(1)

| | |
| --- | --- |
| | Excerpts from the Leipzig account books on Bach's salary |

110
(1)

| | |
| --- | --- |
| | Excerpts from the Leipzig account books on other compensation paid to Bach |

110
(2)

| | |
| --- | --- |
| | Payments to Bach for maintaining church instruments |

112
(1)

| | |
| --- | --- |
| | Bach's Oldest Sons, Wilhelm Friedemann and Carl Philipp Emanuel, Are Enrolled in the St. Thomas School |

112
(1)

| | |
| --- | --- |
| | Excerpt from the school register |

112
(1)

| | |
| --- | --- |
| | Bach Writes a Testimonial for a Student, Georg Gottfried Wagner |

112
(1)

| | |
| --- | --- |
| | Bach's statement on behalf of Wagner |

112
(1)

| | |
| --- | --- |
| | Bach Performs at Services in Leipzig for the First Sunday in Advent |

113
(1)

| | |
| --- | --- |
| | ``Order of the Divine Service in Leipzig'' for November 28, 1723 |

113
(1)

| | |
| --- | --- |
| | On Passion Performances in Leipzig, 1722--1738 |

114
(1)

| | |
| --- | --- |
| | Entries in the diary of St. Thomas's sexton, Johann Christoph Rost |

114
(2)

| | |
| --- | --- |
| | Excerpts from the proceedings of the council |

116
(1)

| | |
| --- | --- |
| | Flier announcing the change of a performance site |

116
(1)

| | |
| --- | --- |
| | Bach and His Wife Present Guest Performances at the Cothen Court, 1724--1728 |

117
(1)

| | |
| --- | --- |
| | Excerpts from the court account books |

117
(1)

| | |
| --- | --- |
| | Bach Gives Two Organ Recitals at St. Sophia's in Dresden |

117
(1)

| | |
| --- | --- |
| | Report in the Hamburg Relationscourier, September 27, 1725 |

117
(1)

| | |
| --- | --- |
| | Bach Fights a Worshipful University (1724--1725) |

118
(1)

| | |
| --- | --- |
| | Three letters of complaint to the king |

118
(7)
125
(1)

| | |
| --- | --- |
| | Bach Writes to a Former Schoolmate, Georg Erdmann (1726) |

125
(1)
125
(1)

| | |
| --- | --- |
| | Bach Writes a Testimonial for an Organist, Jacob Ernst Hubner |

126
(1)

| | |
| --- | --- |
| | Bach's letter on behalf of Hubner |

126
(1)

| | |
| --- | --- |
| | Bach Finds a New Cantor, Georg Gottfried Wagner, for the Town of Plauen |

126
(1)

| | |
| --- | --- |
| | Bach's acknowledgment of the council's request |

126
(1)

| | |
| --- | --- |
| | Bach's report of finding a suitable candidate |

127
(1)

| | |
| --- | --- |
| | Bach's inquiry about the council's decision |

128
(1)

| | |
| --- | --- |
| | Bach's letter of introduction for Wagner |

128
(1)

| | |
| --- | --- |
| | Bach Publishes His First Instrumental Work |

129
(1)

| | |
| --- | --- |
| | Clavier-Ubung, Part I, BWV 825: title page |

129
(1)

| | |
| --- | --- |
| | A dedicatory poem to the newborn prince, Emanuel Ludwig |

129
(2)

| | |
| --- | --- |
| | Bach Writes Testimonials for a Musician, Christoph Gottlob Wecker (1727--1729) |

131
(1)

| | |
| --- | --- |
| | Bach's letter of recommendation for Wecker |

131
(1)

| | |
| --- | --- |
| | Bach's cover letter to Wecker sent with a testimonial |

131
(1)

| | |
| --- | --- |
| | Bach's testimonial on behalf of Wecker |

132
(1)

| | |
| --- | --- |
| | Bach Composes a Cantata, BWV Anh. 9, for the Birthday of King August II (1727) |

133
(1)

| | |
| --- | --- |
| | Excerpts from Christoph Ernst Sicul's Das frohlockende Leipzig |

133
(1)

| | |
| --- | --- |
| | Bach Composes a Canon for Ludwig Friedrich Hudemann |

134
(1)

| | |
| --- | --- |
| | Canon for four voices, BWV 1074 |

134
(1)

| | |
| --- | --- |
| | Bach Writes a Testimonial for a Student, Friedrich Gottlieb Wild |

134
(1)

| | |
| --- | --- |
| | Bach's testimonial on behalf of Wild |

134
(1)

| | |
| --- | --- |
| | Bach Composes an Ode of Mourning, BWV 198, for Queen Christiane Eberhardine |

135
(1)

| | |
| --- | --- |
| | A statement Bach refused to sign |

135
(1)

| | |
| --- | --- |
| | A report on the performance, in Christoph Ernst Sicul's Das thranende Leipzig |

136
(3)

| | |
| --- | --- |
| | Bach Insists on Choosing The Hymns for the Service (1729) |

139
(1)

| | |
| --- | --- |
| | Excerpt from the Cothen court accounts |

139
(1)

| | |
| --- | --- |
| | Bach Distributes Publications by Colleagues |

139
(1)

| | |
| --- | --- |
| | Excerpt from the Leipzig Post-Zeitungen |

139
(1)

| | |
| --- | --- |
| | Proposals for Admission to the St. Thomas School |

140
(1)

| | |
| --- | --- |
| | A letter from Dr. Christian Ludwig Stieglitz, school board chairman |

140
(1)
140
(1)

| | |
| --- | --- |
| | Exhibit C: An amendment by Bach |

141
(1)

| | |
| --- | --- |
| | Exhibit D: Organization of the St. Thomas Choir |

141
(1)

| | |
| --- | --- |
| | Two additions by Bach to his report |

142
(1)

| | |
| --- | --- |
| | Bach Composes Service Music for the Town Council Election |

142
(1)

| | |
| --- | --- |
| | Excerpt from the files of the town scribe |

142
(1)

| | |
| --- | --- |
| | Bach Writes a Testimonial for a Student, Johann Gottlieb Grahl |

142
(1)

| | |
| --- | --- |
| | Bach's testimonial on behalf of Grahl |

142
(1)

| | |
| --- | --- |
| | Bach Writes a Testimonial for Johann Christian Weyrauch (1730) |

143
(1)

| | |
| --- | --- |
| | Bach's testimonial on behalf of Weyrauch |

143
(1)

| | |
| --- | --- |
| | The Consistory Forbid the use of Unfamiliar Hymns |

143
(1)

| | |
| --- | --- |
| | The consistory's letter to Dr. Deyling |

143
(1)

| | |
| --- | --- |
| | Bach Is Reproached, and He Responds at Length |

144
(1)

| | |
| --- | --- |
| | Excerpts from the minutes of the council meetings |

144
(1)

| | |
| --- | --- |
| | Bach's ``Short But Most Necessary Draft for a Well-Appointed Church Music'' |

145
(6)

| | |
| --- | --- |
| | Bach Seeks Another Position |

151
(1)

| | |
| --- | --- |
| | Bach's letter to Georg Erdmann, Imperial Russian Residence agent in Danzig |

151
(2)
LEIPZIG (1731--1740)
153
(57)

| | |
| --- | --- |
| | Bach Writes Two Testimonials (1731) |

153
(1)

| | |
| --- | --- |
| | Bach's testimonial on behalf of Johann Adolph Scheibe |

153
(1)

| | |
| --- | --- |
| | Bach's testimonial on behalf of Johann Christoph Dorn |

153
(1)

| | |
| --- | --- |
| | Bach Publishes Partitas Nos. 1--6 |

154
(1)

| | |
| --- | --- |
| | Clavier--Ubung, Part I, BWV 825--830: title page |

154
(1)

| | |
| --- | --- |
| | Bach Receives Liquor Tax Revenues (1732) |

155
(1)

| | |
| --- | --- |
| | Bach's receipt to the liquor tax collector |

155
(1)

| | |
| --- | --- |
| | Bach Examines a Rebuilt Organ in Kassel |

155
(1)

| | |
| --- | --- |
| | Excerpt from the Kassel Polizey--und Commerzienzeitung |

155
(1)

| | |
| --- | --- |
| | Excerpt from the account books |

155
(1)

| | |
| --- | --- |
| | Bach Holds Collegium Musicum Concerts (1733) |

156
(1)

| | |
| --- | --- |
| | Announcement from the Nachricht auch Frag u. Anzeiger, Leipzig |

156
(1)

| | |
| --- | --- |
| | Special announcement of the resumption of concerts following a mourning period |

156
(1)

| | |
| --- | --- |
| | Bach Dedicates His Mass in B Minor to the Dresden Court and Asks the Elector to Grant Him a Title |

156
(1)

| | |
| --- | --- |
| | Missa (Kyrie and Gloria), BWV 232: performing parts, title wrapper |

156
(2)

| | |
| --- | --- |
| | Bach's letter accompanying the Mass |

158
(1)

| | |
| --- | --- |
| | Bach Joins with the Organist and Rector in Prostesting the Nonpayment of Fees |

159
(1)

| | |
| --- | --- |
| | Letter from Bach, Johann Schneider, and Johann Matthias Gesner to the council |

159
(1)

| | |
| --- | --- |
| | Letter from Bach, Schneider, and Gesner to the consistory |

160
(1)
161
(1)

| | |
| --- | --- |
| | Excerpts from Bach's marginal comments in his copy of Abraham Calov's edition of the Lutheran Bible |

161
(1)

| | |
| --- | --- |
| | Bach Composes a Perpetual Canon (1734) |

162
(1)

| | |
| --- | --- |
| | Canon for two voices, BWV 1075 |

162
(1)

| | |
| --- | --- |
| | Bach Writes a Testimonial for a Student, Paul Christian Stolle |

162
(1)

| | |
| --- | --- |
| | Bach's testimonial on behalf of Stolle |

162
(1)

| | |
| --- | --- |
| | Lorenz Cristoph Mizler Dedicates His Academic Thesis to Bach and Others |

163
(1)
163
(1)

| | |
| --- | --- |
| | Excerpt from Mizler's preface |

163
(1)

| | |
| --- | --- |
| | Bach's Collegium Musicum Celebrates the King's Name Day |

163
(1)

| | |
| --- | --- |
| | Announcement in the Leipziger Zeitungen |

163
(1)

| | |
| --- | --- |
| | Bach Performs a Drama per Musica before the King and Queen |

164
(1)

| | |
| --- | --- |
| | Preise dein Glucke, gesegnetes Sachsen, cantata, BWV 215: printed text, title page |

164
(1)

| | |
| --- | --- |
| | Bach's receipt for his payment |

164
(1)

| | |
| --- | --- |
| | Report of the festivities in the Leipzig town chronicle |

164
(3)

| | |
| --- | --- |
| | Bach Publishes His French Overture and Italian Concerto (1735) |

167
(1)

| | |
| --- | --- |
| | Clavier-Ubung, Part II, BWV 831 and 971: title page |

167
(1)

| | |
| --- | --- |
| | Bach Writes to Muhlhausen on Behalf of His Son Johann Gottfried Bernhard |

167
(1)

| | |
| --- | --- |
| | Bach's letter to Tobias Rothschier, senior of the town council |

167
(2)

| | |
| --- | --- |
| | Bach's letter to Burgomaster Christian Petri |

169
(1)

| | |
| --- | --- |
| | Bach Writes a Testimonial for a Student, Johann Ludwig Krebs |

170
(1)

| | |
| --- | --- |
| | Bach's testimonial on behalf of Krebs |

170
(1)

| | |
| --- | --- |
| | Bach Composes and Arranges the Music for a Published Hymnal (1736) |

170
(1)

| | |
| --- | --- |
| | Musicalisches Gesang-Buch of Georg Christian Schemelli (Leipzig, 1736): title page |

170
(1)

| | |
| --- | --- |
| | Excerpt from Schemelli's preface |

170
(2)

| | |
| --- | --- |
| | Bach Disputes Rector Johann Heinrich Ernesti About the Right to Appoint the Prefects |

172
(1)

| | |
| --- | --- |
| | A later summary account from Johann Friedrich Kohler's Historia Scholarum Lipsiensium |

172
(1)

| | |
| --- | --- |
| | Bach's first complaint to the Leipzig town council |

172
(1)

| | |
| --- | --- |
| | Bach's second complaint to the council |

173
(2)

| | |
| --- | --- |
| | Bach's third complaint to the council |

175
(1)

| | |
| --- | --- |
| | Ernesti's reply to the council |

176
(6)

| | |
| --- | --- |
| | Bach's fourth complaint to the council |

182
(1)

| | |
| --- | --- |
| | Ernesti's rebuttal of Bach's third complaint |

183
(2)

| | |
| --- | --- |
| | Bach Holds Weekly Concerts at Zimmermann's Coffeehouse |

185
(1)

| | |
| --- | --- |
| | ``Announcement of the Musical Concerts at Leipzig'' in Lorenz Christoph Mizler's Neu eroffnete Musikalische Bibliothek |

185
(1)

| | |
| --- | --- |
| | Bach Writes to Sangerhausen on Behalf of His Son Johann Gottfried Bernhard |

186
(1)

| | |
| --- | --- |
| | Bach's first letter to the Sangerhausen town council |

186
(1)

| | |
| --- | --- |
| | Bach's second letter to the Sangerhausen town council |

187
(1)

| | |
| --- | --- |
| | Bach Is Appointed Royal Court Composer |

188
(1)

| | |
| --- | --- |
| | ``Certificate for Johann Sebastian Bach as compositeur to the royal court orchestra'' |

188
(1)

| | |
| --- | --- |
| | Bach Plays an Ogan Recital in Dresden |

188
(1)

| | |
| --- | --- |
| | Excerpt from the Dresdner Nachrichten |

188
(1)

| | |
| --- | --- |
| | Bach's Dispute with Ernesti Continues (1737) |

189
(1)

| | |
| --- | --- |
| | Decree of the town council |

189
(1)

| | |
| --- | --- |
| | Bach's first appeal to the consistory |

190
(2)

| | |
| --- | --- |
| | Bach's second appeal to the consistory |

192
(2)

| | |
| --- | --- |
| | Bach's appeal to the king |

194
(1)
195
(1)

| | |
| --- | --- |
| | Bach Writes Testimonials for a Student, Bernhard Dietrich Ludewig |

196
(1)

| | |
| --- | --- |
| | Bach's first testimonial on behalf of Ludewig |

196
(1)

| | |
| --- | --- |
| | Bach's second testimonial on behalf of Ludewig |

196
(1)

| | |
| --- | --- |
| | Bach Presents a Cantata for the Visit of the King and the Betrothal of Princess Amalia (1738) |

197
(1)

| | |
| --- | --- |
| | Excerpt from Johann Salomon Riemer's Chronicle of Leipzig |

197
(1)

| | |
| --- | --- |
| | Willkommen! Ihr herrschenden Gotter der Erden, cantata, BWV Anh. 13: printed text, title page |

197
(2)

| | |
| --- | --- |
| | Bach's receipt for his payment |

199
(1)

| | |
| --- | --- |
| | Johann Elias Bach Orders Gifts for Bach and his Wife, Anna Magdalena |

199
(1)

| | |
| --- | --- |
| | J. E. Bach's letter, from his correspondence book |

199
(1)

| | |
| --- | --- |
| | Bach Writes About Debts Incurred by his Son Johann Gottfried Bernhard |

200
(1)

| | |
| --- | --- |
| | Bach's letter to Johann Friedrich Klemm |

200
(1)

| | |
| --- | --- |
| | Bach's letter to Anna Margarete Klemm |

201
(1)

| | |
| --- | --- |
| | Bach Publishes a Collection of Organ Works |

202
(1)

| | |
| --- | --- |
| | Johann Elias Bach's invitation for subscribers |

202
(1)

| | |
| --- | --- |
| | Clavier-Ubung, Part III, BWV 552, 669--689, and 802--805: title page |

202
(1)

| | |
| --- | --- |
| | Collegium Musicum Is Defined, with a Reference to Bach |

203
(1)

| | |
| --- | --- |
| | Entry in Johann Heinrich Zedler's Grosses Universal Lexicon |

203
(1)

| | |
| --- | --- |
| | Bach Is Cautioned by the Council about a Passion Performance |

204
(1)

| | |
| --- | --- |
| | Excerpt from the Leipzig town council archives |

204
(1)

| | |
| --- | --- |
| | Bach's Cousin and Private Secretary, Johann Elias Bach, Corresponds |

204
(1)

| | |
| --- | --- |
| | Excerpt from a letter to Johann Wilhelm Koch |

204
(1)

| | |
| --- | --- |
| | Invitation to Koch, on behalf of Bach, to attend a performance |

204
(1)

| | |
| --- | --- |
| | Excerpt from a letter asking his sister to send wine for Bach |

205
(1)

| | |
| --- | --- |
| | Excerpt from a thank-you letter, on behalf of Bach, to Johann Leberecht Schneider |

205
(1)

| | |
| --- | --- |
| | Excerpt from a second thank-you letter to J.L. Schneider |

206
(1)

| | |
| --- | --- |
| | Bach Writes Out Through-Bass Rules (1740--1745) |

206
(1)

| | |
| --- | --- |
| | ``Some Most Necessary Rules of Thorough Bass by J.S.B.'' |

206
(1)

| | |
| --- | --- |
| | Bach Reports on Candidates for an Assistant's Post at the St. Thomas School (1740) |

207
(1)
207
(1)

| | |
| --- | --- |
| | Bach Writes a Testimonial for a Student, Christian Friedrich Schemelli |

208
(1)

| | |
| --- | --- |
| | Bach's testimonial on behalf of Schemelli |

208
(1)

| | |
| --- | --- |
| | Johann Elias Bach Corresponds Further |

208
(1)

| | |
| --- | --- |
| | Letter to Cantor Johann Georg Hille inquiring about a songbird |

208
(1)

| | |
| --- | --- |
| | Excerpt from a letter to Simon von Meyer acknowledging a gift of carnations for Anna Magdalena Bach |

209
(1)
LEIPZIG (1741--1751)
210
(51)

| | |
| --- | --- |
| | Bach on Lending Out Music (1741) |

210
(1)

| | |
| --- | --- |
| | Excerpt from a letter of Johann Elias Bach to Johann Wilhelm Koch, January 28, 1741 |

210
(1)

| | |
| --- | --- |
| | Bach Resolves a Canon by Teodoro Riccio |

211
(1)

| | |
| --- | --- |
| | Resolution of a puzzle canon |

211
(1)

| | |
| --- | --- |
| | Bach Acknowledges a Gift of Venison from Johann Leberecht Schneider |

211
(1)

| | |
| --- | --- |
| | Bach's letter to Schneider |

211
(1)

| | |
| --- | --- |
| | Anna Magdalena Bach Falls Ill |

212
(1)

| | |
| --- | --- |
| | Johann Elias Bach's letter informing Bach of his wife's illness |

212
(1)

| | |
| --- | --- |
| | Johann Elias Bach's letter updating Bach on his wife's condition |

213
(1)

| | |
| --- | --- |
| | Anna Magdalena Bach's letter of regret to Johann Leberecht Schneider |

213
(1)

| | |
| --- | --- |
| | Bach's Goldberg Variations are Published |

214
(1)

| | |
| --- | --- |
| | Clavier-Ubung, Part IV, Aria mit verschiedenen Veraenderungen, BWV 988: title page |

214
(2)

| | |
| --- | --- |
| | Bach Is Thanked by His Cousin Johann Elias Bach (1742) |

216
(1)

| | |
| --- | --- |
| | J. E. Bach's letter to Bach |

216
(1)

| | |
| --- | --- |
| | Bach Completes 24 More Preludes and Fugues |

216
(1)

| | |
| --- | --- |
| | Das Wohltemperirte Clavier, Book II, BWV 870--893: title page |

216
(2)

| | |
| --- | --- |
| | Bach Participates in a Book Auction |

218
(1)
218
(1)

| | |
| --- | --- |
| | Bach Performs Services under Terms of the Nathan Legacy |

218
(1)

| | |
| --- | --- |
| | Bach's receipt for memorial service payment |

218
(1)

| | |
| --- | --- |
| | Bach's receipt for St. Sabina's Day funeral song |

218
(1)

| | |
| --- | --- |
| | Bach Writes Testimonials for Two Students (1742--1743) |

219
(1)

| | |
| --- | --- |
| | Bach's testimonial on behalf of Johann Georg Heinrich |

219
(1)

| | |
| --- | --- |
| | Bach's testimonial on behalf of Christian Gottlob Wunsch |

219
(1)

| | |
| --- | --- |
| | Bach Receives Liquor Tax Revenues (1743) |

220
(1)

| | |
| --- | --- |
| | Bach's receipt to the liquor tax collector |

220
(1)

| | |
| --- | --- |
| | Bach Auditions Carl Friedrich Pfaffe for Assistant Town Piper (1745) |

220
(1)
220
(1)

| | |
| --- | --- |
| | Bach Examines the New Johann Scheibe Organ in Zschortau (1746) |

221
(1)

| | |
| --- | --- |
| | Bach's report on the organ |

221
(1)

| | |
| --- | --- |
| | Bach Examines the Zacharias Hildebrandt Organ of St. Wenceslas's in Naumburg |

221
(1)

| | |
| --- | --- |
| | Report on the organ, by Bach and Gottfried Silbermann |

221
(1)

| | |
| --- | --- |
| | Bach Composes a Canon on the Harmonic Triad |

222
(1)

| | |
| --- | --- |
| | Canon for eight voices, BWV 1072 |

222
(1)

| | |
| --- | --- |
| | Bach's ``Schubler'' Chorales for Organ Are Published (1746) |

223
(1)

| | |
| --- | --- |
| | Sechs Chorale, BWV 645--650: title page |

223
(1)

| | |
| --- | --- |
| | Bach Visits Frederick the Great (1747) |

224
(1)

| | |
| --- | --- |
| | Report in the Spenersche Zeitung, Berlin |

224
(1)

| | |
| --- | --- |
| | Bach Writes a Testimonial for Johann Christoph Altnickol |

224
(1)

| | |
| --- | --- |
| | Bach's testimonial on behalf of Altnickol |

224
(1)

| | |
| --- | --- |
| | Bach Joins the Society for Musical Sciences and Composes Two Works for the Society |

225
(1)

| | |
| --- | --- |
| | Report in Lorenz Christoph Mizler's Neu-eroffnete musikalische Bibliothek |

225
(1)

| | |
| --- | --- |
| | Canon for six voices, BWV 1076 |

225
(1)

| | |
| --- | --- |
| | Einige canonische Veraenderungen uber das WeynachtLied, ``Vom Himmel hoch da komm ich her,'' BWV 769: title page |

226
(1)

| | |
| --- | --- |
| | Bach Publishes the Musical Offering, Dedicated to Frederick the Great |

226
(1)

| | |
| --- | --- |
| | Musikalisches Opfer, BWV 1079: title page |

226
(1)
226
(2)

| | |
| --- | --- |
| | Entry in Johann Gottlob Immanuel Breitkopf's account books |

228
(1)

| | |
| --- | --- |
| | Excerpt from a letter by Lorenz Christoph Mizler to Meinrad Spiess |

228
(1)

| | |
| --- | --- |
| | Publication announcement in the Extract der eingelauffenen Nouvellen |

229
(1)

| | |
| --- | --- |
| | Bach Leases a Clavier to a Nobleman and Provides Lessons |

229
(1)

| | |
| --- | --- |
| | Two Bach receipts for loan payments |

229
(1)

| | |
| --- | --- |
| | Bach's receipt for a lesson |

230
(1)

| | |
| --- | --- |
| | Bach Dedicates a Canon to Johann Gottfried Fulde |

230
(1)

| | |
| --- | --- |
| | Canon for five voices, BWV 1077 |

230
(1)

| | |
| --- | --- |
| | Bach Writes More Testimonials for Johann Christoph Altinickol (1748) |

231
(1)

| | |
| --- | --- |
| | Bach's testimonial on behalf of Altnickol |

231
(1)

| | |
| --- | --- |
| | Bach's letter to the Naumburg town council recommending Altnickol |

231
(1)

| | |
| --- | --- |
| | Bach's letter to the burgomaster of Naumburg recommending Altnickol |

232
(1)

| | |
| --- | --- |
| | Bach Writes a Testimonial for the Organ Builder Heinrich Andreas Cuntzius |

233
(1)

| | |
| --- | --- |
| | Bach's testimonial on behalf of Cuntzius |

233
(1)

| | |
| --- | --- |
| | Bach Waits Impatiently for a Harpsichord from Johann Georg Martius |

233
(1)

| | |
| --- | --- |
| | Bach's dunning letter to Martius |

233
(1)

| | |
| --- | --- |
| | Bach Writes to Johann Elias Bach |

234
(1)

| | |
| --- | --- |
| | Bach's letter concerning a copy of the ``Prussian Fugue'' |

234
(1)

| | |
| --- | --- |
| | Bach's letter concerning a cask of wine |

234
(2)

| | |
| --- | --- |
| | Bach Composes Two Canons for Autograph Albums (1749) |

236
(1)

| | |
| --- | --- |
| | Canon for seven voices, BWV 1078 |

236
(1)

| | |
| --- | --- |
| | Canon for two voices, BWV 1086 |

236
(2)

| | |
| --- | --- |
| | Bach Receives a Commission from Count Johann Adam von Questenberg |

238
(1)

| | |
| --- | --- |
| | Excerpt from a letter to the count from Franz Ernst Wallis |

238
(1)
239
(1)

| | |
| --- | --- |
| | Bach's receipt for his payment |

239
(1)

| | |
| --- | --- |
| | Bach Writes Testimonials for a Student, Johann Nathanael Bammler |

239
(1)

| | |
| --- | --- |
| | Bach's first statement on behalf of Bammler, from the town archive, Eilenburg |

239
(1)

| | |
| --- | --- |
| | Bach's second statement on behalf of Bammler, from the town archive, Eilenburg |

239
(1)

| | |
| --- | --- |
| | Gottlob Harrer Is Suggested as a Successor to Bach |

240
(1)

| | |
| --- | --- |
| | Letter of introduction from Count Heinrich von Bruhl for Harrer |

240
(1)

| | |
| --- | --- |
| | Excerpt from Johann Salomon Riemer's Chronicle of Leipzing on Harrer's trial performance |

240
(1)

| | |
| --- | --- |
| | Bach Thanks Count Wilhelm of Schaumburg-Lippe In Buckeburg for a Memento |

241
(1)

| | |
| --- | --- |
| | Bach's letter thanking the count |

241
(1)

| | |
| --- | --- |
| | Bach Supports Johann Georg Schroter in a Conflict with Rector Johann Gottlieb Biedermann |

241
(1)

| | |
| --- | --- |
| | Excerpt from a communication by Georg Friedrich Einike, cantor and music director at Frankenhausen |

241
(2)

| | |
| --- | --- |
| | Bach Undergoes Eye Surgery (1750) |

243
(1)

| | |
| --- | --- |
| | Reports in the Berliner Privilegirte Zeitung |

243
(1)

| | |
| --- | --- |
| | Excerpt from The History of the Travels and Adventures of the Chevalier Taylor, Ophthalmiater, describing the operation |

244
(1)
244
(1)

| | |
| --- | --- |
| | Excerpt from the Leipzig burial register |

244
(1)

| | |
| --- | --- |
| | Announcement read from the pulpit of St. Thomas's |

244
(1)

| | |
| --- | --- |
| | Death notice from the Spenersche Zeitung, Berlin |

245
(1)

| | |
| --- | --- |
| | Bach's Successor as Cantor Is Chosen and Installed |

245
(1)

| | |
| --- | --- |
| | Excerpts from the proceedings of the Leipzig town council |

245
(2)

| | |
| --- | --- |
| | Excerpt from Johann Salomon Riemer's Chronicle of Leipzig on the installation of the new cantor |

247
(1)

| | |
| --- | --- |
| | Bach's Widow, Anna Magdalena, Petitions the Leipzig Town Council and the University |

248
(1)

| | |
| --- | --- |
| | Anna Magdalena Bach's petition to the council for a death benefit |

248
(1)

| | |
| --- | --- |
| | Anna Magdalena Bach's first petition to the university for guardianship of her children |

248
(1)

| | |
| --- | --- |
| | Anna Magdalena Bach's second petition to the university for guardianship of her children |

249
(1)
250
(1)

| | |
| --- | --- |
| | ``Specification of the Estate Left by the Late Mr. Johann Sebastian Bach'' |

250
(6)

| | |
| --- | --- |
| | Bach's Art of Fugue Is Published Posthumously (1751) |

256
(1)

| | |
| --- | --- |
| | A note written on the proof sheets by Johann Christoph Friedrich Bach |

256
(1)

| | |
| --- | --- |
| | Avertissement by Carl Philipp Emanuel Bach in the Critische Nachrichten aus dem Reiche der Gelehrsamkeit |

256
(2)

| | |
| --- | --- |
| | Publication announcement by Carl Philipp Emanuel Bach in the Leipziger Zeitungen |

258
(1)

| | |
| --- | --- |
| | Die Kunst der Fuge, BWV 1080: title pages |

258
(1)

| | |
| --- | --- |
| | ``Notice'' on the back of the title page of the first edition |

258
(2)

| | |
| --- | --- |
| | A later note appended by Carl Philipp Emanuel Bach to the unfinished fugue |

260
(1)
BACH'S MUSIC MANUSCRIPTS
261
(259)
261
(1)
262
(1)

| | |
| --- | --- |
| | Wie scbon leuchtet der Morgenstern, organ chorale prelude, BWV 739 (1705 or earlier) |

263
(1)

| | |
| --- | --- |
| | Gott ist mein Konig, cantata, BWV 71 (1708) |

264
(1)

| | |
| --- | --- |
| | Ich hatte viel Bekummernis, cantata, BWV 21 (1714) |

265
(1)

| | |
| --- | --- |
| | Bereitet die Wege, bereitet die Bahn, cantata, BWV 132 (1715) |

266
(1)

| | |
| --- | --- |
| | Sonata in G Minor for Violin Solo, BWV 1001 (1720) |

267
(1)

| | |
| --- | --- |
| | Magnificat, in E-flat Major, BWV 243a (1723) |

268
(1)

| | |
| --- | --- |
| | Sie werden aus Saba alle kommen, cantata, BWV 65 (1724) |

269
(1)

| | |
| --- | --- |
| | Suite in G Minor for Lute, BWV 995 (c. 1727--1732) |

270
(1)

| | |
| --- | --- |
| | Der Geist hilft unsrer Schwachheit auf, motet, BWV 226 (1729) |

271
(1)

| | |
| --- | --- |
| | St. Matthew Passion, BWV 244, second version (1736) |

272
(1)

| | |
| --- | --- |
| | The Well-Tempered Clavier, Book II, Prelude in G Minor, BWV 885/1 (1739--1742) |

273
(1)

| | |
| --- | --- |
| | Mass in B Minor, Symbolum Nicenum, BWV 232 (1748--1749) |

274
(1)

| | |
| --- | --- |
| | The Art of Fugue, BWV 1080: unfinished fugue (1748--1749) |

275
(1)

| | |
| --- | --- |
| | Trio Sonata in C Major for Organ, BWV 529: copied by Anna Magdalena Bach (c. 1727) |

276
(1)

| | |
| --- | --- |
| | Himmelskonig, sei willkommen, cantata, BWV 182 (Leipzig version): alto part, copied by Johann Andreas Kuhnau (1724) |

277
(1)

| | |
| --- | --- |
| | Herr Gott, dich loben alle wir, cantata, BWV 130: alto part, copied by Christian Gottlieb Meissner (1724) |

278
(4)
Part III. Early Biographical Documents on Bach
281
(1)
281
(1)

| | |
| --- | --- |
| | The Historical Bach Family Tree: two versions |

282
(1)

| | |
| --- | --- |
| | ``Origin of the Musical Bach Family'': genealogical notes by Bach, with additions by Carl Philipp Emanuel Bach and others |

283
(11)
294
(1)

| | |
| --- | --- |
| | ``Bach (Joh. Sebastian),'' entry in Johann Gottfried Walther's Musicalisches Lexicon (1732) |

294
(1)

| | |
| --- | --- |
| | Manuscript additions in Walther's personal copy of his Lexicon |

295
(2)
295
(2)
295
(2)

| | |
| --- | --- |
| | ``The World-Famous Organist, Mr. Johann Sebastian Bach, Royal Polish and Electoral Saxon Court Composer, and Music Director in Leipzig'' obituary by Carl Philipp Emanuel Bach and Johann Friedrich Agricola |

297
(14)
Part IV. Bach as Viewed His Contemporaries
311
(1)
311
(1)
312
(1)

| | |
| --- | --- |
| | Ludwig Friedrich Hudemann |

| | |
| --- | --- |
| | ``O day, come often!'' an anonymous birthday poem (c. 1735) |

312
(1)

| | |
| --- | --- |
| | ``Vivat: J S B,'' an anonymous congratulatory poem engraved on a crystal goblet |

313
(1)

| | |
| --- | --- |
| | ``Sonnet on the Late Cappelmeister Bach'' |

313
(5)
314
(4)

| | |
| --- | --- |
| | Introductory Note: An Overview of Bach's Pupils |

314
(4)

| | |
| --- | --- |
| | Studying with Bach in Weimar: excerpts from the files of the Augsburg Evangelical Scholarchat on Philipp David Krauter (1711--1713) |

318
(2)

| | |
| --- | --- |
| | Excerpt from a letter of application for an organist post in Gorlitz |

320
(1)

| | |
| --- | --- |
| | On Bach's teaching of composition |

320
(1)

| | |
| --- | --- |
| | Johann Philipp Kirnberger |

| | |
| --- | --- |
| | The education of Bach's pupil Heinrich Nicolaus Gerber |

321
(1)

| | |
| --- | --- |
| | Johann Philipp Kirnberger and Bach |

322
(1)

| | |
| --- | --- |
| | Friedrich Ludwig Aemilius Kunzen |

| | |
| --- | --- |
| | Johann Friedrich Reichardt |

| | |
| --- | --- |
| | A reminiscence by the last of Bach's pupils |

323
(1)
323
(1)
323
(1)

| | |
| --- | --- |
| | The first reference to Bach in print, from Das beschutzte Orchestre |

324
(1)
325
(1)

| | |
| --- | --- |
| | On Bach the keyboard player |

325
(1)

| | |
| --- | --- |
| | Georg Ludwig Heinrich Schwanenberger |

| | |
| --- | --- |
| | On Bach, Frescobaldi, and Carissimi, and on three famous B's (Buxtehude, Bachelbel, and Bach) |

325
(1)

| | |
| --- | --- |
| | On holdings of Buxtehude and Bach manuscripts |

326
(1)

| | |
| --- | --- |
| | On the difficulty of partita by Graupner and Bach |

326
(1)

| | |
| --- | --- |
| | On large-scale Passion music |

326
(1)

| | |
| --- | --- |
| | On the German style in clavier music |

327
(1)

| | |
| --- | --- |
| | On a fugue subject by Bach |

327
(1)

| | |
| --- | --- |
| | On Bach's thorough-bass playing |

328
(1)

| | |
| --- | --- |
| | On Bach's playing and conducting |

328
(1)

| | |
| --- | --- |
| | On Bach's canon for Hudemann |

329
(1)

| | |
| --- | --- |
| | On the greatest masters of the organ |

330
(1)
331
(1)
332
(1)

| | |
| --- | --- |
| | On Part III of the Clavier-Ubung |

333
(1)
333
(1)

| | |
| --- | --- |
| | On traveling to Leipzig to hear Bach |

333
(1)
333
(1)

| | |
| --- | --- |
| | Theodor Leberecht Pitschel |

| | |
| --- | --- |
| | On being acquainted with Bach |

334
(1)
334
(1)

| | |
| --- | --- |
| | A dedication to Bach, from the Third Half-Dozen Sonatinas for the Clavier |

335
(1)

| | |
| --- | --- |
| | On Bach's instructions for playing chorales |

336
(1)

| | |
| --- | --- |
| | On Bach's criticism of Gottfried Silbermann's system of temperament |

336
(1)

| | |
| --- | --- |
| | On Bach's adroitness in preluding chorales, from the preface to the First Part of Preludes to Well-Known Chorale Tunes |

336
(2)

| | |
| --- | --- |
| | Criticism and Defense: A Controversy |

337
(1)
337
(1)

| | |
| --- | --- |
| | ``Letter from an Able Musikant Abroad'' |

338
(1)

| | |
| --- | --- |
| | ``Impartial Comments on a Questionable Passage in the Sixth Number of Der Critische Musicus'' |

338
(10)
348
(1)
349
(1)

| | |
| --- | --- |
| | A satire, by ``Cornelius'' [Scheibe] (1739) |

350
(2)

| | |
| --- | --- |
| | A summary account of the controversy |

352
(5)

| | |
| --- | --- |
| | Christoph Gottlieb Schroter |

Part V. Bach in the Second Half of the Eighteenth Century

| | |
| --- | --- |
| | General Accounts and Critical Estimates |

357
(1)
357
(1)
357
(1)

| | |
| --- | --- |
| | Johann Friedrich Agricola |

| | |
| --- | --- |
| | On Bach's eminence in the development of organ playing |

358
(1)
359
(1)

| | |
| --- | --- |
| | Friedrich Wilhelm Marpurg |

359
(1)

| | |
| --- | --- |
| | Carl Philipp Emanuel Bach |

| | |
| --- | --- |
| | Dedication for the Treatise on the Fugue, Part II |

360
(1)

| | |
| --- | --- |
| | Friedrich Wilhelm Marpurg |

| | |
| --- | --- |
| | On the depth of Bach's compositional art |

361
(1)

| | |
| --- | --- |
| | On Bach's thorough-bass playing |

362
(1)
362
(1)

| | |
| --- | --- |
| | Bach's views on variety and declamation in fugal composition |

363
(1)

| | |
| --- | --- |
| | Friedrich Wilhelm Marpurg |

| | |
| --- | --- |
| | Notes quoting Bach in Jakob Adlung's Musica mechanica organoedi |

364
(2)

| | |
| --- | --- |
| | Johann Friedrich Agricola |

366
(1)

| | |
| --- | --- |
| | Carl Philipp Emanuel Bach |

| | |
| --- | --- |
| | King Frederick's recollection of Bach's visit |

366
(1)

| | |
| --- | --- |
| | On Bach's four-part writing |

367
(1)

| | |
| --- | --- |
| | Johann Philipp Kirnberger |

| | |
| --- | --- |
| | On Bach's contrapuntal daring |

367
(1)

| | |
| --- | --- |
| | Johann Philipp Kirnberger |

368
(1)

| | |
| --- | --- |
| | Friedrich Wilhelm Marpurg |

| | |
| --- | --- |
| | On Bach's invention of the viola pomposa |

368
(1)

| | |
| --- | --- |
| | Reminiscences of the Bach family and the Collegium Musicum |

369
(1)
369
(2)

| | |
| --- | --- |
| | Christian Friedrich Daniel Schubart |

| | |
| --- | --- |
| | On a performance in Hamburg of the Credo from Bach's B Minor Mass |

371
(1)

| | |
| --- | --- |
| | On the compositional styles of Bach and Carl Philipp Emanuel Bach |

371
(1)

| | |
| --- | --- |
| | On the fugues of Handel and Bach |

372
(1)

| | |
| --- | --- |
| | On Bach composing without use of a keyboard |

372
(1)

| | |
| --- | --- |
| | On Bach's pedal technique |

372
(1)

| | |
| --- | --- |
| | On Bach's keyboard and vocal works |

373
(1)

| | |
| --- | --- |
| | Johann Friedrich Reichardt |

| | |
| --- | --- |
| | On Bach's central position among German composers |

373
(2)

| | |
| --- | --- |
| | Augustus Frederic Christopher Kollamann |

374
(1)
374
(1)

| | |
| --- | --- |
| | Preface to the 1752 edition |

375
(2)

| | |
| --- | --- |
| | Friedrich Wilhelm Marpurg |

377
(1)

| | |
| --- | --- |
| | An offer to publishers for the plates |

377
(1)

| | |
| --- | --- |
| | Carl Philipp Emanuel Bach |

| | |
| --- | --- |
| | On the whereabouts of the remainder of the autograph |

378
(1)

| | |
| --- | --- |
| | Carl Philipp Emanuel Bach |

| | |
| --- | --- |
| | On the Four-Part Chorales |

378
(1)
378
(1)

| | |
| --- | --- |
| | Foreword to the first edition |

379
(1)

| | |
| --- | --- |
| | Carl Philipp Emanuel Bach |

380
(1)

| | |
| --- | --- |
| | Carl Philipp Emanuel Bach |

| | |
| --- | --- |
| | Excerpt from a letter of Carl Philipp Emanuel Bach to Johann Philipp Kirnberger |

380
(1)

| | |
| --- | --- |
| | Excerpts from five letters of Johann Philipp Kirnberger to Johann Gottlob Immanuel Breitkopf (1777--1783) |

381
(2)
383
(1)

| | |
| --- | --- |
| | Johann Gottlob Immanuel Breitkopf |

| | |
| --- | --- |
| | A supportive announcement of the publication |

384
(1)

| | |
| --- | --- |
| | Johann Friedrich Reichardt |

| | |
| --- | --- |
| | Foreword to the second edition |

384
(1)

| | |
| --- | --- |
| | Carl Philipp Emanuel Bach |

| | |
| --- | --- |
| | On the Transmission and Dissemination of Manuscripts and Prints |

385
(1)
385
(1)

| | |
| --- | --- |
| | Excerpt from a letter of Padre Giovanni Battista Martini to Johannes Baptist Pauli, listing manuscripts and prints (1750) |

385
(2)

| | |
| --- | --- |
| | Excerpt from the will of Johann Caspar Vogler (1766) |

387
(1)

| | |
| --- | --- |
| | Excerpt from a letter of Carl Philipp Emanuel Bach to Christoph Gottlieb von Murr, offering chorale preludes (after 1765) |

387
(1)

| | |
| --- | --- |
| | Note mentioning Bachiana at Montecassion |

387
(1)

| | |
| --- | --- |
| | Christian Traugott Weinlig |

| | |
| --- | --- |
| | Excerpts from letters of Carl Philipp Emanuel Bach to Johann Nikolaus Forkel, offering manuscripts and original editions (1774) |

388
(1)

| | |
| --- | --- |
| | Note from James Hutton presenting an autograph of the Goldberg Variations to Mr. Glen (1776) |

388
(1)

| | |
| --- | --- |
| | Excerpt from a letter of Wilhelm Friedemann Bach to Johann Joachim Eschenburg, asking him to auction off music and books (1778) |

389
(1)

| | |
| --- | --- |
| | Four letters of Johann Nikolaus Forkel to the Leipzig publisher Hoffmeister & Kuhnel (1801--1803) |

389
(6)

| | |
| --- | --- |
| | Letters of Carl Philipp Emanuel Bach to Johann Nikolaus Forkel |

395
(1)

| | |
| --- | --- |
| | Excerpts from three letters concerning portraits and music of Bach (1774) |

395
(1)

| | |
| --- | --- |
| | Letter on Bach's personal and artistic traits |

396
(2)

| | |
| --- | --- |
| | Letter answering questions about Bach (1775) |

398
(3)

| | |
| --- | --- |
| | A Comparison of Bach and Handel |

400
(1)

| | |
| --- | --- |
| | Carl Philipp Emanuel Bach |

400
(1)

| | |
| --- | --- |
| | ``Excerpt from a letter of February 27, 1788'' |

401
(8)
409
(1)
409
(1)

| | |
| --- | --- |
| | Friedrich Wilhelm Marpurg |

410
(1)

| | |
| --- | --- |
| | Friedrich Wilhelm Marpurg |

410
(1)

| | |
| --- | --- |
| | Bach teases Gottfried Silbermann |

410
(1)
411
(1)

| | |
| --- | --- |
| | Johann Friedrich Reichardt |

| | |
| --- | --- |
| | The unresolved dissonance |

411
(1)

| | |
| --- | --- |
| | Johann Friedrich Reichardt |

411
(1)

| | |
| --- | --- |
| | Bach replies to compliments on his organ playing |

412
(1)
412
(1)

| | |
| --- | --- |
| | Johann Philipp Kirnberger |

412
(1)

| | |
| --- | --- |
| | The linen draper and the portrait of Bach |

412
(1)

| | |
| --- | --- |
| | Johann Christian and Carl Philipp Emanuel Bach |

413
(1)

| | |
| --- | --- |
| | Johann Friedrich Reichardt |

413
(9)
Part VI. Forkel's Biography of Bach

| | |
| --- | --- |
| | On Johann Sebastian Bach's Life, Genius, and Works |

417
(2)
417
(2)
419
(3)
422
(3)
425
(6)
431
(6)
437
(4)
441
(5)
446
(6)
452
(7)
459
(3)
462
(12)

| | |
| --- | --- |
| | Bach the Reviser of His Own Works |

474
(2)
476
(12)
480
(6)
Part VII. Bach in the Romantic Era
485
(1)
486
(2)
488
(1)
489
(2)
491
(1)
492
(1)

| | |
| --- | --- |
| | Samuel Wesley and Carl Friedrich Horn |

492
(7)

| | |
| --- | --- |
| | Johann Wolfgang von Goethe and Carl Friedrich Zelter |

499
(1)

| | |
| --- | --- |
| | Felix Mendelssohn Bartholdy |

500
(1)
501
(2)
503
(1)

| | |
| --- | --- |
| | Hector Berlioz and Friedrich Nietzsche |

504
(1)
504
(1)
505
(1)

| | |
| --- | --- |
| | The First Edition of the Mass in B Minor, BWV 232 (1818) |

506
(1)

| | |
| --- | --- |
| | Subscription announcement |

506
(3)

| | |
| --- | --- |
| | Mendelssohn Revives the St. Matthew Passion, BWV 244 (1829) |

508
(1)
508
(1)

| | |
| --- | --- |
| | Excerpt from My Recollections |

509
(11)

| | |
| --- | --- |
| | An American Visits the Bach Sites in Leipzig (1852) |

519
(1)
519
(1)

| | |
| --- | --- |
| | Three ``Letters from Abroad'' |

520