Note: Supplemental materials are not guaranteed with Rental or Used book purchases.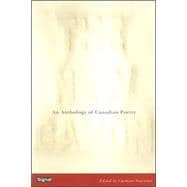 The New Canon; An Anthology of Canadian Poetry
ISBN13:
9781550652086
by
Unknown
INDEPENDENT PUBLISHERS GROUP
Summary
Collecting the works of 50 modern Canadian poets, this anthology of verse points to an emerging openness toward form in the nation's poetry. The book includes nearly 200 poems from more than 20 presses and an essay that describes and explains the innovations of form that distinguish the featured writers.
Author Biography
Carmine Starnino is a poet, essayist, and critic, as well as the author of A Lover's Quarrel and With English Subtitles. He lives in Montreal, QuTbec.

Table of Contents
Introduction
15
(24)
39
(1)
40
(1)
41
(1)
41
(1)

| | |
| --- | --- |
| | Diana Brebner (1956-2001) |

| | |
| --- | --- |
| | From ``Eleven Paintings by Mary Pratt'' |

42
(2)

| | |
| --- | --- |
| | The Blue Light of the Neutron Pool |

44
(2)
46
(2)
48
(4)

| | |
| --- | --- |
| | Carla Hartsfield (b. 1956) |

| | |
| --- | --- |
| | On Moving to a Different Country |

52
(1)
52
(1)

| | |
| --- | --- |
| | If Clouds Wore Bouffant Hairdos |

53
(2)
55
(1)
56
(1)
57
(1)

| | |
| --- | --- |
| | Seven Paintings by Brueghel |

58
(4)
62
(3)
65
(3)

| | |
| --- | --- |
| | The Woman Downstairs Used to Be Beautiful |

68
(1)
69
(1)
70
(1)
71
(1)
72
(1)

| | |
| --- | --- |
| | Elise Partridge (b. 1958) |

73
(1)
74
(1)
75
(1)
76
(2)
78
(5)
83
(1)

| | |
| --- | --- |
| | An Odd Invisibility, This |

83
(2)

| | |
| --- | --- |
| | Pushing in the Grocery Line |

85
(1)
86
(2)

| | |
| --- | --- |
| | Cooperman's Fish: Habitat |

88
(1)
89
(1)
89
(1)
90
(1)
91
(1)
92
(1)
93
(1)
93
(1)
94
(1)
94
(1)
95
(1)
95
(1)
96
(1)
97
(1)
97
(3)
100
(1)

| | |
| --- | --- |
| | Jeffery Donaldson (b. 1960) |

100
(1)
101
(1)
102
(1)

| | |
| --- | --- |
| | Spending Part of the Winter |

103
(1)
104
(3)
107
(2)

| | |
| --- | --- |
| | What the Magdalen Islands are Like |

109
(1)
110
(2)
112
(2)
114
(1)
115
(1)

| | |
| --- | --- |
| | September Gale with High Theory |

115
(2)

| | |
| --- | --- |
| | Reading Anglo-Saxon When Spring Comes Early |

117
(1)
118
(2)
120
(1)

| | |
| --- | --- |
| | George Elliott Clarke (b. 1960) |

121
(1)
122
(1)

| | |
| --- | --- |
| | Monologue For Selah Bringing Spring to Whylah Falls |

123
(1)
124
(1)
125
(1)
126
(1)
127
(1)
128
(1)
129
(1)
130
(1)
131
(1)
132
(1)
133
(1)
134
(1)
135
(1)
136
(1)
137
(1)
138
(1)

| | |
| --- | --- |
| | Steven Heighton (b. 1961) |

139
(2)
141
(1)
142
(1)
142
(2)
144
(1)
145
(1)
146
(1)
146
(1)
147
(1)
148
(1)
148
(1)

| | |
| --- | --- |
| | Song of the Vulgar Starling |

149
(2)

| | |
| --- | --- |
| | September in Uplands Park |

151
(1)
152
(1)
153
(1)
154
(5)
159
(3)
162
(1)
163
(1)
163
(1)
164
(1)
165
(1)
166
(1)
166
(2)
168
(1)
169
(1)
170
(2)

| | |
| --- | --- |
| | Study of Two Figures (Lovers), 1846 |

172
(1)

| | |
| --- | --- |
| | On the Impossibility of Seeing You |

173
(1)
173
(1)
174
(2)
176
(2)
178
(2)

| | |
| --- | --- |
| | The Bacon Company of Ireland |

180
(1)
181
(2)
183
(1)
184
(1)

| | |
| --- | --- |
| | Love Poem, My Back to the Fraser |

185
(1)
186
(1)

| | |
| --- | --- |
| | Early Autumn: A Still Life |

187
(1)
188
(1)

| | |
| --- | --- |
| | Andrew Steinmetz (b. 1965) |

| | |
| --- | --- |
| | From ``Histories, VI, VII, XII, XV, XVII, XVIII, XXI'' |

189
(5)
194
(1)
195
(1)
196
(1)
197
(1)
198
(2)
200
(2)
202
(1)
203
(1)
203
(2)

| | |
| --- | --- |
| | Michael Crummey (b. 1965) |

205
(1)

| | |
| --- | --- |
| | Newfoundland Sealing Disaster |

206
(1)

| | |
| --- | --- |
| | Observatory on Mount Pleasant |

207
(1)

| | |
| --- | --- |
| | A Trip to Labrador among the Esquimaux |

207
(1)
208
(1)

| | |
| --- | --- |
| | Cardio Room, Young Women's Christian Association |

209
(1)
210
(1)
210
(1)
211
(1)
212
(1)

| | |
| --- | --- |
| | Riding the Route for Nature and Health |

213
(1)

| | |
| --- | --- |
| | Drinking with the Neurosurgeon |

214
(2)
216
(1)

| | |
| --- | --- |
| | Thor, Shanghaied by Yahweh to Tend the World... |

217
(1)
218
(1)
219
(3)
222
(1)
223
(1)
224
(1)

| | |
| --- | --- |
| | The Influence of Anxiety at the Seaside with Tea |

224
(1)
225
(1)

| | |
| --- | --- |
| | Marion, 1935: To My Twin Sister |

226
(1)
226
(3)
229
(1)
230
(2)

| | |
| --- | --- |
| | The War Against Television |

232
(1)
233
(1)
234
(1)
235
(6)
241
(4)

| | |
| --- | --- |
| | Tonja Gunvaldsen Klaassen (b. 1968) |

245
(1)

| | |
| --- | --- |
| | From ``August: An Anniversary Suite'' |

246
(5)

| | |
| --- | --- |
| | Christopher Patton (b. 1969) |

251
(2)
253
(1)
254
(1)

| | |
| --- | --- |
| | From ``Weed Flower Mind'' |

255
(2)

| | |
| --- | --- |
| | Stephanie Bolster (b. 1969) |

| | |
| --- | --- |
| | Seawolf Inside its Own Dorsal Fin |

257
(1)
258
(1)
258
(1)
259
(1)
259
(2)
261
(1)
262
(1)

| | |
| --- | --- |
| | Conciliatory Letter to Morgan |

263
(1)

| | |
| --- | --- |
| | Man who Slept Between Blows of a Hammer |

264
(1)
265
(1)

| | |
| --- | --- |
| | Carrying Someone Else's Infant Past a Cow in a Field near Marmora, Ont. |

266
(1)
267
(1)
268
(1)

| | |
| --- | --- |
| | The 7-Eleven Formerly Known as Rx |

269
(2)
271
(3)
274
(1)
275
(2)

| | |
| --- | --- |
| | The Last of the Sinners Waits on a Rock for Noah |

277
(2)

| | |
| --- | --- |
| | Despite the Hunger and Delicious Taste |

279
(1)

| | |
| --- | --- |
| | An Egyptian Soldier on the Red Sea Swims Away from Moses |

280
(2)

| | |
| --- | --- |
| | From ``Cape Breton Relative'' |

282
(3)
285
(1)
286
(2)
288
(1)

| | |
| --- | --- |
| | Life with Folded Umbrella |

289
(1)
290
(1)
291
(1)
292
(1)
293
(1)
294
(1)
294
(1)
295
(1)
296
(1)
297
(1)
298
(1)
298
(1)
299
(1)
299
(3)
302
(1)
303
(1)
304
(1)
305
(1)
306
(1)

| | |
| --- | --- |
| | Notes Toward an Apartment Story |

306
(2)

| | |
| --- | --- |
| | Michael deBeyer (b. 1975) |

308
(1)
308
(1)

| | |
| --- | --- |
| | Imagining the Black Bear into the Parking Lot |

309
(1)
309
(1)
310
(1)
311
(1)
311
(1)
312
(1)
312
(1)
313
(1)
314
(1)
314
(1)
315
(1)

| | |
| --- | --- |
| | Bedside Delirium: Family Visit |

316
(3)
Permissions
319
(6)
Author Index
325