Note: Supplemental materials are not guaranteed with Rental or Used book purchases.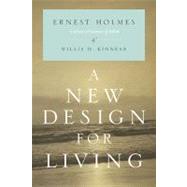 Questions About This Book?
What version or edition is this?
This is the edition with a publication date of 9/2/2010.
What is included with this book?
The New copy of this book will include any supplemental materials advertised. Please check the title of the book to determine if it should include any CDs, lab manuals, study guides, etc.
Summary
Nothing lies beyond the scope of your ability. The new design for living you create has no limitations. Literally all the good things that life and the world offer are yours to have and enjoy. But you need to recognize them, accept them, and incorporate them into the new design you are now going to create. In its scope, and in its effect on readers, A New Design for Livingis second only to Ernest Holmes's magnum opus, The Science of Mind. In this cherished spiritual classic, Holmes demonstrates that wishes-from health, love, and friendship to the career and home of your dreams-are not only possible to realize but are within each person's very reach. At last available again, this galvanizing book teaches how to turn mind-power into an infinitely positive force-the very force of creation itself. Harmonize with the beauty and intelligence of the universe, watch the magnificence of life transform before you, and awaken to the nature of reality. With this newfound power of transformative thinking, every goal is attainable.
Author Biography
Ernest Holmes was an internationally recognized authority on religious psychology and the founder of the Religious Science movement, which has hundreds of centers nationwide and around the world. His inspirational books include the renowned classic The Science of Mind, This Thing Called You, Love and Law, The Art of Life, 365 Science of Mind, The Hidden Power of the Bible, and Creative Mind and Success.

Willis H. Kinnear was renowned for his work as editor of Science of Mind magazine, as well as for his coauthorship of several books with Dr. Holmes.
Table of Contents
Foreword
p. xix
Introduction
p. xxv
New Thoughts for Old
p. 1
Take a Look at Yourself
Discover NewWorlds
Orderly Atoms
Everyday Wonders
A New Outlook
First Things First
The Greatest of All Forces
Unrealized Potentialities
Adventures in Thinking
p. 14
Your Mind and Brain
What is Mind?
Your Freedom to Think
Plus and Minus Thinking
Your Partnership with the Infinite
Mental Merry-go-rounds
Start a New Habit
Nothing is Static
Do You Know What You Are Doing?
Reliable Law
Don't Limit Yourself
p. 30
Remove Superstitions
Things Can Change
The Way Law Works
The Cornerstone of Freedom
Avoiding the Undesirable
Don't Limit Yourself
Think as You Please
You Are Important
Your New Freedom
p. 41
Positive Thinking
No Big or Little
You Are Not in Pieces
Mental Housecleaning
You Don't Forget
You Are Always Creative
Three Phases of Creativity
Discover a New Freedom
Changes are Necessary
p. 54
Infinite Variety
The Great Explosion
Freedom from Domination
Nonresistance
Learn to Live
Life Is What You Make It
The Endless Challenge
Make Some Changes
Great Possibilities
p. 65
Proving a Theory
The Law of Correspondence
Using Ideas
You Have No Alibis
Are You Asking for Trouble?
Don't Say "Can't"
Start to Accept Life
Discovering Yourself
p. 77
A New Unity
Powerful Emotions
Ancient Wisdom Confirmed
Discovering New Evidence
Freedom to Choose
You Are Unique
Two Great Realities
Each in His Own Way
The Law of Attraction
You Attract What You Think
Learn to Think Big
p. 90
The Need of Faith
Experience-the Measure of Faith
Think Big
Remove Your Halo
Measuring Life
You are Creative
p. 99
The Way Things Work
Continuous Creation
Your Place in Life
What Are You Creating?
The Source of Inspiration
Your Wonderful Experience
A New Outlook
p. 109
Rampant Imagination
Think Sensibly
Life Is Not Against You
Accept What You Want
Your Only Battle
Beyond Appearances
Don't Defeat Yourself
Security Is Within You
The Source of Trouble
A New Approach to Life
You Live Today
p. 122
Today Is Important
The Personal Universe
The Past Is Gone
How to Use Yesterday
Don't Get in a Rut
Mental Laziness
The Time Is "Now"
Claim Your Good
Tomorrow Never Comes
Self-torture
Confess to Yourself
A Look at The Future
p. 134
The Ultimate Future
What Is Immortal?
You Are Immortal Now
A Basic Belief
The Great Goal
Things to Come
Successful Living
p. 143
Planning Your Success
Be Consistent
Avoid Civil War
The Foundation of Success
The Abundant Universe
p. 150
There Is More Than Enough
Grow Up Mentally
Let Life Expand
Practical Procedures
The Power of Love
p. 156
Is Love Practical?
Find Something to Like
You Can't Live Alone
The Need to Love
The Lodestone of Life
The Human Equation
p. 164
Your Personality
Eliminate Conflicts
Cooperation
Harmonious Relationships
Think Highly of Yourself
Health is Normal
p. 171
Our Amazing Body
The Stability Factors
The Curative Power
Your Thinking and Health
Pills and Prayers
Be Kind to Yourself
The Source of Health
Food for Thought
Your Main Endeavor
The Start of Good Health
Mental Growth
p. 183
Facts and Faith
Think Carefully
The Endless Search
Make All Things New
The Larger Life
p. 192
Accept Life
The Urge Within
Important Things in Life
You Are Not Alone
The Task Ahead
Using What You Know
p. 200
Three Basic Ideas
Four Steps in Creative Thinking
The Great Experiment
Spontaneous Creativity
There are Always Results
What to Do
Learn to Be Definite
What Are You Definite About?
Clear Thinking
Convince Yourself
Facing Facts
p. 212
Things Must Get Better
Hidden Facts
How to Help Others
Uprooting the Undesirable
Designing a New Life
p. 220
Spiritual Mind Treatment
The Basis of Spiritual Mind Treatment
Proper Attitudes
The Technique of Designing
The Declaration
No Formulas
Unlimited Applications
Generalizations
The Ability Is Everyone's
Basic Rules
Practical Suggestions
p. 230
Conclusion
p. 239
Appendix
p. 241
Index
p. 263
Table of Contents provided by Ingram. All Rights Reserved.