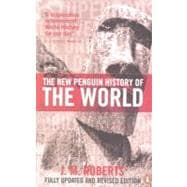 Summary
One of the most extraordinary history bestsellers on the Penguin list, John Roberts's book has now been updated by Odd Arne Westad to make sure it keeps its amazing appeal to a new generation of readers. 'A stupendous achievement... the unrivalled World History for our day. It extends over all ages and all continents. It covers the forgotten experiences of ordinary people as well as chronicling the acts of those in power. It is unbelievably accurate in its facts and almost incontestable in its judgements' A. J. P. Taylor, Observer
Author Biography
J. M. Roberts (1928-û2003), a British historian, is the author of numerous works, including The French Revolution, A History of Europe, and The History of the World.
Table of Contents
List of Maps
p. viii
Preface to Fifth Edition
p. xi
Before History - Beginnings
Introduction
p. 1
The Foundations
p. 3
Homo Sapiens
p. 18
The Possibility of Civilization
p. 29
The First Civilizations
Introduction
p. 39
Early Civilized Life
p. 41
Ancient Mesopotamia
p. 49
Ancient Egypt
p. 66
Intruders and Invaders: The Dark Ages of the Ancient Near East
p. 88
The Beginnings of Civilization in Eastern Asia
p. 119
The Other Worlds of the Ancient Past
p. 148
The End of the Old World
p. 159
The Classical Mediterranean
Introduction
p. 165
The Roots of One World
p. 167
The Greeks
p. 171
Greek Civilization
p. 188
The Hellenistic World
p. 212
Rome
p. 227
The Roman Achievement
p. 245
Jewry and the Coming of Christianity
p. 260
The Waning of the Classical West
p. 276
The Elements of a Future
p. 301
The Age of Diverging Traditions
Introduction
p. 315
Islam and the Remaking of the Near East
p. 317
The Arab Empires
p. 333
Byzantium and Its Sphere
p. 345
The Disputed Legacies of the Near East
p. 372
The Making of Europe
p. 393
India
p. 422
Imperial China
p. 444
Japan
p. 466
Worlds Apart
p. 477
Europe: the First Revolution
p. 489
New Limits, New Horizons
p. 524
The Making of the European Age
Introduction
p. 547
A New Kind of Society: Early Modern Europe
p. 549
Authority and Its Challengers
p. 570
The New World of Great Powers
p. 598
Europe's Assault on the World
p. 630
World History's New Shape
p. 657
Ideas Old and New
p. 674
The Great Acceleration
Introduction
p. 697
Long-term Change
p. 699
Political Change in an Age of Revolution
p. 720
Political Change: A New Europe
p. 745
Political Change: The Anglo-Saxon World
p. 768
The European World Hegemony
p. 789
European Imperialism and Imperial Rule
p. 813
Asia's Response to a Europeanizing World
p. 831
The End of the Europeans' World
Introduction
p. 861
Strains in the System
p. 863
The Era of the First World War
p. 883
A New Asia in the Making
p. 915
The Ottoman Heritage and the Western Islamic Lands
p. 932
The Second World War
p. 946
The Shaping of a New World
p. 969
The Latest Age
Introduction
p. 991
Perspectives
p. 995
A New World Order
p. 1040
Crumbling Certainties
p. 1092
The Closing of an Era
p. 1126
Openings and Closures
p. 1150
Index
p. 1189
Table of Contents provided by Ingram. All Rights Reserved.